Sound Magician Joe Meek
Chas Hodges from the Outlaws talks about Joe Meek
Telstar the song
On December 22, 1962, more than a year before the Beatles arrived in the United States and became the British Invasion's avant garde, the Tornados became the first British band to have a #1 hit in the US.
"Telstar" remained as the top of the Billboard Hot 100 chart until January 11, 1963.
Sound Magician Joe Meek
Rudy Van Gelder
Joe Meek was both the composer and recording engineer for the song. By 1962 the recording studio had become an instrument as much as simply a space in which to record sound. In the US, the first most famous recording engineer was Rudy Van Gelder. He is best known for his work with jazz musicians in his Englewood Cliffs, NJ studio.
Van Gelder explained that he was an engineer and not a producer. He was not in charge of the sessions he recorded; he did not hire the musicians or play any role in choosing the repertoire. He did have the final say in what the records sounded like.
Sound Magician Joe Meek
Joe Meek
Joe Meek was born on April 5, 1929 to a farming family in Newent, England. From the beginning his interests revolved around music. He loved tinkering with electronics, even recording and cutting discs in his backyard shed and creating sound effects and music for plays.
Early on Meek moved to London and got a job at IBC, one of the UK's major recording studios.
Sound Magician Joe Meek
Sound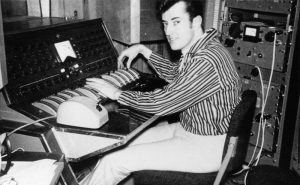 Meek became one of the UK's most popular engineers, but his style demanded independence and independence was not what a studio like IBC was in the habit of giving.
He left IBC when presented with the opportunity to design and run Lansdowne studios. Despite successes there as well, Meek wanted more and ambition met opportunity in July 1958 when popular American artists Les Paul and Mary Ford had a hit "Put a Ring On My Finger," a Meek composition.
Meek created a recording studio at 304 Holloway Road, basically an apartment.  (Interestingly, Van Gelder's first recordings were done in his parents' home.)
Sound, not decor, mattered to Meek.
From an Independent article: One of Meek's recording artists, Screaming Lord Sutch, used to tell stories about recording conditions inside 304 Holloway Road. In the cramped little flat, there would be a bass player on the stairs. Meek would be at his homemade controls. The guitarist would be strumming away in the front room. The vocalist would be somewhere else and – to round it off – extra percussion would be provided by somebody stamping up and down in the bathroom.
Sound Magician Joe Meek
Influence on musicians
Like himself, there were musicians who wanted more independence than the established studios provided. Meek's studio was the place for them and Meek wanted them there.
Meek gave guitarists Jimmy Page, Steve Howe, Ritchie Blackmore, and others the opportunity create their own sound and style.
From the Meek site: Joe pushed the very limits of imagination, innovating such techniques as close miking instruments, dampening a bass drum with blankets, direct injecting electric guitars, using compression aberrations (pumping and breathing) like an instrument, blowing the EQ high into the red as a practice of embracing artifact noise and rhythms, and the incorporation of sound effects that painted a wide array of atmospheres and aural landscapes.
Sound Magician Joe Meek
Meek Sued
In March 1962, Jean Ledrut, a French composer, accused Meek of plagiarism, claiming that Meek had copied  "Telstar" from "La Marche d'Austerlitz", a piece from a score that Ledrut had written for the 1960 film Austerlitz. The a lawsuit prevented Meek from receiving royalties from the record.
Austerlitz was not released in the UK until 1965 and Meek was unaware of the film when the Ledrut filed the lawsuit. The courts sided with Meeks in January 1967, three weeks after Meek's death.
Sound Magician Joe Meek
1960s
The so-called good ol' days of the 1960s were good for many, but not all. Being gay,  likely bipolar, and a workaholic who slept perhaps one day a week facing increased pressure from larger studios trying to minimize Meeks' success created a situation that was beyond Meeks' ability to manage.
On February 3, 1967 Meek shot and killed his landlady and then himself.  February 3, 1959 was the day Buddy Holly died in that infamous plane crash. On February 3, 2003, the most famous American recording engineer, Phil Spector, shot and killed Lana Clarkson.
Today a plaque in front of 304 Holloway Road commemorates his presence. It is on the wall between the Holloway Express Grocery Store and the Titanic Café and Restaurant (noted for its "all day English breakfasts").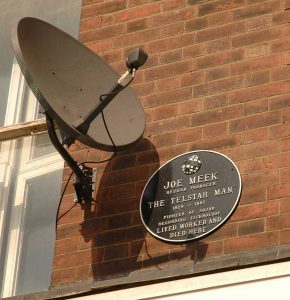 Sound Magician Joe Meek