Beatles Officially Legally End
December 29, 1974
Beatles at Woodstock?
During my shifts at the Museum at Bethel Woods Center for the Arts one of the most common questions is: Why weren't the Beatles at Woodstock?
My first response is that the Beatles had stopped touring and performing live in August 1966. They had chosen to became a studio band.
My second response that throughout August 1969, the Beatles were finishing recording and  mixing Abbey Road. They didn't know it,  of course, but August 20, 1969 was the last time the four would be together in the studio.
There is a story that Michael Lang had invited them. John Lennon had reportedly said they would not play unless Yoko and his Plastic Ono Band could also play. That story has never been authenticated,  but lives on with other Beatle ephemera.
Beatles Officially Legally End
Toronto
Lennon did perform with the Plastic Ono Band in September at the Toronto Rock and Roll Revival.
The Beatles released their "last" album,  Let It Be on May 8,1970, six months after Abbey Road's release, but they had recorded Let It Be before Abbey Road, so…
Beatles Officially Legally End
Whimper not a bang
So, when did the Beatles break up. This section's heading is the answer: they broke up gradually.
Ringo Walks Out
On August 22, 1968 Ringo had left the Beatles because he felt his playing had gotten sub-par and that he'd become an outsider to the other three.
He went on vacation to Sardinia, wrote "Octopus Garden," and with the encouragement of John, Paul, and George, returned on September 3.
Beatles Officially Legally End
Solo Projects
They  had also begun working on solo projects before 1970 ended.  George Harrison was the first in November 1968 with his Wonderwall Music soundtrack. Harrison had frequently felt like the Beatles' third wheel because most of his offered songs were dismissed in favor of the so-called Lennon/McCartney tunes.
Harrison Leaves
Of course, a solo album does not mean a break up, but frustration does. On January 10, 1969 Harrison walked out, unable to tolerate any longer the tensions within the group and the other's talk about playing a live show.
John Lennon reportedly said that the group should call Eric Clapton, saying, "He's just as good and not such a headache."
Like Starr, Harrison returned (January 15), but had he made it clear that he would leave the group unless the idea of a live show before an audience was dropped. They did.
Beatles Officially Legally End
Lennon Leaves
In September 1969, John Lennon told the others he was leaving. The other three, resigned to the group's collapse, said that they would keep the break-up out of the news.
McCartney Talks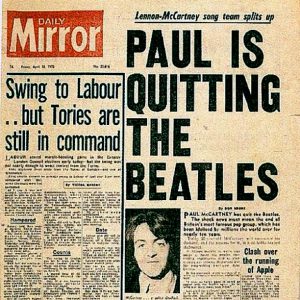 On April 10, 1970, in The Daily Mirror, Paul McCartney made the Beatles' secret breakup public by issuing a press release to announce that he had left the group, done in the form of a fake interview: "Q: Is your break with the Beatles temporary or permanent, due to personal differences or musical ones? PAUL: Personal differences, business differences, musical differences, but most of all because I have a better time with my family. Temporary or permanent? I don't really know."
Lennon was angry, especially since the breakup, already agreed upon by the group, was announced just one week prior to the British release of McCartney's first solo album. When a reporter tracked down Lennon for his thoughts, he replied, "Paul hasn't left. I sacked him."
Beatles Officially Legally End
Paul files
On December 31, 1970, Paul  filed a lawsuit in London's High Court to dissolve The Beatles' partnership. He filed it against "John Ono Lennon of Ascot, Berkshire; George Harrison of Henley-on-Thames, Berkshire; Richard Starkey of Highgate, London; and Apple Corps of Savile Row, London."
The writ gave three reasons for the suit:
The Beatles had ceased to perform together as a group, so       the purpose of their partnership was no more

  secondly, the other three Beatles had, despite McCartney's opposition and in breach of their partnership agreement, appointed Allen Klein and his ABKCO as their exclusive business manager

and that McCartney had never been given audited accounts during the four years of their partnership. (see Beatles Bible site)
Beatles Officially Legally End
 Four Years of Red Tape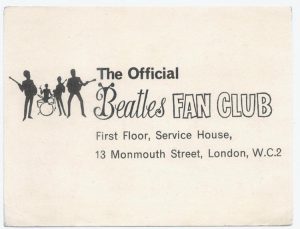 On March 31, 1972, The Beatles Official Fan Club closed. The Beatles Monthly magazine had ceased three years previously.
Now it was December 19, 1974 and four had finally agreed that all was in place for the official and legal end to the Beatles.  The meeting took place in New York City and Paul and George flew in just for the meeting. Ringo did not attend. He had already signed off.
Lawyers for each were present.  Cameras were ready. John, living in NYC, was late.  Well, not late,  absent. They made a phone call. Lennon's then girlfriend May Pang (he and Yoko had separated) answered. She said he said he wasn't coming.  "The stars weren't right."
It was George Harrison's turn to explode.  It was unusual for such anger from him, but under stress from a poorly reviewed tour was the straw that broke his back.
He apologized to all the following day.
In fact the three amicably met the next night at a club.
Beatles Officially Legally End
John Lennon and May Pang, took John's son Julian to Walt Disney World for the week of Christmas, 1974. They stayed at the Polynesian Village Resort.
Lennon was apparently finally ready.
On December 29, 1974 while ironically or appropriately at DisneyWorld, Apple lawyers met Lennon to sign off.
John told May to take a picture, but delayed signing until he spoke to Harrison's lawyer by phone. According to May, he looked out his window at the Polynesian Village Hotel several moments before signing.
Thus ended the Beatles
Beatles Officially Legally End, Beatles Officially Legally End, Beatles Officially Legally End,