December 30 Peace Love Art Activism

BLACK HISTORY
Hampton Johnson
December 30, 1864:  a black man named Hampton Johnson ran away from enslavement in Richmond, Virginia. It was in the midst of the Civil War, and nearly two years after President Lincoln's Emancipation Proclamation had rendered Johnson and many other enslaved black people free under the laws of the United States, Nevertheless, in January 1865 Hampton Johnson's purported "owners" placed an ad in the Richmond Dispatch newspaper, offering a reward for his return.
The ad seeking Hampton Johnson's return described him as "a Negro boy" of 25 years, 5'6″ tall, 130 lbs, able to read and write "remarkably well," married but forced to live apart from his wife, and skilled as a mechanic. The advertiser, W.B. Cook, offered $1000 to anyone who captured him "within the enemy's lines," and $500 if captured within Virginia. This ad is evidence that black people like Hampton Johnson remained vulnerable to recapture and re-enslavement through the war's end.
Johnson's ultimate fate is unknown, but if his decision to flee slavery in December 1864 ended at freedom, he was one of approximately 100,000 enslaved men, women and children who successfully escaped enslavement in the United States before 1865. [EJI article] (next BH, see January 31, 1865)
A year without a lynching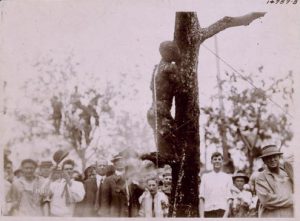 December 30, 1952: for the first time in seventy years, a full year passed with no recorded incidents of lynching. Defined as open, non-judicial murders carried out by mobs, lynching befell people of many backgrounds in the United States but was a frequent tool of racial terror used against black Americans to enforce and maintain white supremacy.
Prior to 1881, reliable lynching statistics were not recorded. But the Chicago Tribune, the NAACP, and the Tuskegee Institute began keeping independent records of lynchings as early as 1882. As of 1952, these authorities reported that 4726 persons had been lynched in the United States over the prior seventy years and 3431 of them were African American. During some years in American history it was not unusual for all lynching victims to be African American.
Lynching in the United States was most common in the later decades of the nineteenth century and early decades of the twentieth century, during post-reconstruction efforts to re-establish a racial hierarchy that subordinated and oppressed black people. Before the lynching-free year of 1952, annual lynching statistics were exhibiting significant reductions. Between 1943 and 1951 there were twenty-one lynchings reported nationwide, compared to 597 between 1913 and 1922. After 1952, the number of lynching incidents recorded annually continued to be zero or very low and the tracking of lynchings officially ended in 1968.
Though the diminished frequency of lynching signaled by the 1952 report was encouraging, the Tuskegee Institute warned that year that "other patterns of violence" were emerging, replacing lynchings with legalized acts of racialized inhumanity like executions, as well as more anonymous acts of violence such as bombings, arson, and beatings. Similarly, a 1953 editorial in the Times Daily of Florence, Alabama, noted that, though the decline in lynching was good news, the proliferation of anti-civil rights bombings demonstrated the South's continued need for "education in human relations." (next BH, see below; next Lynching, see April 25, 1959; for expanded chronology of lynching, see also AL4)
Jo Ann Robinson
In 1953: Jo Ann Robinson (of Montgomery's Women's Political Council) and other local black leaders met with the three commissioners of Montgomery. Robinson's group complained that the city did not hire any black bus drivers, said that segregation of seating was unjust, and that bus stops in black neighborhoods were farther apart than in white ones, although blacks were the majority of the riders. The commissioners refused to change anything. Robinson and other WPC members met with bus company officials on their own. The segregation issue was deflected, as bus company officials said that segregation was city and state law. The WPC achieved a small victory, as the bus company officials agreed to have the buses stop at every corner in black neighborhoods, as was the practice in white neighborhoods. (next BH, see June 8 ; next Feminism, see May 18, 1954; next MBB,  see March 2, 1955)
Montgomery Bus Boycott
December 30, 1955: Montgomery Mayor W. A. Gayle urges Montgomery citizens to patronize city buses or risk losing the bus company's business  (see MBB for expanded chronology)
Attica Prison Riot
December 30, 1976: Governor Carey of New York pardoned seven inmates.(next BH, see June 10, 1977; Attica, see August 29, 2000)
December 30 Peace Love Art Activism
US Labor History
Governor assassinated
December 30, 1905: an assassin's bomb killed Idaho Gov. Frank Steunenberg, who had brutally suppressed the state's miners. Legendary Western Federation of Miners and IWW leader William "Big Bill" Haywood and two other men were put on trial for the death but were ultimately declared innocent.(next LH, see May 15, 1906)
Sit-down strike
December 30, 1936: at 8 p.m. in one of the first sit-down strikes in the US, autoworkers occupied the General Motors Fisher Body Plant Number One in Flint, Michigan. The autoworkers struck to win recognition of the United Auto Workers (UAW) as the only bargaining agent for GM's workers; they also wanted to make the company stop sending work to non-union plants and to establish a fair minimum wage scale, a grievance system and a set of procedures that would help protect assembly-line workers from injury. In all, the strike lasted 44 days.
Union membership
In 1937: 15.1% of employed workers belong to unions, the first time it had exceeded 10%.
CIO Splits from AFL
In 1937: The Congress of Industrial Organizations splits from the American Federation of Labor over disputes about methods of organizing large industries. The two groups will remain rivals until merging back together as the AFL-CIO in 1955. (next LH, see Jan 11)
December 30 Peace Love Art Activism
Cold War
USSR born
December 30, 1922 in post-revolutionary Russia, the Union of Soviet Socialist Republics (USSR) is established, comprising a confederation of Russia, Belorussia, Ukraine, and the Transcaucasian Federation (divided in 1936 into the Georgian, Azerbaijan, and Armenian republics). Also known as the Soviet Union, the new communist state was the successor to the Russian Empire and the first country in the world to be based on Marxist socialism.
The USSR eventually consisted of: Russia, Ukraine, Byleorussia, Armenia, Georgia, Azerbaijan, Lithuania, Latvia,  Estonia, Moldovia, Kazakhstan, Kirghizia, Uzbekistan, Turmenia, and Tajikistan. (see USSR for expanded chronology)
Romania Soviet satellite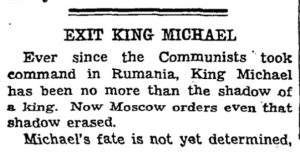 December 30, 1947:  Soviet-backed Communists forced the abdication of Romania's King Michael. Communists now control all of Eastern Europe.(next Red Scare, see January 9, 1948; Romania, see December 15, 1989)
December 30 Peace Love Art Activism
Technological Milestone
December 30, 1953: first color TV sets went on sale for about $1,175. [NYT article] (next TM, see January 1, 1954)
December 30 Peace Love Art Activism
December 30 Music et al
Beatles ad

December 30, 1963: a two-page ad from Capitol Records pitching the Beatles' recordings runs in Billboard and Cash Box music industry magazines.  Bulk reprints of these ads had already been distributed to Capitol's sales agents for use with radio stations and in enlarged, easel-scale size for use in music store displays across the country. (next Beatles, see January 3, 1964)
Hello, Goodbye
December 30, 1967 – January 19, 1968: "Hello Goodbye" #1 on the Billboard Hot 100. (next Beatles, see January 6, 1967)
George Harrison attacked at home
December 30, 1999: at approximately 3 am George Harrison was the victim of an intruder at his home in Oxfordshire, England, when a disturbed 33-year-old Liverpudlian, Michael Abram broke into George's home and stabbed the former Beatle several times in the chest with a six-inch knife. Abrams thought he was on a 'mission from God'.
Harrison's wife, Olivia, attacked Abram with a poker and a bedroom lamp, then held him until the police arrived.
George ended up with a collapsed lung besides the stab wounds.
Abram was later found not guilty by reason of insanity and ordered to a psychiatric hospital. [Independent article] (next Beatles, see November 29, 2001)
December 30 Peace Love Art Activism
Vietnam
Binh Gia
December 30, 1964: South Vietnam's Fourth Marine Battalion relieved and reinforced the South Vietnamese rangers at Binh Gia. An American helicoptor was shot down killing the four on board. (next Vietnam, see Dec 31)
Nixon orders bombing halt
December 30, 1972: the White House announced that President Nixon had ordered a halt to the bombing of North Vietnam above the 20th Parallel and that Henry A. Kissinger would resume negotiations for a Vietnam settlement with Le Duc Tho in Paris on Jan 8.
The announcement of the renewed efforts to seek a negotiated settlement, ending nearly two weeks of heavy bombing of Hanoi and Haiphong, also said that the technical talks of lower-level American and North Vietnamese experts would resume on January 2 in Paris.
Gerald L. Warren, a deputy White House press secretary, said in answer to a question at a White House briefing for newsmen that "as soon as it was clear that serious negotiations could be resumed at both the technical level and between the principals, the President ordered that all bombing be discontinued above the 20th Parallel."  [NYT article](next Vietnam, see January 8, 1973)
December 30 Peace Love Art Activism
Cannabis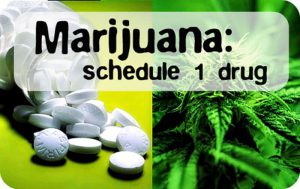 December 30, 1989: DEA Administrator Jack Lawn overruled the decision of administrative law judge Francis Young who had agreed with marijuana advocates that marijuana should be moved from Schedule I to Schedule II of the Controlled Substances Act.
This proposed rescheduling of marijuana would have allowed physicians to prescribe the smoking of marijuana as a legal treatment for some forms of illness. Administrator Lawn maintained that there was no medicinal benefit to smoking marijuana and that marijuana should remain a Schedule I controlled substance.(next Marijuana, see November 5, 1991)
December 30 Peace Love Art Activism
TERRORISM
William R. Higgins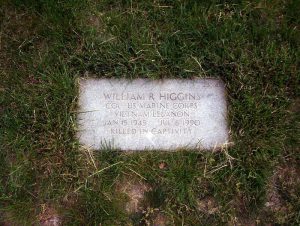 December 30, 1991: the USMC interred the remains of William R. Higgins, USMC in Quantico National Cemetery. (see March 4, 1994)
Women's Health

December 30, 1994: John Salvi III walked into two separate abortion clinics in Brookline, Massachusetts, and shot workers with a rifle, killing two receptionists and wounding five other employees. He was captured the next day after firing 23 shots at a Norfolk, Virginia, medical clinic. (Salvi found guilty) (next WH, see July 27, 1996; Salvi, see November 29, 1996; next Terrorism, February 7, 1995)
December 30 Peace Love Art Activism
Iraq War II
Saddam Hussain hung
December 30, 2006: Saddam Hussain hung. President George Bush said Saddam had received the kind of justice he denied his victims. Some key US allies expressed discomfort at the execution. And Russia, which opposed the March 20, 2003 invasion to oust the dictator, and the Vatican expressed regret at the hanging which some Muslim leaders said would exacerbate the violence in Iraq. [WP article] (next Death Penalty, see December 17, 2007)
Iraq death toll 2006
In 2006: the death toll for Americans killed in the Iraq war reached 3,000. (next IWII, see January 3, 2007)
Iraq death toll 2007
December 30, 2007:  it was announced that 899 American troops had died in Iraq in 2007, making 2007 the deadliest for the U.S. military since the 2003 invasion. (next IWII, see September 9, 2008)
December 30 Peace Love Art Activism
LGBTQ
December 30, 2016: Des Moines County Attorney Amy Beavers requested first-degree murder warrants for the two suspects who allegedly shot and killed Kedarie Johnson, a 16-year-old high school junior on March 2, 2016.
Beavers said the charges were not yet officially filed and that the suspects' names could not be released until the warrants were executed.  [DeMoines Register article] (next LGBTQ, see January 6, 2017; next Johnson, see March 14, 2017)
December 30 Peace Love Art Activism

2020 Census
December 30, 2020: CNN reported that the Census Bureau announced it would miss the December 31 deadline to produce the population count used to divide seats in Congress between the states.
The announcement was expected and the key question remained whether the Census Bureau and Commerce Department would present the tally to President Donald Trump prior to his departure from office on January 20. There were no penalties associated with missing the December 31 deadline.
The Census Bureau said in a statement that it plans "to deliver a complete and accurate state population count for apportionment in early 2021, as close to the statutory deadline as possible." (next Census 2020, see January 12, 2021)
December 30 Peace Love Art Activism