December 17 Peace Love Activism
Technological and Cultural Milestones
The Wright Brothers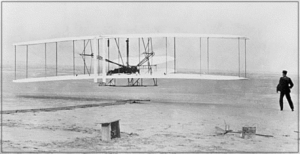 December 17, 1903: Orville and Wilbur Wright made the first successful man-powered airplane flight, near Kitty Hawk, N.C.(see October 27, 1904)
Color TV
December 17, 1953: the FCC approved color specifications from the National Television System Committee (NTSC) for a color system compatible with existing black and white sets. By the end of 1953, 44.7% of American households have a TV set. By the end of 1954, 55.7% of households will. (see Dec 30)
Superstation
December 17, 1976: WTCG-TV, Atlanta, GA, changed its call letters to WTBS, and uplinked via satellite. The station became the first commercial TV station to cover the entire U.S. (see June 5, 1977)
Simpsons
December 17, 1989: "The Simpsons" premiered on Fox.(see February 14, 1990)
Anarchism in the US
December 17, 1910: Emma Goldman published her first book, Anarchism and Other Essays. (PDF of book) (see Emma Goldman for her larger story)



Nuclear and Chemical Weapons
Otto Hahn and Fritz Strassmann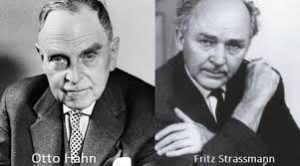 December 17, 1938: German chemists Otto Hahn and Fritz Strassmann discovered nuclear fission by splitting the nuclei of uranium into lighter elements while performing experiments in Berlin.(see August 2, 1939)

Intercontinental missile
December 17, 1957: the US successfully test-fired the Atlas intercontinental ballistic missile for the first time. (see Dec 18)
Immigration History
Magnuson Act
December 17, 1943: the Magnuson Act repealed the Chinese Exclusion Act (May 6, 1882). The exclusion act was arguably the most restrictive immigration law ever passed in the US. It barred from immigration all Chinese laborers. Although it permitted the entry of some non-laborers, who were required to obtain certification from the Chinese government, few were able to quality. Repeal of the Exclusion Act at this time was spurred by the fact that China was an important ally of the U.S. against Japan in World War II.(see June 27, 1952)
Arizona drivers license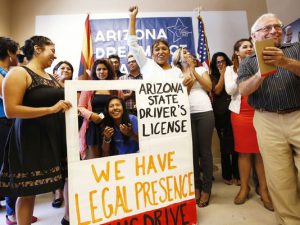 December 17, 2014: the Supreme Court let stand a ruling requiring Arizona to issue driver's licenses to young immigrants spared from deportation by President Obama.

The court's brief, unsigned order gave no reasons, but it nonetheless represented the justices' first encounter with the Obama administration's recent efforts to provide relief to immigrants who are in the United States unlawfully. Justices Antonin Scalia, Clarence Thomas and Samuel A. Alito Jr. dissented, also without giving reasons.(see February 15, 2015)
Japanese Internment Camps
December 17, 1944: Major General Henry C. Pratt issued Public Proclamation No. 21, declaring that, effective January 2, 1945, Japanese American "evacuees" from the West Coast could return to their homes. (see November 21, 1945 re the final closing.) (see Dec 18)
BLACK HISTORY
Montgomery Bus Boycott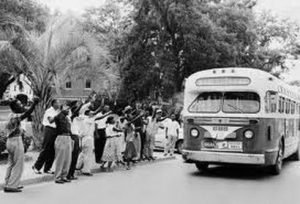 December 17, 1955: Martin Luther King, Jr met with white representatives in an unsuccessful attempt to resolve the bus dispute. The boycott, initially launched as a one-day statement of protest, had been going on for nearly two weeks at this point. (see Dec 30)
Coerced confessions
December 17, 1977: the district attorney dropped the murder and robbery charges against the five Black men forced to confess under threat of death, saying that without the confessions there was not much of a case. Two of the defendants had spent one year in jail, and the other three had been incarcerated for almost two years.  No one was ever convicted of  Gordon Howell's murder (see January 22, 1976). (see Dec 30)
Arthur McDuffie
December 17, 1979: Arthur McDuffie, a 33-year-old African American insurance sales representative, was riding a motorcycle when he was signaled to pull over by Metro-Dade Police Department (MDPD) officers in Miami, Florida. Mr. McDuffie did not comply, beginning an eight-mile chase through Miami. After he was apprehended, MDPD officers beat him into a coma. There is no evidence that he physically resisted arrest, and officers later ran over Mr. McDuffie's motorcycle to make it appear as if he had been in an accident. Mr. McDuffie died four days later. After an autopsy confirmed witness reports that he had been beaten to death, five MDPD officers were charged with manslaughter and evidence tampering.

The jury found them not guilty on all counts.(BH * McDuffie, see May 18, 1980)
Medgar Evers
December 17, 1990: Byron De La Beckwith, 70 years old, twice tried but never convicted in the shooting death of the civil rights leader Medgar Evers in 1963, was arrested as a fugitive from Mississippi. Officials said a grand jury in Hinds County heard testimony the previous week in the slaying of Medgar Evers, who was field secretary for the Mississippi branch of the NAACP . Hinds County District Attorney Ed Peters, said he had no comment on the arrest and would not say whether Mr. Beckwith had been indicted in connection with the reopened investigation into Mr. Evers' killing. (see Dec 19)
George J. Stinney Jr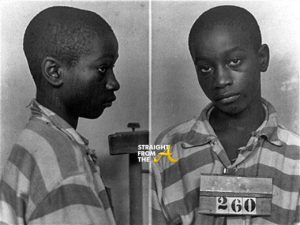 December 17, 2014: Calling it a "great and fundamental injustice," South Carolina Circuit Judge Carmen T. Mullen vacated the 1944 murder conviction of 14-year-old George J. Stinney Jr., the youngest person executed in the United States in the last century.

Mullen did not rule that the conviction of Mr. Stinney for the murder of two white girls in the town of Alcolu was wrong on the merits. She did find, however, that the prosecution had failed in numerous ways to safeguard the constitutional rights of Mr. Stinney, who was black, from the time he was taken into custody until his death by electrocution.

The all-white jury could not be considered a jury of the teenager's peers, Judge Mullen ruled, and his court-appointed attorney did "little to nothing" to defend him. His confession was most likely coerced and unreliable, she added, "due to the power differential between his position as a 14-year-old black male apprehended and questioned by white, uniformed law enforcement in a small, segregated mill town in South Carolina." (see Dec 22) 
December 17 Peace Love Activism
Decenber 17 Music et al
December 17, 1961, The Beatles before their US appearance: Brian Epstein contacted a local wedding photographer, Albert Marrion, to see if he could take some professional pictures of the group for the first time. (see January 1, 1962)
Alan Freed

December 17, 1962: Alan Freed pleaded guilty in Criminal Court to accepting a $2,000 bribe from the Cosnat Distributing Company and a $700 bribe from the Superior Record Sales Co, Inc. Jundge John Murtagh imposed a $300 fine and a six-month suspended jail sentence.  (see June 8, 1963)
DJ Carroll James
December 17, 1963: radio DJ Carroll James at Washington. D.C. station WWDC, a U.K. copy of  "I Want to Hold Your Hand" on the radio after a 15-year-old girl from Silver Spring, MD wrote to him requesting Beatles music after seeing the CBS-news segment.  James Carroll became the first disc jockey to broadcast a Beatles record on American radio. He had obtained the record from his stewardess girlfriend, who brought the single back from the UK. Due to listener demand, the song was played daily, every hour. (see Dec 18 – 19)
Beatles Third Christmas Record
December 17, 1965, The Beatles: "The Beatles Third Christmas Record" released. (see Jan 8, 1966)
Winchester Cathedral
December 17 – 30, 1966: "Winchester Cathedral" by The New Vaudeville Band #1 on the Billboard Hot 100.
Christmas Time Is Here Again
December 17, 1967: Beatles sent Christmas Time Is Here Again to fan club members. (see Dec 26)
Environmental Issues
Clean air bill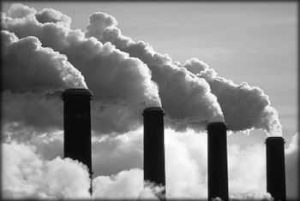 December 17, 1963: (story from United Press International.) President Johnson signed into law a "clean air" bill designed to channel $95 million in federal funds into a four-year program to fight air pollution. The legislation authorized the Department of Health, Education and Welfare to conduct research into the problem of air pollution, which some experts say is becoming a national menace. It also would permit federal aid to states and communities which are fighting air pollution.

In signing the measure, Johnson said it would combat a "serious and growing" hazard. He said an estimated 6,000 U.S. communities need the type of assistance provide by the bill. States will retain the primary responsibility for controlling and reducing pollution except in those cases where pollution from one source -- such as a concentration of factories -- affects more than one state. (see September 3, 1964)
Fracking
December 17, 2014: NY Gov. Andrew M. Cuomo's administration announced that it would ban hydraulic fracturing in New York State because of concerns over health risks, ending years of debate over the method of extracting natural gas. (see January 6, 2015)
Feminism
December 17, 1970: Jo Carol LaFleur told the principal of a Cleveland, Ohio, junior high school, where she was teaching, that she was pregnant. According to school policy, teachers were banned from the classroom after the fourth month of pregnancy — and could not return until the semester after the child was three months old. On January 21, 1974, in Cleveland Board of Education v. LaFleur the US Supreme Court found that overly restrictive maternity leave regulations in public schools violated the due process clause of the Fifth Amendment and the Fourteenth Amendment. This decision struck down mandatory maternity leave rules. (F, see January 15, 1971; Jo Carol LaFleur, see January 21, 1974)
Lynette Alice Fromme
December 17, 1975: a federal jury in Sacramento, California, sentenced Lynette Alice Fromme, also known as "Squeaky" Fromme, to life in prison for her attempted assassination of President Gerald R. Ford. (see Lynette Squeaky Fromme) (see August 16, 2009)

Irish Troubles
December 17, 1983:  a Provisional IRA car bomb killed 6 Christmas shoppers and injured 90 outside Harrods in London. (see Oct 12, 1984)
December 17, 1984: during a partial-lung removal procedure, Ryan White was diagnosed with AIDS. (AIDS, see March 2, 1985)

December 17, 1985: the school board voted 7–0 to appeal Indiana Department of Education ruling. 
The Cold War
Dissolution of the USSR
December 17, 1989: Timișoara Riot in Romania. Demonstrations in the city of Timișoara were triggered by the government-sponsored attempt to evict László Tőkés, an ethnic Hungarian pastor, accused by the government of inciting ethnic hatred. Members of his ethnic Hungarian congregation surrounded his apartment in a show of support. Romanian students spontaneously joined the demonstration which had became a more general anti-government demonstration. Regular military forces, police and Security fired on demonstrators killing and injuring men, women and children. (see Dec 19)
United States/Cuba
December 17, 2014: American officials announced that the US would restore full diplomatic relations with Cuba and open an embassy in Havana for the first time in more than a half-century after the release of an American contractor held in prison for five years.

In a deal negotiated during 18 months of secret talks hosted largely by Canada and encouraged by Pope Francis, who hosted a final meeting at the Vatican, President Obama and President Raúl Castro of Cuba agreed in a telephone call to put aside decades of hostility to find a new relationship.(see January 12, 2015)
Jack Kevorkian
December 17, 1993: Kevorkian ended fast and left jail after Oakland County Circuit Court Judge reduced bond to $100 in exchange for his vow not to assist in any more suicides until state courts resolved the legality of his practice. (see January 27, 1994)
December 17, 1997: Monica Lewinsky subpoenaed by lawyers for Paula Jones, who was suing the president on sexual harassment charges.

December 17, 1998: Republicans rescheduled the impeachment debate for December 18 over Democratic objections. Republican Speaker-elect Bob Livingston is forced to admit his own marital indiscretions, but says unlike President Clinton, they were not with a staff member and he was never asked to testify under oath about them
STAND YOUR GROUND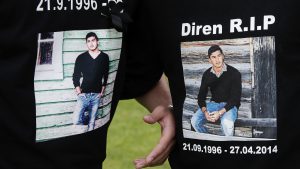 December 17, 2014: on this date Markus Kaarma, 30, of Missoula, Montana, who had shot and killed Diren Dede, a German exchange student caught trespassing in his garage, was convicted of deliberate homicide in a case that attracted attention as a test of "stand your ground" laws that governed the use of deadly force to defend life and property.

Kaarma had shot  Dede on April 27, 2014 after being alerted to an intruder by motion sensors. Witnesses testified Kaarma fired four shotgun blasts at Dede, who was unarmed.(see February 12, 2015)
December 17 Peace Love Activism, December 17 Peace Love Activism, December 17 Peace Love Activism, December 17 Peace Love Activism, December 17 Peace Love Activism, December 17 Peace Love Activism, December 17 Peace Love Activism, December 17 Peace Love Activism, December 17 Peace Love Activism, December 17 Peace Love Activism, December 17 Peace Love Activism, December 17 Peace Love Activism, December 17 Peace Love Act ivism,
Please follow and like us: