Santana Bassist David Brown
Remembering and appreciating
February 15, 1947 – September 4, 2000
Bassist for Santana band: 1967 – 71 and 1974 – 76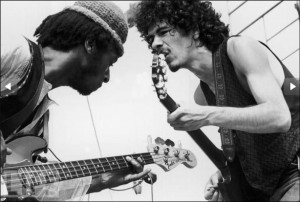 Santana Bassist David Brown
Daly City, California
David grew up in Daly City, California.
According to a Ben Fong-Torres piece in Rolling Stone magazine from December 7, 1972,  David Brown, who'd gone to public and private school in San Francisco and played bass at night with Latin jazz bands and at clubs behind touring groups like the Four Tops, was walking up Grant Ave., in North Beach, when he heard some music from a small club. He stepped in, sat in, and was approached by Stan Marcum, who would become Santana's manager. 
From that same article, David Brown is quoted that early in the band's development they found that "We didn't like the music too repetitious, the way Butterfield or other blues bands were playing…so we got into improvisation and we'd find the drums in there more of the time. Eventually, we just sat back and said let them do their thing.
Woodstock
Brown played with  Santana at the Woodstock Music and Art Fair in 1969 and on several other dates and albums.
While most of us listen enthralled to Carlos Santana's lead guitar on Soul Sacrifice (and deservedly so), for David Brown's birthday celebration, let's listen to the bass. Pretty good!
Though best known as part of Santana, David Brown also played in Boz Scaggs band on three of Scaggs's albums: Moments, Boz Scaggs and Band, and My Time.
Here is his credit listing from AllMusic.com
David Brown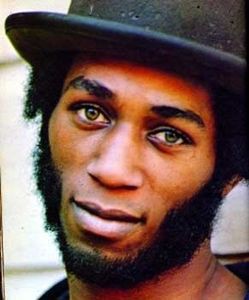 In 1998, he was inducted into The Rock and Roll Hall of Fame as a member of Santana. All the members of the band speak, except Brown.
David Brown died in 2000 due to liver and kidney failure. Be sure to read the several comments below, especially  Beachdog67's. A wonderful and personal memory.
Santana Bassist David Brown