BST Child Father Man
Blood, Sweat and Tears
Child Is Father to the Man
Released February 21, 1968
BST Child Father Man
That crazy and wondrous overture!
The Beatles and Dylan kept changing the equation. In 1967 Sgt Pepper's Lonely Hearts Band said, Do what you want. Segue songs together. Put lyrics on the album. Add sounds. Add more instrumentation. Or not.
Al Kooper was there when Dylan went electric. Kooper accidentally added the iconic organ on Dylan's "Like a Rolling Stone."  It was Kooper and Steve Katz's underground masterpiece Projections with the Blues Project that got people searching for more when they left the Project. Where had they gone?
Blood, Sweat and Tears was where they'd gone and had given birth to…
BST Child Father Man
Child Is Father to the Man
Rolling Stone magazine's review said "This album is unique. More precisely, it is the first of its kind — a music that takes elements of rock, jazz, straight blues, R&B, classical music and almost anything else you could mention and combines them into a sound of its own that is "popular" without being the least bit watered down."
The All Music review states: "This is one of the great albums of the eclectic post-Sgt. Pepper era of the late '60s, a time when you could borrow styles from Greenwich Village contemporary folk to San Francisco acid rock and mix them into what seemed to have the potential to become a new American musical form."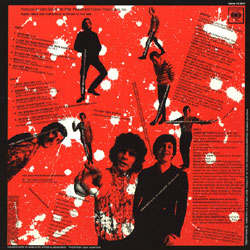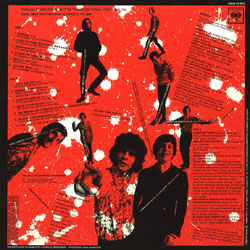 BST Child Father Man
The whole band was…
Randy Brecker – trumpet, flugelhorn

Bobby Colomby – drums, percussion, vocals

Jim Fielder – bass guitar, fretless bass guitar

Dick Halligan – trombone

Steve Katz – guitar, lute, vocals

Al Kooper – organ, piano, ondioline, vocals

Fred Lipsius – piano, alto saxophone

Jerry Weiss – trumpet, flugelhorn, vocals
And though Al Kooper wrote most of the songs, he had a great ear from whom to cover. My quick thoughts are in blue following each title.
"Overture" (Kooper) – 1:32…I don't know about you, but even the Beatles hadn't done something as crazy sounding (to that point) as that loony laughing during the Overture. 


---

"I Love You More Than You'll Ever Know" (Kooper) – 5:57…How sweet this was. To this adolescent's innocent ears (I'll admit it), the passion behind Kooper's voice was so cool. And those horns! "I could be President of General Motors!"


---

"Morning Glory" (Larry Beckett, Tim Buckley) – 4:16..

.

a nice segue into this song. "I lit my purest candle…"  And oh yea, recognize that organ sound? Like a Rolling Stone???


---

---

"My Days Are Numbered" (Kooper) – 3:19…more of those horns. I'd never heard (remember those innocent ears) horns used with such strength.


---

"Without Her" (Harry Nilsson) – 2:41…This was the first time I heard Nilsson and "Without Her." I'd come to love his version more, but at that moment, such a cool beat. 


---

---

"Just One Smile" (Randy Newman) – 4:38…Didn't realize that a Randy Newman song could have such strength! And side one ends after over 22 minutes. About how long some entire albums were. Getting my money's worth.


---

"I Can't Quit Her" (Kooper, Irwin Levine) – 3:38..

.

cool guitar, bumping bass, and more cool horns. I could get used to this.


---

"Meagan's Gypsy Eyes" (Steve Katz) – 3:24…I loved the Blues Project's "Flute Thing" and this had that same feel for me. Gurgling vocals. Neat.  Mee-gan, not Meg-an.


---

---

"Somethin' Goin' On" (Kooper) – 8:00…Eight minutes. Very nice. This is not American Bandstand.


---

"House in the Country" (Kooper) – 3:04…I was a straight suburban kid who loved the country (part of Woodstock's appeal) and this song with all its sound effects was another reason that I knew I was headed in the right direction. Who was that kid? 


---

"The Modern Adventures of Plato, Diogenes and Freud" (Kooper) – 4:12…Taking a break.


---

"So Much Love"/"Underture" (Gerry Goffin, Carole King) – 4:47..

.

I'd heard of the term Overture. Never Underture. One hell of a way to split after over 49 minutes of amazing music.


---
BST Child Father Man
Happy anniversary Child Is Father To the Man