Drummer Bobby Wayne Colomby
Happy birthday Bobby
Woodstock Music and Art Fair alum Bobby Colomby was born in New York City on December 20, 1944.
After Al Kooper and Steve Katz left the Blues Project in 1967, Colomby joined them to found the original Blood Sweat and Tears. In addition to Colomby,  Kooper, and Katz, there was Jim Fielder, who had played with the Mothers of Invention and Buffalo Springfield. The band recruited horn players from New York jazz and studio bands.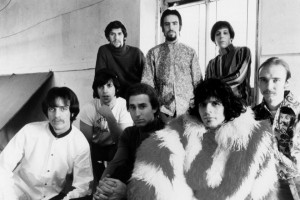 Drummer Bobby Wayne Colomby
Sessions drummer
Previously, Bobby Colomby had drummed behind folksingers Odetta and Eric Andersen. When Kooper left for a solo  career, many felt that the band was over, but Colomby and Katz continued with the others (NYT BST)
After dozens of personnel changes in the group Colomby became (in the end) the de facto owner of the Blood Sweat & Tears name. He maintains ownership of the "Blood, Sweat & Tears" band name and, although he no longer plays with the band, he still manages and oversees a tribute band that performs under that name. (BST  Home site)
Drummer Bobby Wayne Colomby
What else has…
Bobby Colomby done?
Colomby produced Jaco Pastorius' first solo album (NYT article on the movie "Jaco"); The Jacksons' Destiny (NYT article on Jackson including Colomby quotes); Chris Botti's albums December, When I Fall in Love, and To Love Again and Italia; and Paula Cole's album Courage.
For a few years in the late 1980s Bobby Colomby was a reporter for the television programs Entertainment Tonight and "The CBS Morning Program."
In 2000, Colomby and Richard Marx created short-lived Signal 21 Records.
In a December 2016,  BroadwayWorld.com article stated that Colomby is always looking to keep Blood Sweat & Tears more than a band playing its old hits. "I no longer want to target just one generation. That would be a mistake. With this updated version, I want this band to gain recognition with a wider audience. I want people of all ages to experience what this music has to offer." And none of the original member are in the current line up. Why? "I think of this band like baseball's Yankees. When you're at a Yankee game you're not going to see Babe Ruth, Mickey Mantle or Lou Gehrig. What you do come to expect is a team of top-notch players upholding a tradition of winning. That's the Yankee legacy. It what people expect from BS&T as well… brilliant musicians, singers, songs and arrangements."
Drummer Bobby Wayne Colomby