Alvin Graham Barnes Lee
December 19, 1944 — March 6, 2013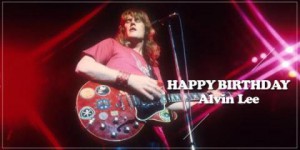 And if you say Alvin Lee or Ten Years After, most music fans will say, "I'm Goin' Home" and think of his Woodstock Music and Art Fair performance.
Alvin

Graham Barnes

 Lee
Home albatross
It likely surprised Lee that he garnered so much fame from that song's particular performance.  An albatross laying a golden egg. He was already a great guitarist when he began his trek along 1969's festival trail. How many times did he play "I'm Going Home" before Woodstock that summer?  Likely dozens of times.
Alvin

Graham Barnes

 Lee
Busy Band
Here's theie North American tour list just for June and July:
July 4, Newport Jazz Festival

July 5, Action House, Island Park, NY

July 12, Laurel Pop Festival, Maryland

July 13, Singer Bowl, NYC

July 16, Schaefer Music Festival, Wollman Skating Rink  NYC

July 22 – 24, Fillmore West, San Francisco

July 25,   Seattle Pop Festival

July, 17, Balboa Stadium, San Diego

August 2, Tea Party, Boston

August 16, St Louis
Alvin

Graham Barnes

 Lee
The Pinnacle 
Their Woodstock performance was Sunday evening on August 17. Following that they went to:
Aug 20, The Catacombs, Houston

Aug 24, The Rose Palace, Pasadena, CA

Aug 26 > 28, Fillmore West, San Francisco

Sept 1,  Texas International Pop Festival

Sept 12 – 13, Fillmore East, NYC
Alvin

Graham Barnes

 Lee
The music never stopped
After the Fillmore East dates, they flew back to do a European tour and did 20 more concerts! By the way, they'd already had done 40 European and American before returning for the summer of 1969. (complete list)
And while they may not have played "I'm Goin' Home" at every gig, surely many heard it again and long before the album cut or the movie scene appeared in 1970.
But its filming at Woodstock preserved it and sent it worldwide. His name was and will forever be associated with that song and that performance.
Alvin

Graham Barnes

 Lee
Remembering Alvin Lee
Some  facts about Lee:
he was originally influenced by his parent's collection of jazz and blues records

began playing guitar age 13

by aged 15 his Jaybirds band formed the core of Ten Years After

moved to London and changed the band's name to Ten Years After in 1966

the band's performance at the Windsor Jazz & Blues Festival in 1967 led to their first recording contract.

October 1967. Release of Ten Years After, the band's first album.

concert promoter Bill Graham who invited the band to tour America for the first time in the summer of 1968. Ten Years After would ultimately tour the USA 28 times in 7 years, more than any other U.K. band.

Ten Years After had great success, releasing ten albums together between 1967 and 1973.

after the breakup of Ten Years After, Lee continue to form bands and record music.

Lee's overall musical output includes more than 20 albums.

neither Alvin Lee nor Ten Years After are in the Rock and Roll Hall of Fame.
Alvin Lee website
Lee died on March 6, 2013. (NYT Obit)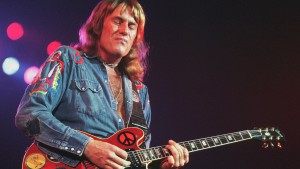 Remembering Alvin Lee