Texas International Pop Festival
August 30 thru Sept 1, 1969
Dallas International Motor Speedway
Lewisville, TX
1969 Festival # 31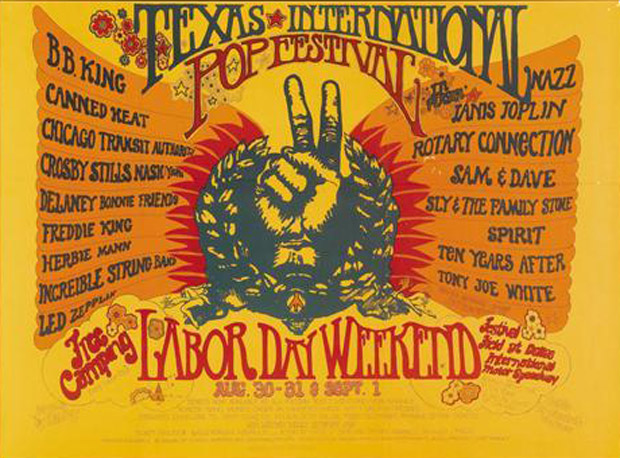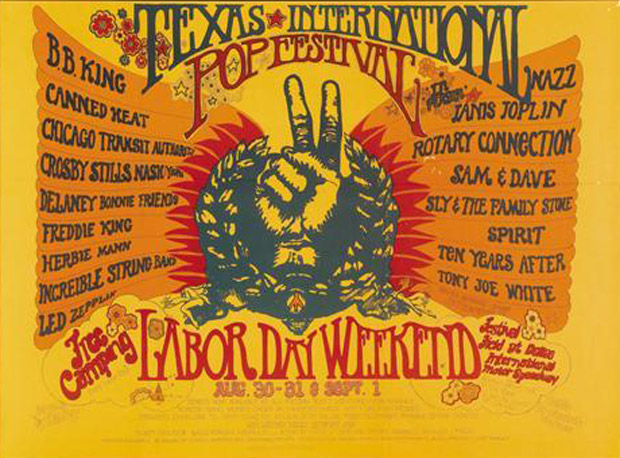 Texas International Pop Festival
Festival #31
The Texas International Pop Festival is the 29th festival of 1969 that I've discovered. All but three were single weekend events. I those others to show another approach to presenting several groups.
The Woodstock Music and Art Fair changed the festival landscape. The organizers of the Texas festival did not expect nearly as many people (Texas had approximately 120,000 attended), but towns and police were even warier fearing the potential of another Woodstock-sized event in another small town. Lewisville had about 8,000 people.
Texas International Pop Festival
Angus Wynne III
Angus Wynne III was the primary organizer of the event. His father was a successful businessman who had begun the Six Flags Over Texas park (if you care to know, the six flags refers to the six countries that have governed Texas: France, Spain, Mexico, The Republic of Texas, The Confederate States of America, and the United States of America).
Texas International Pop Festival
Huge Romney
Hugh Romney's Hog Farm was also at the Texas International Pop Festival serving in the same capacity as it had at Woodstock: food and please-ant crowd control.
Romney was still Romney until, as the story goes, he had a conversation with BB  King, one of the festival's performers. After that conversation, King reportedly turned to someone and said, "That guy is wavy gravy."
Texas International Pop Festival
Line up
Saturday, August 30

Chicago Transit Authority

James Cotton Blues Band

B.B. King

Herbie Mann

Rotary Connection

Sam & Dave

Sunday, August 31

Chicago Transit Authority

James Cotton Blues Band

Delaney & Bonnie & Friends

B.B. King

Led Zeppelin

Herbie Mann

Sam & Dave

Monday, September 1

Delaney & Bonnie & Friends

B.B. King

Nazz

Sly and the Family Stone

Spirit

Tony Joe White
Texas International Pop Festival
More than once
Though not on the schedule, the newly formed Grand Funk Railroad opened each day, a clever move that helped spread the news about themselves.
You will also notice that some bands played more than one day: Chicago (2x), James Cotton (2x), BB King (3x), Herbie Mann (2x), Sam & Dave (2x), and Delaney & Bonnie & Friends (2x). The ubiquitous Johnny Winter played one day.
Unlike most other 1969 festivals, there is a bit more to read about and find and hear regarding this festival. Several bootleg albums exist from some performances.
And it has something that Bethel, NY's Woodstock only recently received: historic recognition. The Texas Historical Commission recognized the  Festival as a significant part of Denton County history by awarding it an Official Texas Historical Marker.
A Scott Powers, who commented on my WW Facebook page entry, pointed out that he lives nearby and that , "The site is now a Chase office building." Thanks Scott.
David Weekly took the video below with a super-8 movie camera and added the music afterwards.
Some information from the City of Lewisville site
Texas International Pop Festival