1964 Bob Dylan Introduced Beatles
The narrator above refers to August 30, but it was…
August 28, 1964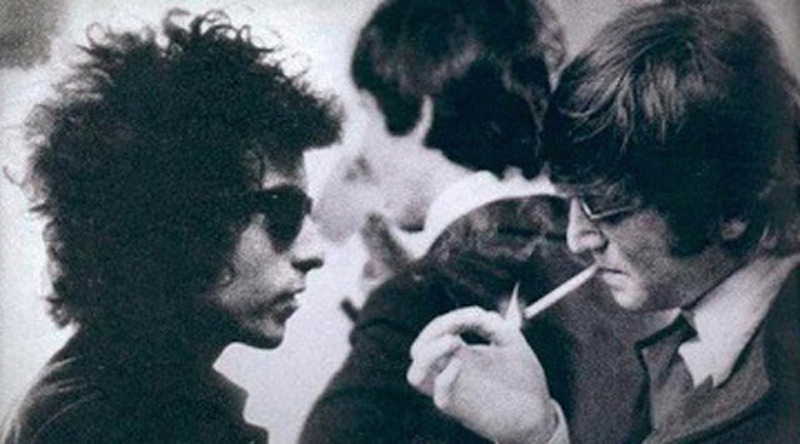 1964 Bob Dylan Introduced Beatles
She Loves You
The Beatles initial successes were great pop songs that many youth fell in love with at the same time they themselves were looking to fall in love. She Loves You, I Want to Hold Your Hand, Please Please Me, I Feel Fine, She's a Woman, and We Can Work It Out are all loves songs. Some happier than others.
Someone once told me, if it's a happy Beatle song, Paul wrote it; a sad one, John. While a generalization, it's more often true than not.
1964 Bob Dylan Introduced Beatles
Maggie's Farm
When I first heard Bob Dylan's "I Ain't Gonna' Work on Maggie's Farm No More" I was only a touch less confused about its lyrics than "Gates of Eden," a song I had no idea what was happening other than Dylan was trying to harmonize with songs the lonesome sparrow sang.
Maggie's Farm? Well there's a guy obviously praying for rain, getting terribly underpaid, and whose boss is putting out his cigar on the guy's face. I'd quit too.
Of course, that's not what Dylan was saying. He was saying he wasn't going to be the acoustic-folk-protest song-singer too many expected him to permanently be. Quitting. He was going  electric. And on July 25, 1965 he did just that at the Newport Folk Festival.
Many were displeased.
1964 Bob Dylan Introduced Beatles
August 28, 1964
The Beatles had begun their first full American tour on August 18 at the San Francisco Cow Palace. Ten days later they played for 16,000 fans at the Forest Hills Stadium in Queens, New York City. They would do the same the next night.
It was what happened in between that changed history.
1964 Bob Dylan Introduced Beatles
Al Aronowitz
Al Aronowitz was a writer who knew Bob Dylan and arranged for him to meet the Beatles at their hotel the night after that first concert.
Aronowitz later wrote: "The Beatles' magic was in their sound,…Bob's magic was in his words. After they met, the Beatles' words got grittier, and Bob invented folk-rock."
Cannabis may have been the source of all that musical cross pollination at that meeting. Beatles supposed unfamiliarity with the herb apparently surprised the already familiar Mr Dylan. [The four had tried it in Germany, but it did not impress them.]
Evidently, Ringo was unfamiliar with the not-Bogarting-that-joint protocol and kept things to himself. John, Paul, and George soon learned the etiquette.
1964 Bob Dylan Introduced Beatles
1965
March 27,  Dylan released Bringing It All Back Home on which "Maggie's Farm" appears.
The Byrds' covering of Dylan, particularly "Mr Tambourine Man" opened the door for folk-rock.
July 25, 1965 Dylan played Newport Folk Festival. Many in audience booed his performance for playing electric set with The Paul Butterfield Blues Band.
August 30, 1965,  Dylan released Highway 61 Revisited. More electric.
August 28, 1965 Dylan played at NYC's Forest Hills Tennis Stadium. More boos during his electric set.
December 3, 1965 the Beatles released Rubber Soul. The course of pop music changed.
1964 Bob Dylan Introduced Beatles
1964 Bob Dylan Introduced Beatles