Another Side Bob Dylan
Recorded in 

one session

, 
June 9, 1964
Released on August 8, 1964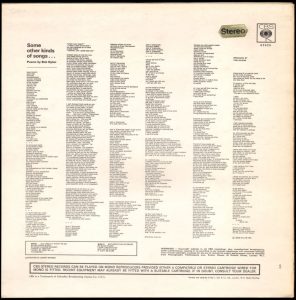 Another Side Bob Dylan
Bob's other side
By 1964, Columbia realized that Bob Dylan was a star. Although his first album, the eponymous Bob Dylan, had barely sold in it's first year (2,500 copies), Dylan's song writing skills and reputation among fellow folk artists grew quickly.
Another Side of Bob Dylan was his fourth album and each one had been a step further in his development. That first album was not really "his" album, he having written only two of the thirteen songs.
This album was all his.
Another Side Bob Dylan
The tracks
Side one

All I Really Want to Do

Black Crow Blues

Spanish Harlem Incident

Chimes of Freedom

I Shall Be Free No. 10

To Romona

Side two

Motorpsycho Nitemare

My Back Pages

I Don't Believe You (She Acts Like We Never Have Met)

Ballad in Plain D

It Ain't Me Babe
Dylan was changing his tone. He said of this album that "there aren't any finger-pointing songs." His style was more poetic than previous works.
He served as pop music's turn signal. A musician could be much more personal.
Another Side Bob Dylan
Maggie's Farm
It will be at the 1965 Newport Folk that Dylan will take his public step away from folk-protest and go electric. The Paul Butterfield Blues Band will accompany him as well as the Newport boos.
He "…ain't gonna' work on Maggie's Farm no more."
And I thought the song was about some guy tired of farm work.
Another Side Bob Dylan
1965
Think of 1965. By December the Beatles will have released Rubber Soul and when the Beatles changed, bands and record companies followed. The bands perhaps as much as in self-expression as their search for success; the record companies in search of a better bottom line.
1964 Another Side Bob Dylan
To Ramona
When Dylan sang "To Ramona" at Newport in 1965 he introduced the song, he said, "This is called 'To Ramona.' Ramona. It's just a name."
Today we realize its much more than "just a name."
Dylan's relationship with New York City girlfriend and political muse Suzy Rotolo (see Freewheelin' Bob Dylan) had ended with a 1963 abortion. His ongoing relationship with Joan Baez, who had brought him to the attention of the Newport crowd in 1963, was fading was fading and she was much more than "just a name."
All Music said the album was, "…one of his very best records, a lovely intimate affair."
Everything passes
Everything changes
Just do what you think you should do
And someday, maybe
Who knows, baby
I'll come and be cryin' to you.
Another Side Bob Dylan