Keith Moon Waxes Wanes
August 23, 1946 – September 7, 1978
From All Music Keith Eder's bio of Moon:  Moon, with his manic, lunatic side, and his life of excessive drinking, partying, and other indulgences, probably represented the youthful, zany side of rock & roll, as well as its self-destructive side, better than anyone else on the planet. In that sense, he was the soul of the Who.
New Moon
Keith John Moon was born in London,and grew up in Wembley.  Like many active boys, the educational system and he were not on the same page. Teachers often found him difficult to manage within the typically narrow confines of a conventional classroom.
Keith briefly tried his mouth at the trumpet, but his hands found the drums and away we go.
Keith Moon Waxes Wanes
Half Moon
Moon's first band was the Escorts. In December 1962 he joined the Beachcombers, a cover band. like so many young bands anywhere.
As his drumming evolved, Moon added more and more movements to his playing to the point where we now recognize the frenetic musician he became.
Keith Moon Waxes Wanes
Full Moon
The story of Moon's joining the Who has its variations. It was April 1964 and Doug Sandom was the Who's drummer.  There was a bit of a generation gap between the 34-year-old Sandom and the much younger Roger Daltrey, Pete Townshend, and John Entwistle.
Sandom left and Moon arrived.
He went to a Who show, saw their fill-in drummer, told them he'd do a better job, got the go ahead for the second set, destroyed the drum kit, and walked away assuming he'd also destroyed his chances.
According to Townshend and Daltry, they later went over to Moon sitting at the bar and invited him to join the band.
Keith Moon Waxes Wanes
Blue Moon
Moon's drumming style and enthusiasm became as integral a part of the Who's persona as Townshend's windmill, Daltry's mic slinging, and Entwistle's stoicism.  Others sometimes criticized Moon's timing, but he was the band's backbone.
Like many youth from a modest background that fame finds and thrusts the accouterments of success upon, Moon enjoyed both the lime and the limelight. Stories abound of hotel destruction and the never ending parties.
The behavior was entertaining, funny, and made great headlines since even bad publicity was good publicity, but by the mid-70s, the behavior controlled Moon.
Aware of his own dysfunctions, Moon attempted to self-medicate a cure away from medical facilities.
It did not work and his addictions waxed not waned.
Keith Moon Waxes Wanes
Moon sets
Keith Moon died of an overdose of  clomethiazole tablets on 7 September 1978.
Thank you, Keith for all you brought to our lives.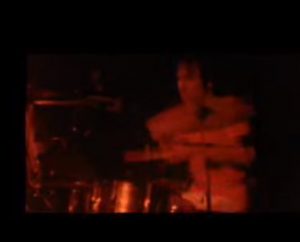 Keith Moon Waxes Wanes