Hugh Romney Arrives

August 7, 1969
Woodstock Music and Art Fair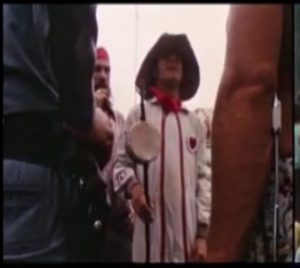 Hugh Romney Arrives
Not Your Ordinary Clown
According to his site, "Wavy Gravy is not your ordinary clown. He certainly has had a long run since his earlier days as a poet and stand-up comic, improvisational theater artist, psychedelic bus caravan luminary, and rock concert MC, and often jokes: "if you don't have a sense of humor, it just isn't funny anymore." 
A week away
Woodstock Ventures had made the move from Wallkill, NY in Orange County to Bethel, NY in Sullivan County. Plans already in place for the festival wherever it was continued apace.
One of those plans was, of course, for food. Ventures had hired Food for Love to provide food, but it had also hired members of the Hog Farm to do general set up and provide food as well.
Some members drove in a Further-type bus from New Mexico to Bethel. Others took the chartered flight Woodstock Ventures paid for from Albuquerque (Al-buh-quirky) to JFK in NYC.
The Museum at Bethel Woods Center for the Arts that today sits on and around the festival's field rented from Max Yasgur  displays the manifest from that flight. The #1 name is Hugh Romney.
Hugh Romney
33-year-old Hugh Nanton Romney arrived at JFK on August 7, 1969 after a reportedly mythical flight. It was, according to Tom Wolfe in Electric Kool-Aid Acid Test, Romney who came up with the idea of putting LSD in Kool-Aid at the Merry Pranksters' Acid Test parties in 1965. Apparently someone in the Hog Farm used that same recipe for the flight.
Hog Farm
The Hog Farm was the commune that Romney and his wife Bonnie Beecher was at the center of. It originated in Los Angeles, but after an eviction, relocated to a hog farm in  in Tujunga, California. The deal was labor in exchange for free rent.
In 1969, the commune was in  Llano, New Mexico. Thus the flight from Albuquerque.
Hugh Romney Arrives
The Activist Clown
Hugh Romney was a political activist and authorities often beat and mistreated demonstrators. Romney thought that if he dressed as a clown, authorities would be less likely to hit him. It worked.
Sometimes.
Arrival
When Hugh Romney and his fellow commune-ists disembarked, the NY media were there.  They asked him a question that he had to ad lib an answer to because he didn't know, as the media asked, how he intended to be part of the festival's security?
Romney said he would have a "Please Force." Media followed up: how would he be that? "Cream pies and seltzer bottles."
The obvious answer for a clown.
Hugh Romney Arrives
While most people speaking of Woodstock and those who became known from their participation in it refer to Romney as Wavy Gravy, he was not known by that moniker. Yet.
If one watches the Woodstock movie, you'll hear him referred to as Hugh several times during the film. It was Hugh Romney who spoke to the media at JFK. It was Hugh Romney who told the festival crowd about "…breakfast in bed for 400,000."
Wavy Gravy
It was not until the Texas International Pop Festival in Lewisville, TX two weeks later that after a conversation with him, BB King reportedly referred to Romney as Wavy Gravy.
A name like that stuck to a character like Romney.
Hugh Romney Arrives
Nowadays
His site shows that Wavy is very much an active person giving lectures and participating in music events as well as being a big part of the annual summer Camp Winnarainbow Kids Camp.
Quite the classic clown.
Hugh Romney Arrives