Beatles Meet Maharishi Mahesh Yogi
August 25, 1967
Maharishi Mahesh Yogi "The Origin of Thought"
Beatles Meet Maharishi Mahesh Yogi
Swami Satchidananda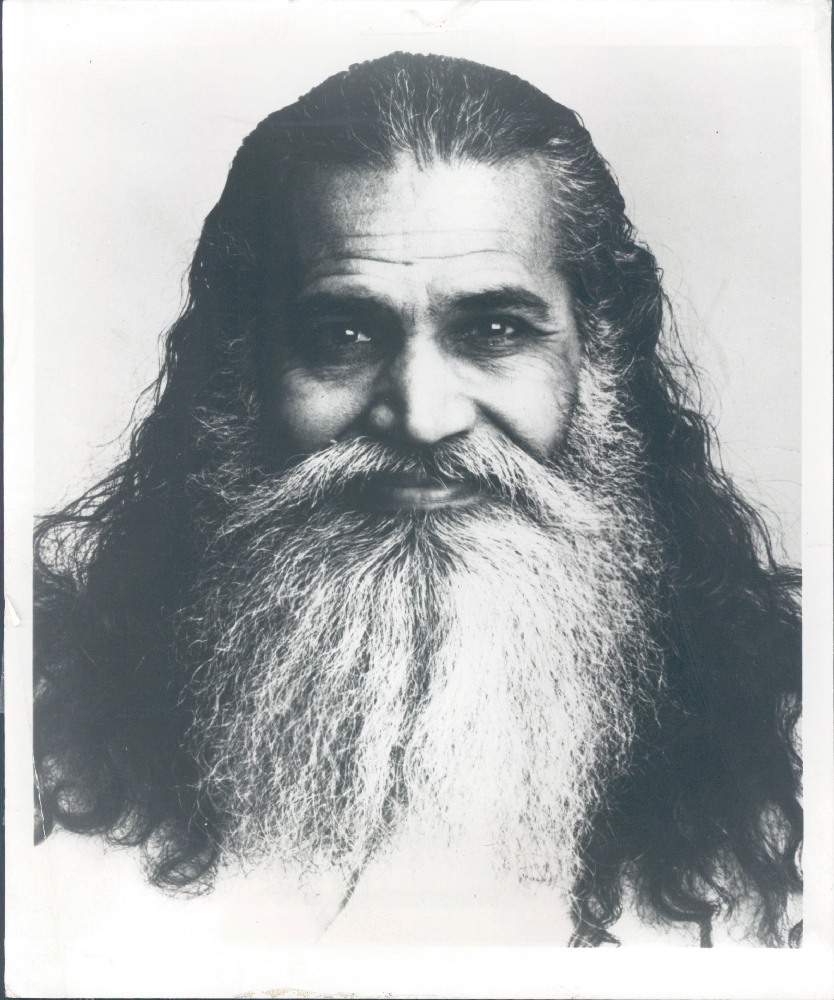 When looking at the Woodstock Music and Art Fair's line up, it surprises or even confuses some to see someone named Swami Satchidananda in that line up. Even with the varied approach that Woodstock and most 1969 festivals took to create their events, having a swami was unusual.
As is often the case with music and the 60s we can "blame" the Beatles.
Beatles Meet Maharishi Mahesh Yogi
Beatles Meet Meditation
Though George Harrison had played the sitar on Rubber Soul's "Norwegian Wood" in 1965 it was not until 1966 that he and wife Pattie became interested in eastern philosophy during a six-week holiday in Bombay.
Back in England, Pattie continued to explore meditation and later attended a lecture on Transcendental Meditation in London.
In 1967 Pattie read that Maharishi Mahesh Yogi was giving a lecture in London on August 24.
Beatles Meet Maharishi Mahesh Yogi
Maharishi Mahesh Yogi
In her 2007  book, Wonderful Tonight, Boyd said, I was desperate to go, and George said he would come too. Paul had already heard of him and was interested, and in the end we all went – George, John, Paul, Ringo, Jane and I. Maharishi was every bit as impressive as I thought he would be, and we were spellbound.
"At the end we went to speak to him and he said we must go to Wales where he was running a ten-day summer conference of the Spiritual Regeneration Movement. It started in two days' time. We leapt at it."
Beatles Meet Maharishi Mahesh Yogi
John Runs Ahead of Cynthia
On August 25, 1967, the Beatles, along with Pattie, her sister Jenny, Cynthia Lennon, Beatle friend Alexis Mardas ("Magic Alex"), Mick Jagger, and Marianne Faithfull traveled to Bangor, North Wales, left for a 10-day conference on Transcendental Meditation.
Well not quite. Cynthia left the house with John, but at the railroad station John jumped out and ahead leaving Cynthia to follow with the luggage.
Fans, passengers, and the press filled the station and Cynthia could not keep up. A policeman, unaware of "who" she was, kept her away and she missed the train.
Beatles personal assistant, Neil Aspinall, gave her a car ride. She wrote in her book, John: "the incident seemed symbolic of what was happening to my marriage. John was on the train, speeding into the future, and I was left behind."
Beatles Meet Maharishi Mahesh Yogi
Bangor Beatle Bunks
The Beatles arrived and found their rooms in a dormitory at Bangor College. Not quite what their life had become.
That night, the group went out to eat at a Chinese restaurant. Also no longer accustomed to carrying cash, they had none to pay for the dinner.
Luckily, George, perhaps from an old habit, took off his shoe and took out a 20 £ note.
Here is more from the Beatles Bible.