Bob Dylan Highway 61 Revisited
Released August 30, 1965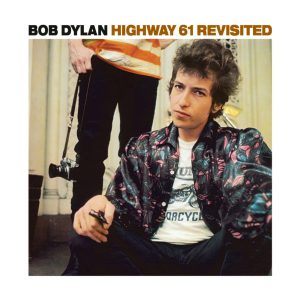 Once upon a time you dressed so fine
Threw the bums a dime in your prime, didn't you?
People call say 'beware doll, you're bound to fall'
You thought they were all kidding you
You used to laugh about
Everybody that was hanging out
Now you don't talk so loud
Now you don't seem so proud
About having to be scrounging your next meal
Bob Dylan Highway 61 Revisited
Fourth greatest?
Rolling Stone magazine calls it the fourth greatest album of all time. I'm not much for top ten lists and such, but this is certainly a great album. If Bringing It All Back Home (released only five months earlier on March 22) had sounded the death knell of an acoustic folk Dylan, Highway 61 Revisited is the clarion call.
Albums have 12 songs. Highway 61 Revisited has 10.  Singles are two and a half to 3 minutes long. Like a Rolling Stone is 6 minutes 13 seconds. 
The album's shortest song is From a Buick 6: 3:19.  The album closes with Desolation Row at 11:21 and the album's only acoustic cut.
Bob Dylan Highway 61 Revisited
Acoustic English tour
Though Dylan had already released his "half-electric" Back Home album before his April-May 1965 England tour, the eight shows were all acoustic. He held off his public electrocution until the Newport Folk Festival  on July 25. 
He was tired and somewhat disenchanted following that spring tour. Writing Like a Rolling Stone cleansed him. 
Bob Dylan Highway 61 Revisited
Clean and in the studio
June 15 and 16 (1965) were the first two days of recording the album in Columbia Records Studio A in NYC, but it was June 16 in particular that is noteworthy. Although Dylan and the other musicians had worked a bit on Like a Rolling Stone the day before, it was June 16 that produced the version embedded in us. 
An organ riff heard 'round the world
The rim shot followed by Al Kooper's Hammond organ riff. Al Kooper. 21. Already a musical success as a guitarist with the Royal Teens and their hit single, "Short Shorts." About the help start the ground-breaking Blues Project and then the Blood, Sweat and Tears.
But on June 16, 1965 he was just a guest sitting in. Sitting in not as in playing, but literally sitting in to watch as a guest of Columbia producer Tom Wilson. Kooper had never played the organ before!
After those two sessions, Dylan continued to write, electrified Newport, and returned to the studio on July 29 and July 30. 
A weekend in Woodstock, NY writing and a return to the studio on August 2.  All he needed was one more day, August 4.
Six days to record the fourth greatest rock album. Nice work, Bob.
Bob Dylan Highway 61 Revisited
Reception
According to Wikipedia,  "New Musical Express critic Allen Evans wrote: "Another set of message songs and story songs sung in that monotonous and tuneless way by Dylan which becomes quite arresting as you listen." The Melody Maker LP review section, by an anonymous critic, commented: "Bob Dylan's sixth LP, like all others, is fairly incomprehensible but nevertheless an absolute knock-out."The English poet Philip Larkin, reviewing the album for The Daily Telegraph, wrote that he found himself "well rewarded" by the record: "Dylan's cawing, derisive voice is probably well suited to his material … and his guitar adapts itself to rock ('Highway 61') and ballad ('Queen Jane'). There is a marathon 'Desolation Row' which has an enchanting tune and mysterious, possibly half-baked words."
In September 1965, the US trade journal Billboard also praised the album, and predicted big sales for it: "Based upon his singles hit 'Like a Rolling Stone', Dylan has a top-of-the-chart-winner in this package of his off-beat, commercial material."  The album peaked at number three on the US Billboard 200 chart of top albums, and number four on the UK albums charts.
Bob Dylan Highway 61 Revisited
Coda
Joe Levy in Rolling Stone has a more recent article about the album which fully praises the work. In it Levy quotes Dylan:  "I like the sound – I like what I'm doing now," Dylan told Nora Ephron and Susan Edmiston at the time of Highway 61 Revisited's August 30th release. "They can boo until the end of time. I know that the music is real, more real than the boos."   
Mr Jones
But something is happening here and you don't know what it is. 
Do you, Mr Jones?
Bob Dylan Highway 61 Revisited