Cannabis Contrails continued
The first part of this cannabis story can re read at Cannabis Contrails.
For reference, use the illustration below to see DEA Scheduling Guide: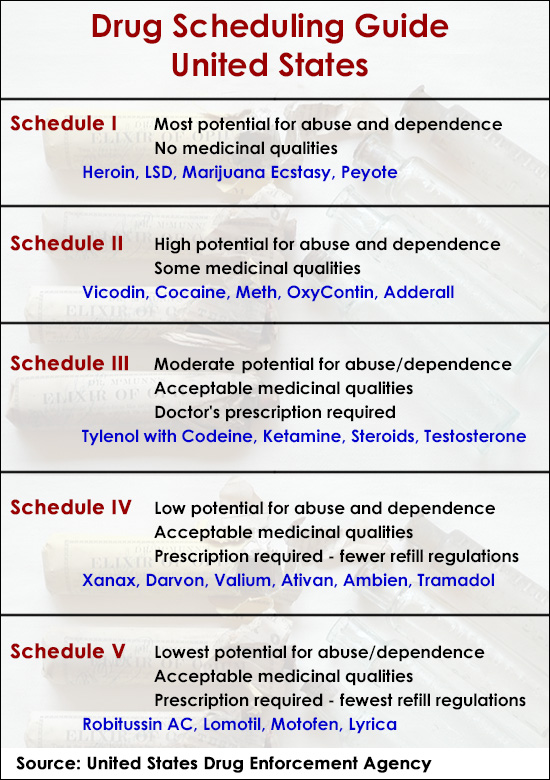 Nixon's War on Drugs
On June 17, 1971, President Nixon had declared that "America's public enemy number one in the United States is drug abuse. In order to fight and defeat this enemy, it is necessary to wage a new, all-out offensive."
And although arrests and incarceration for marijuana possession and distribution increased dramatically, the acceptance of cannabis as a medical treatment as well as recreational substance also continued to grow.
Cannabis Contrails continued
Medical marijuana emerges
State level
February 21, 1978: New  Mexico Gov. Jerry Apodaca signed the Controlled Substances Therapeutic Research Act, becoming the first state to enact legislation recognizing the medical value of marijuana.
The measure was based on evidence that marijuana helps relieve adverse side effects of cancer chemotherapy and the painful effects of glaucoma.
The first beneficiary of the law was Lynn Pierson, a 26‐year‐old student who said he had been using marijuana since 1976 to ease the effects of chemotherapy for treatment of lung cancer.
Nearly 30 years later, on  March 13, 2007, New Mexico's Senate Bill 523 "The Lynn and Erin Compassionate Use Act" was approved by the House (36-31) and the Senate (32-3). It took effect on July 1, 2007.
The act removed state-level criminal penalties on the use and possession of marijuana by patients "in a regulated system for alleviating symptoms caused by debilitating medical conditions and their medical treatments." The New Mexico Department of Health was designated to administer the program and register patients, caregivers, and providers.
Individual
Robert Randall, afflicted by glaucoma, employed the little-used Common Law Doctrine of Necessity to defend himself against criminal charges of marijuana cultivation. On November 24, 1976, federal Judge James Washington ruled Randall's use of marijuana constituted a 'medical necessity…'
In 1981 Randall founded the Alliance for Cannabis Therapeutics, a non-profit organization that focused on changing the federal law prohibiting medical access to marijuana.
In 1998 Randal and his wife, Alice M O'Leary Randal, published, "Marijuana Rx: The Patients' Fight for Medicinal Pot" 
Pharmaceutical 
In May 1985:  made by Unimed, Marinol is the trade name for dronabinol, a synthetic form of delta-9 tetrahydrocannabinol (THC), one of the principal psychoactive components of botanical marijuana. It was approved in May 1985 for nausea and vomiting associated with cancer chemotherapy in patients who fail to respond to conventional antiemetic treatments.
It will be approved by the FDA in December 1992 for the treatment of anorexia associated with weight loss in patients with AIDS. Marketed as a capsule, Marinol was originally placed in Schedule II.
UN Act
November 14, 1985: in order to be in compliance with UN rules and remain a member of the United Nations, India passed The Narcotic Drugs and Psychotropic Substances Act
The Act allowed for religious use of bhang, but disallowed smoking cannabis. Indian Sadhus ignored the smoking restriction and India typically did not enforce the Act with regards to them.
Nearly a half million arrests
1985: American authorities arrested 451,138 people  for cannabis use.
Cannabis Contrails continued
Rescheduling marijuana
September 6, 1988:  responding to the Drug Enforcement Administration regarding rescheduling marijuana, administrative law judge Francis Young suggested that marijuana be rescheduled from schedule I to schedule II for nausea associated with cancer chemotherapy. He also concluded that the evidence was insufficient to warrant the use of crude marijuana for glaucoma or pain.
December 30, 1989: DEA Administrator Jack Lawn overruled the decision of administrative law judge Francis Young who had agreed with marijuana advocates that marijuana should be moved from Schedule I to Schedule II of the Controlled Substances Act. This proposed rescheduling of marijuana would have allowed physicians to prescribe the smoking of marijuana as a legal treatment for some forms of illness. Administrator Lawn maintained that there was no medicinal benefit to smoking marijuana and that marijuana should remain a Schedule I controlled substance.
Cannabis Contrails continued
California et al
Prop P
November 5, 1991: the first medical marijuana initiative appeared in the city of San Francisco as Proposition P, which passed with an overwhelming 79% of the vote. Proposition P called on the State of California and the California Medical Association to 'restore hemp medical preparations to the list of available medicines in California,' and not to penalize physicians 'from prescribing hemp preparations for medical purposes.'"
Medical dispensary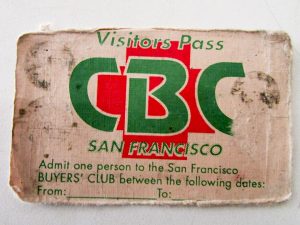 1994: America's first cannabis dispensary was founded in San Francisco by Brownie Mary and Dennis Peron.
Prop 215
November 5, 1996: California became the first state to legalize the expanded use of medical marijuana. Voters passed the state medical marijuana initiative known as Proposition 215. It permitted patients and their primary caregivers, with a physician' s recommendation, to possess and cultivate marijuana for the treatment of AIDS, cancer, muscular spasticity, migraines, and several other disorders; it also protected them from punishment if they recommend marijuana to their patients.
Federal Foolishness and Marijuana
January 30, 1997: The New England Journal of Medicine published an editorial written by Jerome P. Kassirer, MD, titled "Federal Foolishness and Marijuana." The article stated: "Federal authorities should rescind their prohibition of the medicinal use of marijuana for seriously ill patients and allow physicians to decide which patients to treat. The government should change marijuana's status from that of a Schedule 1 drug (considered to be potentially addictive and with no current medical use) to that of a Schedule 2 drug (potentially addictive but with some accepted medical use) and regulate it accordingly."
Presidents push back
October 29, 1998: prior to the election, former Presidents Ford, Carter, and Bush released a statement urging voters to reject state medical marijuana initiatives because they circumvented the standard process by which the Food and Drug Administration (FDA) tests medicines for safety and effectiveness. 'Compassionate medicine,' these leaders insisted, 'must be based on science, not political appeals.'
More Medical Cannabis
Five days later, on November 3,  Alaska, Oregon, and Washington became 2nd, 3rd, and 4th States to legalize medical marijuana.
Penalties removed
June 14, 2000:  Hawaii broke new ground in 2000, when it became the first state to enact a law to remove criminal penalties for medical marijuana users via a state legislature. Senate Bill 862 was passed by a vote of 32-18 in the House and 13-12 Senate, making Hawaii the sixth state to legalize medical marijuana.
Colorado Amendment 20
November 7, 2000: fifty-four percent of voters in Colorado approved Amendment 20, which amended the state's constitution to recognize the medical use of marijuana. The law took effect on June 1, 2001. It removed state-level criminal penalties on the use, possession and cultivation of marijuana by patients who possess written documentation from their physician. The law established a confidential state-run patient registry that issues identification cards to qualifying patients.
Nevada Question 9
Sixty-five percent of voters in Nevada approved Question 9, which amended the states' constitution to recognize the medical use of marijuana. The law took effect on October 1, 2001.
The law…
removed state-level criminal penalties on the use, possession and cultivation of marijuana by patients who have 'written documentation' from their physician.

established a confidential state-run patient registry that issues identification cards to qualifying patients.
Cannabis Contrails continued
Push-back on Federal blow-back
October 29, 2002: after California legalized medical marijuana in 1996, the US government threatened to take away the medical licenses of physicians who recommended the use of marijuana. On Oct. 29, 2002, a US Court of Appeals for the Ninth Circuit 3-0 ruled  in the case Conant v. Walters
The decision prohibited "the federal government from either revoking a physician's license to prescribe controlled substances or conducting an investigation of a physician that might lead to such revocation, where the basis for the government's action is solely the physician's professional 'recommendation' of the use of medical marijuana."
The US Supreme Court denied an appeal, so physicians maintained the right to discuss marijuana with their patients.
Cannabis Contrails continued
More Medical approvals
Vemont
May 26, 2004: Vermont became the ninth state to legalize medical marijuana when Governor James Douglas allowed "Act Relating to Marijuana Use by Persons with Severe Illness"  (41 KB) to pass into law unsigned. "The law removes state-level criminal penalties on the use, possession and cultivation of marijuana by patients diagnosed with a 'debilitating medical condition…' The law establishes a mandatory, confidential state-run registry that issues identification cards to qualifying patients."
Montana
November 2, 2004: sixty-two percent of voters in Montana approved Initiative 148. The law took effect that same day. It removed state-level criminal penalties on the use, possession and cultivation of marijuana by patients who possess written documentation from their physicians authorizing the medical use of marijuana. The law established a confidential state-run patient registry that issues identification cards to qualifying patients.
Rhode Island
January 3, 2006: Rhode Island's Senate Bill 0710 (the Edward O. Hawkins and Thomas C. Slater Medical Marijuana Act) took effect immediately upon passage on January 3, 2006. The law removed state-level criminal penalties on the use, possession and cultivation of marijuana by patients who possess "written certification" from their physician… [and] establishes a mandatory, confidential state-run patient registry that issues identification cards to qualifying patients.
Cannabis Contrails continued
Continued Federal resistance
April 20, 2006: the FDA released a statement titled "Inter-Agency Advisory Regarding Claims That Smoked Marijuana Is a Medicine." The FDA stated that "there is currently sound evidence that smoked marijuana is harmful. A past evaluation by several Department of Health and Human Services (HHS) agencies… concluded that no sound scientific studies supported medical use of marijuana for treatment in the United States, and no animal or human data supported the safety or efficacy of marijuana for general medical use…"
Cannabis Contrails continued
Continued medical support
ACP
February 15, 2008: the American College of Physicians (ACP) stated its support for the use of non-smoked forms of THC, research on the benefits of medical marijuana, review of the federal scheduling of marijuana, and exemption from criminal prosecution.
Michigan Prop 1
November 4, 2008:   Sixty-three percent of Michigan voters approved Proposal 1 (the law took effect on December 4, 2008). It removed state-level criminal penalties on the use, possession and cultivation of marijuana by patients who possess written documentation from their physicians authorizing the medical use of marijuana."
Cannabis Contrails continued
Federal easing
AG Holder
February 25, 2009:  Attorney General Eric Holder's issued a statement that the Drug Enforcement Administration would end its raids on state-approved marijuana dispensaries. The new policy represented a significant turnabout for the federal government. During the Bush administration, DEA agents shut down 30 to 40 marijuana dispensaries.
Ogden Memo
October 19, 2009:  the Department of Justice issued a memo, known subsequently as the Ogden memo, to "provide clarification and guidance to federal prosecutors in States that have enacted laws authorizing the medical use of marijuana."  In an effort to make the most efficient use of limited resources, the DOJ announced that prosecutorial priorities should not target "individuals whose actions are in clear and unambiguous compliance with existing state laws providing for the medical use of marijuana." Specifically, individuals with cancer or other serious illnesses who use medical marijuana and the caregivers who provide the medical marijuana in accordance with state law should not be the focus of federal prosecution.
The memo clarified that "prosecution of commercial enterprises that unlawfully market and sell marijuana for profit continues to be an enforcement priority." It is also explicitly stated that the memo "does not 'legalize' marijuana or provide a legal defense to a violation of federal law."
AMA
November 10, 2009:  The American Medical Association softened its position on medical marijuana. The statement read in part: "Our AMA urges that marijuana's status as a federal Schedule I controlled substance be reviewed with the goal of facilitating the conduct of clinical research and development of cannabinoid-based medicines, and alternate delivery methods. This should not be viewed as an endorsement of state-based medical cannabis programs, the legalization of marijuana, or that scientific evidence on the therapeutic use of cannabis meets the current standards for a prescription drug product."
Cannabis Contrails continued
More Medical Marijuana States
New Jersey
January 11, 2010:  the New Jersey Legislature approved a measure made it  the 14th in the nation to legalize the use of marijuana to help patients with chronic illnesses. The measure allowed patients diagnosed with severe illnesses like cancer, AIDS, Lou Gehrig's disease, muscular dystrophy and multiple sclerosis to have access to marijuana grown and distributed through state-monitored dispensaries — was passed by the General Assembly and State Senate on the final day of the legislative session.
Iowa
February 17, 2010:  the Iowa Board of Pharmacy recommended that the Iowa Legislature reclassify marijuana from Schedule I of the Iowa Controlled Substances Act into Schedule II of the Act.
Washington, DC
July 27, 2010: medical marijuana became legal in Washington, DC after the Democrat-controlled Congress declined to overrule a D.C. Council bill that allowed the city to set up as many as eight dispensaries where chronically ill patients could purchase the drug. The law allowed patients with cancer, glaucoma, HIV/AIDS and other chronic ailments can possess up to four ounces of the drug.
Arizona #15
November 2, 2010:  Arizona became the 15th state to legalize medical marijuana when Proposition 203, the Arizona Medical Marijuana Act, passes by a margin of 4,341 votes out of 1,678,351 votes cast in the Nov. 2, 2010 election. The law allows registered qualifying patients to obtain marijuana from a registered nonprofit dispensary, and to possess and use medical marijuana to treat the condition.
Delaware #16
May 13, 2011:  Delaware became the 16th state to legalize medical marijuana when Governor Jack Markell (D) signed SB 17 into law. The law allowed adults in Delaware with certain debilitating conditions to possess up to six ounces of marijuana with a doctor's recommendation.
Cannabis Contrails continued
Still Resistance
DEA
July 8, 2011:  The U.S. Drug Enforcement Administration (DEA) ruled that marijuana has "no accepted medical use" and should therefore remain illegal under federal law — regardless of conflicting state legislation allowing medical marijuana and despite hundreds of studies and centuries of medical practice attesting to the drug's benefits.
The judgment came in response to a 2002 petition by supporters of medical marijuana, which called on the government to reclassify cannabis.
Safety concerns
In November 2011: according to a study, States that had legalized medical marijuana saw fewer fatal car accidents perhaps because people may be substituting marijuana smoking for drinking alcohol.
Comparing traffic deaths over time in states with and without medical marijuana law changes, the researchers found that fatal car wrecks dropped by 9% in states that legalized medical use — which was largely attributable to a decline in drunk driving.
Reclassification request
November 30, 2011: the governors of Washington and Rhode Island petitioned the DEA to reclassify marijuana from the most restrictive Schedule I category to a Schedule II substance.
Cannabis Contrails continued
And more medical marijuana
Connecticut #17
May 31, 2012:  Connecticut became the 17th state to legalize medical marijuana.
Massachusetts #18
November 6, 2012: Massachusetts became the 18th state to approve medical marijuana.
New Hampshire #19
July 23, 2013: New Hampshire became the 19th State to legalize medical marijuana.
Illinois #20
August. 1, 2013: Illinois became the 20th State to legalize medical marijuana.
Utah doctors
November 12, 2013:  a University of Utah neurologist and two other Utah doctors announced their support for allowing a medical use of a marijuana extract for children who suffer from seizures. In a letter sent to the state Controlled Substances Advisory Committee on Tuesday, pediatric neurologist Dr. Francis Filloux said the liquid form of medical marijuana is a promising option for children with epilepsy
Cannabis Contrails continued
Toward recreational use
Recreational use legally safe
August 29, 2013: the federal government took an historic step back from its long-running drug war when Attorney General Eric Holder informed the governors of Washington and Colorado that the Department of Justice would allow the states to create a regime that would regulate and implement the ballot initiatives that legalized the use of marijuana for adults.
Holder told the governors that the department would take a "trust but verify approach" to the state laws.
Majority support legalization
October 22, 2013: according to a Gallop poll conducted occasionally since 1969,  for the first time, 58% of Americans said that marijuana should be legalized. 12% of Americans thought that in 1969.
Cannabis Contrails continued
Recreational use legalized
Portland recreational legalized
November 5, 2013: Portland, Maine, voters approved legalizing recreational marijuana for residents 21 and older. The measure, Question 1, passed with about 70 percent of the vote, making Portland the first East Coast city to legalize recreational marijuana. Adult residents of Portland — Maine's largest city — may possess up to 2.5 ounces of marijuana under the referendum. The new measure did not permit the recreational purchase or sale of marijuana, nor did it permit its use in public spaces like parks
Uruguay legalization 
December 10, 2013:  Uruguay's Senate gave final congressional approval to create the world's first national marketplace for legal marijuana.
Cannabis Contrails continued
Hemp Renaissance
February 7, 2014: the farms bill signed by President Obama included a provision that legalizes hemp cultivation for research purposes. Under the new law, universities and state departments of agriculture would be authorized to cultivate hemp for research purposes in states where its been legalized; prior to this law, a license from the Drug Enforcement Administration (DEA) was required to research hemp, a license which was virtually impossible to receive. Nine states in the U.S. that had legalized hemp cultivation; California, Oregon, Colorado, Montana, West Virginia, Vermont, North Dakota, Kentucky and Maine.
The production of hemp rose dramatically following the legalization.
Cannabis Contrails continued
Further easing
Financial complications eased
February 14, 2013:  the Obama administration gave the banking industry the green light to finance and do business with legal marijuana sellers, a move that could further legitimize the burgeoning industry. For the first time, legal distributors will be able to secure loans and set up checking and savings accounts with major banks that have largely steered clear of those businesses. The decision eliminates a key hurdle facing marijuana sellers, who can now legally conduct business in 20 states and the District.
Maryland decriminalization
April 14, 2014: Maryland Governor Martin O'Malley signed a bill into law that decriminalized the possession of small amounts of marijuana. The bill would make possession of less than 10 grams of marijuana a civil offense punishable by a fine of up to $100 for a first offense, up to $250 for a second offense, and up to $500 for subsequent offenses. Third-time offenders and individuals under 21 years of age will be required to undergo a clinical assessment for substance abuse disorder and a drug education program.
AAN recommendations
April 28, 2014:  a review conducted by specialists convened by the American Academy of Neurology suggested that marijuana can help alleviate multiple sclerosis symptoms such as pain, overactive bladder, and muscle stiffness.
The review also found that marijuana dd not help relieve the uncontrollable limb spasms that result from a drug used to treat Parkinson's disease. And it concluded that there was insufficient evidence to know whether the drug reduces symptoms caused by neurological diseases such as Huntington's disease, Tourette's syndrome, or epilepsy.
"We wanted to inform patients and physicians, but we didn't make specific treatment recommendations," said study coauthor Dr. Gary Gronseth, a professor of neurology at the University of Kansas Medical Center in Kansas City.
Cannabis Contrails continued
4 November 2014 Tipping Point
Oregon voters approved Measure 91, a proposal which would legalize the possession of up to eight ounces of cannabis, a limit that was eight times higher than that of Washington and Colorado. The initiative would also allow everyone 21 and older to cultivate up to four plants, and purchase cannabis from state-licensed outlets, which would open by 2016.

In Alaska, Ballot Measure 2 was approved with 52% of the vote. This initiative legalized the possession of up to an ounce of cannabis, as well as the private cultivation of up to six plants. The proposal also allowed for cannabis retail outlets. (see February 24, 2015)

In Washington D.C voters approved Initiative 71. Once it took effect – after a 30-day congressional review period – the proposal would legalize the possession of up to two ounces of cannabis for those 21 and older, in addition to allowing for the private cultivation of up to six plants. Although the initiative did not allow for cannabis retail outlets, the district's Council was considering legislation to change that.

In California, voters approved Proposition 47, a proposal which removed felony charges for numerous nonviolent crimes such as drug possession and petty theft. The initiative, which would free up prison space and save the state hundreds of millions of dollars annually, was approved with 57% of the vote.

In Florida, Amendment 2 (legalization of medical cannabis ) was defeated, failing to garner the 60% required to be passed into law.

In Michigan, voters gave approval to cannabis decriminalization initiatives in the cities of Saginaw, Huntington Woods, Pleasant Ridge, Port Huron, Mount Pleasant and Berkley. These initiatives removed criminal penalties within the city for the possession, use and transfer of up to an ounce of cannabis. Similar initiatives were voted down in Clare, Frankford, Harrison, Lapeer and Onaway counties.

In Maine, voters in South Portland passed an initiative to legalize up to an ounce of cannabis, joining Portland which approved a similar initiative last year. A legalization initiative was rejected in Lewiston




Cannabis Contrails continued

Industrial Hemp
December 13, 2014:  when Congress passed the federal spending bill, it also contained protections for medical marijuana and industrial hemp operations in states where they are legal.
The spending bill included an amendment that prohibited the Department of Justice from using funds to go after state-legal medical cannabis programs. The bill would bring the federal government one step closer to ending raids on medical marijuana dispensaries, as well as stopping arrests of individuals involved with pot businesses that are complying with state law.
Cromnibus Bill
December 16, 2014:  drug Policy Alliance lobbyist Bill Piper told the Los Angeles Times "the war on medical marijuana is over" after President Obama signed the $1.1 trillion "Cromnibus" bill  with a small provision tucked away inside that prohibited the federal government from interfering with states that legalized it.
Yet…
Number of people arrested for a marijuana law violation in 2017: 659,700
Cannabis Contrails continued
2018
Continued support
On  October 8, 2018 the Pew Research Center reported that, "About six-in-ten Americans (62%) say the use of marijuana should be legalized, reflecting a steady increase over the past decade,."

Canada Legalizes recreational
October 17, 2018: the recreational use of marijuana became legal in Canada.
11/33
As of December 2018, Alaska, California, Colorado, Maine, Massachusetts, Michigan, Nevada, Oregon, Vermont, the State of Washington, and Washington, DC had legalized the use of recreational marijuana with certain restrictions such as age and home gardens.
33 states had approved the use of medical marijuana.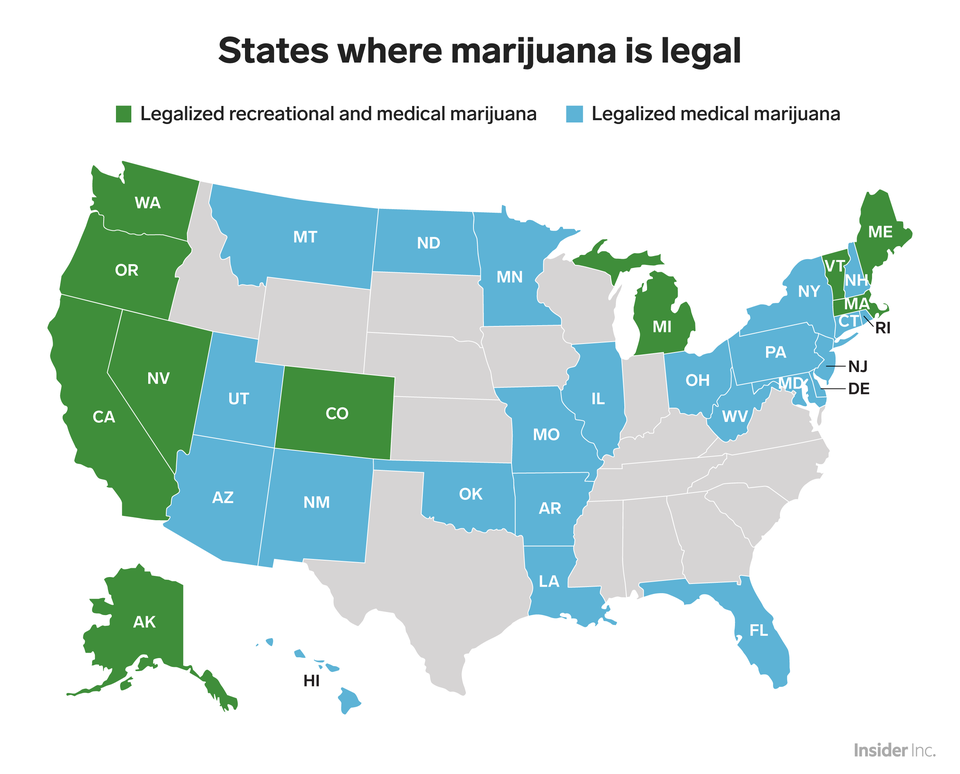 2019
Cannabis Contrails continued
NJ setback
March 25, 2019: NJ reform advocates experienced a setback after bill to legalize cannabis in New Jersey was pulled from the agenda due to a lack of votes to pass the legislation in the Senate.
The proposal would have allowed adults 21 and older to possess, consume and purchase marijuana from licensed retailers. It included a number of social equity provisions meant to encourage participation in the industry by individuals from communities most harmed by the war on drugs, and it also would've created a pathway for expedited expungements for prior cannabis convictions.
Ancient use
June 12, 2019: according to a new study researchers identified strains of cannabis burned in mortuary rituals as early as 500 B.C. deep in the Pamir mountains in western China. The residue had chemical signatures indicating high levels of tetrahydrocannabinol (THC), the plant's most psychoactive, or mood-altering, compound.
NJ fails
November 18, 2019: NJ Senate President Steve Sweeney (D) and Senate Judiciary Committee Chairman Nicholas Scutari (D) announced that while they had "made further attempts to generate additional support in the Senate to get this done legislatively," the "votes just aren't there." As a result, they filed a proposal that would allow residents to vote on legalization as a constitutional amendment.
"We are moving forward with a plan to seek voter approval to legalize adult use marijuana in New Jersey," the leaders said in a press release. "We introduced legislation today to authorize a public referendum for a proposal that will lead to the creation of a system that allows adults to purchase and use marijuana for recreational purposes in a responsible way."
Michigan recreational legal
December 1, 2019: the state Marijuana Regulatory Agency announced that Michigan adults 21 and older were able to buy marijuana.
Michigan became one of 11 states (Alaska, California, Colorado, Illinois, Maine, Massachusetts, Nevada, Oregon, Vermont and Washington) and the District of Columbia which had legalized the use of marijuana for recreational purposes.
Michigan's medical marijuana dispensaries would be permitted to sell up to 50 percent of cannabis products on the recreational market if they were at least 30 days old, according to a bulletin from the state regulatory agency.
Major League Baseball

December 12, 2019: Major League Baseball in association with its players union, announced changes to its Joint Drug Program  and became the first major American sports league to remove marijuana from its list of drugs abuse.
The drug will still be tested for and could result in punishment similar to its alcohol and violence policies.
"Natural cannabinoids (e.g., THC, CBD, and Marijuana) will be removed from the Program's list of Drugs of Abuse," MLB said in its release. "Going forward, marijuana-related conduct will be treated the same as alcohol-related conduct under the Parties' Joint Treatment Program for Alcohol-Related and Off-Field Violent Conduct, which provides mandatory evaluation, voluntary treatment and the possibility of discipline by a Player's Club or the Commissioner's Office in response to certain conduct involving Natural Cannabinoids." [ABC News article]
Crime and Punishment
December 18, 2019:  NJ Governor Phil Murphy signed  A5823 into law which restored voting rights to 80,000 people on probation or parole.
He also signed into law an expungement bill for people with marijuana convictions.
"This move will make it possible for thousands of residents now and in the future to truly be able to turn the corner and not have long forgotten mistakes marking them like a 'scarlet letter' for the rest of their lives," one of the measure's sponsors, state Assemblywoman Annette Quijano, D-Union, said in a statement. [NJN story]
Impeded research
December 31, 2019: Francis Collins, director of the National Institutes of Health (NIH), said that marijuana's status as a Schedule I drug inhibits studies into the plant and prevents scientists from researching the effects of cannabis that consumers were obtaining from state-legal dispensaries in a growing number of states.
Collins discussed the limitations imposed by the federal drug scheduling system during an appearance on C-SPAN's Newsmakers saying that while he shares concerns about the potential health implications of smoking marijuana, research into the risks and benefits of cannabis is being impeded by current policy.
"Frankly, we know far too little about the benefits and risks of smoked marijuana," Collins said. "There have been very few studies that have actually rigorously tested that." [MM article]
Illinois purges
December 31, 2019: one day before legal recreational marijuana sales launched in Illinois, Gov. J. B. Pritzker (D announced that his office was clearing the records of more than 11,000 people who had previously been convicted of simple cannabis possession.
Gov Pritzker said the move "sets us apart" from other states that have legalized marijuana for adult-use and that "Illinois is putting equity first, clearing thousands of convictions and giving individuals & their families a new lease on life." [MM article] (next C, see January 1, 2020; see CCC for expanded Cannabis chronology)
Cannabis Contrails continued
2020
Illinois legalizes

January 1, 2020: Illinois residents 21 and older could buy up to 30 grams of marijuana plant material, edibles with up to 500 milligrams of THC and five grams of cannabis concentrate items. If you're visiting the state, you can buy half those amounts.
Residents could consume weed in their private residence and local jurisdictions might allow on-site consumption at dispensaries. It was also illegal to cross into Indiana and Wisconsin with marijuana. [ABC New article]
On March 4, the Illinois Department of Financial and Professional Regulation announced that by the end of February Illinois brought  in about $35 million in legal marijuana sales,
During the 29-day period, more than 831,000 cannabis products were sold at dispensaries throughout the state. [Marijuana Moment article]
2019 national prosecutions decline
March 23, 2020: the U.S. Sentencing Commission published a report regarding drug possession. The report indicated that federal prosecutions for marijuana trafficking declined again in 2019, and drug possession cases overall saw an even more dramatic decline.
While drug cases still represented the second most common category of crimes in the federal criminal justice system, the data indicated that the bulk of those instances were related to methamphetamine trafficking, which had steadily increased over the past decade.
But for marijuana, a different kind of trend emerged. As more states had moved to legalize cannabis, federal prosecutions had consistently declined since 2012. To illustrate the shift, marijuana trafficking cases represented the most common drug type that was pursued in 2012, with about 7,000 cases. As of fiscal year 2019, those cases were the second least common, with fewer than 2,000 cases. [Marijuana Moment article]
Cannabis Contrails continued
COVID-19 vs Cannabis

March 24, 2020: the NY Times reported that with the coronavirus pandemic spreading rapidly across the country, millions of Americans were being told by state and county officials to take refuge at home, and only venture out to get things they really need. Groceries, naturally. Prescription drugs, of course. Gas for the car. Urgent medical care.
And in many places, marijuana made the list.
Over the past week, more than a dozen states had agreed that while "nonessential" stores had to close, pot shops and medical marijuana dispensaries could remain open —  official recognition that for some Americans, cannabis is as necessary as milk and bread.
Cannabis Contrails continued
Federal Legalization Urged 
August 19, 2020: four state attorneys (Delaware, Minnesota, New York and Oregon) general and about 50 other current and former law enforcement officials sent a letter to congressional leadership endorsing a federal marijuana legalization bill and urging that a vote on the legislation be held on the House floor next month.
The push came as a new poll showed that 62 percent of likely voters, including 60 percent of Republicans, supported the bill and its provisions.
"As front-line public safety experts, we believe that responsible regulation and control of marijuana will be more beneficial to society than prohibiting and criminalizing it," the law enforcement coalition wrote. "The COVID-19 pandemic shines a bright light on why this kind of reform is as urgent as ever as a matter of public health, safety, and better use of much needed resources." [MM article]
Cannabis Contrails continued
Supreme Court Declines
October 13, 2020: the U.S. Supreme Court announced that it will not hear a case challenging the constitutionality of federal marijuana prohibition.
A coalition of medical cannabis advocates, including former NFL player Marvin Washington, young patient Alexis Bortell and military veteran Jose Belen, initially filed a lawsuit against the Drug Enforcement Administration (DEA) in 2017. But while the case has gradually moved through the judiciary, the decision by the high court represents a sound defeat for the challenge. [MM article]
Cannabis Contrails continued
November 3, 2020:
Cannabis Contrails continued
United Nations
December 2, 2020: the United Nations' Commission for Narcotic Drugs voted to remove cannabis for medicinal purposes from a category of the world's most dangerous drugs, a highly anticipated and long-delayed decision that could clear the way for an expansion of marijuana research and medical use.
The Commission, includes 53 member states, considered a series of recommendations from the World Health Organization on reclassifying cannabis and its derivatives. But attention centered on a key recommendation to remove cannabis from Schedule IV of the 1961 Single Convention on Narcotic Drugs — where it was listed alongside dangerous and highly addictive opioids like heroin. [NYT article]
Historic House of Rep Vote
December 4, 2020: in a 228 to 164 vote, the U.S. House of Representatives approved the Marijuana Opportunity, Reinvestment and Expungement (MORE) Act, a bill to federally legalize marijuana.
The vote was mostly along party lines, five Republicans supported the reform and six Democrats opposed it.
Under MORE, cannabis would be federally descheduled and those with prior convictions would have their records expunged. The descheduling provisions would be retroactive, too.
Despite the unprecedented House victory for reformers, few believe the legislation stands a chance in the Republican-controlled Senate, at least before the end of the current Congress early next month. Vice President-elect Kamala Harris (D-CA) was the lead sponsor of the Senate companion version of the bill. [MM article]
Cannabis Contrails continued
Cannabis Contrails continued, Cannabis Contrails continued, Cannabis Contrails continued, Cannabis Contrails continued, Cannabis Contrails continued, Cannabis Contrails continued