January 1 Peace Love Art Activism
Native Americans
January 1, 1698: the Abenaki Indians and Massachusetts colonists signed a treaty halting hostilities between the two. (see February 20, 1725)
January 1 Peace Love Art Activism
BLACK HISTORY
Law bans slave trade
January 1, 1808: a U.S. law banning the import of slaves comes into effect, but was widely ignored. (see January 8, 1811)
William Lloyd Garrison
January 1, 1830:  William Lloyd Garrison published the first edition of a journal entitled The Liberator, calling for the complete and immediate emancipation of all slaves in the United States. (next BH, see Nov 15)
Emancipation Proclamation

January 1, 1863: The Emancipation Proclamation was an executive order issued to the executive agencies of the United States by President Abraham Lincoln during the American Civil War. It was based on the president's constitutional authority as commander in chief of the armed forces; it was not a law passed by Congress. It proclaimed all slaves in Confederate territory to be forever free; that is, it ordered the Army to treat as free men the slaves in ten states that were still in rebellion, thus applying to 3.1 million of the 4 million slaves in the U.S. at that time. (see May 1)
Rosewood lynching

January 1, 1923: in Sumner, Florida, Fannie Taylor, a sixteen-year-old married white woman, claimed she had been assaulted by Jesse Hunter, a black fugitive from a prison chain gang. There was no evidence against Hunter, but local white men began to search for Jesse Hunter, Aaron Carrier and Sam Carter who were believed to be accomplices.  Carrier was captured and incarcerated while Carter was lynched. The white mob suspected Aaron's cousin, Sylvester Carrier, a Rosewood resident of harboring Hunter. [Guardian report] (next BH, RR, and Lynching, see Jan 2)
Autherine Lucy Foster
January 1, 2021: the Philadelphia Tribune reported that 19-year-old Tionna Taite, a sophomore at the University of Alabama, had founded  Nineteen Fifty-Six  a magazine aimed at Black issues. None had existed before. Taite was also the editor-in-chief.
The name of the virtual magazine came from the year Autherine Lucy Foster became the first Black student at UA, and the idea came from Taite's blog, "Becoming Black Excellence." (next BH, see; next UA, see Jan 20)
January 1 Peace Love Art Activism
Immigration History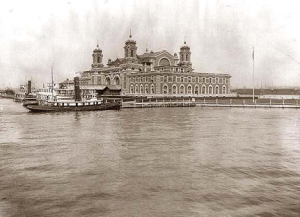 January 1, 1892: the Ellis Island Immigrant Station in New York opened. Three large ships landed on the first day and 700 immigrants passed over the docks. Almost 450,000 immigrants were processed at the station during its first year. (NYT article about a "rosy-cheeked Irish girl")(see May 5)
January 1 Peace Love Art Activism
Feminism & Voting Rights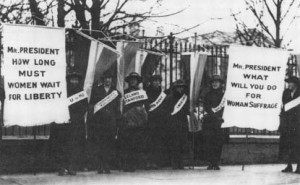 January 1, 1919: from the New York Times: Riotous scenes were enacted tonight in front of the White House when soldiers, sailors, and citizens undertook to end a "watch fire" demonstration…by sentinels of the National Woman's Party as a protest against the failure of the Senate to pass the equal suffrage resolution.  Lucy Burns arrested in during the watch-fire demonstrations, and served one 3-day and two 5-day sentences.(F & VR, see  Jan 5)
January 1 Peace Love Art Activism
Technological Milestone
January 1, 1954: NBC broadcast the first coast-to-coast color TV program as it presented live coverage of the Tournament of Roses Parade in Pasadena, Calif. (see Apr 26)
January 1 Peace Love Art Activism
INDEPENDENCE DAYS
Sudan

January 1, 1956: Sudan independent from Egypt and United Kingdom. (see Mar 20)
Cameroon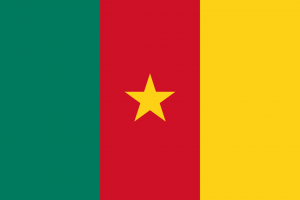 January 1, 1960: Cameroon independent from France and the United Kingdom.
Samoa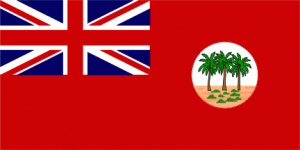 January 1, 1962: Samoa independent from New Zealand. (see Independence days for complete 1960s listing)
Brunei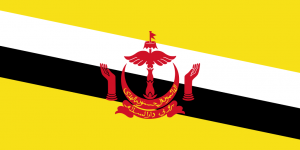 January 1, 1984: Brunei independent of the United Kingdom. (see February 16, 1990)
Velvet Divorce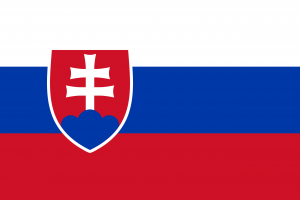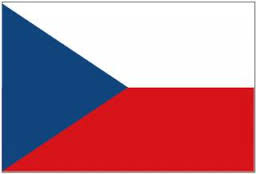 January 1, 1993: dissolution of Czechoslovakia: Slovakia and the Czech Republic separate in the so-called Velvet Divorce. (see May 24)
January 1 Peace Love Art Activism
Cold War
Cuban revolution
January 1, 1959: Fidel Castro's forces overthrew the Fulgencio Batista. (NYT article) (see Jan 7)
January 1 Peace Love Art Activism
 January 1 Music et al
Beatles audition
January 1, 1962: The Beatles and Brian Poole and the Tremeloes both auditioned at Decca Records, a company which has the option of signing one group only. Decca told The Beatles that "guitar groups" were on the way out and did not offer them a contract and signed The Tremeloes instead. Other record companies turned the Beatles down as well.
One of the songs the Beatles sang was Hello Little Girl, the first song written by John Lennon (in 1957).  (see Apr 8)
Beatles tour Scotland
January 1, 1963: The Beatles began a concert tour of Scotland. (see Jan 2)
The Sounds of Silence
January 1 – 7, 1966: "The Sounds of Silence" by Simon and Garfunkel #1 on the Billboard Hot 100.
FM rock
January 1, 1967: FM stations were no longer allowed to simply simulcast their AM counterpart. Birth of so-called "underground" rock radio. (see Apr 7)
January 1 Peace Love Art Activism
Vietnam
Binh Gia
January 1 – February 7, 1965: Vietcong forces mount a series of attacks across South Vietnam. They briefly seize control of Binh Gia, a village only 40 miles from Saigon. Two hundred South Vietnamese troops are killed near Binh Gia, along with five American advisors. [NYT report] (see Jan 27)
Troop decline
January 1, 1972: 133,000 U.S. servicemen remained in South Vietnam. Two thirds of America's troops had gone in two years. The ground war was almost exclusively the responsibility of South Vietnam, which had over 1,000,000 men enlisted in its armed forces. (see Jan 27)
January 1 Peace Love Art Activism
Cultural Milestone
Youthquake
January 1, 1965: Diane Vreeland, Vogue magazine's editor-in-chief, declared "The year's in its youth, the youth in its year. Under 24 and over 90,000,000 strong in the U.S. alone. More dreamers. More doers. Here. Now. Youthquake 1965." Youthquake became the new fashion style replacing what seemed the staid and traditional syles that Boomer parents had worn. (see Apr 27)
No Fault Divorce
January 1, 1970:  California becomes the first state to adopt a "no fault" divorce law, which allowed couples to divorce by mutual consent. (see Feb 26)
January 1 Peace Love Art Activism
US Labor History
TWU/Mike Quill
January 1, 1966: members of the Transport Workers Union (TWU) and Amalgamated Transit Union working for the New York City Transit Authority began what would be a successful twelve day strike. TWU leader Mike Quill and eight other union leaders were arrested for violating an injunction issued to end the strike. "I don't care if I rot in jail," Quill said, "I will not call off the strike." (NYT article) (see Jan 20)
César E. Chávez
January 1, 1972: despite the disclaimers of Federal officials, an unemployed laborer who describes himself as a paid police informer insisted that certain farmers in the San Joaquin Valley of California ordered the assassination of César Chávez, the farm union leader. (see Jan 25)
January 1 Peace Love Art Activism
LGBTQ
LA Black Cat
January 1, 1967: the Los Angeles police raided the Black Cat, a gay bar in the city, on this day. The raid was followed by months of protests by members of PRIDE (Personal Rights in Defense and Education). Its newsletter evolved into The Los Angeles Advocate in September 1967, and later The Advocate, which became a leading lesbian and gay rights magazine. (see Nov 9)
Maryland bans same-sex marriage
January 1, 1973: Maryland became the first state to pass a statute banning marriage between same-sex couples when it included in its Family Law Code a line reading, "Only a marriage between a man and a woman is valid in this State." (see Mar 7)
Vermont legalized same-sex marriage
January 1, 2009: same-sex marriage became legal in Vermont. (Vermont, see Apr 7; LGBTQ see Apr 2)
New Hampshire legalized same-sex marriage
January 1, 2010: same-sex marriage became legal in New Hampshire. (see Jan 5)
Florida legalized same-sex marriage
January 1, 2015: federal judge Robert Hinkle, who earlier had overturned the state's ban on same-sex marriages, ordered all county clerks to begin issuing same-sex marriage licenses beginning January 6 — ending a long, litigious battle that included almost a dozen lawsuits, most of which are still before appeals courts.
Prior to his order, there was confusion over which clerks were allowed to issue the licenses, but Hinkle clarified the broad scope of his ruling.
"Reasonable people can debate whether the ruling in this case was correct and who it binds," Hinkle wrote. "There should be no debate, however, on the question whether a clerk of court may follow the ruling, even for marriage-license applicants who are not parties to this case."
His words were directed at the Washington County clerk, who was named in the federal lawsuit. But he added that his order applies not just to that clerk but to all county clerks in Florida. The judge pointed out that clerks who chose not to issue licenses opened themselves up to further lawsuits. (see Jan 9)
January 1 Peace Love Art Activism
Environmental Issues
January 1, 1970: President Nixon signed the National Environmental Policy Act, an environmental law that promoted the enhancement of the environment and established the President's Council on Environmental Quality. (see Apr 22)
Feminism
Ms. magazine
January 1, 1972: Ms. Magazine, which initially appeared as an insert in New York Magazine in December 1971, founded by Gloria Steinem and its first independent issue published in July. The magazine becomes an important mouthpiece of the feminist movement. (see March 22, 1972)
Institute for Research on Women
January 1, 1976: The Institute for Research on Women (IRW) founded at Douglass College, Rutgers University.  Its mission was to promote dialogue between academics on different campuses by holding conferences, lectures, and colloquia. The IRW becomes a prominent leader in research on feminism and gender. (next Feminism  April 22, 1976)
January 1 Peace Love Art Activism
European Union 
Trade barriers
January 1, 1993:  the European Community eliminated trade barriers and created a European single market.
Euro established
January 1, 1999: the  Euro is established (but not for everyday use yet)
Euro in circulation
January 1, 2002: Euro notes and coins are issued in France, Spain, Germany, Italy, Portugal, Greece, Finland, Luxembourg, Belgium, Austria, Ireland and the Netherlands. (see Feb 22)
January 1 Peace Love Art Activism
Crime and Punishment
January 1, 2017: The New Jersey Criminal Justice Reform Act took effect essentially eliminating money bail in the state. The new system began with the assumption that innocent people should not be in jail. People can be held only if their release poses an unacceptable flight risk or poses a danger to their community. (next C & P, see Feb 28; NJCJRA, see November 14, 2017)
Cannabis
California
January 1, 2018: retail cannabis shops in California opened their doors for the first time, inaugurating what proponents say will become the world's largest market for legalized recreational marijuana.
Such a transaction that remained illegal in many parts of the country seemed almost banal for the customers at a dispensary in Oakland who picked out their marijuana, showed their driver's licenses and walked into the brisk morning air with their drugs in a paper bag.
California was the sixth state to introduce the sale of recreational marijuana, after Colorado, Washington, Oregon, Alaska and Nevada. Massachusetts and potentially Maine are expected to begin sales in 2018. [NYT report] (next C, see Jan 4 or see CCC for expanded cannabis chronology)
Illinois
January 1, 2020: Illinois residents 21 and older could buy up to 30 grams of marijuana plant material, edibles with up to 500 milligrams of THC and five grams of cannabis concentrate items. If you're visiting the state, you can buy half those amounts.
Residents could consume weed in their private residence and local jurisdictions might allow on-site consumption at dispensaries. It was also illegal to cross into Indiana and Wisconsin with marijuana. [ABC New article] [next C, see Mar 23 ; see CCC for expanded cannabis chronology)
January 1 Peace Love Art Activism