March 20 Peace Love Art Activism
Judicial Milestone
Martin v. Hunter's Lessee
March 20, 1816:  Martin v. Hunter's Lessee, case affirmed the Supreme Court's right to review state court decisions.
From 1779 to 1785, Virginia passed a series of laws by which the state confiscated all lands owned by foreigners. David Hunter was granted 800 acres of confiscated lands that had been willed to Denny Martin Fairfax, a British subject. Fairfax brought suit against Hunter for return of the land. On Fairfax's death the suit was taken over by his heir, Philip Martin. Martin argued that Fairfax's ownership had been protected by treaties between the United States and Great Britain guaranteeing British subjects the right to hold land in America. The Virginia court of appeals upheld the grant to Hunter, but on appeal the U.S. Supreme Court voided the grant (1813). The Virginia court refused to obey the Supreme Court ruling, declaring that it had no right to review the decisions of state courts under the U.S. Constitution. When the case again came before the Supreme Court, Justice Story ruled that section 25 of the Judiciary Act of 1789, which granted the U.S. Supreme Court appellate jurisdiction over state courts in certain situations (as in this case, where a state court denied the validity of a federal statute), was constitutional. (Oyez article) (see May 10, 1886)
March 20 Peace Love Art Activism
BLACK HISTORY
Uncle Tom's Cabin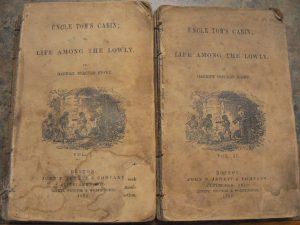 March 20, 1852: Harriet Beecher Stowe's anti-slavery novel, Uncle Tom's Cabin, published. 10,000 copies were sold in the first week, 300,000 within the first year. The many different editions published in Europe sold an aggregate of one million copies in the first year.
It was the second best-selling book of the 19th century after the Bible.and was so widely read that when President Abraham Lincoln met Stowe in 1862, he reportedly said, "So this is the little lady who made this big war." (pdf of text) (see Mar 22)
Dred Scott
March 22, 1852: in Scott v. Emerson, the Missouri Supreme Court reversed the lower court and declared that Scott was still a slave. The decision was frankly political. The court decided the case not on the basis of legal precedent, but because of popular prejudice. Chief Justice William Scott stated: 
Times are not now as they were when the former decisions on this subject were made. Since then not only individuals but States have been possessed with a dark and fell spirit in relation to slavery, whose gratification is sought in the pursuit of measures, whose inevitable consequence must be the overthrow and destruction of our government. Under such circumstances it does not behoove the State of Missouri to show the least countenance to any measure which might gratify this spirit. She is willing to assume her full responsibility for the existence of slavery within her limits, nor does she seek to share or divide it with others.
Thus, Chief Justice Scott overturned twenty-eight years of Missouri precedents. (see Dred Scott for expanded story)
Muhammad Ali
March 20, 1964: The Department of the Army issued the following statement about Ali's draft status: "The Department of the Army has completed a review of Cassius Clay's second pre-induction examination and has determined he is not qualified for induction into the Army under applicable standards."
The Army had given Ali a second test after it was determined that the results of his initial test were inconclusive. Ali's response was, "I just said I'm the greatest. I never said I was the smartest." (Ali, see May 25, 1965)
Voting Rights
March 20, 1964:  the Student Non-Violent Coordinating Committee announced the "Freedom Summer" program that would train young people to go to Mississippi and help Black register to vote. (BH, see Mar 23; VR, see June 14) 
March to Montgomery
March 20, 1965: President Lyndon B. Johnson notified Alabama's Governor George Wallace that he would use federal authority to call up the Alabama National Guard in order to supervise the planned civil rights march from Selma to Montgomery. (see March for expanded story)
James Earl Ray
March 20, 1969: James Earl Ray sentenced to 99 years for murder of Martin Luther King Jr. Prior to his death, Ray was in the Lois M. DeBerry Special Needs Facility in Nashville.
He died at age 70 on April 23, 1998, at the Columbia Nashville Memorial Hospital in Nashville from complications related to kidney disease and liver failure caused by hepatitis C.  (NYT obit for Ray) (see Apr 8)
Michael Donald
March 20, 1981: Mobile, Alabama. Henry Hays (age 26), and James Llewellyn "Tiger" Knowles (age 17) kidnap, beat, strangle, and slit the throat of Michael Donald before hanging him from a tree.
Local police initially stated that Donald had been killed as part of a drug deal gone wrong. (see June 6, 1997). Donald, an African-American, had been walking back from a store and randomly selected by Ku Klux Klan members Hays and Knowles. (retrospective Vanguard USA article)  (BH, see Dec 11; Michael Donald, see June 16, 1983)
Laquan McDonald
March 20, 2018: the American Civil Liberties Union and several community organizations said that they have reached an agreement to provide input into reforms being proposed for the Chicago Police Department. (B & S, see Mar 27; McDonald, see Sept 13)
Antwon Rose
March 20, 2019:  John Leach, a neighbor who lives a few houses away from the scene of East Pittsburgh police officer Michael Rosfeld shooting Antwon Rose, testified that he saw the officer standing on the sidewalk, panicking, saying, "I don't know why I shot him. I don't know why I fired." (B & S and AR, see Mar 22)
March 20 Peace Love Art Activism
DEATH PENALTY
Martha Place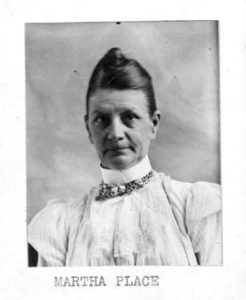 March 20, 1899: Martha Place, convicted of the murder of her step-daughter, became the first woman to die in the electric chair. The execution was carried out at New York's Auburn Prison. (CDNC article) (see May 2, 1910)
Pope Francis
March 20, 2015: Pope Francis came out against the death penalty once again, calling it "unacceptable" regardless of the seriousness of the crime of the condemned. The pope met with a three-person delegation of the International Commission Against the Death Penalty and issued a letter on the occasion urging worldwide abolition.
Citing his previous messages against the death penalty, the pope called capital punishment "cruel, inhumane and degrading" and said it "does not bring justice to the victims, but only foments revenge." Furthermore, in a modern "state of law, the death penalty represents a failure" because it obliges the state to kill in the name of justice, the pope said. Rather, it is a method frequently used by "totalitarian regimes and fanatical groups" to do away with "political dissidents, minorities" and any other person deemed a threat to their power and to their goals. (American Magazine article) (see Mar 23)
March 20 Peace Love Art Activism
US Labor History
R.B. Grover shoe factory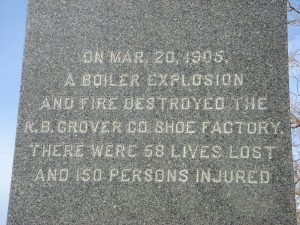 March 20, 1905: an old boiler exploded and shot up through three floors and the roof of the R.B. Grover shoe factory in Brockton, Massachusetts. The building collapsed and burst into flames. killing 58 people and  injuring 150. The incident led to passage of a national boiler safety code. (see June 27)
March 20 Peace Love Art Activism
Vietnam
French return
March 20, 1945: French troops return to Hanoi. (see May 31)
Dien Bien Phu
March 20, 1954: Secretary of State John Foster Dulles and other members of the Eisenhower administration were stunned at the turn of events at Dien Bien Phu (French defeated) and discussions  held discussions to decide on a course of action. Chairman of the Joint Chiefs of Staff Admiral Arthur Radford proposed the use of nuclear strikes against the Viet Minh. Other options included massive conventional air strikes, paratrooper drops, and the mining of Haiphong Harbor. In the end, President Eisenhower decided that the situation was too far gone and ordered no action to be taken to aid the French. (see Apr 7)
Operation Popeye/1967
March 20, 1967:  a highly classified weather modification program in Southeast Asia called Operation Popeye began. It was an attempt to extend the monsoon season, specifically over areas of the Ho Chi Minh Trail maze. The military seeded the clouds over the Trail to create floods and wash out supply routes to hinder North Vietnam's supply chain into and from South Vietnam.
The 54th Weather Reconnaissance Squadron carried out the operation using the slogan "make mud, not war."
The initial area of operations was the eastern half of the Laotian panhandle.
At times the program was also known as Operation Motorpool, and Operation Intermediary-Compatriot.  (next V, see Mar 25)
Operation Popeye/1974
March 20, 1974: the Defense Department provided Senator Pell's Subcommittee with a top secret briefing on weather modification activities in Southeast Asia. (V, see Apr 16; see OP for expanded chronology)
Gen. David Shoup
March 20, 1968:
retired U.S. Marine Corps Commandant Gen. David Shoup estimated that up to 800,000 men would be required just to defend South Vietnamese population centers. He further stated that the US could only achieve military victory by invading the North, but argued that such an operation would not be worth the cost.
The New York Times published excerpts from General Westmoreland's classified end-of-year report (1967), which indicated that the U.S. command did not believe the enemy capable of any action even approximating the Tet Offensive (January 1968). This report, Shoup's comments, and other conflicting assessments of the situation in Vietnam contributed to the growing dissatisfaction among a large segment of American society with the Vietnam War. (see Mar 22)
Chicago 8
March 20, 1969: the grand jury impaneled to investigate the 1968 Chicago riots charged eight protesters with various crimes and eight police officers with civil rights violations. The eight protesters were: Abbie Hoffman, Jerry Rubin, David Dellinger, Tom Hayden, Rennie Davis, John Froines, Lee Weiner, and Bobby Seale. Later, Seale's trial will be separated and the group will thereafter be known as the Chicago Seven. (Vietnam, see March 25 – 31; Chi8, see Sept 23)
March 20 Peace Love Art Activism
Cold War
Nikita Khrushchev
March 20, 1953: the Soviet government announced that Nikita Khrushchev had been selected as one of five men named to the new office of Secretariat of the Communist Party. Khrushchev's selection was a crucial first step in his rise to power in the Soviet Union. (see Apr 13)
Cuba
March 20, 2016: President Barack Obama arrived in Cuba and ended a half-century of estrangement. Obama and Cuban President Raul Castro met. (Guardian article) (see Nov 25).
March 20 Peace Love Art Activism
INDEPENDENCE DAY
Tunisia

March 20, 1956:  Tunisia independent from France. (see Nov 18)
March 20 Peace Love Art Activism
Calcutta
March 20 – April 9, 1961: Lawrence Welk's Calcutta  is Billboard #1 album.
Surrender
March 20 – April 2, 1961: "Surrender" by Elvis Presley #1 Billboard Hot 100. Though based on an early 20th century Italian ballad, it was one of 25 songs Doc Pomus and Mort Shuman wrote for Presley. (Apr 10)
Goldfinger
March 20 – April 9, 1965: the Goldfinger soundtrack is the Billboard #1 album.
John & Yoko
March 20, 1969: John Lennon and Yoko Ono married in Gibraltar. (see March 25 – 31)
Knight Ringo
March 20, 2018: Prince William knighted Ringo. Ringo became the second Beatle knighted. Paul was knighted in 1997. (next Beatles, see August 27, 2020)
March 20 Peace Love Art Activism
AIDS
AZT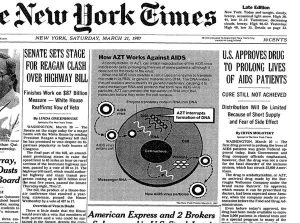 March 20, 1987: the Food and Drug Administration approved the sale of AZT, a drug shown to prolong the lives of some AIDS patients. (see Mar 24)
March 20 Peace Love Art Activism
Feminism
March 20, 1991: in Automobile Workers vs. Johnson Controls, the US Supreme Court ruled unconstitutional the exclusion of women from jobs where exposure to lead might harm the fetus unless the women could prove they were medically infertile; the decision was unanimous; the court noted that men were not subjected to similar requirements, though exposure by men to lead was also known to be harmful to reproduction. (Oyez article) (see Oct 11)
March 20 Peace Love Art Activism
Jack Kevorkian
March 20, 1996: Rep Dave Camp (R-MI), introduced a bill in the House to prohibit taxpayer funding of assisted suicide. (see Kevorkian for expanded story)
March 20 Peace Love Art Activism
Consumer Protection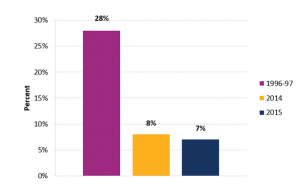 March 20, 1997: Liggett Group settled 22 state lawsuits by admitting the industry markets cigarettes to teenagers and agreeing to warn on every pack that smoking is addictive. (see Aug 25)
March 20 Peace Love Art Activism
CLINTON IMPEACHMENT
March 20, 1998: President Clinton decided to formally invoke executive privilege. (see Clinton for expanded story)
March 20 Peace Love Art Activism
Pledge of Allegiance
March 20, 2003: the US House of Representatives voted 400-7 to condemn the 9th Circuit Court of Appeals decision not to reconsider its ruling that the addition of the phase "under God" to the The Pledge of Allegiance was unconstitutional. (see Pledge for expanded chronology)
March 20 Peace Love Art Activism
Sexual Abuse of Children
March 20, 2012: Supreme Court: John Doe AP v. Roman Catholic Archdiocese of St. Louis. The Court rejected an appeal challenging a Missouri court's ruling that the Constitution's religious- freedom protections shield churches from lawsuits questioning practices for employing and supervising the clergy. The Court agreed with a Missouri trial judge who had ruled that  the church couldn't be sued on the "John Doe's" claims and an appeals court had upheld the decision. (SCOTUS link) (see Mar 27)
March 20 Peace Love Art Activism
Iraq War II
March 20, 2015: federal Judge Alvin K. Hellerstein of the United States District Court for the Southern District of New York ruled that the United States government must release photographs showing the abuse of detainees in American custody at the Abu Ghraib prison in Iraq and other sites. Hellerstein gave the Defense Department 60 days to appeal. The American Civil Liberties Union had filed a lawsuit in 2004 seeking the release of the photos. Judge Hellerstein ruled in August 2014 that the government had failed to show how the photos would endanger American soldiers, but allowed it to submit more evidence. He said in the Mar 20 ruling that the additional evidence had failed to change his decision. (see Apr 13)
March 20 Peace Love Art Activism
Environmental Issues
Fracking
March 20, 2015: the Obama administration unveiled the nation's first major federal regulations on hydraulic fracturing. The new rules applied only to oil and gas wells drilled on public lands, even though the vast majority of fracking in the US was done on private land. The rules will cover about 100,000 wells, according to the Interior Department.
"Current federal well-drilling regulations are more than 30 years old, and they simply have not kept pace with the technical complexities of today's hydraulic fracturing operations," said the interior secretary, Sally Jewell.     
The regulations, which would take effect in 90 days, would allow government workers to inspect and validate the safety and integrity of the cement barriers that line fracking wells. They wouldrequire companies to publicly disclose the chemicals used in the fracturing process within 30 days of completing fracking operations.
The rules would also set safety standards for how companies could store used fracking chemicals around well sites, and will require companies to submit detailed information on well geology to the Bureau of Land Management, a part of the Interior Department. (see Apr 1)
Climate Change Report
March 20, 2023:  the Intergovernmental Panel on Climate Change reported that Earth was likely to cross a critical threshold for global warming within the next decade, and nations needed to make an immediate and drastic shift away from fossil fuels to prevent the planet from overheating dangerously beyond that level.
The report, by a body of experts convened by the United Nations, offered the most comprehensive understanding to date of ways in which the planet was changing. It said that global average temperatures were estimated to rise 1.5 degrees Celsius (2.7 degrees Fahrenheit) above pre industrial levels sometime around "the first half of the 2030s," as humans continued to burn coal, oil and natural gas. [NYT article] (next EI, see Apr 6)
March 20 Peace Love Art Activism
Women's Health
Wisconsin
March 20, 2015: U.S. District Judge William Conley struck down a Wisconsin law requiring doctors performing abortions to get hospital admitting privileges, ruling that any benefits to women's health from the requirement are "substantially outweighed" by restricting women's access to abortion.
Conley, who earlier had put the law on hold, ruled that the 2013 law was unconstitutional. He issued a permanent injunction blocking its enforcement. (see Apr 27)
Gestational Age Act
March 20, 2018: federal Judge Carlton W. Reeves put the Gestational Age Act law on hold ruling after an emergency hearing that the clinic's argument that the law was unconstitutional was "substantially likely to succeed." [NYT report] (WH, see Mar 30; Mississippi, see Nov 20)
March 20 Peace Love Art Activism
LGBTQ
March 20, 2015: Justice Secretary César Miranda, Puerto Rico's attorney general, announced that its government would no longer defend a law that banned same-sex couples from marrying and did not recognize the validity of such marriages performed in other jurisdictions.
"The decision recognizes that all human beings are equal before the law," Miranda said. "We believe in an equal society in which everyone enjoys the same rights." (see Mar 26)
March 20 Peace Love Art Activism
ADA
March 20, 2017:  "Sesame Street" added Julia, a 4-year-old female muppet who has autism, to its cast as part of an expanding autism initiative.
The TV show rolled out the news of Julia's arrival on its website and released a series of YouTube videos featuring her. Julia, who loves to sing and can memorize lyrics better than her young peers, struggles with loud noises like sirens, which can cause her to become emotionally upset. (CBS News story) (see Mar 22)
March 20 Peace Love Art Activism