April 13 Peace Love Art Activism
BLACK HISTORY
William Kellogg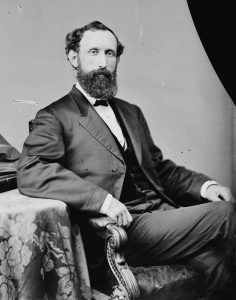 April 13, 1873 [Easter]: in Colfax, Louisiana, hundreds of white men clashed with freedmen at the Grant Parish courthouse. While only three white men died, it is estimated that nearly 150 black people died in the ensuing struggle – many murdered in cold blood after surrendering.
The massacre was precipitated by the hotly contested 1872 Louisiana gubernatorial election. When a federal judge declared William Kellogg the winner, he began making appointments to fill local parish offices. Meanwhile, Kellogg's white supremacist opponent John McEnery and his supporters declared McEnery the winner of the election. In the ensuing unrest, black supporters of Kellogg surrounded the Grant Parish courthouse and other municipal buildings in Colfax to protect them from being overtaken by McEnery supporters.
On Easter Sunday, more than 300 armed white men, including members of white supremacist groups, attacked the courthouse building to forcefully remove Kellogg's black supporters. When the white posse aimed a cannon to fire on the courthouse, some of the sixty black defenders fled; others surrendered then, and more surrendered after the courthouse was set on fire. Many of the men were nevertheless killed as the mob began shooting unarmed members of the militia as they fled.
After the massacre, the federal government indicted over 100 members of the white mob under the Enforcement Act of 1870, a law enacted during Reconstruction to protect newly freed black voters from the terrorist threats of the Ku Klux Klan and other disgruntled white southerners. Only three members of the mob were convicted, and they appealed. In one of the final blows to the Reconstruction era protections, those men were freed when the United States Supreme Court declared that they had been convicted unconstitutionally. (BH, see Apr 14; Colfax, see March 27, 1876)
Federal segregation
April 13, 1913: recently inaugurated President Woodrow Wilson received Postmaster General Albert Burleson's plan to segregate the Railway Mail Service. Burleson reported that he found it "intolerable" that white and Black employees had to work together and share drinking glasses and washrooms. This sentiment was shared by others in Wilson's administration; William McAdoo, Secretary of the Treasury, argued that segregation was necessary "to remove the causes of complaint and irritation where white women have been forced unnecessarily to sit at desks with colored men."
By the end of 1913, Black employees in several federal departments had been relegated to separate or screened-off work areas and segregated lavatories and lunchrooms. In addition to physical separation from white workers, Black employees were appointed to menial positions or reassigned to divisions slated for elimination. The government also began requiring photographs on civil service applications, to better enable racial screening. [EJI article] (next BH see June 25)
George Whitmore, Jr.
April 13, 1967: DA Aaron Koota stated that "in the interests of justice" Whitmore  will be tried a third time for the Elba Borrero crime. (BH, see Apr 27;  see Whitmore for expanded story)
Chaney, Goodman, and Schwerner
April 13, 2007: the Mississippi Supreme Court upheld the manslaughter convictions of Edgar Ray Killen in the killing of three civil rights workers in 1964. Mr. Killen, 82, was convicted in June 2005 in the deaths of the workers, James Chaney, Andrew Goodman and Michael Schwerner. He was sentenced to three consecutive 20-year prison terms. In his appeal, Mr. Killen had argued that in the 1960s he would not have been convicted by a jury of his peers of any crime under the evidence presented in 2005. (next BH, see Apr 21; see Murders for expanded chronology)
BLACK & SHOT/Danroy Henry
April 13, 2011: the Police Benevolent Association of the Pleasantville Police Department honored  officer, Aaron Hess, for his dignity and professionalism since the October shooting of Danroy Henry Jr., 20, and throughout his career. (BH, see June 4; next B & S, see February 2, 2012 ; Henry, see April 7, 2015)
Tulsa shootings
April 13, 2012: Prosecutors brought murder and hate-crime charges against Jake England and Alvin Watts. The two suspects were also charged with shooting with intent to kill Deon Tucker, who was wounded in the shoulder, and David Hall, who was wounded in the stomach. (see December 16, 2013)
BLACK & SHOT/Eric C Harris
April 13, 2015: prosecutors in Tulsa, Okla., filed homicide charges against, Robert C. Bates, a sheriff's department volunteer, who fatally shot, apparently by accident, Eric C. Harris, 44, an unarmed suspect who was lying in the street.
The district attorney's office charged Bates, 73, a part-time reserve deputy with the Tulsa County Sheriff's Department, with second-degree manslaughter involving culpable negligence, punishable by up to four years in prison. (NYT article) (B & S, see Apr 19; Harris, see April 28, 2016)
Ahmaud Arbery/Black & Shot
April 13, 2020: the Aubery case was transferred to a third prosecutor, District Attorney Tom Durden of the Atlantic Judicial Circuit. [NYT article]  (next B & S and AA, see April 26 or see AA for expanded chronology)
April 13 Peace Love Art Activism
US Labor History
Jimmy Hoffa
April 13, 1930:  17-year-old Jimmy Hoffa led his co-workers at a Kroger warehouse in Clinton, Indiana, in a successful job action. By refusing to unload a shipment of perishable strawberries, they forced the company to give in to their demands. Among other things: the "strawberry boys" had to report to work at 4:30 a.m., stay on the job for 12 hours, and were paid 32¢ an hour—only if growers arrived with berries to unload. Plus, they were required to spend three-fourths of any earnings buying goods from Kroger. 
Feminism &  News Music
In 1931: Florence Reece (1900-1986) "was a writer and social activist whose song 'Which Side Are You On?' became an anthem for the labor movement. Borrowing from the melody of the old hymn "Lay the Lily Low," Mrs. Reece wrote the union song…to describe the plight of mine workers who were organizing a strike in Harlan County, Ky. Mrs. Reece's husband, Sam, who died in 1978, was one of those workers. Pete Seeger, the folk singer, recorded the song in 1941. It has since been used worldwide by groups espousing labor and social issues." — New York Times Obituaries, August 6, 1986. (Womens History Month article) (Labor, see March 3; Feminism, see Dec 10; see News for expanded story)
Baseball strike
April 13, 1972: the first strike in the history of major league baseball ended. Players had walked off the field on April 1. (baseball reference site article) (see May 2)
April 13 Peace Love Art Activism
FREE SPEECH
Valentine v. Chrestensen
April 13, 1942: Valentine v. Chrestensen. The US Supreme Court ruled that commercial speech is not protected under the First Amendment (FS, see Sept 30; Commercial Speech, see May 24, 1976)
Anti-Picketing Law
April 13, 1964: a group of the protesters sought a judgment declaring that the Anti-Picketing Law was an invalid regulation of expression because of overbreadth and vagueness and an injunction against its enforcement in the prosecutions against them or otherwise, contending that the prosecutions were solely to discourage their freedom of expression. (FS, see Apr 22; Anti-Picketing law, see April 22, 1968)
April 13 Peace Love Art Activism
Cold War
April 13, 1953
Ian Flemming's first novel, Casino Royale was published and introduced the James Bond character, a British secret agent who fights the Communist threat to the West. In this first novel, Bond was on a mission to neutralize a lethal, high-rolling Russian operative called simply 'Le Chiffre' – by ruining him at the baccarat table and forcing his Soviet spymasters to 'retire' him. Flemming will publish a total of 14 James Bond novels. (2006 Guardian book review)
Project MKULTRA, launched on this day, was the code name for a secret Central Intelligence Agency (CIA) program that experimented with mind control. The project used hypnosis, sensory deprivation, and the drug LSD. Particularly controversial, some subjects were not informed of the experiments performed on them. Secret experiments were performed at 80 different institutions, including 44 colleges and universities. (CW, see June 14; MKULTRA, see September 30, 1978)
Edward R  Murrow
April 13, 1954: Edward R  Murrow responded to McCarthy's critique the following week.  (see Apr 22)
April 13 Peace Love Art Activism
Technological Milestone
Space Race
April 13, 1960: the US launched the first U.S. navigational satellite, the Transit-1B on a Thor-Ablestar rocket. The Ablestar carried out the first engine restart in space to refine the orbit.. The payload, weighing 265 pounds, included 2 ultrastable oscillators, 2 telemetry transmitters and receivers, batteries and solar cells. The Transit system was designed to meet Navy's need for accurately locating ballistic missile submarines and other ships. It achieved initial operational capability in 1964 and full capability in Oct 1968. Its navigational broadcasts were switched off deliberately on 31 Dec 1996. The Joint Chiefs of Staff had decided to rely on GPS alone for navigation and positioning, retired after more than 32 years of continuous, successful service to the U.S. Navy. (NASA article) (TM see May 2 – 8; Space, see Aug 12)
April 13 Peace Love Art Activism
Hootenanny
April 13, 1963: recorded on different college campuses, ABC-TV starts broadcasting Hootenanny, a show with various folk artists. The first show had been recorded at Brown University. (see September 16, 1964)
Beatles BBC TV debut
April 13, 1963: although they already made 11 appearances on regional and independent television programmes in Britain, the Beatles' debut on the BBC gave them a nationwide audience for the first time.
They appeared on the The 625 Show, which featured "up and coming young talent." They performed From Me To You, Thank You Girl, and Please Please Me. The last song closed the show, and for it the group was joined by the other guests on stage. (see Apr 18)
1963 Oscars
April 13, 1964: Jack Lemmon hosted. For the second time in Academy Awards history, fifteen years after the first British film won the Best Picture award (Laurence Olivier's Hamlet (1948)), another British-made film won the top award. The honored film was Tom Jones. The film garnered ten Oscar nominations, more than any other film in the competition.
Beatles first Grammy awards
April 13, 1965: The Beatles won their first two Grammy awards. They won Best New Artist and Best Performance by a Vocal Group for "A Hard Day's Night.".
They did not win Record of the Year. They were beat out by Stan Getz and Joao Gilberto who won for "The Girl From Ipanema". Stan and Joao also won Album of the Year for "Getz/Gilberto". It was the first time a jazz record had won the award. It was The Beatles first nomination. (see May 22 – 28)
Bobby Goldsboro
April 13 – May 17, 1968: "Honey" by Bobby Goldsboro #1 on the Billboard Hot 100.
The Road to Bethel
April 13, 1969: Mel Lawrence, Tom Rounds, Tom Driscoll, Bill Hanley, Stanley Goldstein, and Michael Lang visit the Wallkill site. Mel Lawrence becomes the festival's Chief-of-Operations. 
Around the same time, Woodstock Ventures booked the first act: Creedence Clearwater Revival–$10,000. (see Chronology for expanded story)
April 13 Peace Love Art Activism
Vietnam
Southern Christian Leadership Conference
April 13, 1966: the Southern Christian Leadership Conference (SCLC) adopted a resolution urging that the US "desist from aiding the military junta against the Buddhists, Catholics, and students, whose efforts to democratize their government are more in consonance with our traditions than the policy of the military oligarchy." This resolution, which had little real impact on administration policies, indicated the growing dissatisfaction among many segments of the American population with President Lyndon B. Johnson's handling of the war in Vietnam. (see Apr 17)
April 13 Peace Love Art Activism
AIDS
April 13, 1982: U.S. Representative Henry Waxman convened the first congressional hearings on HIV/AIDS. The U.S. Centers for Disease Control and Prevention (CDC) estimate that tens of thousands of people may be affected by the disease. (see Sept 24)
April 13

Peace Love Art Activism
Jack Kevorkian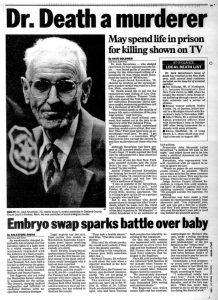 April 13, 1999: a Michigan judge sentenced Kevorkian to 10-25 years in prison for conviction of second-degree murder and delivery of a controlled substance in the death of Thomas Youk. (see Kevorkian for expanded story)
April 13 Peace Love Art Activism
Iraq War II
April 13, 2015:  one former Blackwater security contractor received a life sentence and three others received 30-year sentences for killing unarmed Iraqi civilians in Baghdad's Nisour Square in 2007.
The shooting left 17 people dead and was a gruesome nadir in the war in Iraq. It transformed Blackwater Worldwide from America's wealthiest and most politically powerful security contractor into a symbol of unchecked and privatized military power.
Nicholas A. Slatten, a former Army sniper from Tennessee, was convicted of murder for firing the first fatal shots. Three others — Dustin L. Heard, also of Tennessee; Evan S. Liberty of New Hampshire; and Paul A. Slough of Texas — were convicted of manslaughter, attempted manslaughter and the use of a machine gun in a violent crime. The last charge carried a mandatory 30-year prison sentence under a law passed during the crack cocaine epidemic.
Slatten was sentenced to life in prison, and Mr. Heard, Mr. Liberty and Mr. Slough to 30 years. The men are all in their 30s. (see August 4, 2017)
April 13 Peace Love Art Activism
ADA
April 13, 2015: the U.S. Department of Justice's Civil Rights Division ruled that the Gates-Chili School District (Gates, NY) violated the Americans with Disabilities Act when it removed a service dog from a Devyn Pereira's individual education plan.
Pereira's mother said as a result, she had to hire an expensive aide to help handle the dog when her daughter went to school. Devyn suffers from the rare disorder called Angelman's Syndrome, which is an extreme case of autism and epilepsy. She uses a service dog named Hannah, who is trained as a seizure alert dog.
The Department of Justice found the district violated title 2 of the ADA by not changing its policies and procedures so that staff could offer assistance to Devyn and her dog. The Civil Rights Division ordered that staff must assist Devyn as needed and the district must compensate the family for damages. (see May 18)
April 13 Peace Love Art Activism
Women's Health
April 13, 2017: President Trump signed H.J.Res. 43 into law. It nullified the Department of Health and Human Services rule prohibiting recipients [like Planned Parenthood] of Title X grants for the provision of family planning services from excluding a subgrantee from participating for reasons other than its ability to provide Title X services. The Obama regulations had required that states pass along family-planning grants — regardless of whether the groups they're passing them along to offer abortion services as well. The rule was intended to prevent states from withholding these grants from any organization "for reasons other than its ability to provide Title X services." (see Oct 6)
April 13 Peace Love Art Activism
Native Americans
April 13, 2018: U.S. Supreme Court Justice Neil Gorsuch made history in announcing the appointment of Tobi Young. It is believed she was the first Native American to clerk for the nation's highest court.
Young would serve during the Supreme Court's 2018-19 term.
The Chickasaw Nation applauded the move in its own press release, with Chickasaw Nation Gov. Bill Anoatubby stating: "It is difficult to overstate the significance of having a well-qualified, experienced Chickasaw such as Ms. Young serving as Supreme Court clerk. Justice Gorsuch is well respected by tribal leaders for his understanding of tribal sovereignty and Indian law. His decision to select a Native American to serve as clerk underscores his appreciation of the importance of the Native perspective on Indian law." (see Apr 30)
April 13 Peace Love Art Activism
Cannabis
April 13, 2018: the Trump administration abandoned a Justice Department threat to crack down on recreational marijuana in states where it was legal, a move that could enable cannabis businesses in California and other states that have legalized pot to operate without fear of federal raids and prosecution.
Trump personally directed the abrupt retreat, which came at the behest of Republican Sen. Cory Gardner of Colorado. Trump had not informed Atty. Gen. Jeff Sessions in advance of the change in policy, an almost unheard of undermining of a Cabinet official.
Gardner was incensed (January 4) when the Justice Department had announced that it was rescinding an Obama-era policy that directed federal prosecutors not to target marijuana businesses that operate legally under state law. The senator had blocked Justice Department nominees in retaliation.
In conversation with Trump, Gardner said he was assured that the federal government would not interfere with his state's marijuana industry and that Trump would champion a new law that gives states the authority to set their own pot policies. In response, he lifted his remaining holds on nominees. (next Cannabis see May 13 or see CCC for expanded chronology)
April 13 Peace Love Art Activism
Nuclear/Chemical News
Fukushima
April 13, 2021: the Japanese government announced its intention to gradually release the water used to cool the Fukushima Daiichi plant's nuclear reactors into the ocean. Jennifer Jett and Ben Dooley reporedt for the New York Times that the cabinet would meet within the week to develop a specific plan,
The decision cames a month after the ten-year anniversary [March 11, 2011] of the magnitude-9.0 earthquake and following tsunami that killed over 15,000 people, forced hundreds of thousands to evacuate their homes and critically damaged the nuclear power plant in Fukushima. Over the last decade, the Tokyo Electric Power Company, which operates the plant, had continued pumping about 170 tons of cooling water per day over the damaged reactor cores to prevent a meltdown. The water was then treated and stored in tanks on site, but space is running low. [Smithsonian article] (next N/C N, see Apr 30) or see August 24, 2023 for next Fuckushima/water)
April 13 Peace Love Art Activism