December 10 Peace Love Art Activism
Feminism
Voting Rights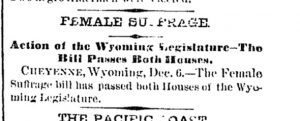 December 10, 1869:  motivated more by interest in free publicity than a commitment to gender equality, Wyoming territorial legislators passed a bill that is signed into law granting women the right to vote. Western states led the nation in approving women's suffrage, but some of them had other motives. Though some men recognized the important role women played in frontier settlement, others voted for women's suffrage only to bolster the strength of conservative voting blocks. In Wyoming, some men were also motivated by sheer loneliness–in 1869, the territory had over 6,000 adult males and only 1,000 females, and area men hoped women would be more likely to settle in the rugged and isolated country if they were granted the right to vote. (Voting Rights, see February 3, 1870)
Matilda Josyln Gage
In 1870  Gage researched and published "Woman as Inventor." In it, Gage credited the invention of the cotton gin to a woman, Catherine Littlefield Greene. Gage claimed that Greene suggested to Whitney the use of a brush-like component instrumental in separating out the seeds and cotton. [Gage provided no source for this claim and to date there has been no independent verification of Greene's role in the invention of the gin. However, many believe that Eli Whitney received the patent for the gin and the sole credit in history textbooks for its invention only because social norms inhibited women from registering for patents.]  During this same time Gage wrote a series of articles speaking out against United States' unjust treatment of American Indians and describing superior position of native women. "The division of power between the sexes in this Indian republic was nearly equal," Gage wrote of the Iroquois. In matters of government, "…its women exercised controlling power in peace and war … no sale of lands was valid without consent" of the women, while "the family relation among the Iroquois demonstrated woman's superiority in power … in the home, the wife was absolute … if the Iroquois husband and wife separated, the wife took with her all the property she had brought … the children also accompanied the mother, whose right to them was recognized as supreme." "Never was justice more perfect, never civilization higher," Gage concluded. (next Feminism, see February 3, 1870; Native Americans, see June 18;  see Gage for her expanded chronology)
Equal Rights Amendment

December 10, 1923: The Equal Rights Amendment, drafted by Alice Paul, introduced in the Senate. It read, "Men and women shall have equal rights throughout the United States and every place subject to its jurisdiction."  Although the amendment will be introduced in every session of Congress, it will not reach the floor of the House of Representatives for a vote until 1971.(see January 14, 1927)
Jane Addams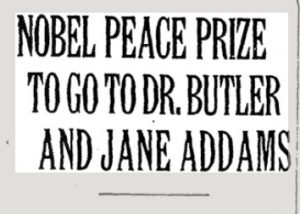 December 10, 1931: Jane Addams became the first American woman to be awarded the Nobel Peace Prize; the co-recipient was Nicholas Murray Butler. (January 12, 1932)
Janice R. Lachance
December 10, 1997: with the swearing in of Janice R. Lachance as Director of the U.S. Office of Personnel Management on this day, the total number of women appointed to President Clinton's Cabinet reached 13, the highest number in any presidential cabinet in US history. (see March 4, 1998)
Shirin Ebadi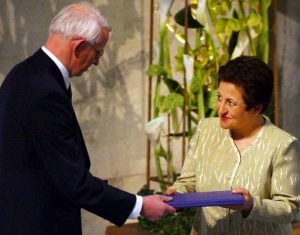 December 10, 2003: Iranian democracy activist Shirin Ebadi, the first Muslim woman to win the Nobel Peace Prize, accepted the award in Oslo, Norway. (see January 26, 2005)
December 10 Peace Love Art Activism
US Labor History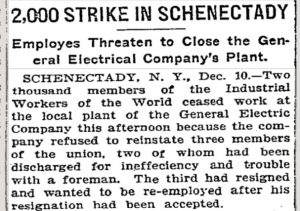 December 10, 1906: first sit-down strike in U.S. called by International Workers of the World at General Electric in Schenectady, N.Y.(see April 4, 1907)
December 10 Peace Love Art Activism
LGBTQ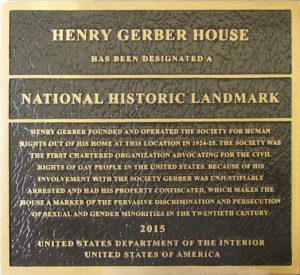 December 10, 1924: Henry Gerber founded The Society for Human Rights in Chicago. The society was the first gay rights organization as well as the oldest documented in America.
After receiving a charter from the state of Illinois, the society published the first American publication for homosexuals, Friendship and Freedom. Soon after its founding, the society disbanded due to political pressure.(see June 23, 1945)
December 10 Peace Love Art Activism
FREE SPEECH

December 10, 1948: Chicago authorities banned The Respectful Prostitute, a play by Jean-Paul Sartre. Chicago theater and film censor Harry Fulmer argued that the play would offend African-Americans. The play involves an incident that occurred on a train where an African-American man was falsely accused of attacking a white woman, when in fact a white man perpetrated the attack. National NAACP Director Walter White gave the play his "unqualified endorsement" but was unsuccessful in preventing the ban. (FS, see following; Black History, see August 27, 1949)
Book burning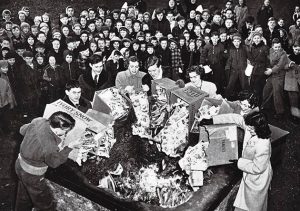 December 10, 1948: most of the 500 students at St. Patrick's School in Binghamton, NY, on this day stood and watched as the school burned 10,000 comic books as part of a "purity" crusade. The Bishop of the Catholic Diocese, as part of the crusade, urged parish members to "boycott" stores that sold magazines with "indecent pictures and sensational details of crime." The comic books were burned in a courtyard behind the school. The event was part of a national panic over comic books in the 1950s regarding their alleged impact on juvenile delinquency.(see March 8, 1949)
December 10 Peace Love Art Activism
BLACK HISTORY
Ralph Bunche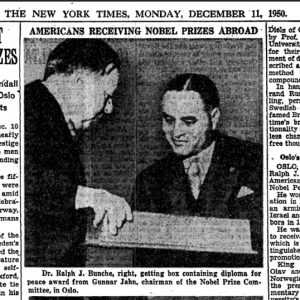 December 10, 1950: for his peace mediation during the first Arab-Israeli war, American diplomat Ralph Joseph Bunche received the Nobel Peace Prize in Oslo, Norway. Bunche was the first African American to win the prestigious award.(see January 20, 1951)
Freedom Riders
December 10, 1961: nine Freedom Riders from Atlanta arrived at the Albany Trailways bus terminal and were met by a crowd of approximately three hundred black onlookers and a squad of Albany policemen. Albany Police Chief Laurie Pritchett arrested the riders without incident, telling the press that white Albany would "not stand for these troublemakers coming into our city for the sole purpose of disturbing the peace and quiet in the city of Albany." (BH, AM, & FR, see December 11)
Martin Luther King, Jr
December 10, 1964: Martin Luther King, Jr received Nobel Peace Prize. In his acceptance speech, King said, "I refuse to accept the view that mankind is so tragically bound to the starless midnight of racism and war that the bright daybreak of peace and brotherhood can never become a reality." (BH, see Dec 12; MLK, see Dec 28)
Frank Morris burned to death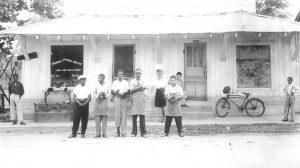 December 10, 1964: the Ku Klux Klan set fire to the business of Frank Morris, a 51-year-old African-American in Ferriday, Louisiana. Morris died four days. He had been asleep in the back of his shoe shop when he heard glass breaking shortly after midnight. Out front he saw two men, one pouring gasoline on the outside of the building, the other holding a shotgun. Morris yelled, "Hey, stop that!" Suddenly, the building was ignited, and Morris was in a sea of flame and smoke. The man with the shotgun blocked his escape through the front door as he pointed the barrel at Morris while shouting, "Get back in there, nigger!"
Two police officers arrived just seconds after Morris's attackers fled. They watched Morris emerge from the back of the building completely in flames—naked, bleeding, exhausted—leaving behind a trail of bloody footprints. Skin peeled and fell from his body. Morris's hair was ablaze, the waistband of his boxer shorts and the shoulder straps of his undershirt smoldering. Morris said he didn't know his attackers.
The FBI agent who rushed to the hospital within hours of the arson said, "If Frank would have told me who they [his attackers] were, we would have gone after the sons of bitches." Morris's friends believed he knew his attackers but was afraid to identify them. No one was prosecuted. (see Dec 14)
March to Montgomery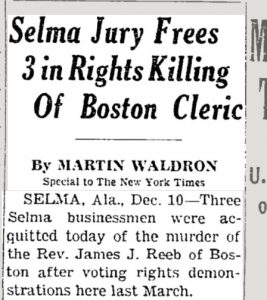 On March 11, 1965 James J. Reeb had died in a hospital in Birmingham, Alabama after White supremacists had beat him in Selma, AL following the second march from Selma.
On December 10, 1965, Elmer Cook, O'Neal Hoggle, and his brother Willam Hoggle were acquitted of the murder of Rev James J Reeb. The all-white jury deliberated 90 minutes. (BH, see January 3, 1966; see March for expanded chronology)
Toni Morrison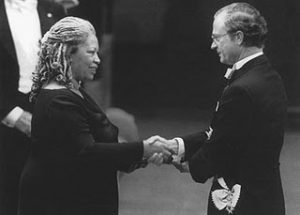 December 10, 1993: Toni Morrison received the Nobel Prize for Literature at the award ceremony in Oslo, Norway. She was the first African American woman to win. (Feminism, see January 24, 1994; BH, see January 26, 1974)
Nelson Mandela
December 10, 1996: Mandela signed into law a new democratic constitution, completing the country's transition from white-minority rule to a non-racial democracy.  (SA/A, see January 28, 1997; NM, see June 16, 1999)
Antwon Rose
December 10, 2018:  NBC news reported that the parents of Antwon Rose, who East Pittsburgh police officer Officer Michael Rosfeld fatally shot  when as Rose fled a traffic stop, sued Rosfeld's former employer — the University of Pittsburgh — for failing to properly discipline him or record performance issues in his personnel file.
In the lawsuit filed in Allegheny County, the Rose's parents  said the university allowed Rosfeld to resign quietly without putting any notice in his personnel file that there had been issues with at least one arrest. The University had hired Rosfeld as a university police officer in 2012, was suspended in December 2017, and resigned a few weeks. (B & S, see Dec 14; AR, see January 11, 2019)
December 10 Peace Love Art Activism
Cold War
December 10, 1949: Generalissimo Chiang Kai-Shek, longtime American ally and leader of the anticommunist Chinese Nationalists, fled mainland China to organize the Republic of China on the island of Taiwan. (NYT article) (see January 21, 1950)
December 10 Peace Love Art Activism
Technological Milestone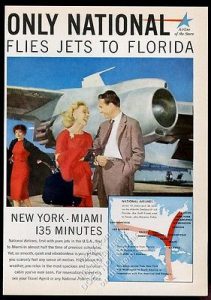 December 10, 1959: a National Airlines Boeing 707 with 111 passengers flew from New York to Miami. It was the first domestic passenger jet flight. (see February 7, 1960)
December 10 Peace Love Art Activism
Roots of Rock: Fats Domino
December 10, 1949: Fats Domino recorded his first sides for Imperial Records. He recorded The Fat Man, one of the earliest rock and roll records. The title also turned into Domino's nickname and stayed with him through his years of success. (see January 3, 1950)
John Lennon leaves Hamburg
December 10, 1960: John Lennon traveled back to England by train and boat. Stuart Sutcliffe continued stay in Hamburg, , effectively signified the end of his time in The Beatles. (see Beatles Deported for expanded chronology)
CBS/Beatles
December 10, 1963: CBS-TV aired a four-minute segment on The Beatles that had been pre-empted by the JFK tragedy. (see Dec 17)
Grateful Dead & Rock Venues
December 10, 1965: the San Francisco Fillmore auditorium held its first rock 'n' roll concert (thanks to promoter Bill Graham), a benefit for the San Francisco Mime Troupe. Unbilled but also playing that night: the Grateful Dead, having just changed its name from the Warlocks. (RV, see January 8, 1966; GD, see January 22, 1966)
December 10 – 16, 1966: "Good Vibrations" by the Beach Boys #1 on the Billboard Hot 100.
John Lennon/John Sinclair
December 10, 1971: John Lennon headlined The John Sinclair Freedom Rally, a protest and concert in response the imprisonment of John Sinclair who was given ten years in prison for the possession of two marijuana cigarettes. The concert was held in Crisler Arena at the University of Michigan in Ann Arbor, Michigan. Two days after the event, Sinclair was released. (see January 1972)
Bob Dylan
December 10, 2016: Bob Dylan did not attend the Nobel Banquet in the Stockholm City Hall. Azita Raji, the United States Ambassador to Sweden, gave an acceptance speech in his place. (see June 4, 2017)
December 10 Peace Love Art Activism
Vietnam
My Lai Massacre
December 10, 1970: the defense opened its case in the murder trial of Lt. William Calley. Citing "superior's orders," Defense Attorney George Lattimer contended that Capt. Ernest Medina, Calley's company commander, told his men that they were finally going to fight the enemy. He reportedly ordered "every living thing" killed. Lattimer also cited poor training of the platoon, the rage of the men who had seen their buddies killed, and the expectation of fierce resistance as additional factors contributing to the incident. The lawyer also charged that higher commanders on the ground and in the air observed the episode but did nothing. (Vietnam; see Jan 12; see My Lai for expanded chronology)
 Peace Accord
December 10, 1972: technical experts on both sides began work on the language of a proposed peace accord, giving rise to hope that a final agreement is near. (see Dec 13)
December 10 Peace Love Art Activism
AIDS
December 10, 1982: CDC reported a case of AIDS in an infant who received blood transfusions. The following week, the MMWR reports 22 cases of unexplained immunodeficiency and opportunistic infections in infants. (see January 7, 1983)
December 10 Peace Love Art Activism
Immigration History
On July 12, 2008 six white teenagers beat Mexican immigrant Luis Ramirez to death in Shenandoah, Pennsylvania, while taunting him with racial slurs and threats including: "Spic," "fucking Mexican," and "This is Shenandoah. This is America. Go back to Mexico." After leaving Mr. Ramirez, a 25-year-old father of two, unconscious and convulsing on the pavement, one of the attackers yelled: "Tell your fucking Mexican friends to get the fuck out of Shenandoah or you're going to be fucking laying next to him." Mr. Ramirez died of his injuries two days later. (see Luis Ramirez for expanded chronology)
December 10 Peace Love Art Activism
Marijuana
December 10, 2013: Uruguay's Senate gave final congressional approval to create the world's first national marketplace for legal marijuana. The government will oversee production, sales and consumption. (NYT article) (see February 6, 2014)
December 10 Peace Love Art Activism
Please follow and like us: