January 8 Music et al
Teenage Culture
January 8, 1965: in response to ABC-TV's Shindig!, Hullabaloo premiered on NBC. The first show included performances by The New Christy Minstrels, comedian Woody Allen, actress Joey Heatherton and a segment from London in which Brian Epstein introduced The Zombies and Gerry & the Pacemakers. (see Hullabaloo for more)
January 8 Music et al
Shindig! ends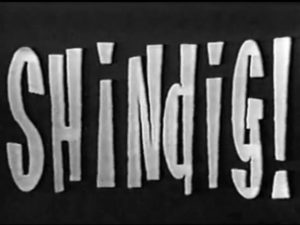 January 8, 1966: exactly a year later was ABC's Shindig!'s last show.
January 8 Music et al
Acid Test
January 8, 1966: Ken Kesey acid test at the Fillmore Auditorium in San Francisco. Michael Rossman (S.F. Chronicle, 1/66): Up at the Fillmore Auditorium, Ken Kesey's Acid test event was in action when I got there around the middle of the evening. The people were like the backstage crowd at the California Hall dance (that the Airplane played the same night). The costumes were, wow! a strobe light was flickering at a very high frequency in one corner of the hall and a group of people were bouncing a golden balloon up and down in it. It was a most perturbing frequency. in one corner there was a piece of metal, tubular sculpture by Ron Boise, a thumping machine. If you hit it, you got different sounds if you hit it in different places. There was a lot of electronic equipment which sent out a low reverberation that resonated throughout the hall. and the whole place was filled with streamers and balloons. There were tV cameras and a tV screen, and you could see yourself in it. Onstage there was a rock group; anybody could play with them. It was a kind of social Jam session. a guy in a white mechanic's suit with a black cross on the front, and on the back a sign saying 'Please Don't Believe in Magic', ran up and down all night. Oh wow! Periodically the lights went out and everybody cheered. Giant Frisbees, balloons like basketballs, acrobats, girls in felt eyelashes four inches long, people with eyes painted on their foreheads, glasses low on the nose with eyes painted on them, men with foxes on their shoulders! Wow!
For more, link to…poster trip dot com site
This may, or may not, be a recording of the Grateful Dead that night (or a combination of several nights)…Internet Archive
And here's a Live For Live Music article about the Dead with some video interview links.
January 8 Music et al
Rubber Soul
January 8 – February 18, 1966: Rubber Soul became the Billboard #1 album. (see Rubber Soul for more)
…and at the exact same time…
January 8 Music et al
We Can Work It Out
January 8 – 21, 1966: "We Can Work It Out" hit #1 on the Billboard Hot 100.
As always, Alan W Pollack's site has an amazing description of the song…Alan W Pollack site
He points out, for example, that "The form is one of the small number of standard pop song models. Let's call it the "double bridge with single verse intervening." Over the long run it's one that the Beatles would use often, though I suspect the lack of an intro and inclusion of a complete ending are somewhat unusual variations on the model; at least in terms of pop music in general, if not the Beatles themselves"
January 8 Music et al