January 29 Peace Love Art Activism
US Labor History
President Andrew Jackson
January 29, 1834: Andrew Jackson became the first president to use federal troops to quell labor unrest. the Chesapeake and Ohio Canal construction teams consisted primarily of Irish, German, Dutch and black workers who, with primitive tools, were forced to work long hours for low wages in dangerous conditions. Fed up, the workers rioted on January 29, but were quickly put down by federal troops. The move set precedent for future labor-management relations. When labor uprisings increased toward and into the turn of the century, business leaders were confident in the knowledge that they could turn to local, state or federal government leaders to head off labor unrest. (see Feb 20)
President Barak Obama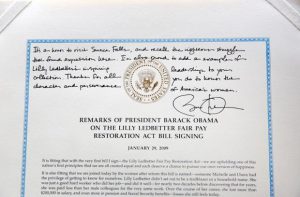 January 29, 2009: President Obama signed the Lilly Ledbetter Fair Pay Restoration Act, which allowed victims of pay discrimination to file a complaint with the government against their employer within 180 days of their last paycheck. Previously, victims (most often women) were only allowed 180 days from the date of the first unfair paycheck.  (White House archive article) (see Feb 24)
Trump guts DoD unions
January 29, 2020:  Yahoo News reported that President Trump had officially granted the Department of Defense the legal authority to abolish the collective bargaining rights of its civilian labor  unions  representing some 750,000 workers.
Such authority would provide "maximum flexibility," Trump wrote in a memo in the Federal Register,.  Trump invoked "national security" to justify granting the Defense Department an exemption from the law giving all federal workers the right to unionize.
"When new missions emerge or existing ones evolve, the Department of Defense requires maximum flexibility to respond to threats to carry out its mission of protecting the American people," Trump wrote in the memo. "Where collective bargaining is incompatible with these organizations' missions, the Department of Defense should not be forced to sacrifice its national security mission." (next LH, see January 4, 2021)
January 29 Peace Love Art Activism
BLACK HISTORY
January 29, 1877: Shortly before President Ulysses S Grant left office, an Electoral Commission was created to settle the disputed 1876 presidential election between Republican Rutherford B. Hayes and Democrat Samuel J. Tilden. Democrats agreed to give Hayes the presidency on the understanding that the federal government would remove its troops from the former Confederate states.
This compromise — or as some historians have it, betrayal — marked the end of Reconstruction.
"The phase that began in 1877 was inaugurated by … the abandonment of the Negro as a ward of the nation," historian C. Vann Woodward wrote in his 1955 book, "The Strange Career of Jim Crow." (next BH, see Apr 24)
Pace v. Alabama
January 29, 1883:  the US Supreme Court affirmed in Pace v. Alabama, that Alabama's anti-miscegenation statute was constitutional.
The plaintiff, Tony Pace, an African-American man, and Mary Cox, a white woman, were residents of the state of Alabama, who had been arrested in 1881 because their sexual relationship violated the state's anti-miscegenation statute. They were charged with living together "in a state of adultery or fornication" and both sentenced to two years imprisonment in the state penitentiary in 1882.
They could not marry each other under Alabama law. Interracial marital sex was deemed a felony, whereas extramarital sex ("adultery or fornication") was only a misdemeanor. Because of the criminalization of interracial relationships, they were penalized more severely for their extramarital relationship than if they had been both whites or both black. The Alabama code stated:
"If any white person and any negro, or the descendant of any negro to the third generation, inclusive, through one ancestor of each generation was a white person, intermarry or live in adultery or fornication with each other, each of them must, on conviction, be imprisoned in the penitentiary or sentenced to hard labor for the county for not less than two nor more than seven years." (see Oct 15)
Montgomery Bus Boycott
January 29, 1956: Martin Luther King, Jr fined for driving thirty miles an hour in a twenty-five mile zone. (see MBB for expanded chronology) (next BH, see Feb 2)
George Whitmore, Jr
January 29, 1965: Kings County DA Aaron E. Koota met with five representatives of the Brooklyn N.A.A.C.P. who demand that he dismiss the indictment against Whitmore for the Minnie Edmonds murder. Koota refused and told the press that Whitmore's "guilt or innocence of this crime should be determined by a jury based on all the evidence in the case." (see Whitmore for expanded story)
137 shots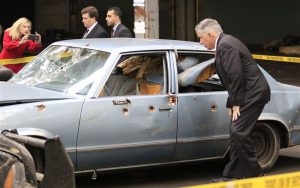 January 29, 2013: Cleveland Mayor Frank Jackson, Safety Director Martin Flask, and Chief Michael McGrath reported that at least 63 Cleveland Police cars were involved in the pursuit or played some role in the chase that ended with police firing 137 shots and killing Timothy Russell and  Malissa Williams.  (see 137 for expanded coverage)
January 29 Peace Love Art Activism
Native Americans
Mixed Bloods
With the Nelson Act of 1905, the United States federal government had taken control over the education of the Alaska territory's Native children and appointed the Alaskan territorial government to oversee the education of "white children and children of mixed blood who lead a civilized life." Soon after, four children of "mixed blood" petitioned the Alaska Federal District Court for a writ of mandamus requiring the Sitka School District to admit the students to the locally controlled schools established by the Nelson Act. The schools in Sitka served white children and had refused to allow the "mixed blood" pupils to enroll.
On January 29, 1908, the District Court issued its ruling. Reasoning that Congress understood that "where mixed bloods live among and associate with the uncivilized, they become subject to and influenced by their environment as naturally as water seeks its level," the Court held that Congress only intended the Nelson Act to mandate the enrollment of "mixed bloods" who: "Had for themselves, or, in cases where they were minors living with parents or guardians, the parents or guardians had, put off the rude customs, modes of life, and associations, and taken up their abode and life free from an environment which retarded their development in lines of progressive living, systematic labor, individual ownership and accumulation of property, intellectual activity, and well–defined and respected domestic and social relations."
In contrast, the Court reasoned, children in families "which preferred the other life, without its attendant responsibilities and obligations to society at large, was provided a system of education under the control of the Secretary of the Interior, more appropriate to their undeveloped mental condition, and through which they could, in view of their surroundings, be better instructed."
Applying this new rule to the case at hand, the Court went on to analyze pictures of the parents, their clothing, residence, place of worship, associates, and occupation to determine whether the families, in fact, led civilized lives. The Court concluded that the children and their families were not civilized and not entitled to admission to the Sitka schools, and that they were required to instead attend the federally-run, assimilation-focused schools for Native children.  (see April 6, 1917)
Chief Wahoo
January 29, 2018: the Cleveland Indians baseball organization announced that it would stop using the Chief Wahoo logo on their uniforms beginning in 2019, according to Major League Baseball, which said the popular symbol was no longer appropriate for use on the field.
The cartoonish caricature of a Native American that has assumed several forms over the years, first appeared on the Indians' uniforms in 1948.
Phillip Yenyo, the executive director of the American Indian Movement of Ohio, cheered the decision as, "another step in the right direction," but lamented that it was being put off for a year." (see Feb 23)
January 29 Peace Love Art Activism
ADA
The Seeing Eye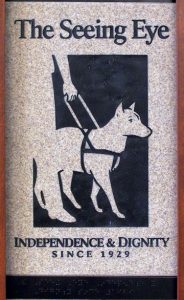 January 29, 1929: The Seeing Eye was incorporated in Nashville, TN. Its purpose was to train dogs to guide the blind.
League for the Physically Handicapped
In 1935: to protest the fact that their requests for employment with the Works Progress Administration (WPA) had been stamped 'PH' (physically handicapped), 300 members of the League for the Physically Handicapped staged a nine-day sit in at the Home Relief Bureau of New York City. Eventually, they help secure several thousand jobs nationwide. The League of the Physically Handicapped is accepted as the first organization of people with disabilities by people with disabilities. (see August 14, 1935)
January 29 Peace Love Art Activism
Environmental Issues

Olga Owens Huckins
January 29, 1958: the Boston Herald printed a letter from Olga Owens Huckins attacking the pesticide DDT as dangerous. She also wrote to her friend Rachel Carson, which prompted Carson to write 'Silent Spring.'   (see August 29, 1962)
Ozone
January 29, 1978: Sweden became the first country to outlaw aerosol sprays. The ban was enacted to address the harmful effects of aerosol on the Earth's ozone layer.  (NYT article) (see December 11, 1980)
January 29 Peace Love Art Activism
January 29 Music et al
Bob Dylan
January 29, 1961: Dylan visited Woody Guthrie (see Dylan for more) (next Dylan, see Apr 11)
We Can Work It Out
January 29 – February 4, 1966: "We Can Work It Out" by the Beatles #1 on the Billboard Hot 100.
Sound City Acid Test
January 29, 1966 : Acid Test at Sound City Studios in San Francisco. (see February)
January 29 Peace Love Art Activism
Nuclear News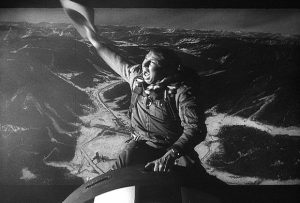 January 29, 1964: Stanley Kubrick's Dr. Strangelove or: How I Learned to Stop Worrying and Love the Bomb opened. The movie's popularity was evidence of changing attitudes toward atomic weapons and the concept of nuclear deterrence. (see May 24)
January 29 Peace Love Art Activism
Vietnam
More $
January 29, 1968: President Johnson asked for $26.3 billion to continue the war in Vietnam and announced an increase in taxes. Johnson had been given a glowing report on progress in the war from Gen. William Westmoreland. Westmoreland stated in a speech before the National Press Club that, "We have reached an important point when the end begins to come into view. I am absolutely certain that, whereas in 1965 the enemy was winning, today he is certainly losing. The enemy's hopes are bankrupt."  (see Jan 30)
Weather Underground
January 29, 1975: the Weather Underground bombed the U.S. State Department main office in Washington, D.C.  (Vietnam, see "March 1 and following"; WU, see December 3, 1980)
January 29 Peace Love Art Activism
Symbionese Liberation Army
January 29, 1979: Twenty-two months into her seven-year term, President Carter commuted the sentence of Patty Hearst. (see June 16, 1999)
January 29 Peace Love Art Activism
CLINTON IMPEACHMENT
January 29, 1998: the judge in the Paula Jones lawsuit ruled that Monica Lewinsky was "not essential to the core issues" of the Jones case, and ordered that all evidence related to Lewinsky be excluded from the Jones proceedings. (see Clinton for expanded story)
January 29 Peace Love Art Activism
Women's Health
Eric Rudolph
January 29, 1998: Eric Rudolph bombed an abortion clinic in Birmingham, Alabama killing a Birmingham police officer and part-time clinic security guard Robert Sanderson, and critically injuring nurse Emily Lyons. (see May 31, 2003)
Dr George Tiller
On May 31, 2009, Scott Roeder had assassinated women's health care provider Dr George Tiller.  On January 29, 2010 a jury returned a verdict of guilty for Roeder on charges of one count first-degree murder and two counts of aggravated assault after less than 40 minutes of deliberation. (NYT article) (WH & Terrorism, see April 1)
January 29 Peace Love Art Activism
Free Speech
January 29, 2010: Culpeper County Public Schools in Virginia decided on this date to discontinue using the newest edition of the diary of Anne Frank, officially The Diary of a Young Girl: The Definitive Edition. The 50th anniversary edition contains sections not in previous editions and, according to the school district, some parents objected to her candid discussion of her emerging sexuality.
The Diary of Anne Frank, as it is generally known, is widely regarded as a classic of modern literature. It is the diary of a young Jewish girl who, along with her family, was hidden from the Nazis in Amsterdam, the Netherlands. Her diary covers the period from June 1942 to August 1944. The family was exposed in 1944, and Anne and her sister eventually died of disease at the Bergen Belsen extermination camp. Her father Otto Frank survived and arranged for the publication of Anne's diary.
Over the years, a number of  schools and libraries has banned or challenged  the book. In 1983, the Alabama State Textbook Committee argued that the book should be rejected for classroom use because it is "a real downer.  (see March 2, 2011)
January 29 Peace Love Art Activism
Immigration History
January 29, 2017: Reince Priebus, the White House chief of staff, appeared to reverse a key part of President Trump's immigration order saying that people from the affected countries who hold green cards would not be prevented from returning to the United States. Priebus also said that border agents had "discretionary authority" to detain and question suspicious travelers from certain countries. That statement seemed to add to the uncertainty over how the executive order will be interpreted and enforced in the days ahead.
Part of the president's order gave preferential treatment to Christians who tried to enter the United States from majority-Muslim countries. In a Twitter post, Mr. Trump deplored the killings of Christians in the Middle East without noting the killings of Muslims, who have been killed in vastly greater numbers in Iraq, Syria and elsewhere. (NYT video) (see Jan 30)
January 29 Peace Love Art Activism
Trump Impeachment
January 29, 2020:  the NYT reported that the White House and Senate Republicans had worked aggressively to discount damaging revelations from John R. Bolton and line up the votes to block new witnesses from testifying in President Trump's impeachment trial, in a push to bring the proceeding to a swift close.
As the Senate opened a two-day, 16-hour period of questioning from senators, Mr. Trump laced into Mr. Bolton, his former national security adviser, whose unpublished manuscript contains an account that contradicts his impeachment defense. The president described Mr. Bolton on Twitter as a warmonger who had "begged" for his job, was fired, and then wrote "a nasty & untrue book." (next TI, see Jan 30 or see Trump for expanded chronology)
January 29 Peace Love Art Activism