December 3 Peace Love Activism
US Labor History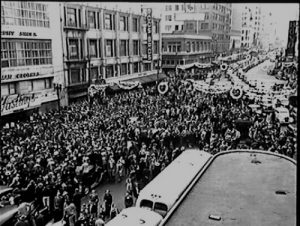 December 3, 1946: in Oakland, California, 130,000 workers from 142 unions – including workers from factories, industries, services, retail stores, transportation systems, and more – declared a "work holiday" and walked off their jobs in support of striking department store clerks and in opposition to police intervention that was facilitating strike breaking activity. The Oakland General Strike lasted for two days. (see April 7, 1947)
The Red Scare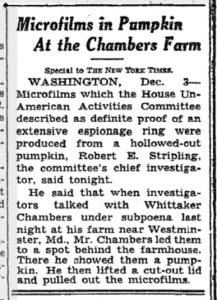 December 3, 1948: the House Un-American Activities Committee announced that former Communist spy Whittaker Chambers had produced microfilm of secret documents hidden inside a pumpkin on his Maryland farm. (see April 4, 1949)
BLACK HISTORY
Clinton Melton
December 3, 1955: in Glendora, Mississippi. Otis Kimball, a cotton gin operator, asked Clinton Melton to fill his car up with gas. Kimball became enraged because of something having to do with this transaction, and he threatened to come back to the gas station and kill Melton. Kimball was driving the automobile of J. W. Milam, one of the men who had been acquitted of killing Emmett Till in August of 1955. Kimball did in fact return to the station with a shotgun. With no provocation, he shot and killed Melton in full view of the gas station owner and other witnesses. (see Melton; Black History, see January 3, 1956)
March to Montgomery
December 3, 1965: an all-white jury found Collie Wilkins, Eugene Thomas, and William Eato guilty of the murders of Viola Liuzzo and  Leroy Moton on March 25, 1965. The three were sentenced to 10 years in prison. (see Dec 10)
December 3 Music et al
The Beatles before their US appearance
December 3, 1961: the Beatles' had  their first formal meeting with Brian Epstein, where he proposed to them that he become their manager. The Beatles were interested, but they are not ready to make a commitment, so a second meeting is arranged for December 6.
The Who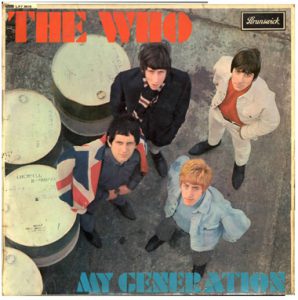 December 3, 1965: The Who [Pete Townsend, 20; Keith Moon, 19; Roger Daltrey, 21; and John Entwistle, 21] released My Generation album.
Rubber Soul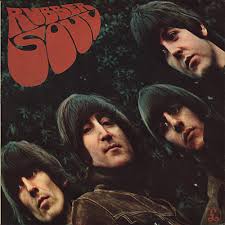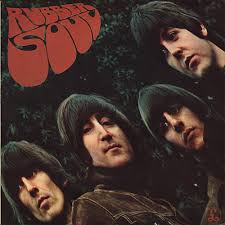 December 3, 1965: Beatles released Rubber Soul. (see My Generation Rubber Soul) (see Dec 6) 
"Winchester Cathedral"
December 3 – 9, 1966: "Winchester Cathedral" by The New Vaudeville Band #1 on the Billboard Hot 100.
Vietnam
Long war
December 3, 1962: Roger Hilsman, director of the State Department Bureau of Intelligence and Research, sent a memorandum to Secretary of State Dean Rusk pointing out that the communist Viet Cong fighters were obviously prepared for a long war.(see January 2, 1963)
My Lai Massacre
December 3, 2016: Lawrence Colburn, the Army helicopter gunner who along with two comrades intervened in the U.S. slaughter of unarmed villagers in My Lai, an act of heroism for which he received the Soldier's Medal three decades after the fact, died.
STUDENT ACTIVISM & FREE SPEECH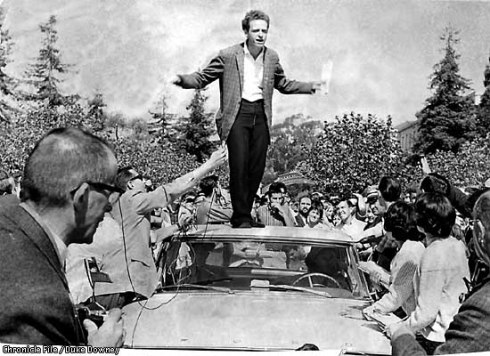 December 3, 1964: police arrested some 800 students at the University of California at Berkeley who had stormed the administration building the previous day and staged a massive sit-in. (see Student Free Speech Movement for full story). (FS & SA, see January 4, 1965)
Technological Milestones
Heart transplant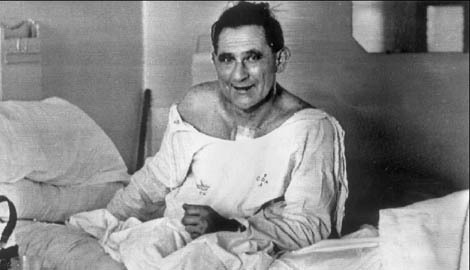 December 3, 1967:  surgeons in Cape Town, South Africa led by Dr. Christiaan Barnard performed the first human heart transplant on Louis Washkansky, who lived 18 days with the new heart. (see February 16, 1968)
Text message

December 3, 1992:  the first telephone text message was sent by British engineer Neil Papworth, who transmitted the greeting "Merry Christmas" from his work computer in Newbury, Berkshire, to Vodafone executive Richard Jarvis' mobile phone. (see January 3, 1996)
December 3 Peace Love Activism
Weather Underground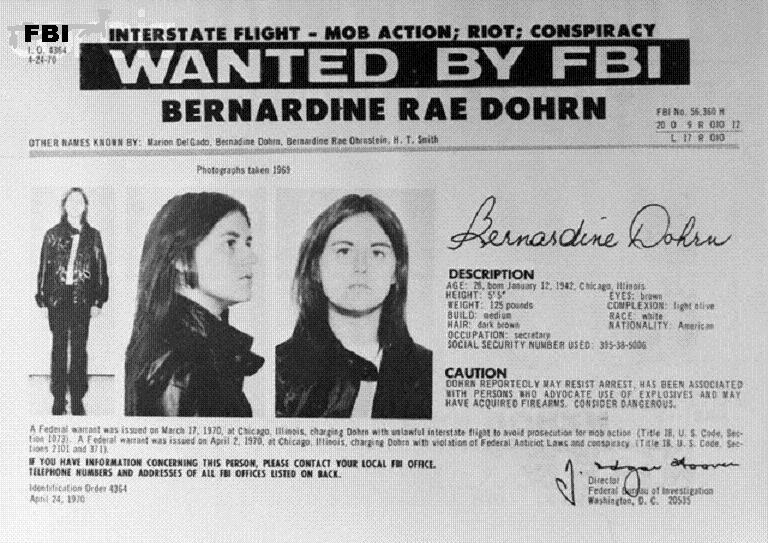 December 3, 1980: Bernadine Dohrn, a former leader of the radical Weather Underground, surrendered to authorities in Chicago after more than a decade as a fugitive.
The Cold War
December 3, 1989: meeting off the coast of Malta, President George Bush and Soviet leader Mikhail Gorbachev issued statements strongly suggesting that the long-standing animosities at the core of the Cold War might be coming to an end. (see May 6, 1992) 
Jack Kevorkian
December 3, 1992: the Michigan Legislature passes a ban on assisted suicide to take effect on March 30, 1993. (see February 15, 1993)
LGBTQ
December 3, 1996: Following the world's first-ever trial on the freedom to marry, led by co-counsel Dan Foley and Evan Wolfson, Hawaii Judge Kevin Chang ruled that the state did not have a legitimate reason for depriving same-sex couples of the freedom to marry.(see February 21, 1997)
CLINTON IMPEACHMENT
December 3, 1998: after two staffers look at internal Justice Department memos, Judiciary Committee Chairman Henry Hyde tells Republicans that campaign fund-raising will not be part of the impeachment debate. (see Clinton for complete chronology)
Sexual Abuse of Children
Boston archdiocese
December 3, 2002:  new revelations about eight priests in Boston archdiocese accused of abusing women and girls, taking drugs and supplying drugs in return for sexual favors. (NYT article) (see Dec 6)
Orange County, CA
December 3, 2004: after two years of talks, the Roman Catholic Diocese of Orange County reached a record settlement with 87 victims of abuse by priests and lay employees, agreeing to the largest payment ever made by the church in cases involving sexual misconduct, parties involved in the talks said.

The payment was at least $100 million, exceeding the $85 million agreed to by the Archdiocese of Boston last year, said a participant in the discussions who could not be named because of a judicial order against speaking to the news media. (NYT article) (see February 7, 2005)
Fair Housing
December 3, 2013: a U.S. Department of Housing and Urban Development investigation found that Dallas officials promoted discrimination against minorities and the disabled through affordable-housing practices that violate federal civil rights laws,

According to a 29-page letter outlining the initial findings, "the evidence shows that there was a pattern of negative reactions to projects that would provide affordable housing in the northern sector of Dallas and that those decisions were inconsistent with the goals required by HUD program obligations."December 3, 2015, Feminism:  Defense Secretary Ashton B. Carter said that the Pentagon will open all combat jobs to women. "There will be no exceptions," Mr. Carter said at a news conference. The groundbreaking decision overturns a 1994 Pentagon rule that restricts women from artillery, armor, infantry and other such combat roles, even though in reality women often found themselves in combat in Iraq and Afghanistan over the past 14 years. (see June 25, 2015) 
Feminism
December 3, 2015: Defense Secretary Ashton B. Carter said that the Pentagon will open all combat jobs to women. "There will be no exceptions," Mr. Carter said at a news conference. The groundbreaking decision overturns a 1994 Pentagon rule that restricts women from artillery, armor, infantry and other such combat roles, even though in reality women often found themselves in combat in Iraq and Afghanistan over the past 14 years. (NYT article) (see June 7, 2016)
December 3 Peace Love Activism,  December 3 Peace Love Activism, December 3 Peace Love Activism, December 3 Peace Love Activism, December 3 Peace Love Activism, December 3 Peace Love Activism, December 3 Peace Love Activism, December 3 Peace Love Activism, December 3 Peace Love Activism, 
Please follow and like us: