January 13 Peace Love Art Activism
US Labor History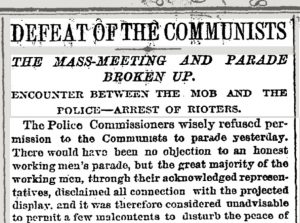 January 13, 1874:  New York City Police Department crushed a demonstration involving thousands of unemployed in New York City's Tompkins Square Park. (NYT article) (see May 8)
January 13 Peace Love Art Activism
Feminism
Voting Rights
January 13 – 31, 1919: twenty-two women arrested January 13 for lighting watch fires at White House and in Lafayette Park. Other arrests followed, including two women on January 24, five women on January 27, and five women on January 31. Suffragists continued to burn watch fires in various locations through first part of February.  (see Feb 9 – 13)
January 13 Peace Love Art Activism
DEATH PENALTY
Willie Francis
January 13, 1947: in the case of Louisiana ex rel Francis v. Resweber, the Supreme Court confronted the situation of Willie Francis who was condemned to die in the electric chair. For some reason, the chair was faulty, and although electric current apparently shot through Francis, he survived. The issue was whether a second electrocution could proceed or whether it was barred by the constitutional proscription of cruel and unusual punishment, double jeopardy and other violations of due process. Supreme Court Justice Frankfurter, finding that the chair's deficiency was entirely accidental, concurred in the decision of the 5 – 4  majority of the Supreme Court that nothing in the Constitution prevented the state from proceeding with a second execution, but he also implied that the situation was one in which a governor might be expected to intercede with executive clemency.  Not content with this, Frankfurter, after the opinion was filed, wrote a personal letter to the governor urging the extension of mercy. The governor allowed the execution. (see June 19, 1953)
Lisa M. Montgomery
January 13, 2021: the Trump administration executed Lisa M. Montgomery, the only woman on federal death row, whose death marked the first federal execution of a woman in nearly 70 years.
Montgomery, 52, was sentenced to death for murdering a pregnant woman in 2004 and abducting the unborn child, whom she claimed as her own. In pleas to spare her life, Montgomery's supporters argued that a history of trauma and sexual abuse that marred her life contributed to the circumstances that led to the crime. Her case, unusual in part because so few women are sentenced to death, ignited debate over the role of offenders' past trauma in criminal sentencing.
Despite a series of court orders that briefly blocked her execution, she was pronounced dead at 1:31 a.m. at the federal prison complex in Terre Haute, Ind., the Bureau of Prisons said in a statement. Her death, by lethal injection, is the 11th execution since the Trump administration resumed use of federal capital punishment in July after a 17-year hiatus. [BBC article] (next DP, see Mar 24 )
January 13 Peace Love Art Activism
BLACK HISTORY
Church burnings
January 13, 1957: three days after terrorists bombed four black churches and two pastors' homes in Montgomery, Alabama, the congregations held Sunday services amidst the debris.
The bombings, which injured no one but caused significant damage, came at a time of racial tension and civil rights progress in Montgomery. Less than a month before, a year-long boycott protesting racial segregation on city buses ended after achieving desegregation. Some local whites were threatened by this victory and reacted with acts of terrorism.
Each of the churches bombed – Bell Street Baptist Church, Hutchinson Street Baptist Church, First Street Baptist Church, and Mt. Olive Church – had supported the bus boycott and the targeted pastors were civil rights leaders: Reverend Ralph D. Abernathy of First Street Baptist Church was a prominent boycott leader and proponent of desegregation and Reverend Robert Graetz, white minister of the predominantly black Trinity Lutheran Church, actively supported the bus boycott.
Two days after the bombings, Reverend Abernathy announced plans for Sunday service, telling a reporter that "despite the wreckage and broken windows we will gather as usual at our church" and offer special prayers for "those who would desecrate the house of God."
Two white men affiliated with the Ku Klux Klan, Raymond Britt and Sonny Livingston, were indicted in February 1957 after confessing to the bombings. An all-white jury acquitted them of all charges in May 1957, while spectators cheered. [1993 NYT report] (see Jan 18)
Robert C. Weaver
January 13, 1966: Robert C. Weaver became the first black Cabinet member as he was appointed Secretary of Housing and Urban Development by President Lyndon B. Johnson. (see Jan 15)
Black Panthers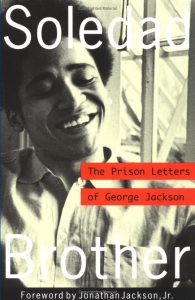 January 13, 1970: Soledad prison guard Opie G. Miller shot and killed three black inmates during a yard riot with members of the Aryan Brotherhood. Following the deaths Black Panther and inmate George Jackson became increasingly confrontational with corrections officials and spoke often about the need to protect fellow inmates and take revenge on guards for the deaths in what Jackson referred to as "selective retaliatory violence" (see Jan 17)
UK New Cross Fire
January 13, 1981: thirteen Black youths died in the New Cross fire. The police quickly dismissed a racial motive for the apparent arson attack. The local Black community waa dismayed by the indifference shown in the press towards the deaths. 15,000 people marched demanding action to Central London, in the largest Black issue demonstration seen in the UK. (see Apr 11)
Attica Prison Riot
January 13, 2005: NY Governor George E. Pataki  reached a $12 million settlement with the surviving state workers who were involved in the 1971 riot at Attica state prison and the relatives of 11 employees killed then….
A $2 million payment would be included in the settlement for the survivors' group, the Forgotten Victims of Attica, with the allocation of $10 million more over the next five years to the state employees or their survivors, the lawyer, Gary Horton, said.
"There is language that acknowledges the suffering of the people in this group," Mr. Horton said. "My group is satisfied and they're happy to see a resolution."  (see May 26)
BLACK & SHOT
January 13, 2017: more than a year (see December 6, 2015) after it was announced by U.S. Attorney General Loretta Lynch, the Justice Department released a report that said CPD engages in abuse against citizens, excessive force and unfair treatment of minorities. The city and the Justice Department are now negotiating a consent decree that would include specific reforms overseen by an outside monitor. (see Jan 19)
UK New Cross Fire
Murders of Three Civil Rights Workers
January 13, 2014: the U.S. Supreme Court denied a rehearing request from Edgar Ray Killen, convicted in 2005 for the 1964 slayings of three civil rights workers in Mississippi. The justices issued the order without comment. (BH, see Feb 28; Murders, see Nov 10)
January 13 Peace Love Art Activism
LGBTQ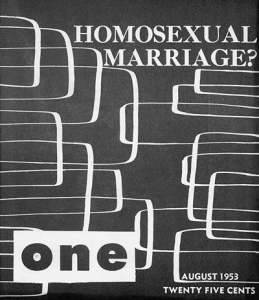 January 13, 1958: the Supreme Court, in One, Inc. v. Olesen, ended the Post Office ban on homosexual materials. The Court issued a per curiam decision on this day, citing its landmark Roth v. United States decision on obscenity (decided on June 24, 1957). The court did not comment on the legal status of homosexuality, but the decision marked the first occasion in which the Court ruled on the free press rights of material related to homosexuality. The idea for One, Inc. arose at a meeting of the Mattachine Society (founded on November 11, 1950 as the first national gay men's rights group) in Los Angeles in October 1952, and the first issue was published in January 1953. The Post Office declared the magazine obscene and barred it from the mails in 1954. One, Inc. sued and succeeded in achieving the verdict on this day. (2013 Business Insider article) (see January 1, 1961)
Military marriage
January 13, 2018: Apache helicopter pilots Capt. Daniel Hall married Capt. Vincent Franchino  in the Cadet Chapel at the United States Military Academy in West Point, N.Y., It was believed to be the first active-duty, same-sex couple to exchange vows at West Point. (see Jan 18)
January 13 Peace Love Art Activism
January 13 Music et al
Chubby Checker
January 13 – 26, 1962: "The Twist" by Chubby Checker #1 Billboard Hot 100 for the second time.
Bob Dylan
January 13, 1964, Bob Dylan released his third album, The Times They Are a-Changin' (see Feb 3)
Johnny Cash
January 13, 1968, Johnny Cash recorded At Folsom Prison. It will be released in May.
Yellow Submarine album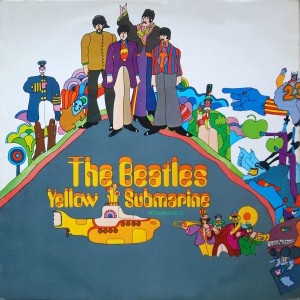 January 13, 1969, The Beatles released Yellow Submarine album. (see Yellow Submarine album)
January 13 Peace Love Art Activism
Vietnam
January 13, 1967, Operation Popeye: they declared the project a success a "Memorandum From the Deputy Under Secretary of State for Political Affairs (Kohler) to Secretary of State Rusk" Its proposal stated, " The Department of Defense has requested our approval to initiate the operational phase of Project …. The objective of the program is to produce sufficient rainfall along these lines of communication to interdict or at least interfere with truck traffic between North and South Vietnam. Recently improved cloud seeding techniques would be applied on a sustained basis, in a non-publicized effort to induce continued rainfall through the months of the normal dry season." (V, see "In February"; see OP for expanded chronology)
Student Rights
January 13, 1988: Hazelwood v. Kuhlmeier Administrators may edit the content of school newspapers. The principal of Hazelwood East High School edited two articles in the school paper The Spectrum  that he deemed inappropriate. The student authors argued that this violated their First Amendment right to freedom of speech. The Supreme Court disagreed, stating that administrators can edit materials that reflect school values. (see May 16)
January 13 Peace Love Art Activism
CLINTON IMPEACHMENT
Linda Tripp wired
January 13, 1998: wired by FBI agents working with Whitewater Independent Counsel Ken Starr, Linda Tripp met with Monica Lewinsky at the Ritz-Carlton Hotel bar in Pentagon City, Va., and recorded their conversation.
Clinton lawyers outline acquittal
January 13, 1999: President Clinton's lawyers file their pre-trial brief, outlining the case for the president's acquittal. Clinton tells reporters he wants to focus on the nation's business, not the trial. "They have their job to do in the Senate, and I have mine," Clinton says."And I intend to do it." (see Clinton for expanded story)
January 13 Peace Love Art Activism
Religion and Public Education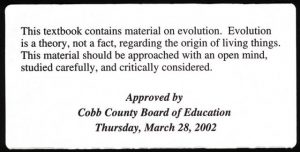 January 13, 2005:  in Selman v. Cobb County, a US District Court rules that the stickers placed on science books by a Georgia school district stating that "evolution is a theory, not a fact" represent a violation of the establishment clause of the First Amendment. (see Dec 20)
January 13 Peace Love Art Activism
TERRORISM
January 13, 2014: an appeals court upheld the conviction and sentence of the so-called "underware bomber" Umar Abdulmutallab. (Reuters article) (Terrorism, see Jan 25 ; Abdulmutallab, see October 17, 2017)
January 13 Peace Love Art Activism
Women's Health
January 13, 2014: the Supreme Court declined to hear an appeal from Arizona officials seeking to revive a state law that barred most abortions after 20 weeks of pregnancy. The justices offered no reasons for turning down the appeal, as is their custom.
The case concerned an Arizona law, enacted in 2012, that prohibited abortions, except in certain medical emergencies, when the fetus reached 20 weeks gestation, dated from the woman's last menstrual period. The law's definition of medical emergency was narrow, encompassing conditions requiring an immediate abortion to avert a pregnant woman's death or a "serious risk of substantial and irreversible impairment of a major bodily function." [NYT report] (see Jan 17)
January 13 Peace Love Art Activism
Nuclear/Chemical News
January 13, 2018: misinterpreted testing instructions from a supervisor  and thinking that there was an actual threat, an Hawaii emergency management services worker sent a live alert to the cell phones of all Hawaii residents and visitors to the state of an incoming ballistic missile. [Jan 30 NYT report] (NCN, see Jan 16; Hawaii, see Jan 30)
January 13 Peace Love Art Activism
Immigration History
January 13, 2020: U.S. District Judge Dana Sabraw ruled the Trump administration acted within its authority when it separated more than 900 children from their parents at the border after determining the parents to be unfit or dangerous.
Sabraw's ruling rejected the American Civil Liberties Union's (ACLU) claims that the administration was returning to the previously condemned policies of widespread child separation by using minor criminal history as criteria to separate families.
Sabraw indicated he was uncomfortable questioning the administration's choices to separate children if the parents were designated as unfit or dangerous or based on other factors like criminal history, communicable diseases and doubts about parentage.
He said in his 26-page decision that he found no evidence to conclude the government was abusing its power.
Sabraw did rule that the administration would have to resolve parentage disputes through 90-minute DNA tests, which the government had objected to due to "operational concerns."  [AP article] (next Immigration, see Jan 19)
January 13 Peace Love Art Activism
Environmental Issues
January 13, 2021: Rick Snyder, the former governor of Michigan who oversaw the state when a water crisis devastated the city of Flint, was charged with two counts of willful neglect of duty, according to court records.
The charges were misdemeanors punishable by imprisonment of up to one year or a maximum fine of $1,000.
Prosecutors in Michigan reported their findings in a wide-ranging investigation into the water crisis, officials said, a long-awaited announcement that is also expected to include charges against several other officials and top advisers to Mr. Snyder. [NYT article] (next EI, see January 14)
January 13 Peace Love Art Activism