January 19 Peace Love Art Activism
Feminism
Men's League for Opposing Woman Suffrage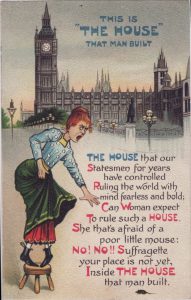 January 19, 1909: The Men's League for Opposing Woman Suffrage  was founded with Lord Cromer as President. (Feminism, see Sept 27; VR, see see November 11, 1909)
Super Bowl Official
January 19,2021: the NFL announced that Sarah Thomas will become the first woman to officiate a Super Bowl. Thomas will serve as a down judge on referee Carl Cheffers' crew at Super Bowl LV in Tampa, Florida.
Thomas joined the NFL in 2015 as its first female on-field official.  [ESPN article] (next Feminism, see Jan 25)
January 19 Peace Love Art Activism
US Labor History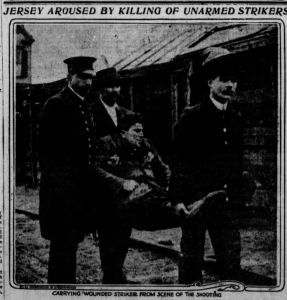 January 19, 1915: guards employed by the Agricultural Fertilizer Chemical Company in Chrome, New Jersey, opened fire on unarmed striking workers, killing two people and wounding eighteen others. The next day, 31 deputy sheriffs were arrested, charged with first-degree murder, and held without bail. The workers eventually won a wage increase and nine of the deputies were convicted of manslaughter and received sentences of between two and ten years each.  (Daily Kos article) (see Jan 25)
January 19 Peace Love Art Activism
Immigration History
Watsonvill, CA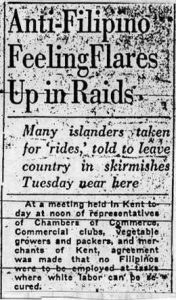 Beginning on January 19, 1930, mobs of upwards of 500 whites roamed Watsonville, California, and the surrounding towns and farms, setting upon Filipino farm workers and their property in a rage after Filipino men were seen dancing with white women at a newly opened local dance hall.
In the days and weeks before the rioting, politicians and community leaders had ramped up their anti-Filipino rhetoric, calling the farm workers "a menace," and demanding that Filipinos be deported so "white people who have inherited this country for themselves and their offspring could live." A local judge stated, "The worst part of [the Filipino man] being here is his mixing with young white girls from thirteen to seventeen. He gives them silk underwear and makes them pregnant and crowds whites out of jobs in the bargain."
The Watsonville mob was initially turned away from the dance hall by security guards and the armed owners of the hall, but returned in full force to beat dozens of Filipino farm workers. The beatings continued elsewhere in the area, and on the night of January 22, a mob ransacked Filipino farm workers' houses and shot into the dwellings, killing Fermin Tobera. No one was ever charged with that murder; seven men were later convicted of rioting, but received either probation or 30 days in jail.
The anti-Filipino frenzy continued in California in the months after the Watsonville riots ended on January 23, 1930, with violence breaking out in Stockton, Salinas, San Francisco, and San Jose. In 1933, California amended the law to prohibit marriages between Filipinos and whites. And in 1934, answering in part a long-standing request of California's government, Congress reduced Filipino immigration to the United States to just 50 people per year. In September 2011, the California legislature officially expressed regret and apologized for these events and actions. (Santa Cruz Sentinel News article)  (see May 24, 1934)
Trump/Wall
January 19, 2019: President Trump announced that he would extend deportation protections for some undocumented immigrants in exchange for $5.7 billion in funding for a wall along the border with Mexico.
The president said he would extend the legal status of those facing deportation and support bipartisan legislation that would allow some immigrants who came to the United States illegally as children, known as Dreamers, to keep their work permits and be protected from deportation for three more years if they were revoked.
Speaker Nancy Pelosi said ahead of his remarks that she considered his proposal a "nonstarter," in part because it offered no permanent pathway to citizenship for Dreamers. (next IH & TW, see Jan 25)
Wall's expense
January 19, 2020: based on a status report that U.S. Customs and Border Protection, which is overseeing wall construction, had released, on this date, NPR reported that the price tag for President Trump's border wall had topped $11 billion — or nearly $20 million a mile — and would become the most expensive wall of its kind anywhere in the world. $11 billion had been identified since Trump took office to construct 576 miles of a new "border wall system." (next Immigration, see Jan 23; next Wall, see Feb 7, or see TW for expanded chronology)
January 19 Peace Love Art Activism
January 19 Music et al
Janis Joplin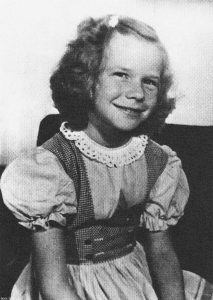 January 19, 1943: Janis Joplin born in Port Arthur, TX.  (see Janis Joplin for more)
Ken Kesey arrested again
January 19, 1966: Ken Kesey arrested a second time for marijuana possession. Prankster Mountain Girl (Carolyn Garcia) also arrested. (see Ken Kesey for more) (see Jan 21)
John Lennon inducted
January 19, 1994: John Lennon inducted into the Rock 'n' Roll Hall of Fame, performers category. (see November 19, 1995)
January 19 Peace Love Art Activism
BLACK HISTORY
Protesters return
On January 18, 1965 Martin Luther King, Jr and John Lewis had led 300 marchers to register. Selma Police Chief Wilson Baker allowed them to march in small groups to the courthouse, but Sheriff Jim Clark had them line up in an alley beside the courthouse, where they were out of sight, and left them there. None were registered.
On January 19, 1965, protesters returned to the courthouse to register and demanded to remain at the front of the building. Clark arrested them (see Jan 22)
Byron De La Beckwith not guilty
January 19, 1974: Byron De La Beckwith was found not guilty of carrying a live time bomb and a pistol on a midnight drive into New Orleans from Mississippi. Beckwith said he was "exceedingly grateful for the kind treatment I have received and I ask the blessing of the most high God on all who have shown me such consideration." Beckwith had stated during the trial that he did not know he was carrying a time bomb into New Orleans in his car. He said that the was "astounded" to learn from newspaper accounts after his arrest that there was a bomb in his car. (BH, see June 12; Evers, see October 1, 1989)
BLACK & SHOT
January 19, 2017: Chicago Police Superintendent Eddie Johnson handed down one-week suspensions to four officers for failing to ensure the dashboard cameras in their squad cars were operating properly on the night of Laquan McDonald's shooting. (B & S, see Jan 24; McDonald, see Mar 23)
Cold Case Act
January 19, 2019: President Trump signed into law the "Civil Rights Cold Case Records Collection Act of 2018 (Public Law 115-426). It authorized the National Archives and Records Administration (NARA) to create a collection of unsolved civil rights case files. In addition, the law established a Civil Rights Cold Case Review Board to determine which records could be released to the public.
The new law intended to make federal information about investigations of unsolved civil rights cases more readily available to the public. (see Feb 22)
January 19 Peace Love Art Activism
Women's Health
Clement Haynsworth rejected
January 19, 1970: after the US Senate rejected Clement Haynsworth of South Carolina for an appointment to the US Supreme Court, President Nixon nominated Harold Carswell of the US Fifth Circuit Court of Appeals.
The nomination became intensely controversial after a reporter discovered the text of a 1948 political campaign speech by Carswell in which he said  "I Am A Southerner By Ancestry, Birth, Training, Inclination, Belief And Practice. I Believe That Segregation Of The Races is Proper And The ONLY Practical And Correct Way Of Life In Our States." Later in the speech he stated, "I Yield To NO MAN, As A Fellow Candidate, Or As A Fellow Citizen, In The Firm Vigirous Belief In The Principles Of White Supremacy, And I Shall Always Be So Governed."  (The speech's capitalization is as indicated.)
Attorney General John Mitchell, citing an extensive background check by the Justice Department, was willing to forgive, stating that it was unfair to criticize Carswell for "political remarks made 22 years ago."
Senator Roman Hruska, a Nebraska Republican, stated: "Even if he were mediocre, there are a lot of mediocre judges and people and lawyers. They are entitled to a little representation, aren't they, and a little chance? We can't have all Brandeises, Frankfurters and Cardozos."
On April 8, 1970, the United States Senate refused to confirm Carswell's nomination to serve on the Supreme Court by a vote of 51 to 45
Nixon then nominated Minnesota judge Harry Blackmun who was confirmed 94–0. Blackmun later became the author of Roe v. Wade. (see April 8)
January 19 Peace Love Art Activism
Watergate Scandal
January 19, 1979: former U.S. Attorney General John N. Mitchell was released on parole after 19 months at a federal prison in Alabama. (see Watergate for full story)
January 19 Peace Love Art Activism
Hostage Crisis
January 19, 1981: the United States and Iran signed an agreement paving the way for the release of 52 Americans held hostage for more than 14 months. (see Jan 20)
January 19 Peace Love Art Activism
Nuclear/chemical news
January 19, 1993: U.S. forces fired Tomahawk cruise missiles at Baghdad factories linked to Iraq's illegal nuclear weapons program.  (see April 6, 1993)
January 19 Peace Love Art Activism
Environmental Issues
Block Island oil spill
January 19, 1996: a 1.8 million gallon oil spill began after a barge ran aground near Block Island National Wildlife Refuge. (see December 11, 1997)
Elk River spill
On January 9, 2014 it was found that a 48,000-gallon tank was leaking 4-Methylcyclohexane Methanol (MCHM) into the Elk River in West Virginia. The spill affected Charleston and the nine surrounding counties.  MCHM is a compound used to wash coal of impurities.
On January 19  West Virginia authorities completely lifted a 10-day-old ban on the use of tap water. The final 2 percent of the 300,000 customers affected by the spill were cleared to drink and wash from their tap, said West Virginia American Water spokeswoman Laura Jordan. Despite the lifting of the ban, dozens of people continued to seek medical attention at hospitals around Charleston for contamination-related illnesses and rashes.
Out of an "abundance of caution," though, the water utility advised pregnant women to consider an alternative drinking water source "until the chemical is non-detectable in the water distribution system."  (see April 29)
Relaxed Restrictions Struck Down
January 19, 2021: the United States Court of Appeals for the District of Columbia struck down the Trump administration's plan to relax restrictions on greenhouse gas emissions from power plants, paving the way for President-elect Joseph R. Biden Jr. to enact new and stronger restrictions on power plants.
The Court called the Trump administration's Affordable Clean Energy rule a "fundamental misconstruction" of the nation's environmental laws, devised through a "tortured series of misreadings" of legal statute.
On the last full day of the Trump presidency, it effectively ended the Environmental Protection Agency's efforts to weaken and undermine climate change policies and capped a dismal string of failures in which courts threw out one deregulation after another. Experts had widely described the E.P.A.'s losing streak as one of the worst legal records of the agency in modern history. [NYT article] (next EI, see Jan 20)
January 19 Peace Love Art Activism
CLINTON IMPEACHMENT
Monica Lewinsky
January 19, 1998: Monica Lewinsky's name surfaced in the Internet gossip column, the Drudge Report, which mentioned rumors that Newsweek had decided to delay publishing a piece on Lewinsky and the alleged affair.
Clinton defense team
January 19, 1999: President Clinton's legal team begins a three-day defense of the president.
Clinton admits to lying
January 19, 2001: in a deal sparing himself possible indictment, President Bill Clinton acknowledged for the first time making false statements under oath about Monica Lewinsky; he also surrendered his law license for five years. (see Clinton for full impeachment information)
January 19 Peace Love Art Activism
LGBTQ
January 19, 2005: The Louisiana Supreme Court reinstated a ban on marriage between same-sex couples, bringing the number of states with constitutional amendments against marriage to 17. The Supreme Court decision overturned an October 2004 ruling from District Judge William Morvant, who declared that constitutionally excluding same-sex couples from marriage is unconstitutional. (see July 12)
January 19 Peace Love Art Activism
Native Americans
January 19, 2019: a group of boys from  Covington Catholic High School, an all-male college preparatory school in Park Hills, Ky., near Cincinnati. came to Washington on a field trip to rally at the March for Life.
Nathan Phillips, an Omaha elder, a veteran of the Vietnam War and the former director of the Native Youth Alliance, was there to raise awareness at the Indigenous Peoples March.
In a video posted widely on social media, the boys, predominantly white and wearing "Make America Great Again" gear, were seen surrounding Phillips, jeering him. Phillips said, "I heard them saying 'Build that wall! Build that wall!'"
In a statement, the Diocese of Covington and Covington Catholic High School condemned the behavior by the students and extended their "deepest apologies" to the elder, as well as to Native Americans in general. [NYT article] (see Apr 2)
January 19 Peace Love Art Activism
Voting Rights
January 19, 2022:  Senate Democrats suffered a major defeat in their efforts to pass voting rights legislation — a key issue for the party, which is under pressure to take action ahead of the midterm elections just months away.
An attempt by Democrats to change filibuster rules in order to pass a voting bill failed amid opposition from moderate Democratic Sens. Joe Manchin and Kyrsten Sinema. The vote was 52-48, with the two moderates joining all GOP senators. After the vote failed, there was a loud round of applause from Republicans. [CNN article] (next VR, see June 8, 2023)
January 19 Peace Love Art Activism