April 8 Peace Love Art Activism
BLACK HISTORY
US Labor History
April 8, 1911: the Banner Mine near Birmingham exploded, killing 128 convicts leased to the Pratt Consolidated Coal Company. A local newspaper listed the crimes of the victims next to their names: vagrancy, weapons violations, bootlegging, and gambling. A rural newspaper observed, "Several negroes from this section . . . were caught in the Banner mine explosion. That is a pretty tight penalty to pay for selling booze."
By 1910, the State of Alabama had become the sixth largest coal producer in the United States. Between 1875 and 1900, Alabama's coal production grew from 67,000 tons to 8.4 million tons. This growth was driven in large part by the expansion of convict leasing in the state; in Birmingham, the center of the state's coal production, more than 25 percent of miners were leased convicts. In addition, more than 50 percent of all miners in the state had learned to mine while working as convicts.
State officials quickly learned how to use the convict leasing system to disproportionately exploit black people. In an average year, 97 percent of Alabama's county convicts were black. When coal companies' labor needs increased, local police swept small-town streets for vagrants, gamblers, drunks, and thieves, targeting hundreds of black Alabamians for arrest. These citizens were then tried and convicted, sentenced to sixty- or ninety-days hard labor plus court costs, and handed over to the mines. Employers frequently held and worked convicts well beyond their scheduled release dates since local officials had no incentive to intervene and prisoners lacked the resources and power to demand enforcement.
Conditions in the mines were deplorable. Convicts were often chained together in ankle-deep water, working 12- to 16-hour shifts with no breaks, and surviving on fistfuls of spoiled meat and cornbread stuffed into the rags they wore for uniforms. Describing the experience, a black former convict laborer recalled that the prisoners had slept in their chains, covered with "filth and vermin," and the powder cans used as slop jars frequently overflowed and ran over into their beds.
Prisoner safety was not a priority for the mines' owners and operators. (Encyclopedia of Alabama article). (next LH, see Apr 27; next BH, see  May 24)
Scottsboro Nine
April 8 – 9, 1931: Olen Montgomery, Ozie Powell, Willie Roberson, Eugene Williams, and Andy Wright were tried, convicted, and sentenced to death. (see Scottsboro for expanded story)
George Whitmore, Jr.
April 8, 1969: Justice Julius Helf upheld the validity of the identification, saying there was "an unmistakable ring of truth to her testimony." (next BH, see Apr 19; see Whitmore for expanded story)
FREE SPEECH blocked
April 8, 1964: the Mississippi legislature enacted the Mississippi Anti-Picketing Law, which, as amended, prohibited "picketing . . . in such a manner as to obstruct or unreasonably interfere with free ingress or egress to and from any county . . . courthouses. . . ." (text of law) (see Apr 9)
Black & Shot
April 8, 2015: North Charleston, S.C. officer, Michael T. Slager, who was arrested after shooting and killing an unarmed Walter Scott, was fired from the department and the police chief said that he was appalled by what a video of the encounter revealed.
"I have watched the video and I was sickened by what I saw," Eddie Driggers, the North Charleston police chief, told reporters, at an emotional and often chaotic news conference, with protesters repeatedly shouting and interrupting. "And I have not watched it since." Asked whether the proper protocols were followed after the shooting, Chief Driggers said, "Obviously not." (2017 NYT story) (B & S, see Apr 13; Scott, see June 8)
April 8 Peace Love Art Activism
Voting Rights
April 8, 1914:  the 17th amendment to the Constitution, providing for the popular election of U.S. senators, was ratified. (see May 2)
April 8 Peace Love Art Activism
US Labor History
Works Progress Administration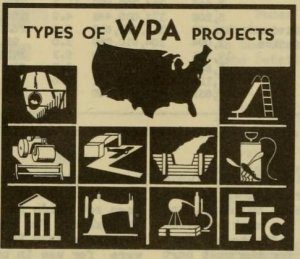 April 8, 1935: Congress approved the Emergency Relief Appropriation Act of 1935, the work relief bill that funded the Works Progress Administration (WPA). Created by President Franklin Roosevelt to relieve the economic hardship of the Great Depression, this national works program (renamed the Work Projects Administration beginning in 1939) employed more than 8.5 million people on 1.4 million public projects before it was disbanded in 1943. The WPA employed skilled and unskilled workers in a great variety of work projects—many of which were public works projects such as creating parks, and building roads and bridges, and schools and other public structures. (see July 27)
Steel strike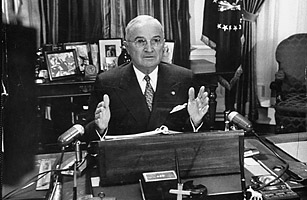 April 8, 1952: President Harry S. Truman ordered the U.S. Army to seize the nation's steel mills to avert a strike. (see February 18, 1953)
Joseph A. Yablonski
April 8, 1974: the prosecution closed its case in the murder trial of W. A. Boyle, the former head of the United Mine Workers of America, after the state's key witness testified that he had heard Mr. Boyle give the orders in 1969 to "take care of" Joseph A. Yablonski. (see Apr 11)
April 8 Peace Love Art Activism
Soldier Boy
April 8, 1960: Elvis records "Soldier Boy" as part of his first post-military service album. (see Apr 20)
Julian Lennon
April 8, 1963: Julian Lennon born to John and Cynthia. (see Apr 13)
Lawrence of Arabia
April 8, 1963, 1962 Oscars held.  Frank Sinatra hosts. Lawrence of Arabia, with ten nominations and seven Oscars, was the Best Film winner.  This was the first of four British-made films that won the top Best Picture Oscar in the decade of the 1960s. The other three were Tom Jones (1963),  A Man For All Seasons (1966), and Oliver! (1968).
John Lennon's Rolls Royce
April 8, 1967: John Lennon took his Rolls Royce to coachbuilders J.P. Fallon Ltd in Surrey to inquire if they could paint his car in psychedelic colors. This was based on an idea by Marijke Koger ("The Fool" who was a member of Dutch team of gypsy artists). J.P. Fallon commissioned Steve Weaver's pattern of scroll and flowers for the Phantom V. The cost for having the work done came in at £2,000. A custom interior/exterior sound system was also installed as well as a Sony television; telephone (WEYBRIDGE 46676) and a portable refrigerator. (see Apr 19)
Cannabis
April 8, 1968:  Bureau of Narcotics and Dangerous Drugs established by President Johnson. (see May 19, 1969 or see CCC for expanded chronology)
April 8 Peace Love Art Activism
Vietnam
Operation Pegasus
April 8, 1968: U.S. forces in Operation Pegasus finally retake Route 9, ending the siege of Khe Sanh. A 77 day battle, Khe Sanh had been the biggest single battle of the Vietnam War to that point. The official assessment of the North Vietnamese Army dead is just over 1,600 killed, with two divisions all but annihilated. But thousands more were probably killed by American bombing. (2014 Time/Life article) (see Apr 11)
April 8 Peace Love Art Activism
Women's Health
April 8, 1970: in a 51 – 45 vote, the US Senate voted down G Harrold Carswell's Supreme Court nomination. Seventeen Democrats and twenty-eight Republicans voted for Carswell. Thirty-eight Democrats and thirteen Republicans voted against him. President Nixon accused Democrats of having an anti-Southern bias as a result saying, "After the Senate's action yesterday in rejecting Judge Carswell, I have reluctantly concluded that it is not possible to get confirmation for the judge on the Supreme Court of any man who believes in the strict construction of the Constitution as I do, if he happens to come from the South." (see Apr 14)
Eric Rudolph
April 8, 2005: the Dept of Justice announced that Eric Rudolph (see January 16) had agreed to a plea bargain under which he would plead guilty to all charges he was accused of in exchange for avoiding the death penalty. The deal was confirmed after the FBI found 250 pounds of dynamite he hid in the forests of North Carolina. His revealing the hiding places of the dynamite was a condition of his plea agreement. He made his pleas in person in Birmingham and Atlanta courts on April 13. (see July 18)
April 8 Peace Love Art Activism
AIDS & Ryan White
April 8, 1990: Ryan White died. He is buried in Cicero, close to the home of his mother. In the year following his death, his grave was vandalized on four occasions. (AIDS, see July 26; see White for expanded story)
April 8 Peace Love Art Activism
Sexual Abuse of Children
Rev Paul Shanley
April 8, 2002:  file released on the Rev Paul Shanley, alleging he publicly advocated sex between men and boys and still received the backing of the archdiocese for his ministry. (see Apr 23)
April 8 Peace Love Art Activism
Immigration History
Luis Ramirez
April 8, 2009: Colin Walsh pleaded guilty to one felony violation of the Federal Fair Housing Act for his role in aiding and abetting Brandon Piekarsky, 19, and Derrick Donchak, 21, in the beating death of Louis Ramirez. (see Ramirez for expanded chronology)
Asylum seekers
April 8, 2019: Judge Richard Seeborg of the United States District Court for the Northern District of California blocked President Trump's efforts to force asylum seekers to wait in Mexico while their cases were adjudicated by the immigration courts — a practice that immigration advocates called inhumane and illegal.
Seeborg found that existing law did not give the Trump administration the power to enforce the policy, known as "migrant protection protocols," which were introduced in San Diego and expanded to other parts of California and Texas.
The judge said in his ruling that in addition to violating immigration laws, the protocols did not include "sufficient safeguards" to comply with the Department of Homeland Security's obligation against returning migrants to places where their "life or freedom would be threatened." (next IH, see Apr 12)
April 8 Peace Love Art Activism
Tulsa shootings
April 8, 2012: Police arrested two men  — 19-year-old Jake England and 32-year-old Alvin Watts — in connections with shootings that left three people dead (two men and a women: Bobby Clark, 54; William Allen, 31; and Dannaer Fields, 49.
The two people who were wounded did not sustain life-threatening injuries and were released from the hospital). (see Apr 9)
April 8 Peace Love Art Activism
Anti-Muslim Terry Jones
April 8, 2014: Terry Jones's lawyer announced that Jones would take a plea deal that would drop the felony charge. Jones said he would plead guilty to a misdemeanor gun charge. His goal was to be able to continue to carry a gun legally. Jones said he receives so many death threats, he must be able to continue to carry a weapon. If he were a convicted felon, he would lose that right.
April 8 Peace Love Art Activism
TERRORISM
April 8, 2015: a Boston jury found Dzhokhar Tsarnaev, the 21-year-old who admitted he and his brother bombed the 2013 Boston Marathon, guilty on all 30 counts against him, including conspiracy to use a weapon of mass destruction and bombing of a public place.
The jury of five men and seven women deliberated for roughly 11 hours over two days before reaching a verdict. It took more than 20 minutes for a court clerk to read the entire verdict. Tsarnaev stood, but displayed no reaction as it was announced. (see May 15)
April 8 Peace Love Art Activism
Environmental Issues & Nuclear/Chemical News
April 8, 2019: an article published in the Geophysical Research Letters found that shrimp-like critters from three West Pacific ocean trenches were found to munch on food that sinks down from the surface, leaving a unique chemical signature from decades-old nuclear bomb tests in the bodies of the deep-sea crustaceans.
Weidong Sun, a geochemist at the Institute of Oceanology in China and coauthor of the study, found elevated levels of carbon-14, a heavy variant of carbon, in the amphipods' muscle tissue and gut contents.
The levels closely matched abundances found near the surface of the ocean, where the amount of carbon-14 is higher than usual thanks to nuclear bomb tests conducted more than half a century ago. [Smithsonian Magazine article] (next EI, see Apr 19; next N/C, see June 30)
April 8 Peace Love Art Activism