April 9 Music et al
FREE SPEECH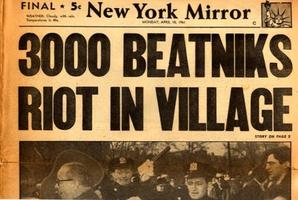 April 9, 1961: Greenwich Village folk song fans battled the police for two hours in Washington Square. Police arrested ten demonstrators. Several persons, including three policemen, were hurt. Follow link above for more. (see NYC bans for expanded story)
April 9 Music et al
West Side Story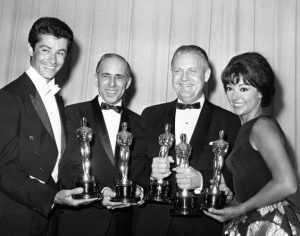 April 9, 1962: 1961 Oscars held. Bob Hope hosts. The Best Picture winner was West Side Story. The film had eleven nominations and ten Oscar wins (losing only its Screenplay nomination) – close to matching the record established by Ben-Hur (1959) with its twelve nominations and eleven Oscars.
April 9 Music et al
(You're My) Soul and Inspiration
April 9 – 29, 1966: "(You're My) Soul and Inspiration" by The Righteous Brothers #1 on the Billboard Hot 100.
From Wikipedia:  The song was written by Barry Mann and Cynthia Weil who were part of the legendary Brill Building pop machine in New York City. They first started writing it following the success of the Righteous Brothers' first single with Phil Spector, "You've Lost That Lovin' Feelin'", a song they also wrote. However, the song was not completed as they thought it sounded too much like "Lovin' Feelin",  and Spector chose instead to record Carole King and Gerry Goffin's "Just Once in My Life" with the duo as their second single.
After leaving Spector's Philles Records in late 1965, the Righteous Brothers moved to the mostly jazz-oriented Verve label. Bill Medley of the Righteous Brothers then made inquiry to Mann about the incomplete "Soul and Inspiration" that the songwriters had previously played to Medley when they first started writing it, and asked them to complete the song. Mann and Weil complied with the wishes of Medley, and the Righteous Brothers then recorded the finished song.
The song was arranged by Jack Nitzsche who arranged many of Phil Spector's song.
April 9 Music et al
Nashville Skyline
April 9, 1969: Bob Dylan released Nashville Skyline, his ninth album and the last album of the 1960s. He had recorded Feb 12 – 21, 1969.
Like any Beatle release, Dylan's move toward a more country sound pushed many groups in that direction as well as attracting Dylan fans to bands already in that genre.
April 9 Music et al
"It Don't Come Easy"
April 9, 1971: Ringo's "It Don't Come Easy"  released in UK. It will be released in US on April 16.
Ringo is the only songwriter credited on this, but he had a lot of help from George Harrison, who was very generous in giving his buddy full writing credit. The track (less Ringo's vocal and horn parts) was already completed when Harrison gave it to him, and it included a scratch vocal by George.
This was Ringo's first big hit as a solo artist (his cover of "Beaucoups of Blues" made #87 US a year earlier). (see Apr 15)
April 9 Music et al
Phil Ochs
April 9, 1976: Phil Ochs committed suicide.
From the New York Times:  Phil Ochs, the folk singer, guitarist and lyricist whose music provided some of the strongest notes of protest against the Vietnam War in the early 1960's, committed suicide yesterday morning at his sister's home in Far Rockaway, Queens, the family reported.
"Phil had been very depressed for a long time," a family friend said. "Mainly, the words weren't coming to him anymore."
Mr. Ochs, who was 35 years old, had been living with his sister, Sonny Tanzman, since December, according to a family friend. He died by hanging. 
April 9 Music et al