April 15 Peace Love Art Activism
Early ADA history in USA
School for the deaf
April 15, 1817: the first American school for the deaf was opened in West Hartford, CT. (ASD site)
Eugenic Sterilization Law
In 1907:  Indiana becomes the first state to enact a eugenic sterilization law—for "confirmed idiots, imbeciles and rapists"—in state institutions. A similar law  was enacted in 24 other states. (UVM dot edu article)
Eugenic Sterilization Law stopped
In 1909: new Indiana governor, Thomas Marshall, stopped the Eugenic sterilization process by threatening the funding of institutions that used the law.
World War I Veterans program
In 1918: as a result of the large number of World War I veterans returning with disabilities, Congress passes the first major rehabilitation program for soldiers.
Ohio Society for Crippled Children
In 1919: Edgar Allen, a businessman in Elyria, Ohio, founds the Ohio Society for Crippled Children, which will become the national Easter Seals organization. It served as a model for many of today's charitable organizations—in its methods and, some activists say, in its exclusion of people from the community being helped.  (CABI article)
Vocational rehabilitation
In 1920: a bill funding vocational rehabilitation guarantees federal money for job counseling and vocational training for disabled in the general public. (see August 1921)
April 15 Peace Love Art Activism
BLACK HISTORY
Thomas Gilyard lynched/Joplin Blacks Routed
April 15, 1903: a mob of several thousand of white people in Joplin, Missouri, battered down the wall of the city jail, forcibly removed a 20-year-old Black man named Thomas Gilyard, and lynched him in broad daylight. The mob hanged Mr. Gilyard from a telephone pole two blocks from the jail.
Mr. Gilyard had been accused of killing a white police officer.
Unsatisfied by killing Mr. Gilyard, the mob was intent on destroying the lives of the hundreds of Black people who lived in Joplin.
First, the crowd demanded that a local white man, named "Hickory Bill," who was in jail for attacking a Black person, be released, which city officials willingly accommodated.
The white mob then gathered on Main Street, and drove all of the Black people from downtown into a segregated Black district north of Joplin. There, the white residents of Joplin launched a devastating terrorist attack on the Black community—they robbed and burnt down their homes, shot and stoned the Black people they came across, and forced every Black person from the district out of the city. They blocked the local fire department from extinguishing the flames on the burning homes, ensuring that the Black community would have nowhere to return.
Determined to force every Black person from Joplin, the mob then traveled to another Black district south of the town, and found that all of the Black residents had already fled out of fear. The mob proceeded to burn their homes down too. It is unknown how many people were killed by the white mob's ruthless violence.  [EJI article](next BH, see Apr 27)
Jackie Robinson
April 15, 1947: Jackie Robinson became the first African-American in the major leagues when he played his first game with the Brooklyn Dodgers. The common date for major league baseball's beginning is April 22, 1876, thus it had been 71 years that major league baseball was segregated. (see Robinson for expanded story) (next BH, see May 3, 1948)
March to Montgomery/Viola Liuzzo
April 15, 1965: all charges against Gary Rowe were dropped and he was identified as a paid undercover FBI informant who would testify for the prosecution. [It will later be revealed that Rowe had participated in the beatings of Freedom Riders in Birmingham in 1961 and was suspected of involvement in the 1963 bombing of the Sixteenth Street Baptist Church.] (see Liuzzo for expanded story)
George Whitmore, Jr
April 15, 1965: Whitmore's 46-year-old father, George Sr., suffers a heart attack in the courtroom. He will died four years later in early 1969. (see Whitmore for expanded story)
SOUTH AFRICA/APARTHEID
April 15, 1985: South Africa ended its ban on interracial marriages. (July 20)
April 15 Peace Love Art Activism
INDEPENDENCE DAY
Israel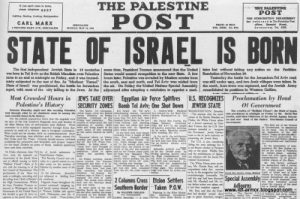 April 15, 1948 (technically between April 15 and May 15 depending on the Hebrew calendar): Israel independent from British Mandate for Palestine. (Jewish Virtual Library article) (see Sept 9)
April 15 Peace Love Art Activism
US Labor History
American Federation of Teachers
April 15, 1916: teacher unionists gather at the City Club on Plymouth Court in Chicago to form a new national union: the American Federation of Teachers. (AFT site) (see Apr 16)
Rutgers University Strike
April 15, 2023: after agreeing to a tentative contract with the school, the Rutgers Adjunct Faculty Union, representing part-time lecturers; the AAUP-AFT, which represents full-time faculty, graduate workers, postdoctoral associates and counselors; and the AAUP-BHSNJ, which represents faculty in the health and sciences departments announced that they had reached a "framework" agreement for new faculty contracts and that they were ending a week-long strike, effective immediately,
Rutgers President Jonathan Holloway said in a school news release that the deal included substantial increases to the salaries of graduate workers and part-time lecturers, and significantly strengthens job security for part-time faculty,.
The labor organizations — referring to the strike's status as not a cancelation but a "suspension" — said that while they secured "profound victories for our unions," some issues remain unresolved, and leave open the option of returning to the picket line if they aren't able reach a resolution during bargaining.  [NPR article] (next LH, see May 2)
April 15 Peace Love Art Activism
Technological/Cultural Milestones
Insulin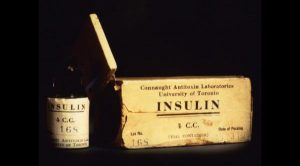 April 15, 1923:  insulin became available for general. It was first discovered in 1922. (see March 16, 1926)
McDonald's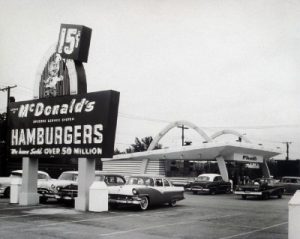 April 15, 1955: Ray Kroc opened the first McDonald's — in Des Plaines, IL. Kroc began his career by selling milk shake machines. Among his first customers were the McDonald brothers from southern California. After selling them several machines and watching the efficiency of their drive-in restaurant, Kroc bought the rights to market the brothers' good fortune and hired them to work for him. (2016 Time dot com article) (July 12, 1960)
April 15 Peace Love Art Activism
Cold War
Fidel Castro
April 15, 1959: Fidel Castro visited the US for the first time since the overthrow of Batista. The trip got off to an inauspicious start when it became clear that President. Eisenhower had no intention of meeting with Castro. Instead, Eisenhower went to the golf course to avoid any chance meeting with Castro. (see July 24)
Mariel boatlift

April 15, 1980: the Castro regime announced that all Cubans wishing to emigrate to the U.S. were free to board boats at the port of Mariel west of Havana, launching the Mariel Boatlift. The first of 125,000 Cuban refugees from Mariel reached Florida the next day. (see April 25, 1983)
April 15 Peace Love Art Activism
Vietnam
DRAFT CARD BURNING
April 15, 1967: protests to Vietnam policy were held in New York and San Francisco. In New York, police estimated that 100,000 to 125,000 people listened to speeches by Martin Luther King, Jr., Floyd McKissick, Stokely Carmichael and Dr. Benjamin Spock. Prior to the march, nearly 200 draft cards were burned by youths in Central Park. (Vietnam, see Apr 24; DCB, see October 9, 1967)
Spring Mobilization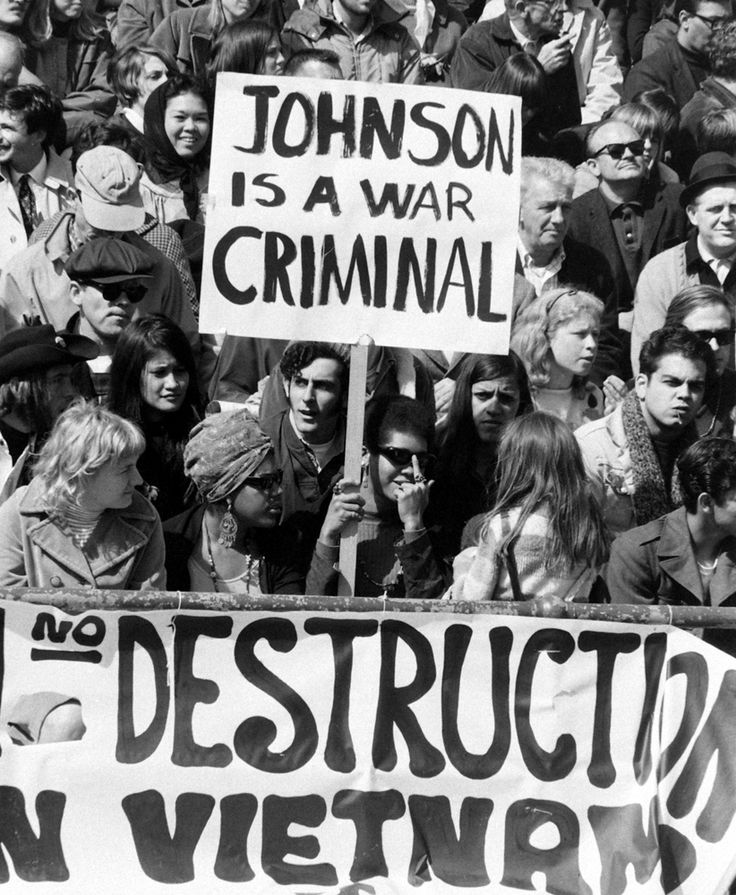 April 15, 1968: start of Spring Mobilization against the Vietnam war. (see Apr 22)
1st Infantry Division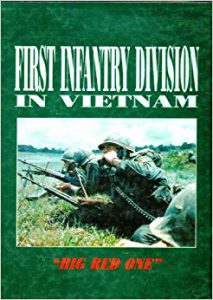 April 15, 1970: as part of the third phase of U.S. troop withdrawals announced by President Nixon, the 1st Infantry Division left Vietnam. Its soldiers won 11 Medals of Honor, 67 Distinguished Service Crosses, and 905 Silver Stars for bravery. The division suffered 20,770 soldiers killed or wounded in action, slightly more than the 20,659 casualties the division suffered in World War II. (see Apr 29)
April 15 Peace Love Art Activism
April 15 Music et al
Aftermath
April 15, 1966: the Rolling Stones release Aftermath.
Something Stupid
April 15 – May 12, 1967: "Something Stupid" by Frank and Nancy Sinatra #1 on the Billboard Hot 100. It became the first father-daughter song to hit No. 1 on the Billboard pop chart.
Let It Be
April 15, 1971: Let It Be movie received an Oscar for "Best Film Music-Oriented Film Score."  (see June 6)
Daniel Ellsberg/Pentagon Papers
April 15 – 18, 1973,: Ellsberg testified in his own defense. (see Papers for expanded story)
April 15 Peace Love Art Activism
Symbionese Liberation Army
April 15, 1974: Patty Hearst and four members of the S.L.A. were caught on camera holding up the bank at gunpoint. The bank robbers get away with $10,000. (see Hearst for expanded story)
April 15 Peace Love Art Activism
Student Activism
April 15, 1989: Chinese students begin demonstrating for a democratic government. (see Apr 21)
Stop and Frisk Policy
April 15, 2008: The Center for Constitutional Rights amended its initial complaint to seek class-action status in Floyd v. City of New York. A few days later they seek stop-and-frisk data going back to 1998. (see May 30)
April 15 Peace Love Art Activism
TERRORISM
April 15, 2013: two bombs go off near the finish line of the Boston Marathon, killing three spectators and wounding more than 260 other people in attendance. (CBS News pictures) (see Nov 21)
LGBTQ
April 15, 2018: Judge Marsha Pechman, who served as Senior Judge of the US District Court of Western Washington, issued a ruling in the case of Karnoski v. Trump that once again shut down the trans military ban. This replicated her previous decision (December 22) that the trans ban policy violated equal protection statutes as well as First Amendment rights of transgender troops and recruits. (see Apr 25)
SEPARATION OF CHURCH AND STATE
April 15, 2018: House Speaker Paul D. Ryan announced that the Reverend Patrick J. Conroy  would step down as House Chaplain on May 24 after seven years in the post. Ryan thanked Conroy for his service to the people's House.
Most lawmakers thought Conroy's resignation was voluntary, but Ryan faced a bipartisan backlash, particularly among the more than 140 Catholics in the House, when word spread that he had forced the priest into retirement. (see May 3)
April 15 Peace Love Art Activism
LSD
April 15, 2021: In a study published in the New England Journal of Medicine, psychiatrist David Nutt, psychologist Robin Carhart-Harris and other researchers, all then at Imperial College London, conducted a six-week trial of 59 participants split into two groups. One group was given a full dose of psilocybin (the active ingredient in "magic mushrooms") in combination with psychotherapy. The other received daily amounts of the SSRI escitalopram plus two minuscule amounts of psilocybin with psychotherapy. All of the participants suffered from major depressive disorder (MDD), which affects roughly 10 percent of the U.S. population in a given year.
The study found that the former improved symptoms of depression just as well on an established metric—and had fewer side effects. The study was fairly small, however, and was not explicitly intended to show how well the drugs stacked up on other measures of well-being. [Scientific American article] (next LSD, see May 10)
April 15 Peace Love Art Activism