May 30 Peace Love Art Activism
BLACK HISTORY
Denmark Vesey's slave revolt
May 30, 1822: Denmark Vesey had won a lottery and purchased his emancipation in 1800. He was working as a carpenter in Charleston, South Carolina when he started  to plan a massive slave rebellion—one of the most elaborate plots in American history—involving thousands of slaves on surrounding plantations, organized into cells. They planned to start a major fire at night and then kill the slave owners and their families. A black house servant named George Wilson foiled the play when he informed his master of the pending revolt. Charleston authorities promptly arrested and interrogated dozens of suspected conspirators. Vesey was captured on June 22 and tortured but he refused to identify his comrades.
A total of 131 men were arrested; 67 were convicted and 35, including Denmark Vesey, were executed. The city destroyed Mr. Vesey's church building. Mr. Vesey and his followers inspired abolitionists and black soldiers through the Civil War. [PBS article] (next BH, see October 18, 1824; next Slave Revolts, see Aug 21 – 22, 1831; next Vesey, see June 17, 2015)
Alabama sues NYT and Black leaders
Free Speech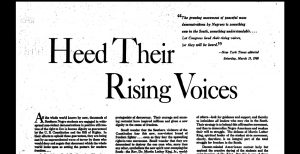 May 30, 1960: Alabama Governor John Patterson filed a $1,000,000 libel suit in state court against The New York Times and five Black leaders, including the Rev. Dr. Martin Luther King Jr.  He charged The Times and the five leaders (King, Rev J E Lowery, Rev F L Shuttlesworh, Rev Ralph Abernathy, and Rev S S Seay) with "false and defamatory matter" in the advertisement soliciting funds for the defense of King in his perjury trial. [2017 NYT aticle] (see Nov 3)
UofA/Vivian Malone Jones
May 30, 1965: Vivian Malone Jones became the first black to graduate from the University of Alabama in its 134 years of existence, earning a degree in business management with a B-plus average. The university had hired a driver for her, a student at Stillman College in Tuscaloosa named Mack Jones. They later married, and he became an obstetrician.
After graduating from Alabama, Malone worked for the US Justice Department in its civil rights division. [2005 NYT obit] (BH, see June 1)
UofA/Autherine Lucy Foster
In 1988: two professors invited Autherine Lucy Foster to speak at the University about the events that had occurred in 1956. After her speech, faculty members persuaded the Board of Trustees to overturn her expulsion. (BH, Jan 22)
In 1989, Foster again enrolled at the University of Alabama. Her daughter Grazia also was a student at the time. (BH, see Feb 10; U of A, see May 9, 1992; see Foster for expanded story)
137 SHOTS
May 30, 2014: a grand jury on indicted six police officers involved in a November 2012 car chase that ended in the deaths of two unarmed people, was decried by critics as a racially motivated execution and was part of a wide-ranging federal investigation.  (see 137 for expanded story)
Tamir Rice
May 30, 2017: Cleveland officials announced that they had fired Timothy Loehmann, Loehmann fatally shot 12-year-old Tamir Rice in 2014, setting off national protests. Officials also said that they were suspending officer Frank Garmback, driver of the patrol car that day, for 10 days.
The decision came after what Mayor Frank Jackson of Cleveland called an "exhaustive process" of investigation. (next B & S, see June 16, next Tamir Rice, see December 29, 2020)
May 30

Peace Love Art Activism
US Labor History
Day 6 Toledo Auto-Lite strike
May 30, 1934 (Wednesday): the Toledo Central Labor Council asked President Roosevelt to intervene to avert a general strike. The CLC placed the final decision to hold a general strike in the hands of the Committee of 23, with a decision to be rendered on June 2. By this time, 85 of the CLC's member unions had pledged to support the general strike (with one union dissenting and another reconsidering its previous decision to support the general strike). The same day, leaders of FLU 18384 met with Governor White and presented their case. The media reported that both Labor Secretary Perkins and AFL president Green might come to Toledo to help end the strike. Despite no resolution to the strike, Toledo remained peaceful. Governor White had begun withdrawing National Guard troops a few days earlier, and by May 31 only 250 remained.(see Toledo for expanded chronology)
Memorial Day Massacre
May 30, 1937: in what became known as the Memorial Day Massacre, police opened fire on striking steelworkers at Republic Steel in South Chicago, killing ten and wounding more than 160. No policemen were prosecuted. A coroner's jury declared the killings to be "justifiable homicide". [Chicago Now article] (see June 10)
"Norma Rae"
May 30, 1973: Crystal Lee Jordan (aka "Norma Rae") fired for trying to organize a union at the J.P. Stevens plant in Roanoke Rapids, North Carolina. [2009 NYT obit] (see Sept 19)
César E. Chávez
May 30, 1995: the Los Angeles Times reported that F.B.I. agents followed the farm labor leader César Chávez for more than seven years, investigating reports he was a Communist or "subversive." Investigators kept a secret watch on Chávez in the 1960's and 1970's under the Johnson and Nixon Administrations and compiled a 1,434-page file on him. (see May 29, 1996)
May 30

Peace Love Art Activism
The Kingston Trio
May 30 – July 31, 1960: The Kingston Trio's Sold Out album returns to the Billboard #1 spot after a one week absence.
Love Me Do
May 30 – June 5, 1964, The Beatles: "Love Me Do" #1 on the Billboard Hot 100. (see July 27)
1969 Festival #6
May 30 – 31, 1969: First Annual Detroit Rock & Roll Revival
Living In the Material World
May 30, 1973: George Harrison released "Living In the Material World" album (in the US), his fourth solo release and second since the Beatles' breakup. (see June 27)
May 30

Peace Love Art Activism
Cold War
May 30, 1962: Fidel Castro informed visiting Soviet officials that Cuba will accept the deployment of nuclear weapons. (CW, see June 27; see Cuban Missile Crisis for expanded story)
May 30

Peace Love Art Activism
Vietnam
May 30, 1988: in 1987 Ray Manzo, a Marine corporal, and Artie Muller, a Vietnam veteran, had begun planning a group motorcycle ride to the Vietnam Veretrans Memorial to raise awareness for veterans' issues. About 2,500 riders participated in the first "Run to the Wall" on Memorial Day 1988. (see May Peace… 1989)
May 30

Peace Love Art Activism
Nuclear/Chemical News
Pakistan
May 30, 1998: the second nuclear test conducted by Pakistan. [CNN article] (see September 20, 1999)
Germany
May 30, 2011:  Germany announced plans to abandon nuclear power over the next 11 years, outlining an ambitious strategy in the wake of Japan's Fukushima disaster to replace atomic power with renewable energy sources. [Guardian article] (next N/C N, see Sept 12); Fukushima,  see April 13, 2021)
May 30

Peace Love Art Activism
Tiananmen Square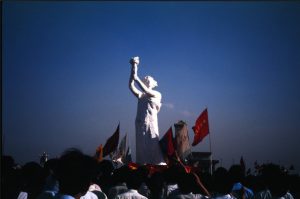 May 30, 1989: student demonstrators unveiled a 33 ft high Goddess of Democracy statue in Tiananmen Square. (see June 4)
May 30

Peace Love Art Activism
Iraq War II
May 30, 2005: Vice President Dick Cheney predicted the Iraq war would end before the Bush administration left office, saying "I think they're in the last throes, if you will, of the insurgency," on CNN's "Larry King Live." (see Oct 26)
May 30

Peace Love Art Activism
FREE SPEECH
May 30, 2006: Garcetti v. Ceballos was a case involving the First Amendment free speech protections for government employees. The plaintiff in the case was a district attorney who claimed that he had been passed up for a promotion for criticizing the legitimacy of a warrant. The US Supreme Court ruled, in a 5-4 decision, that because his statements were made pursuant to his position as a public employee, rather than as a private citizen, his speech had no First Amendment protection. [Oyez article] (see January 29, 2010)
May 30

Peace Love Art Activism
Stop and Frisk Policy
May 30, 2008: The NYPD was ordered to turn over stop-and-frisk data to the NYCLU. (see Sept 10)
May 30

Peace Love Art Activism
LGBTQ
May 30, 2014: the Colorado Civil Rights Commission determined that Masterpiece Cakeshop unlawfully discriminated against David Mullins and Charlie Craig by refusing to sell them a wedding cake.​
David Mullins and Charlie Craig visited Masterpiece Cakeshop in July 2012, with Craig's mother, to order a cake for their upcoming wedding reception. Mullins and Craig planned to marry in Massachusetts and then celebrate with family and friends back home in Colorado. Masterpiece owner Jack Phillips informed them that because of his religious beliefs the store's policy was to deny service to customers who wished to order baked goods to celebrate a same-sex couple's wedding. (LGBTQ, see June 4; Masterpiece Cakeshop, see December 5, 2017)
May 30

Peace Love Art Activism
Cannabis
May 30, 2018:  Florida's Leon County Circuit Court Judge Karen Gievers ruled that the state's ban on smokable cannabis was unconstitutional. Florida's Department of Health  appealed the ruling, which imposed an automatic stay.
Gievers wrote in her 22-page ruling that Floridians "have the right to use the form of medical marijuana for treatment of their debilitating medical conditions as recommended by their certified physicians, including the use of smokable marijuana in private places." (next C, see June 19 or see CCC for expanded chronology)
Minnesota
May 30, 2023: Gov. Tim Walz (D) of Minnesota signed a bill to legalize marijuana, making it the 23rd state in the U.S. to end cannabis prohibition.
After months of committee hearings and floor votes, Walz signed off on HF 100, as he previously committed to doing.
"This has been a long journey with a lot of folks involved," Walz said. "What we know right now is prohibition does not work. We've criminalized a lot of folks who are going to start the expungement process on those records." [MM article] (next Cannabis, see July 21 or see CAC for expanded chronology )
May 30

Peace Love Art Activism
DEATH PENALTY
May 30, 2019: New Hampshire abolished capital punishment.
The state Senate voted to override Gov. Chris Sununu's veto of the bill to repeal the death penalty. The vote followed the New Hampshire House's vote last week to overturn the veto.
Capital punishment is "archaic, costly, discriminatory, and final," said Sen. Melanie Levesque, a Democrat from Nashua. "This is time to end it."  The Senate vote to overturn Sununu's veto was bipartisan, with four Republicans joining 12 Democrats to support an end to capital punishment. (see June 21)
May 30

Peace Love Art Activism
Space
May 30, 2020: the United States opened a new era of human space travel as a private company for the first time launched astronauts into orbit, nearly a decade after the government retired the storied space shuttle program in the aftermath of national tragedy.
Two American astronauts lifted off at 3:22 p.m. from a familiar setting, the same Florida launchpad that once served Apollo missions and the space shuttles. But the rocket and capsule that lofted them out of the atmosphere were a new sight for many — built and operated not by NASA but SpaceX, the company founded by the billionaire Elon Musk to pursue his dream of sending colonists to Mars. [NYT article] (next Space, see Oct 20)
May 30

Peace Love Art Activism