May 9 Peace Love Art Activism
BLACK HISTORY
Sojourner Truth
May 9, 1867: Sojourner Truth delivered a speech to the First Annual Meeting o the American Equal Rights Association, championing for the rights of all people. (Women's History dot org bio) (Feminism, see January 8, 1868; BH, see Dec 3)
Joseph Perkins
May 9, 1961: Joseph Perkins became the first Freedom Rider to be arrested after sitting at a whites only shoe-shine stand in Charlotte, NC. Later that same day, Freedom Rider John Lewis was assaulted in the Greyhound bus terminal of Rock Hill, SC after attempting to enter the white waiting room with fellow Freedom Rider Al Bigelow.  (Oprah dot com article) (see May 13)
Birmingham truce
May 9, 1963: after Americans saw authorities turn fire hoses and police dogs on protesters in Birmingham, a negotiated truce took place on this day. Activists agreed to stop mass demonstrations in return for Birmingham authorities ending oppressive segregation laws and practices. Martin Luther King Jr. and Fred Shuttlesworth announced the settlement the next day. By this time, more than police had arrested more than  3,000 , many of them children. (see May 10)
Autherine Lucy Foster
May 9, 1992: Autherine Lucy Foster and her daughter Grazia graduated together from the University of Alabama, Autherine with a master's degree in elementary education, Grazia with a bachelor's degree in corporate finance. (BH, see March 9, 1993; U of A, see October 10, 1996; Lucy, September 15, 2017)
Johnnie Mae Chappell
May 9, 2006: the criminal investigation into the 1964 murder of Johnnie Mae Chappell. a woman slain in a drive-by shooting in northwest Jacksonville, ended.
William Cervone, who's 8th Circuit served the Gainesville area, was given one year to investigate and prosecute the case, but reported his findings after a five-month revision of the Investigation
Cervone released a statement saying after "reviewing the investigation into the murder of Johnnie Mae Chappell in Duval County in 1964 … my conclusions … are that no additional investigation is warranted and that no prosecution is legally possible."
Cervone went on to state that the statute of limitations has run out on anything but first degree murder, and that there was not enough evidence to prosecute the three co-defendants on that charge simply because they were in the car when JW Rich shot and killed Chappell.
In addition, Cervone said Florida law prevented them from being recharged due to speedy trial constraints.
State Attorney Harry Shorstein issued a statement: "This was a tragic chapter in the history of our city and I understand the Chappell family's desire to find justice. I regret that a few have used the Chappell family's great suffering for personal, professional, or political gain." Shorstein also commended Cervone for a comprehensive, thorough and professional investigation. (DoJ article) (BH, see May 21)
May 9

Peace Love Art Activism
Cultural Milestone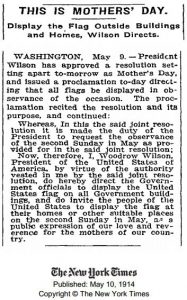 May 9, 1914: President Wilson approved asking Americans to give a public expression of reverence to mothers through the celebration of Mother's Day. (National Geographic article) (F, see January 12, 1915; CM, see September 6, 1916)
May 9

Peace Love Art Activism
US Labor History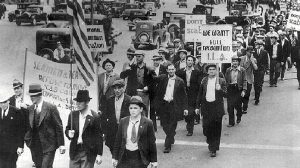 May 9, 1934: the West Coast Longshoremen's Strike began when Int'l. Longshoremen's Association (ILA) union workers demanded a 6 hr working day, more men on each gang, lighter loads and an independent union. They shut down seaports in Washington, Oregon and California for 3 months. (Washington dot edu article)(see May 18)
Yale Hunger Strike
May 9, 2017: the eight Yale graduate students who began a hunger strike to pressure the school to negotiate with their union continued their action. Four of the students had nothing but water for 14 days. The strike ended on May 22–graduation day. (NPR story) (see Oct 13)
May 9

Peace Love Art Activism
Vietnam
South Vietnam Leadership
May 9, 1957: President Ngo Dinh Diem of South Vietnam addressed a Joint Meeting of Congress. Diem had embarked on a two-week visit to the United States. Flying from Hawaii on President Dwight Eisenhower's private plane, Columbine III, and greeted at National Airport by the President, Diem received full military honors including a 21-gun salute. As part of his state visit, Diem addressed a Joint Meeting, presided over by Speaker of the House Sam Rayburn of Texas and Vice President Richard M. Nixon of California. The Vietnamese leader expressed gratitude to the United States for "moral and material aid." (US HoR article) (SVL, see November 11, 1960 )
Daniel Ellsberg
In 1959: specializing in crisis decision-making and the command and control of nuclear weapons, Ellsberg was hired as a strategic analyst at the RAND Corporation, a California think-tank. While at RAND, Ellsberg consulted with the Pentagon under Secretary of Defense Robert McNamara during the Kennedy administration. Ellsberg visited South Vietnam with a research team to examine problems with non-nuclear, limited warfare. (see Ellsberg for expanded story)
Group 559
In 1959: a specialized North Vietnamese Army unit, Group 559, was formed to create a supply route from North Vietnam to Vietcong forces in South Vietnam. With the approval of Prince Sihanouk of Cambodia, Group 559 developed a route along the Vietnamese/Cambodian border, with offshoots into Vietnam along its entire length. This eventually becomes known as the Ho Chi Minh Trail. (Enacademic dot com article)  (see July 7)
New Left
May 9, 1968: FBI Director J.Edgar Hoover on this day ordered the Bureau's program to attack New Left political organizations. The New Left included a variety of anti-Vietnam War groups, some radical African-American organizations, and other politically radical groups that emerged in the 1960s. The "new" left defined itself in contrast to the "old" left, which was seen as dominated by socialistic and communist ideologies. (The definition of who was "new left" and a danger to the U.S. was, for the FBI, solely its own decision.) (see May 10)
William Beecher
May 9, 1969: William Beecher, military correspondent for the New York Times, published a front page dispatch from Washington, "Raids in Cambodia by U.S. Unprotested," which accurately described the first of the secret B-52 bombing raids in Cambodia. Within hours, Henry Kissinger, presidential assistant for national security affairs, contacted J. Edgar Hoover, FBI director, asking him to find the governmental sources of Beecher's article. During the next two years, Alexander Haig, a key Kissinger assistant, transmitted the names of National Security Council staff members and reporters who were to have their telephones wiretapped by the FBI. (see May 10)
Cambodian Invasion
May 9, 1970:
President Nixon made a pre-dawn visit to the Lincoln Memorial to talk with anti-war protesters.
between 75,000 and 100,000 young people, mostly from college campuses, demonstrated peacefully in Washington, D.C., at the rear of a barricaded White House. They demanded the withdrawal of U.S. military forces from Vietnam and other Southeast Asian nations. Afterwards, a few hundred militants spread through surrounding streets, causing limited damage. Police attacked the most threatening crowds with tear gas. (Vietnam and Invasion, see May 10)
May 9

Peace Love Art Activism
see

May 9 Music et al for expanded
info
Alan Freed
May 9, 1958: a Suffolk County, NY grand jury indicted Alan Freed on charges of inciting the unlawful destruction of property during a riot touched off at a performance of his rock 'n' roll show the previous Saturday night. (see May 16)
Billy Vaughn
May 9 – 15, 1960: Billy Vaughn and His Orchestra's album Theme from a Summer Place is Billboard's #1 album.
Louis Armstrong
May 9 – 15, 1964, ending The Beatles' streak of three number-one hits in a row over 14 consecutive weeks, "Hello Dolly" by Louis Armstrong  #1 on the Billboard Hot 100.
Unfinished Music No. 2: Life with the Lions
May 9, 1969: John Lennon and Yoko Ono released Unfinished Music No. 2: Life with the Lions, the second of their three experimental albums of avant-garde music on Zapple, a sub label of Apple. It was a successor to 1968's Unfinished Music No.1: Two Virgins, and was followed by the Wedding Album. LIfe With the Lions peaked in the US at number 174. The album, whose title is a play on words of the BBC Radio show Life with The Lyons, was recorded at Queen Charlotte's Hospital in London and live at Cambridge University, in November 1968 and March 1969.  (next Beatles, see May 24 – June 27)
May 9

Peace Love Art Activism
Watergate Scandal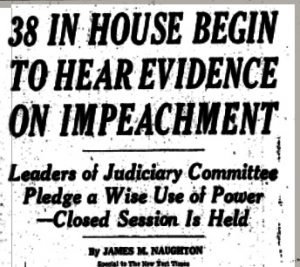 May 9, 1974: The House of Representatives Judiciary Committee opened formal and public impeachment hearings against Nixon. (see Watergate for expanded story)
May 9

Peace Love Art Activism
LGBTQ
Maine
May 9, 1997: Maine Gov. Angus King stated that he would sign a gay rights bill passed by the Maine Legislature. (see February 10, 1998)
President Obama
May 9, 2012: President Obama announced that his view had "evolved" and now endorsed same sex marriage saying that it should be legal. He was the first sitting US President to do so. (Washington Post article) (see May 31)
Arkansas ban invalidated
May 9, 2014: Pulaski County, Arkansas Circuit Judge Chris Piazza invalidated the state's voter-approved ban on same-sex marriage, saying it violated the equal-protection clause of the U.S. Constitution."Although marriage is not expressly identified as a fundamental right in the Constitution, the United States Supreme Court has repeatedly recognized it as such," Piazza ruled in striking down the 2004 amendment to the state's constitution as well as a statute passed in 1997.
"This is an unconstitutional attempt to narrow the definition of equality," he wrote. "The exclusion of a minority for no rational reason is a dangerous precedent."
Voters overwhelmingly supported changing the constitution to define marriage as being only between a man and a woman. (see May 19)
May 9

Peace Love Art Activism
Women's Health
May 9, 2003: Judge Michael D'Amico found James Charles Kopp (see October 23, 1998)  guilty and sentenced him to the maximum penalty, 25 years to life imprisonment. (collection of articles from the LA Times) (see May 31)
May 9

Peace Love Art Activism
Stop and Frisk Policy
May 9, 2012: the NYPD ordered commanders to review stop-and-frisk activity. High-level police officials were instructed to review of stop-and-frisk reports to ensure they were proper, and not an effort to meet productivity goals. (see May 10)
May 9

Peace Love Art Activism
DEATH PENALTY
May 9, 2016: Circuit Judge Milton Hirsch ruled that Florida's death penalty was unconstitutional because jurors were not required to agree unanimously on execution — a ruling that would add to the ongoing legal debate over Florida's capital punishment system.
Hirsch issued the ruling in the case of Karon Gaiter, who was awaiting trial for first-degree murder.
Hirsch wrote that Florida's recently enacted "super majority" system – 10 of 12 juror votes were needed to impose execution as punishment for murder – went against the long-time sanctity of unanimous verdicts in the U.S. justice system. (Miami Herald article) (see May 13)
May 9

Peace Love Art Activism
Fourth Amendment
May 9, 2018: the Fourth Circuit Court of Appeals in Virginia issued a ruling that under the Fourth Amendment, U.S. border authorities cannot search travelers' cell phones and other electronic devices without individualized suspicion of wrongdoing.
In the case, United States v. Kolsuz, border agents had stopped a traveler as he boarded an international flight at Dulles Airport and found firearm parts in his checked luggage, which they suspected he lacked a license to export. Without obtaining a search warrant, agents seized the traveler's phone, briefly searched it at the airport, and then sent it to a separate facility where investigators conducted a thorough "forensic" search of all of the data saved on the device. That included all of the traveler's "personal contact lists, emails, messenger conversations, photographs, videos, calendar, web browsing history, and call logs, along with a history of [his] physical location down to precise GPS coordinates."
The defendant challenged that forensic search as a violation of his Fourth Amendment rights. The ACLU explained that in light of the tremendous quantity and variety of private data stored on our smart phones and similar devices, the government should have been required to get a search warrant from a judge. (see May 14)
May 9

Peace Love Art Activism