January 8 Peace Love Art Activism
Black History
Charles Deslondes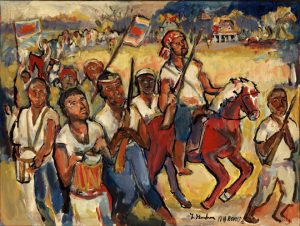 January 8, 1811: Charles Deslondes led a rebellion of some 500 enslaved black people in New Orleans, Louisiana, in what became known as the German Coast Uprising. After black people in Haiti won their independence from the French in 1804 following a thirteen-year war, surviving white planters relocated from Haiti to Orleans Territory (now the State of Louisiana). Many brought with them enslaved black laborers, including Charles Deslondes, who had been born into slavery in Haiti. Orleans Territory's black population tripled between 1803 and 1811, leaving whites fearful of a black rebellion.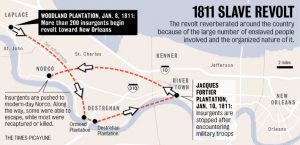 In early January 1811, Charles Deslondes convened a meeting of enslaved black people to plan an anti-slavery rebellion in New Orleans. The rebellion began on January 8, 1811, with a plantation attack that left one white man dead. The rebels then traveled along the Mississippi River, attacking plantations and recruiting more fighters. Some enslaved blacks joined the rebels, while others warned their masters and tried to avert plantation attacks. Many whites escaped across the river.  On January 11, a militia of white planters confronted Charles Deslondes and the rebels in a brief battle, killing many and forcing others to flee. Deslondes and his supporters were captured. Some were returned to their plantations; others were tried and executed, their corpses publicly displayed as warning against future uprisings. The final death toll included two whites and ninety-five blacks. The territorial legislature later voted to financially compensate whites whose enslaved black laborers had been killed.  (NPR story) (see Jan 11)
Voting Rights
January 8, 1867: Congress overrode President Andrew Johnson's veto of a bill granting all adult male citizens of the District of Columbia the right to vote. It was the first law in American history that granted African-American men the right to vote. According to terms of the legislation, every male citizen of the city 21 years of age or older has the right to vote, except…
welfare or charity recipients,

those under guardianship,

men convicted of major crimes, or

men who voluntarily sheltered Confederate troops or spies during the Civil War.
(see July 9, 1868)
African National Congress
January 8, 1912: the African National Congress was founded in Bloemfontein, South Africa. (see September 10, 1944)
National Guardsmen indicted
January 8, 1964: five Alabama National Guardsmen were indicted for explosions set off near the University of Alabama campus the previous October. (BH see Jan 31; U of A, see May 30, 1965)
Integration lawsuit settled
January 8, 1989: the oldest integration law suit in the US was settled when the St. Helena Parish schools were officially integrated. The suit was originally filed by a John Hall and the NAACP in 1952. (BH, see Jan 16, SD, see January 15, 1991)
Church burned
January 8, 1996: in Knoxville, Tenn.,  a fire destroyed the sanctuary of the Inner City Baptist Church and racial slurs were painted on the walls. Molotov cocktails, cans of kerosene and gunpowder were discovered in the rubble. (see Feb 1)
Presidential Citizens Medals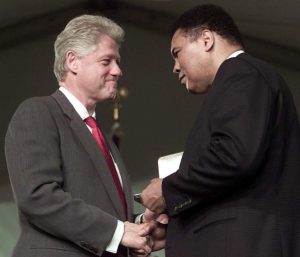 January 8,  2001: President Bill Clinton awarded the Presidential Citizens Medals to Muhammad Ali, Irene Morgan Kirkaldy and others.  (see August 10, 2007)
Presidential Medal of Freedom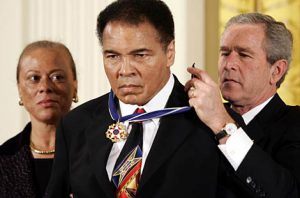 January 8, 2005:  President G W Bush awarded Muhammad Ali the Presidential Medal of Freedom, the highest U.S. civilian honor. (BH, see Jan 13; Ali, see July 27, 2012)
Vernon Dahmer
January 8, 2016: Mississippi lawmakers honored Vernon Dahmer  Sr. 50 years after the civil rights leader was killed when Ku Klux Klansmen firebombed his family's home near Hattiesburg.   Dahmer's widow, Ellie, and several relatives received a standing ovation in the state Senate. Dahmer defied the white segregationist power structure by registering black voters in the 1960s. (see May 13)
DEATH PENALTY
January 8, 2018: saying that a capital trial in Georgia may have been marred by a juror's racism, the Supreme Court gave a death row inmate a fresh chance to argue that he should receive a new trial.
The inmate, Keith Tharpe, was convicted of killing his estranged wife's sister, Jaquelin Freeman, in the process of ambushing, kidnapping and raping his wife. He was convicted and sentenced to death in 1991.
Seven years later, a white juror, Barney Gattie, signed an affidavit explaining his reasoning. He said he had drawn a distinction between Mr. Tharpe and his victim, both of whom were black.
"Because I knew the victim and her husband's family and knew them all to be good black folks, I felt Tharpe, who wasn't in the 'good' black folks category in my book, should get the electric chair for what he did," Mr. Gattie wrote. (BH, see Jan 11; DP, see Mar 15)
January 8 Peace Love Art Activism
Feminism
Susan B. Anthony
January 8, 1868: Susan B. Anthony published the women's rights weekly journal The Revolution. Its motto was: "The true republic—men, their rights and nothing more; women, their rights and nothing less." (see July 9)
Emma Goldman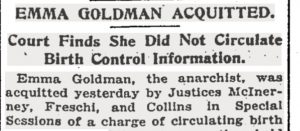 January 8, 1917: a New York court acquitted Emma Goldman of the charge of circulating birth control information. (see Emma Goldman for expanded story)
Ella Grasso
January 8, 1975:  Ella Grasso became Governor of Connecticut, the first female U.S. governor who did not succeed her husband. (see Oct 7)
January 8 Peace Love Art Activism
Technological Milestone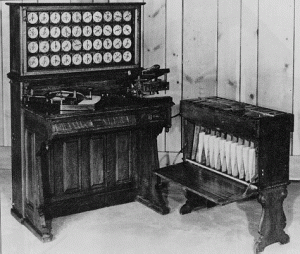 January 8, 1889: the tabulating machine was patented by Dr. Herman Hollerith. His firm, Tabulating Machine Company, later became International Business Machines Corporation (IBM). (see Nov 23)
January 8 Peace Love Art Activism
US Labor History
Great Steel Strike ends
January 8, 1920: the AFL Iron and Steel Organizing Committee ends the "Great Steel Strike." Some 350,000 to 400,000 steelworkers had been striking for more than three months, demanding union recognition. The strike failed. (see Mar 23)
Supreme Court supports unions
January 8, 1945: the US Supreme Court declared unconstitutional a Texas law that limited labor union organizing by requiring union organizers to obtain an organizer's card before they could solicit people to join a union.
The plaintiff, Thomas, was president of the United Automobile Workers (UAW), and was convicted of speaking at a union organizing meeting without a card. The court, in Thomas v. Collins, declared the law a prior restraint on freedom of speech. (Labor, see June 11, 1945; FS, see July 20, 1948)
January 8 Peace Love Art Activism
Red Scare
January 8, 1954: President Eisenhower proposed stripping convicted Communists of their U.S. citizenship. (see Jan 12)
January 8 Peace Love Art Activism
Hullabaloo
January 8, 1965: In response to ABC-TV's Shindig!, Hullabaloo premieres on NBC. The first show included performances by The New Christy Minstrels, comedian Woody Allen, actress Joey Heatherton and a segment from London in which Brian Epstein introduced The Zombies and Gerry & the Pacemakers. (see Hullabaloo for more)
Shindig!
January 8, 1966: ABC's Shindig!'s last show. (see Jan 12)
San Francisco Acid Test
January 8, 1966: a San Francisco Acid Test by Ken Kesey at the Fillmore Auditorium. Michael Rossman (S.F. Chronicle, 1/66): Up at the Fillmore Auditorium, Ken Kesey's Acid test event was in action when I got there around the middle of the evening. The people were like the backstage crowd at the California Hall dance (that the Airplane played the same night). The costumes were, wow! a strobe light was flickering at a very high frequency in one corner of the hall and a group of people were bouncing a golden balloon up and down in it. It was a most perturbing frequency. in one corner there was a piece of metal, tubular sculpture by Ron Boise, a thumping machine. If you hit it, you got different sounds if you hit it in different places. There was a lot of electronic equipment which sent out a low reverberation that resonated throughout the hall. and the whole place was filled with streamers and balloons. There were tV cameras and a tV screen, and you could see yourself in it. Onstage there was a rock group; anybody could play with them. It was a kind of social Jam session. a guy in a white mechanic's suit with a black cross on the front, and on the back a sign saying 'Please Don't Believe in Magic', ran up and down all night. Oh wow! Periodically the lights went out and everybody cheered. Giant Frisbees, balloons like basketballs, acrobats, girls in felt eyelashes four inches long, people with eyes painted on their foreheads, glasses low on the nose with eyes painted on them, men with foxes on their shoulders! Wow! (LSD, see Jan 15; RV, see February)
Rubber Soul
January 8 – February 18, 1966: Rubber Soul the Billboard #1 album. (see Rubber Soul for more)
We Can Work It Out
January 8 – 21, 1966, The Beatles: "We Can Work It Out" #1 on the Billboard Hot 100. (see Mar 4)
January 8 Peace Love Art Activism
Vietnam
Operation Crimp
January 8, 1966: U.S. forces launch Operation Crimp. Deploying nearly 8,000 troops, it is the largest American operation of the war. The goal of the campaign was to capture the Vietcong's headquarters for the Saigon area, which was believed to be located in the district of Chu Chi. Though the area in Chu Chi was razed and repeatedly patrolled, American forces failed to locate any significant Vietcong base. (see Jan 18)
Operation Cedar Falls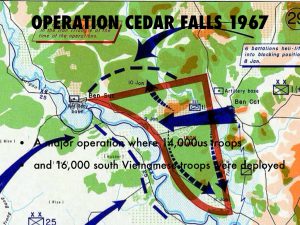 January 8, 1967: America forces begin Operation Cedar Falls, which generals intended to drive Vietcong forces from the Iron Triangle, a 60 square mile area lying between the Saigon River and Route 13. Nearly 16,000 American troops and 14,000 soldiers of the South Vietnamese Army moved into the Iron Triangle, but they encounter no major resistance. Huge quantities of enemy supplies were captured. Over 19 days, 72 Americans are killed, victims mostly of snipers emerging from concealed tunnels and booby traps. Seven hundred and twenty Vietcong are killed. (see Jan 11)
Vietman Peace Talks
January 8, 1973: North Vietnam and the United States resume peace talks in Paris. (see Jan 15)
January 8 Peace Love Art Activism
Watergate Scandal
January 8, 1973: in Washington, DC, the trial opened of seven men accused of bugging Democratic Party headquarters in the Watergate apartment complex. (see Watergate for expanded story)
January 8 Peace Love Art Activism
ADA
January 8, 1974: the People First movement began in Salem, Oregon, with the purpose of organizing a convention where people with developmental disabilities could speak for themselves and share ideas, friendship and information. (see October 1974)
January 8 Peace Love Art Activism
LGBTQ
Harvey Milk
January 8, 1978: gay activist, Harvey Milk, sworn in as a member of the San Francisco Board of Supervisors. (see Jan 10)
Mississippi
January 8, 2018:  the U.S. Supreme Court ended the first legal challenge to a Republican-backed Mississippi law that permitted  businesses and government employees to refuse to serve lesbian, gay, bisexual and transgender people because of their religious beliefs.
The justices left in place a June ruling by the New Orleans-based 5th U.S. Circuit Court of Appeals that the plaintiffs – same-sex couples, civil rights advocates including the head of the state NAACP chapter, a church and others – did not have legal standing to bring the lawsuit. (see Jan 10)
TERRORISM
Ramzi Yousef
January 8, 1998:  Ramzi Yousef sentenced to life in prison for planning the first World Trade Center bombing. (NYT article) (see Aug 7)
Gabrielle Giffords shot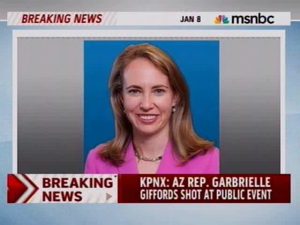 January 8, 2011: Jared Lee Loughner shot and critically wounded Rep. Gabrielle Giffords, D-Ariz. Lee opened fire as the congresswoman met with constituents in Tucson; six people were killed and 12 others were injured. (NYT article) (see May 1)
January 8 Peace Love Art Activism
Clinton Impeachment
January 8, 1999: the Senate unanimously agreed on a process for continuing the trial, but put off a decision on a key sticking point — whether to call witnesses. (see Clinton for expanded story)
January 8 Peace Love Art Activism
Sexual Abuse of Children
January 8, 2002: Vatican published guidelines on how to deal with pedophile priests, saying all cases should be reported to Rome. (see Jan 9)
January 8 Peace Love Art Activism
No Child Left Behind Act
January 8, 2002 President George W. Bush signed into law the No Child Left Behind Act, intended to improve America's educational system.
 Stop and Frisk/Fourth Amendment

January 8, 2013: Judge Shira A. Scheindlin of Federal District Court in Manhattan, said officers were routinely stopping people outside the buildings without reasonable suspicion that they were trespassing. The decision was the first federal ruling to find that the practice under the Bloomberg administration violated the Fourth Amendment protection against unreasonable search and seizure and focused on police stops conducted in front of several thousand private residential buildings in the Bronx enrolled in the Trespass Affidavit Program. Property managers in that program have asked the police to patrol their buildings and to arrest trespassers.  (S & F, see Feb 11; 4th, see Mar 24)
January 8 Peace Love Art Activism
Immigration History
El Salvadorans
January 8, 2017: government officials announced that the nearly 200,000 people from El Salvador who had been allowed to live in the United States for more than a decade must leave the country. It was the Trump administration's latest reversal of years of immigration policies and one of the most consequential to date.
Homeland security officials said that they were ending a humanitarian program, known as Temporary Protected Status, for Salvadorans who had been allowed to live and work legally in the US since a pair of devastating earthquakes struck their country in 2001.
Salvadorans were by far the largest group of foreigners benefiting from temporary protected status, which shielded them from deportation if they had arrived in the United States illegally. (see Jan 9)
Trump's Wall
January 8, 2019: President Trump made a national address  on the escalating controversy over U.S.-Mexico border wall funding, which was continued to cause a partial federal government shutdown.
House Speaker Nancy Pelosi (D-Calif.) and Senate Minority Leader Charles E. Schumer delivered a response.
(next IH & TW, see Jan 9; see TW for expanded wall chronology)
Court allows Wall funding
January 8, 2020: in a 2-1 ruling, the 5th Circuit Court of Appeals allowed the Trump administration to use a certain set of Defense Department funds for the construction of the border wall after a lower court blocked the administration from dipping into them on December 10.
The ruling marked a victory for President Donald Trump, who had sought to shore up funds for his signature border wall. The money was separate from other funds that the Supreme Court allowed to be used last year on July 26, 2019. The case was still ongoing. (next Immigration, see Jan 13; next TW see Jan 19 or see W for expanded wall chronology)
January 8 Peace Love Art Activism
Environmental Issues
January 8, 2018: federal regulators rejected a proposal by Energy Secretary Rick Perry to subsidize struggling coal and nuclear plants, in a major blow to the Trump administration's efforts to revive America's declining coal industry.
Critics argued that Mr. Perry's proposal would upend competition in the nation's electricity markets, which had been deregulated in much of the country since the 1990s and  tended to favor the lowest-cost sources of power.
Opponents of Mr. Perry's proposal had also pointed out that blackouts usually occurred because of problems with transmission lines — not because power plants had insufficient fuel on site. (see Jan 15)
January 8 Peace Love Art Activism