Beatlemania Arrives Hullabaloo Arrives
After the Beatles and Beatlemania arrived in the US in 1964, American TV producers realized that prime time musical variety shows aimed at the Boomer youth market would be a good investment.
Shindig!
Of course, Dick Clark already had his afternoon American Bandstand.  The folk craze was fading and in September 1964, ABC TV entered with it's Shindig! It succeeded. At least for awhile.
Beatlemania Arrives Hullabaloo Arrives
Hullabaloo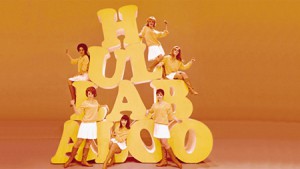 On January 8, 1965,  in response to Shindig!, NBC TV premiered Hullabaloo. The first show included performances by The New Christy Minstrels, comedian Woody Allen, actress Joey Heatherton and a segment from London in which Brian Epstein introduced The Zombies and Gerry & the Pacemakers.
Here's a retrospective on Shindig!
Beatlemania Arrives Hullabaloo Arrives
Mamas and Papas
Here's a recording of the Mamas and Papas appearance on Hullabaloo. Is the scenery of  those several bath tubs trying to tell us something?
Beatlemania Arrives Hullabaloo Arrives
Joey Heatherton
And on August 29, 1966, Hullabaloo ended. While the hunk Robert Goulet may have been OK for viewers,  the far too sexy for prime time Joey Heatherton might be sending the wrong message–for some. For others, they couldn't get enough of her message for some!
Beatlemania Arrives Hullabaloo Arrives
Ratings and opinions
But prime time TV is a difficult place for rock and roll.  Even in the mid-60s, rock's unwashed rough image was still seen as vulgar. Ironically, exactly a year later on January 8, 1966, ABC aired Shindig!'s last show.
Beatlemania Arrives Hullabaloo Arrives
Hullabaloo Departs Monkees Arrive
What was it replaced with? On September 12, 1966, enter the Monkees.
Why such short-lived runs for a shows that seemed to have such guaranteed success? It is part of TV culture to keep shows only as long as they are very successful. Mediocre ratings are rarely tolerated, particularly if someone thinks they have a better idea.
Also those pesky Beatles were changing the rules.
On the same day that Shindig! ended, the Beatles latest album, Rubber Soul, became the Billboard #1 album.
Also on the same day, those same Beatles had 

another

#1 single with We Can Work It Out.
Link with a bit more info about Hullabaloo >>> KLRU article
Beatlemania Arrives Hullabaloo Arrives