Johnny Preston Running Bear
On January 18, 1960 Running Bear by Johnny Preston became Billboard's #1 single. But before and after Running Bear…
El Paso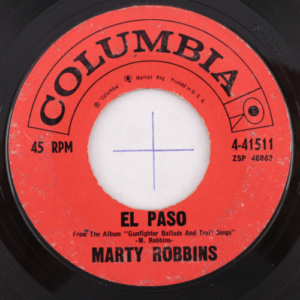 Running Bear was the second of three consecutive #1 songs in which someone died.  Preceding Running Bear,  Marty Robbins's El Paso was #1.  Grateful Dead fans are familiar with that story:
Out in the West Texas town of El Paso
I fell in love with a Mexican girl
Nighttime would find me in Rosa's cantina
Music would play and Felina would whirlBlacker than night were the eyes of Felina
Wicked and evil while casting a spell
My love was deep for this Mexican maiden
I was in love but in vain, I could tellOne night a wild young cowboy came in
Wild as the West Texas wind
Dashing and daring, a drink he was sharing
With wicked Felina, the girl that I lovedSo in anger I
Challenged his right for the love of this maiden
Down went his hand for the gun that he wore
My challenge was answered in less than a heartbeat
The handsome young stranger lay dead on the floorJust for a moment I stood there in silence
Shocked by the foul evil deed I had done
Many thoughts raced through my mind as I stood there
I had but one chance and that was to runOut through the back door of Rosa's I ran
Out where the horses were tied
I caught a good one, it looked like it could run
Up on its back and away I did rideJust as fast as I
Could from the West Texas town of El Paso
Out to the badlands of New Mexico
Back in El Paso my life would be worthless
Everything's gone in life; nothing is left
It's been so long since I've seen the young maiden
My love is stronger than my fear of death
I saddled up and away I did go
Riding alone in the dark
Maybe tomorrow, a bullet may find me
Tonight nothing's worse than this pain in my heart
And at last here I
Am on the hill overlooking El Paso
I can see Rosa's cantina below
My love is strong and it pushes me onward
Down off the hill to Felina I go
Off to my right I see five mounted cowboys
Off to my left ride a dozen or more
Shouting and shooting, I can't let them catch me
I have to make it to Rosa's back door
Something is dreadfully wrong for I feel
A deep burning pain in my side
Though I am trying to stay in the saddle
I'm getting weary, unable to ride
But my love for
Felina is strong and I rise where I've fallen
Though I am weary I can't stop to rest
I see the white puff of smoke from the rifle
I feel the bullet go deep in my chest
From out of nowhere Felina has found me
Kissing my cheek as she kneels by my side
Cradled by two loving arms that I'll die for
One little kiss and Felina, goodbye
Johnny Preston Running Bear
Running Bear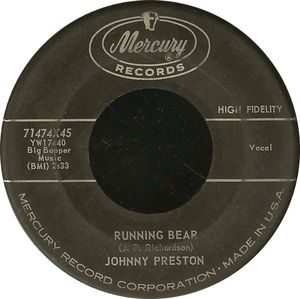 For Running Bear, the two young lovers, separated by a river that was too wide, but their love forced them to try to cross and meet.
On the bank of the river
Stood Running Bear, young Indian brave
On the other side of the river
Stood his lovely Indian maid
Little White Dove was her name
Such a lovely sight to see
But their tribes fought with each other
So, their love could never be,
Running Bear loved Little White Dove
With a love big as the sky
Running Bear loved Little White Dove
With a love that couldn't die
He couldn't swim the raging river
'Cause the river was too wide
He couldn't reach Little White Dove
Waiting on the other side
In the moonlight he could see her
Throwing kisses 'cross the waves
Her little heart was beating faster
Waiting there for her brave
Running Bear dove in the water
Little White Dove did the same
And they swam out to each other
Through the swirling stream they came
As their hands touched and their lips met
The raging river pulled them down
Now, they'll always be together
In that happy huntin' ground
The song  has some interesting trivia associated with it besides its part in a consecutive death motif. J. P. Richardson, better known as The Big Bopper, wrote it.  Richardson had a hit of his own in 1958 with "Chantilly Lace." He had died in the famous plane crash on February 3, 1959 in Clear Lake, Iowa, with Buddy Holly and Ritchie Valens.
Richardson thought the Romeo & Juliet theme of this song was too serious for him to record. He passed it on to his friend Johnny Preston, who originally was unsure about the song but others eventually persuaded him to cut it.
Richardson had done background vocals along with George Jones.
Follow Up
Preston's follow-up single, "Cradle of Love," reached No. 7 on the Billboard chart.
In 1971 Jonathan King took the "Ocka Chunka" backing and added it to the B.J. Thomas hit song "Hooked On A Feeling."
Teen Angel

Finally, the next #1 will be Mark Dinning's Teen Angel.
Teen angel, teen angel, teen angel, ooh
That fateful night the car was stalled upon the railroad track
I pulled you out and we were safe, but you went running back
Teen angel, can you hear me?
Teen angel, can you see me?
Are you somewhere up above?
And I am still your own true love?
What was it you were looking for that took your life that night?
They said they found my high school ring clutched in your fingers tight
Teen angel, can you hear me?
Teen angel, can you see me?
Are you somewhere up above?
And I am still your own true love?
Just sweet sixteen, and now you're gone
They've taken you away
I'll never kiss your lips again
They buried you today
Teen angel, can you hear me?
Teen angel, can you see me?
Are you somewhere up above?
And I am still your own true love?
Teen angel, teen angel, answer me, please
Johnny Preston Running Bear
Actual deaths
Marty Robbins died on December 8, 1982 [NYT obit], Mark Dinning died on March 22, 1986 [NYT obit], and Johnny Preston died on March 4, 2011 [NYT obit].
References >>> Song facts
Johnny Preston Running Bear