Johnny Preston Running Bear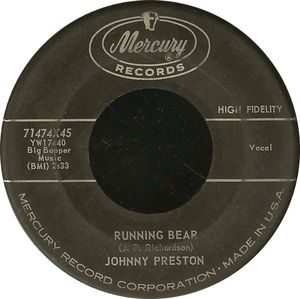 On January 18, 1960 Running Bear by Johnny Preston became Billboard's #1 single.
El Paso
Running Bear was the second of three consecutive #1 songs in which someone died.  Preceding Running Bear,  Marty Robbins's El Paso was #1.  Grateful Dead fans are familiar with that story:
From out of nowhere Felina has found me
Kissing my cheek as she kneels by my side
Cradled by two loving arms that I'll die for
One little kiss and Felina, good-bye.
Johnny Preston Running Bear
Teen Angel
The next #1 will be Mark Dinning's Teen Angel.
That fateful night the car was stalled upon the railroad track
I pulled you out and we were safe but you went running back.
Johnny Preston Running Bear
Running Bear
For Running Bear, the two young lovers, separated by a river that was too wide, but their love forced them to try to cross and meet.
Now their hands touched and their lips met
The swirling river, it pulled them down
Now they'll always be together
In their happy hunting ground
The song  has some interesting trivia associated with it besides its part in a consecutive death motif. J. P. Richardson, better known as The Big Bopper, wrote it.  Richardson had a hit of his own in 1958 with "Chantilly Lace." He had died in the famous plane crash on February 3, 1959 in Clear Lake, Iowa, with Buddy Holly and Ritchie Valens.
Richardson thought the Romeo & Juliet theme of this song was too serious for him to record. He passed it on to his friend Johnny Preston, who originally was unsure about the song but others eventually persuaded him to cut it.
Richardson had done background vocals along with George Jones.
Running Bear
Preston's follow-up single, "Cradle of Love," reached No. 7 on the Billboard chart.
In 1971 Jonathan King took the "Ocka Chunka" backing and added it to the B.J. Thomas hit song "Hooked On A Feeling."
Preston died on March 4, 2011 >>> NYT obit
References >>> Song facts
Johnny Preston Running Bear