Activist Jackie Robinson
Major league baseball has begun and today marks an important date in its history.  On April 15, 1947 Jackie Robinson became the first African-American in the major leagues when he played his first game with the Brooklyn Dodgers.
The common date for major league baseball's beginning is April 22, 1876, thus it had been 71 years that major league baseball was segregated.
Activist Jackie Robinson
Jack Roosevelt Robinson
Jack Roosevelt Robinson was born on January 31, 1919, in Cairo, Georgia.
Robinson's older brother, Matthew won a silver medal in the 200-meter dash—just behind Jesse Owens—at the 1936 Olympic Games in Berlin.
Activist Jackie Robinson
College
Jackie attended  Pasadena Junior College and played four sports: football, basketball, track, and baseball. In 1938 he was named the region's Most Valuable Player in baseball.
From Pasadena, Robinson went to UCLA. He was the first student there to letter in four sports. (read about him scoring against Oregon in 1939 >>> Robinson scores for UCLA)
Financial difficulties forced him to leave UCLA in 1941.
Activist Jackie Robinson
World War II
He briefly played semi-professional football in Hawaii, but the US entry into World War II ended that stint.
In 1942, Robinson was drafted. He was qualified for and applied to Officer Candidate School (OCS). Technically OCS was race-neutral, but in reality few Black applicants were ever accepted.   There was a long delay and only after protests and outside help were Robinson and other qualified Black applicants accepted.
Robinson was commissioned as a second lieutenant in January 1943.
Activist Jackie Robinson
Military discrimination
On July 6, 1944, he boarded an Army bus. Technically it was not segregated, but like the OCS, in reality it was. The bus driver ordered Robinson to move to the back of the bus. Robinson refused and remained in his selected seat.
Military police took Robinson into custody. A court-martial was threatened, he was charged with drunkenness (Robinson didn't drink), and was the subject of racist interrogation.
By the time of the court-martial in August 1944, the charges against Robinson had been reduced to two counts of insubordination during questioning and he was acquitted by an all-white panel of nine officers.
While serving out the rest of his time at Camp Breckinridge, Kentucky [as a coach for army athletics], Robinson met a former player for the Kansas City Monarchs of the Negro American League. The player encouraged Robinson to write the Monarchs and ask for a tryout. Robinson did and in early 1945 [after Robinson had received an honorable discharge in November 1944] the Monarchs sent a offer to Robinson.
Activist Jackie Robinson
Kansas City Monarchs
While with the Monarchs in April that season he attended a try-out for the Boston Red Sox, but even with only management in the stands he was the subject of racial epithets. (>>> 1945-04-17 try out)  [It wouldn't be until July 1959 that the Red Sox integrated its roster–the last team to do so.]
Branch Rickey, club president and general manager of the Brooklyn Dodgers, began to scout the Negro leagues. On August 28, 1945, Rickey  and Robinson met. Rickey's main concern was that Robinson would not take the bait when insulted by fan and, likely, by players. 
Activist Jackie Robinson
Montreal Royals
On April 18, 1946, Jackie Robinson debuted with the Montreal Royals. In five at-bats he hit a three-run homer and three singles, stole two bases, and scored four times, twice by forcing the pitcher to balk.
It still took the Dodgers a year before they brought him up to the majors.
Activist Jackie Robinson
Brooklyn Dodgers
That April 15, 1947, Robinson, already 28 years old, did not duplicate that first day with the Royals.  He failed to get a base hit, but walked once,  and scored a run in the Dodgers' 5–3 victory.
Jackie Robinson faced challenges both from other teams and his own. At one point, manager Leo Durocher warned the team "I do not care if the guy is yellow or black, or if he has stripes like a fuckin' zebra. I'm the manager of this team, and I say he plays. What's more, I say he can make us all rich. And if any of you cannot use the money, I will see that you are all traded."
The St. Louis Cardinals, threatened to strike if Robinson played. A high slide gave him a seven-inch gash in his leg. Philadelphia Phillies players and their manager Ben Chapman called Robinson a "nigger" from their dugout.
Activist Jackie Robinson
Rookie of the Year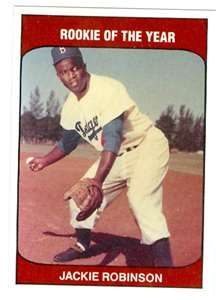 Despite those experiences and others like them, Robinson's year was a great one. He earned him the inaugural Major League Baseball Rookie of the Year Award. 
He played for 10 years and his career statistics earned him entrance into Baseball's Hall of Fame in 1962 [Baseball Ref dot com]
He was an All-Star six times

He was the MVP in 1948

He had a career batting average of 311
Activist Jackie Robinson
Retirement , Hall of Fame, and Early Death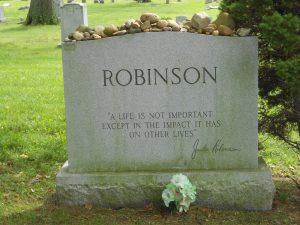 Robinson retired from baseball at age 37 on January 5, 1957 and continued to be a civil rights activist, albeit a conservative one at times, with the NAACP, a voice for black in politics both nationally and locally.
In 1962, his first year of eligibility, he was inducted in the Baseball Hall of Fame, the first black person to be inducted.
He was an analyst for ABC's Baseball Game of the Week in 1965, and in 1966 he became the general manager of the Brooklyn Dodgers, a Continental Football League team. 
In 1972 he was a part-time analyst for the Montreal Expos.
Complications from heart disease and diabetes weakened Robinson and made him almost blind by middle age.  He died on October 24, 1972 of a heart attack at his home on in North Stamford, Connecticut; he was 53 years old.
Activist Jackie Robinson
Continued Cultural Ignorance
On August 6, 1987, 40 years after Jackie Robinson was finally given the chance to play baseball, ABC network Nightline anchorman Ted Koppel asked Al Campanis, who had played alongside Robinson and was the general manager of the Los Angeles Dodgers at the time, why  there had been few black managers and no black general managers in Major League Baseball.
Campanis's reply was that blacks "may not have some of the necessities to be, let's say, a field manager, or, perhaps, a general manager" for these positions. Elsewhere in the interview he said that blacks are often poor swimmers "because they don't have the buoyancy."
A protest erupted and he resigned two days later.
Activist Jackie Robinson
Legacy
In 1997, Major League Baseball retired his uniform number 42 across all major league teams; he was the first pro athlete in any sport to be so honored.  The MLB also adopted a new annual tradition, "Jackie Robinson Day", for the first time on April 15, 2004, on which every player on every team wears No. 42.
The main aim of today's blog entry is to point out the importance of today's date for baseball, for Jackie Robinson, and for us as Americans.
Decades after Capanis's ignorant remark, we are still too often surrounded by racist statements by those who should have learned their history better.
Activist Jackie Robinson