Eric Andersen Blue River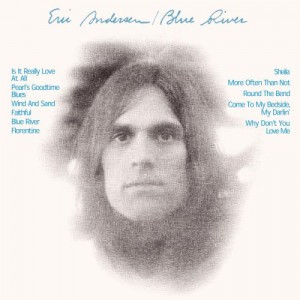 Though released in February 1972, Eric Andersen's Blue River is a January album for my wife and me. In our home, 1972 was both vinyl and 8-track. The vinyl remains, the 8-track disintegrated long ago.
January 1973 was the due date for our first child. On our pre-dawn drive to the hospital we slipped "Blue River" into our car's portable 8-track player.  As we turned onto the highway the album's third track came on: Wind and Sand.
All alone a father sits
thinking of his son
Far away a mother sleeps
Rain and wood and fire and stone
magic all across the land
Seasons come and times will go
right through your hand,
like wind and sand
In awhile a child will grow
a bird will learn to fly
Pretty soon a child will know
what it is to make a life
Long before the river goes
far from where it was
Long before it meets the sea
a child will know of love
Eric Andersen Blue River
A Child Will Know of Love
While not literally describing our life at that moment, it was close enough to always remember. Later that day our son was born.
Blue River , Andersen's  8th album, remains his best known and most successful. Unfortunately, Columbia lost the master tapes of his next album. It was three years before his "next" album and by then Blue River's momentum was gone.
And it was not until 1990 that the tapes to that 1972 follow-up were found.  Columbia released Stages: The Lost Tapes album was released in April 1991.
Eric Andersen Blue River
Greenwich Village
Andersen was part of the original Greenwich Village folk scene in the early sixties and eventually moved to Woodstock, NY in the mid-70s. I've often wondered,  but never found an answer, why Woodstock Ventures did not include him on their invitation list.
Bob Dylan (as often the case) had led the way to recording in Nashville by previously recording his John Wesley Harding (1967) and Nashville Skyline  (1969) there.
Among the many musicians who were on Andersen's  album were Joni Mitchell (sang on the title track), David Bromberg, David Briggs, Norman Putman, Eddie Hinton, Kenneth Buttrey, and the Jordanaires.
Eric Andersen Blue River
Tracks
The track listing for the original album (2 additional tracks were later added for a CD release) is as follows. Anderson wrote all songs except where indicated:
"Is It Really Love at All"

"Pearl's Goodtime Blues"

"Wind and Sand"

"Faithful"

"Blue River"

"Florentine"

"Sheila"

"More Often Than Not" (D Wiffen)

"Round the Bend"
While Andersen was not part of the Woodstock Music and Art Fair, he was part of the famous movable festival known as the Festival Express.
Eric Andersen continues to regularly tour in the US and Europe and release albums. ( Eric Andersen site)
On May 1, 2015, singer-songwriter Eric Andersen performed in concert with Michele Gazich (violin) as part of the Tanger Performance Arts Festival hosted at the University's New England campus in Tangier.
---
Eric Andersen Blue River