Charles Hardin Buddy Holly
September 7, 1936 – February 3, 1959
When we boomers fell in love with the Beatles and enthusiastically poured more gasoline on Beatlemania's already raging conflagration, we congratulated ourselves on finding such wonderful new music.
Ah, youth! forever dear, forever kind.
And forever naive.
Charles Hardin Buddy Holly
American music
The Beatles, of course, like most of the world's young people who loved rock and roll, fell in love with American rock music: the descendant and combination of the blues, country, and gospel music. I imagine that John, Paul, George, and Ringo were a bit dumbfounded to hear our discovery of their "new" music. They knew that they were doing their best to come up with something new, yes, but thoroughly based on the American music they so loved.
Like that of Charles Hardin Buddy Holly.
Charles Hardin Buddy Holly
Buddy Holly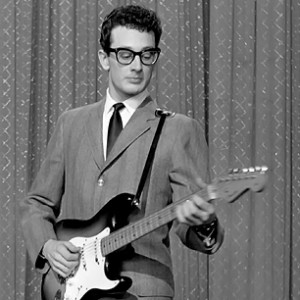 Charles Hardin Holley was born on September 7, 1936  in Lubbock, Texas and played several instruments as a child, but it was the guitar that he settled on.
And he dropped the e from his last name.
He and his band, the Western and Bop Band, performed throughout the southwest. Nashville's Decca Records signed Holly: Buddy Holly and the Two Tunes, later Buddy Holly and the Three Tones.
Charles Hardin Buddy Holly
Success then release
Decca released a few singles before dropping the band. Holly and his band mates returned to Lubbock. During this time Holly developed his singer-songwriter skills and the band became a local favorite to open for touring musicians. The most important gig was opening for Elvis. That experience shifted Holly to rock and roll.
Charles Hardin Buddy Holly
Norman Petty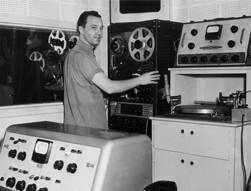 On February 25, 1957 Buddy Holly and the Crickets were in Norman Petty's Clovis, NM studio. They recorded another version of: "That'll Be the Day."
Charles Hardin Buddy Holly
Peggy Sue
The song attracted national attention and a national tour. "Peggy Sue" was a #3 hit here and a hit in the UK where young musicians like John, Paul, George, and Ringo were just starting out. A 1958 tour in England gave Holly and even bigger presence there.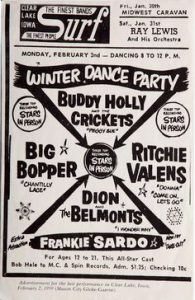 It was while on the 1958 Winter Dance Party Tour that Holly decided to take the plane and not the bus.
On February 3, 1959 that plane crashed just outside Mason City, Iowa killing all on board including the Big Bopper and Richie Valens.
Charles Hardin Buddy Holly
Quarrymen
Holly's influence continued beyond his death. The Quarrymen eventually changed their name to the Beatles in homage to Holly's Crickets. They also slowly developed their own singer-songwriter abilities, the hallmark of the most successful musicians whom the 1960s–and beyond–produced.
Charles Hardin Buddy Holly