September 14 Peace Love Art Activism
BLACK HISTORY
Battle of Liberty Place
September 14, 1874: a battle took place in the streets of New Orleans. In it, the Democratic-Conservative White League attacked the Republican Metropolitan Police for control of the city and to put an end to Reconstruction in Louisiana.
Although the White League inflicted a stunning defeat on the Metropolitans and forcibly deposed Governor William Pitt Kellogg, its victory proved short-lived. President Ulysses S. Grant ordered the army to reinstate Kellogg three days later. Quickly dubbed "The Battle of Liberty Place" by the White League and its supporters, the clash not only marked a crucial turning point in the balance of power during Reconstruction in Louisiana, it served as a defining moment for a generation of elite, young white men in New Orleans. [Know Louisiana article] (see Dec 7)
James C Anderson
September 14, 201: the sister of a James C Anderson (see June 26, 2011), asked prosecutors not to pursue the death penalty against anyone accused of her brother's murder. [CNN story]  (JCA, see March 22, 2012; BH, see Sept 21)
September 14 Peace Love Art Activism
Anarchism in the US
President McKinley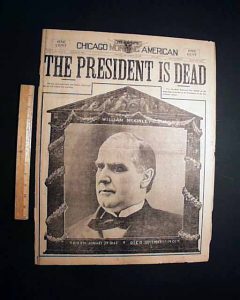 September 14, 1901: President McKinley died of a gangrenous infection stemming from his (Sept 6) wounds. (NYT article) (see Sept 24, 1901)
Eugene V. Debs
September 14, 1918: in Cleveland Eugene V. Debs was sentenced to 10 years' imprisonment for violating the Espionage Act. [text of Debs's statement] (see Oct 16; Debs, see March 10, 1919)
September 14 Peace Love Art Activism
September 14 Music et al
September 14, 1955: after some lyric adjustments (such as from "Tutti frutti, good booty" to "Tootie frutti, all rooty"), Little Richard recorded Tutti Frutti.
Bob Dylan
September 14, 1961: Dylan met John Hammond at a rehearsal session for Carolyn Hester at the apartment shared by Hester and her then-husband, Richard Fariña.
Hester had invited Dylan to the session as a harmonica player, and Hammond approved him as a session player after hearing him rehearse, with recommendations from his son, musician John P. Hammond, and from Liam Clancy. (see Sept 26)
September 14, 1969: the Toledo Pop Festival held at Toledo Raceway Park. Performers were:
Turtles

MC5

Amboy Dukes

Alice Cooper

Frost

SRC

Pleasure Seekers

Rationals

Savage Grace

Rush

Frut

Live
(see Oct 4)
September 14 Peace Love Art Activism
Space Race
Luna 2
September 14, 1959: the Soviets' Luna 2 successfully crash-landed on the moon, becoming the first man-made object to reach another planetary body. (Techzibits article) (see Oct 4)
Zond 5
September 14, 1968: the Soviet Union sent Zond 5 around the moon and back to Earth in an unmanned test of their circumlunar spacecraft. The craft carried tortoises, "wine flies, meal worms, plants, seeds, bacteria, and other living matter." (Atlantic article) (see Oct 11 – 12)
September 14 Peace Love Art Activism
US Labor History
Landrum-Griffin Act

September 14, 1959: President Eisenhower signed the Labor-Management Reporting and Disclosure Act, also known as the Landrum-Griffin Act. The law addressed the union corruption uncovered by Senator John L. McClellan. It held labor leaders to stricter standards in handling union funds and required them to file annual reports. [US DoL article] (see March 16, 1960)
César E. Chávez
September 14, 1970: Courts ruled that Chávez was leading an illegal strike because it involved a jurisdictional dispute between two unions.  (see Oct 8, 1970)
Dolores Huerta
September 14, 1988: during a peaceful and lawful protest of the policies/platform of then-candidate for president George H.W. Bush, San Francisco Police officers severely beat Huerta resulting in several broken ribs and necessitating the removal of her spleen.
Huerta won a large judgment against the SFPD and the City of San Francisco, the proceeds of which were used for the benefit of farm workers.  [SF Gate article] (see November 12, 1990)
September 14 Peace Love Art Activism
Jack Kevorkian
September 14, 1995: Kevorkian arrived at the Oakland County Courthouse in Pontiac, Michigan in homemade stocks with ball and chain. He is ordered to stand trial for assisting in the 1991 suicides of Sherry Miller and Marjorie Wantz. (see Kevorkian for expanded story)
September 14 Peace Love Art Activism
TERRORISM
September 14, 2010: Umar Farouk Abdulmutallab  dismissed his court-appointed defense team to defend himself. The court subsequently appointed Anthony Chambers to act as standby counsel. [NPR article] (Terrorism, see Nov 17; Abdulmutallab, see October 12, 2011)
LGBTQ
Kim Davis
September 14, 2015: (from the NYT) Undaunted in her religious faith but facing the specter of another courtroom reckoning, Kim Davis, the Rowan County clerk, who was jailed for defying a federal judge's order that she issue marriage licenses, said Monday that she would not stop her employees from processing licenses for same-sex couples.
But the condition that Ms. Davis attached to her admittedly makeshift solution — that the licenses would lack her authorization — was an indication that her protracted legal and political battles would not go away soon. Ms. Davis's strategy could spur new litigation to challenge the licenses, and it was unclear how Judge David L. Bunning of Federal District Court, who jailed Ms. Davis on Sept. 3, would respond. (see Sept 15)
Atlantic Coast Conference
September 14, 2016: the Atlantic Coast Conference announced that it would move neutral-site championships for this academic year, including its football title game in December and its women's basketball tournament in March, out of North Carolina in reaction to a state law that curbed anti-discrimination protections for lesbian, gay, bisexual and transgender people. [Washington Post article] (LGBTQ, see Sept 30; NC, see Dec 22)
September 14 Peace Love Art Activism
Immigration History
September 14, 2017: President Trump confirmed that he supported legislation that would protect young undocumented immigrants from deportation and would deliver a "massive" increase in border security — but not with a wall on the southern border.
Mr. Trump's comments, both in Washington and in Florida, affirmed the broad parameters of an agreement that Democratic leaders unilaterally announced the previous night after dinner with the president at the White House.
In remarks to reporters as he left the White House, Mr. Trump said, "We're working on a plan for DACA," referring to protections for immigrants who are part of the Deferred Action for Childhood Arrivals program. He confirmed, "the wall will come later." [NYT article] (see Sept 16)
September 14 Peace Love Art Activism
Environmental Issues
September 14, 2020:  NPR reported that with wildfires devastating the West and a hurricane bearing down on the Gulf Coast, President Trump, who had for years mocked and denied the reality of climate change, attended a briefing on the status of fires in California.
During his briefing, which included California Democratic Gov. Gavin Newsom, officials repeatedly invoked climate change and its impact on the state's ability to manage the raging infernos.
Still, even as more than two dozen wildfires roared across California alone, Trump declined to acknowledge the role climate change likely played in fueling the flames   (next EI, see Sept 25)
September 14 Peace Love Art Activism
September 14 Peace Love Art Activism, September 14 Peace Love Art Activism, September 14 Peace Love Art Activism, September 14 Peace Love Art Activism, September 14 Peace Love Art Activism, September 14 Peace Love Art Activism, September 14 Peace Love Art Activism, September 14 Peace Love Art Activism, September 14 Peace Love Art Activism,