November 12 Peace Love Art Activism
Black History
George Washington, Slaves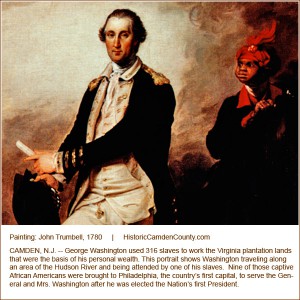 November 12, 1775: General Washington, owner of more than 300 slaves, issued an order which forbade recruiting officers to enlist blacks. [Mt Vernon site article] (see July 2, 1777)
Ernest Collins & Benny Mitchell lynched
November 12, 1935:  two teenage black boys – fifteen-year-old Ernest Collins and sixteen-year-old Benny Mitchell – were killed in Colorado County, Texas, in a public spectacle lynching committed by a mob of at least 700 white men and women. Afterward, officials called the lynching "justice," and no one in the mob was punished.  [EJI article] (next BH, see February 14, 1936; next Lynching, see April 28, 1936; for expanded chronology of lynching, see also AL4)
Race Revolt
November 12, 1976: a race revolt erupted at Reidsville State Prison, now known as Georgia State Prison, in Reidsville, Georgia. Just a few years prior, a federal judge had ordered the prison to desegregate inmate living quarters. According to newspaper reports at the time, the riot began when 50-75 white prisoners armed with shanks attacked a group of black prisoners; in the end, 47 prisoners were injured and five were killed. Prison officials blamed the incident on an argument between homosexual inmates.
In 1968, the U.S. Supreme Court struck down the Georgia state law requiring racial separation of prisoners at Reidsville (where 60-65% of prisoners were black). However, after an initial attempt at integration, the prison had repeatedly reverted to segregation in supposed efforts to cool racial tensions. At the time, ACLU of Georgia Director Gene Guerrero remarked, "It's the worst sort of cop-out – to lay the problems at Reidsville on integration."
Following the November 1976 riot and several other incidents of deadly violence, U.S. District Judge Anthony Aliamo issued an order on July 3, 1978, to re-segregate dormitories at Reidsville for a period of 60 days. The common areas, such as the mess hall and recreation yard, were to remain integrated. When another deadly racial attack occurred in August 1978, the state successfully sought an extension of the re-segregation order, resulting in eight months of segregated dorms. At the time, Commissioner of the Georgia Department of Offender Rehabilitation said that he thought the prison would have a "hard time going back" to integrated dormitories. (BH, see Nov 25; RR, see May 17, 1980)
BLACK & SHOT
November 12, 2016: the judge in the Samuel DuBose case (see July 19, 2015) declared a mistrial after the jury became deadlocked.  [2018 CT article] (B & S, see January 24, 2017; DuBose, see July 18, 2017)
Colin Kaepernick
November 12, 2019: according to a copy of a memo to the league's 32 teams that was reviewed by The New York Times, the NFL invited Colin Kaepernick to work out for teams on November 16 at the Atlanta Falcons' facility so they could evaluate whether to sign him.
"Earlier this year, we discussed some possible steps with his representatives, and they recently emphasized his level of preparation and that he is ready to work out for clubs and be interviewed by them," the memo said. "We have therefore arranged this opportunity for him to work out, and for all clubs to have the opportunity to evaluate his current readiness and level of interest in resuming his N.F.L. career." (next BH & CK, see Nov 16)
Noah Harris/Harvard
November 12, 2020: Noah Harris became the first Black, elected student body president at Harvard University.
Harris, a 20-year-old from Hattiesburg , Mississippi was a junior  majoring in government and co-chaired the Undergraduate Council's Black caucus.
Two other Black students had previously headed Harvard's Undergraduate Council, but Harris is the first Black man to be elected by the student body. [KB4 article] (next BH, see Nov 23)
November 12 Peace Love Art Activism
Immigration History
Ellis Island
November 12, 1954: Ellis Island closed after processing more than 20 million immigrants since opening in New York Harbor in 1892. (NYT article) (see June 17, 1958)
November 12 Peace Love Art Activism
November 12 Music et al
 News Music
November 12, 1966: deejay Jimmy O'Neill was the host of  Shindig! He opened a nightclub called Pandora's Box on the Sunset Strip. This led to massive throngs of teens and traffic on the strip, and Los Angeles city enacted a series of loitering and curfew laws targeting teenagers. Young people gathered at Pandora's Box to defy the 10pm curfew. The riots kept growing, and the panicked L.A. City Council quickly moved to condemn and demolish Pandora's Box, which they ultimately did in 1967. The incident inspired a number of songs in 1967 and see Sunset Riots:
"For What It's Worth" by Buffalo Springfield
"Plastic People" by Frank Zappa & The Mothers of Invention
"Daily Nightly" by The Monkees
"Riot on Sunset Strip" by The Standells
 Poor Side of Town
November 12 – 18, 1966: "Poor Side of Town" by Johnny Rivers #1 on the Billboard Hot 100.
The Monkees
November 12, 1966 – February 10, 1967: The Monkees' The Monkees the Billboard #1 album.
Bob Dylan
November 12, 1971: recorded on November 4, Columbia Records released Dylan's single, "George Jackson."  He wrote it in tribute to the Black Panther leader, George Jackson, who had been shot and killed by guards at San Quentin Prison on August 21, 1971, during an attempted escape from prison.
The song peaked at #33 on the Billboard charts and remained on the charts for 7 weeks.
He recorded both an acoustic and an electric version.  (next Dylan, see July 15, 1972)
November 12 Peace Love Art Activism
Free Speech
Religion & Public Education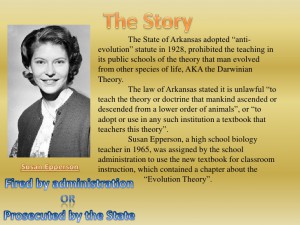 November 12, 1968: in Epperson v. Arkansas, the US Supreme Court struck down an Arkansas state law that prohibited the teaching of Darwinian evolution. The Court argued that the First Amendment required government neutrality on questions of religion and overturned the Arkansas State Supreme Court, which had ruled that the state's law represented a legitimate exercise of its authority to determine school curriculum.
Justice Fortas wrote, "The State's undoubted right to prescribe the curriculum for its public schools does not carry with it the right to prohibit, on pain of criminal penalty, the teaching of a scientific theory or doctrine where that prohibition is based upon reasons that violate the First Amendment." The two other members of the Court concurred in the result, writing that it violated either the Due Process clause of the 14th Amendment (because it was unconstitutionally vague) or the Free Speech clause of the First Amendment. (FS, see April 4, 1969; R & PE, see June 28, 1971)
November 12 Peace Love Art Activism
Vietnam & My Lai Massacre
November 12, 1969: the Dispatch News Service moved a story by investigative journalist Seymour Hersh about the My Lai massacre. (Vietnam, see Nov 13;  see My Lai for expanded story)
November 12 Peace Love Art Activism
Feminism/US Labor History
November 12, 1973: in the case of Laffey v. Northwest, decided on this day, stewardesses employed by Northwest Airlines won a sweeping ruling regarding sex discrimination over issues related to unequal pay, the lack of promotions, unequal benefits compared to male employees, and weight monitoring for stewardesses. The job of stewardess was a separate all-female job category, and women were forced to retire in their early 30s, not allowed to be married, and subject to monitoring of their weight. (next Feminism, see January 21, 1974;  Labor, see March 24, 1974)
Church of England
November 12, 1981: The Church of England General Synod voted to admit women to holy orders. [UPI article] (see June 30, 1982)
November 12 Peace Love Art Activism
Iran hostage crisis
November 12, 1979: in response to the hostage situation in Tehran, U.S. President Jimmy Carter ordered a halt to all oil imports into the United States from Iran. [CNN timeline of crisis] (see Nov 14)
November 12 Peace Love Art Activism
Crime and Punishment
November 12, 1984: in Charlotte, North Carolina Dethorne Graham, a black man and a diabetic, felt an insulin reaction developing and asked a friend named William Berry to drive him to a convenience store to purchase orange juice to counteract the reaction. When Graham entered the store he discovered a long line of people ahead of him. He realized it might take too long to purchase the juice so he hurried back outside where Berry was waiting in his car. Graham then asked Berry to drive him to another friend's house where he hoped to get some juice.
M.S. Connor, a Charlotte city police officer was sitting in a patrol car in the vicinity of the convenience store. He became suspicious when he saw Graham quickly enter and leave the convenience store. He followed Berry's car and made an "investigative stop" of the two Black men. Connor then returned to his patrol car to call for backup. While Connor was making the call, Graham got out of Berry's car, "ran around it twice, and finally sat down on the curb." Then he passed out.
According to testimony, when the backup police arrived at the scene, one of the officers rolled Graham over on the sidewalk and cuffed his hands tightly behind his back. Berry plead with the officers to get Graham some sugar, but was ignored. Another officer said: "I've seen a lot of people with sugar diabetes that never acted like this. Ain't nothing wrong with the M. F. but drunk. Lock the S.O.B. up."
Several police officers lifted the unconscious Graham up, carried him over to Berry's car, and placed him face down on the hood. When he regained consciousness, Graham asked the officers to look at the diabetic decal he carried in his wallet. In response, according to witness testimony, one of the officers told Graham to "shut up" and shoved his face down against the car. Next, four police officers threw Graham head first into a police car. When one of Graham's friends brought him some orange juice, the police officers would not give it to him.
When Officer Connor finally realized that nothing had happened in the convenience store, he released Dethorne Graham from custody. However, during his encounter with the police, Graham sustained multiple injuries including a broken foot, cuts on his wrists, a bruised forehead, and an injured shoulder. (C & P and Graham, see July 11, 1985)
November 12 Peace Love Art Activism
Calvin Graham
November 12, 1988: President Reagan signed legislation that granted Calvin full disability benefits, increased his back pay to $4917, and allowed $18,000 for past medical bills, contingent on receipts for the medical services. By this time, some of the doctors who treated him had died and many medical bills were lost. Calvin received only $2,100 of the possible $18,000. (Calvin Graham for full story)
November 12 Peace Love Art Activism
César E. Chávez
November 12, 1990:  Mexican President Salinas de Gortari awarded  Chávez the Aguila Azteca, the highest Mexican civilian award. (see April 23, 1993)
Terrorism, World Trade Center
November 12, 1997:  Ramzi Yousef was found guilty of masterminding the 1993 World Trade Center bombing. (NYT article) (see January 8, 1998)
November 12 Peace Love Art Activism
AIDS, Ricky Ray
November 12, 1998: the U.S. Congress enacts the Ricky Ray Hemophilia Relief Fund Act, honoring the Florida teenager who was infected with HIV through contaminated blood products. The Act authorized payments to individuals with hemophilia and other blood clotting disorders who were infected with HIV by unscreened blood-clotting agents between 1982 and 1987. (Federal site info) (see April 30, 2000)
November 12 Peace Love Art Activism
ADA
November 12, 1999: a U.S. District Court judge issued an emergency court order telling the Lawton, Oklahoma, Evening Optimist Soccer League to allow Ryan Taylor, a nine-year-old with cerebral palsy, to play in the league. His walker, referred to as a safety hazard by the defendants, was padded during games. (see Dec 17)
November 12 Peace Love Art Activism
LGBTQ
Same-sex Marriage
November 12, 2008, LGBT: same-sex marriages begin to be officially performed in Connecticut. (NYT article) (see January 1, 2009)
Don't Ask, Don't Tell
November 12, 2010: The US Supreme Court refused to intervene on the Don't Ask, Don't Tell policy while it was on appeal in the US Court of Appeals for the Ninth Circuit. (NYT article) (see Nov 30)
Banning Marriage Equality
November 12, 2014: U.S. District Judge Richard Mark Gergel ruled against South Carolina's constitutional amendment banning marriage equality.  In Condon v. Haley, Lambda Legal and private attorneys sued the state on behalf of same-sex couples who argued that South Carolina's ban on marriage equality violated the U.S. Constitution.  In his ruling, Judge Gergel cited the Fourth Circuit Court of Appeals' ruling in Bostic v. Shaeffer, in which the federal appeals court struck down Virginia's ban on marriage for same-sex couples. The Fourth Circuit ruling in Bostic was binding precedent on South Carolina. (NYT article) (LGBTQ, see Nov 19; South Carolina, see Nov 20)
November 12 Peace Love Art Activism
Medical marijuana
November 12, 2013:  a University of Utah neurologist and two other Utah doctors announced their support for allowing a medical use of a marijuana extract for children who suffer from seizures. In a letter sent to the state Controlled Substances Advisory Committee on Tuesday, pediatric neurologist Dr. Francis Filloux said the liquid form of medical marijuana is a promising option for children with epilepsy.  [SLC article] (see Dec 10)
November 12 Peace Love Art Activism
Fair Housing & Consumer Protection
November 12, 2015: a proposed federal rule announced on this date would prohibit smoking in public housing homes nationwide under, a move that would affect nearly one million households and open the latest front in the long-running campaign to curb unwanted exposure to secondhand tobacco smoke.
The ban, by the Department of Housing and Urban Development, would also require that common areas and administrative offices on public housing property be smoke-free.  [NYT article] (FH, see January 20, 2017; CP, see May 5, 2016)
November 12 Peace Love Art Activism
Nuclear/Chemical News
November 12, 2018:  commercial satellite images showed that North Korea was moving ahead with its ballistic missile program at 16 hidden bases that had been identified to American intelligence agencies but left undiscussed as President Trump claimed to have neutralized the North's nuclear threat.
The satellite images suggested that the North had been engaged in a great deception: It had offered to dismantle a major launching site — a step it began, then halted — while continuing to make improvements at more than a dozen others that would bolster launches of conventional and nuclear warheads.
The existence of the ballistic missile bases, which North Korea had never acknowledged, contradicted  Trump's assertion that his landmark diplomacy is leading to the elimination of a nuclear and missile program that the North had warned could devastate the United States. [NYT article] (see Dec 4)
November 12 Peace Love Art Activism
Sexual Abuse of Children
November 12, 2018: the NY Times reported that Roman Catholic bishops of the United States came to a meeting in Baltimore prepared to show that they could hold themselves accountable, but in a last-minute surprise, the Vatican instructed the bishops to delay voting on a package of corrective measures until next year, when Pope Francis plans to hold a summit in Rome on the sexual abuse crisis for bishops from around the world.
Many of the more than 350 American bishops gathered in Baltimore appeared stunned when they learned of the change of plans in the first few minutes of the meeting.
"I am sorry for the late notice, but in fact, this was conveyed to me late yesterday afternoon," said Cardinal Daniel DiNardo of Houston, the president of the United States Conference of Catholic Bishops. "Although I am disappointed, I remain hopeful that this additional consultation will ultimately improve our response to the crisis we face." (see Dec 19)
November 12 Peace Love Art Activism