May 5 Peace Love Art Activism
Native Americans
Sitting Bull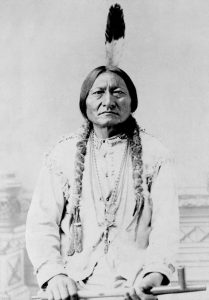 May 5, 1877: nearly a year after the Battle of the Little Big Horn, Sitting Bull and a band of followers abandoned their traditional homeland in Montana and went north across the border into Canada hoping to find safe haven from the U.S. Army. Sitting Bull and his band stayed in the Grandmother's Country-so called in honor of the British Queen Victoria-for the next four years. (Canadian Encyclopedia article) (see Oct 5)
May 5

Peace Love Art Activism
Cultural Milestone
May 5, 1891: Carnegie Hall (then named Music Hall) opened in New York City.  (Carnegie Hall dot org article) (see June 9, 1902)
Roots of Rock
May 5, 1956:  Elvis Presley's album "Elvis" went to #1 on the Billboard chart. It was the first Rock and Roll album to ever reach #1. It stayed there for 10 weeks and it was also the first Rock and Roll LP to sell one million copies. (see June 2)
The Beatles
May 5, 1960: The Quarry Men became The Silver Beetles. (see May 10)
The Shirelles
May 5 – 25, 1962: "Soldier Boy" by The Shirelles #1 Billboard Hot 100.
West Side Story
May 5 – June 22, 1962: soundtrack to West Side Story was the Billboard #1 album.
Dick Rowe
May 5, 1963: on a recommendation by George Harrison, Dick Rowe Head of A&R at Decca records, (and the man who turned down The Beatles), went to see The Rolling Stones play at Crawdaddy Club, London. The band were signed to the label within a week. (see May 7)
Grateful Dead
May 5, 1965: the Warlocks  played their first show at Magoo's Pizza Parlor in Menlo Park, California. (see Nov 27)
Roots of Rock
May 5, 1986: it was announced that Cleveland had been chosen as the city where the Rock & Roll Hall of Fame would be built. (see May 7, 1991)
May 5

Peace Love Art Activism
Immigration History
Chinese Exclusion Act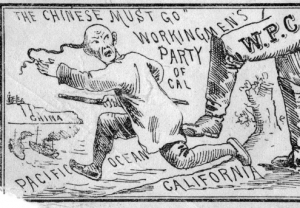 May 5, 1892: four years after its enactment, the US Congress extended the Chinese Exclusion Act (May 6, 1882) for 10 more years. (text via Our Documents) (IH, see March 28, 1898 ; Act, see December 17, 1943)
May 5

Peace Love Art Activism
US Labor History
Milwaukee Iron Co Massacre
May 5, 1896: approximately 14,000 building trades workers and laborers, demanding an 8-hour work day, gathered at the Milwaukee Iron Co. rolling mill in Bay View, Wisc. When they approached the mill 250 National Guardsmen, under orders from the governor to shoot to kill, fired on them. Seven die, including a 13-year-old boy.  (Wisconsin Labor History Society article) (see January 26, 1897)
May 5

Peace Love Art Activism
Birth Control
Emma Goldman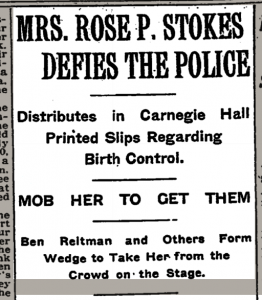 May 5, 1916: recently released from prison for speaking about birth control, Goldman spoke at a birth control meeting at Carnegie Hall, NYC.  After the meeting, Rose Stokes stood on the stage and distributed birth control information. (see Goldman for expanded story)
May 5

Peace Love Art Activism
BLACK HISTORY
Eugene Bullard
May 5, 1917: Eugene Bullard became the first African-American combat pilot. Bullard, who came to France to escape racism, served in the French Flying Corps. After the United States joined the war, he attempted to join the U.S. military but was barred because of race. He became one of France's most decorated war heroes, earning the French Legion of Honor. (Georgia Encyclopedia article) (see May 28)
SCOTTSBORO BOYS
May 5, 1933: Ruby Bates, one of the two girls who initially claimed to have been raped by the "Scottsboro Boys" and appeared as a defense witness, declared at a public appearance the "the Scottsboro boys are innocent." (see Scottsboro for expanded story)
California Bans Interracial Marriages
May 5, 1943: a new law went into effect in California, requiring that all marriage licenses indicate the race of the parties to be married. This law, passed unanimously by the all-white, all-male state legislature, was designed to help the state enforce its existing ban on interracial marriage. As California law declared at that time: "no license may be issued authorizing the marriage of a white person with a Negro, mulatto, Mongolian, or member of the Malay race." Any interracial couple who defied the statute, or any clerk who provided a marriage license to an interracial couple, faced a fine of up to $10,000 or up to 10 years in prison. [EJI article] (next BH, see May 8)
Malcolm X
May 5, 1962: Malcolm X speech, "Who Taught You to Hate Yourselfs." (next BH, see July 28; next MX, see August 28, 1963)
George Whitmore, Jr
May 5, 1964: Whitmore indicted in Kings County for the attempted rape and assault of Elba Borrero. 
Exactly a year later, on May 5, 1965,  DA Aaron Koota said his office would again try George Whitmore, Jr. for the Elba Borrero attempted assault and rape in Brooklyn. (see Whitmore for expanded story)
BLACK & SHOT/Jordan Edwards
May 5, 2017: the Dallas County Sheriff's Department issued a warrant for the arrest of the officer, Roy D. Oliver II, 37 regarding the shooting death of Jordan Edwards. Oliver turned himself in in Parker County, Tex. (B & S, see May 30, JE, see June 29)
BLACK & SHOT/Ahmaud Arbery
May 5, 2020: a video of the encounter had begun to circulate online. Recorded from inside a vehicle, it showed Ahmaud Arbery running along a shaded two-lane residential road when he came upon a white pickup truck, with a man standing beside its open driver-side door. Another man was in the truck bed. Arbery ran around the vehicle and disappeared briefly from view. Muffled shouting could be heard before Arbery emerges, tussling with the man outside the truck as three shotgun blasts echo.
That same day,  District Attorney Tom Durden of the Atlantic Judicial Circuit.said that he wanted to send the case to a grand jury to decide whether to bring charges. The Georgia Bureau of Investigation said that night that it would be taking over the case at Durden's request.  [NYT article]  (next B & S and AA, see May 7 or see AA for expanded chronology)
May 5

Peace Love Art Activism
INDEPENDENCE DAY
May 5, 1945: Netherlands independent from Nazi Germany. (see Aug 15)
May 5

Peace Love Art Activism
Space Race
Alan Shepard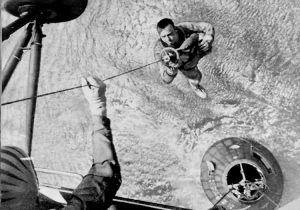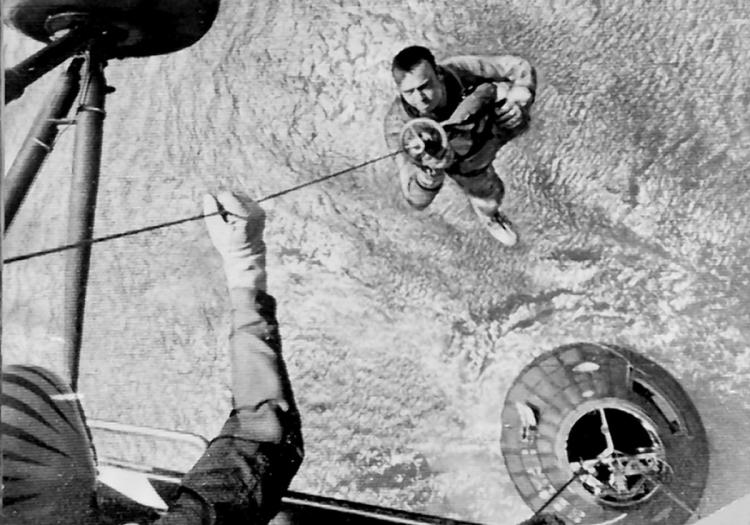 May 5, 1961: Alan Shepard commanded Freedom 7 on the first Mercury mission, becoming the first American in space. His ballistic trajectory during the 15-minute flight takes him to a maximum height of 116.5 statute miles. NASA announces, "The astronaut reports that he is A-OK," introducing a new phrase into the American lexicon.  (NYT obituary) (see May 25)
InSight
May 5, 2018: NASA launched the InSight spacecraft to Mars to study its deep interior.
"The science that we want to do with this mission, the reason we're going to Mars, is really the science of understanding the early solar system," said Bruce Banerdt, the principal investigator in a pre-launch briefing on Thursday. "How planets form, how rocky planets form." (see Nov 26)
May 5

Peace Love Art Activism
Vietnam
DRAFT CARD BURNING
May 5, 1965: several hundred UC Berkeley students march on the Berkeley Draft Board and presented the staff with a black coffin. Forty students burned their draft cards. Students also protested the April 1965 US military invasion of Dominican Republic. (Draft Card Burning, see Aug 31; Vietnam, see May 8)
May 5

Peace Love Art Activism
Irish Troubles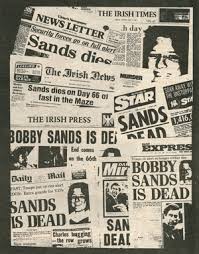 May 5, 1981:  Bobby Sands, died aged 27. (see Troubles for expanded story)  
May 5

Peace Love Art Activism
President Reagan
May 5, 1985: President Reagan joined German Chancellor Helmut Kohl for a controversial funeral service at a cemetery in Bitburg, Germany, which included the graves of 59 S.S. troops from World War II.
May 5

Peace Love Art Activism
LGBTQ
May 5, 1993: The Hawaii Supreme Court ruled in Baehr v. Lewin that denying marriage to same-sex couples violated the Equal Protection Clause of the Hawaii Constitution. The case had been filed two years earlier on behalf of three same-sex couples – Ninia Baehr, Genora Dancel, Tammy Rodrigues, Antoinette Pregil, Pat Lagon, and Joseph Melilio. (Justia dot come article) (Hawaii, see November 3, 1998; LGBTQ, see see July 5)
May 5

Peace Love Art Activism
CLINTON IMPEACHMENT
May 5, 1998: federal Judge Norma Holloway Johnson ruled against President Clinton's claim of executive privilege. Clinton confidant Vernon Jordan testified for a third time before the grand jury. (see Clinton for expanded story)
May 5

Peace Love Art Activism
World Trade Center
May 5, 2010: preliminary plans for a mosque and cultural center near ground zero in New York were unveiled, setting off a national debate over whether the project was disrespectful to 9/11 victims and whether opposition to it exposed anti-Muslim biases. (2017 NYT article) (see February 29, 2012)
May 5

Peace Love Art Activism
SEPARATION OF CHURCH AND STATE
Town of Greece v Galloway
May 5, 2014: in the Town of Greece v. Galloway the US Supreme Court upheld the town of Greece, New York's practice of starting town meetings with official sectarian prayer. The practice was challenged by residents of Greece, N.Y. who objected to hearing government prayers, the vast majority of which were expressly Christian invocations, as a condition of attending public meetings. (Oyez article) (see June 16)
May 5

Peace Love Art Activism
Consumer Protection
May 5, 2016: the Food and Drug Administration made final sweeping new rules that for the first time extend federal regulatory authority to e-cigarettes, popular nicotine delivery devices that had grown into a multibillion-dollar business with virtually no federal oversight or protections for American consumers. (NYT article) (see March 14, 2017)
May 5

Peace Love Art Activism