June 2 Peace Love Art Activism
Native Americans
Indian Citizenship Act of 1924
June 2, 1924: Representative Homer P. Snyder (R) of New York proposed the Act, also known as the Snyder Act. It granted full U.S. citizenship to America's indigenous peoples, called "Indians" in this Act. (The Fourteenth Amendment guarantees citizenship to persons born in the U.S., but only if "subject to the jurisdiction thereof"; this latter clause excluded certain indigenous peoples.)[Nebraska Studies article] (see February 21, 1928)
Alcatraz Takeover
June 2, 1970: fires of unknown origin burned three buildings on Alcatraz. In August  California governor Ronald Reagan announced a $50,000 planning grant to the Bay Area Native American Council for programs addressing the needs of urban Indians in the San Francisco Bay Area. [NYT article]  (NA, see July 8; Alcatraz, see Aug 21)
June 2 Peace Love Art Activism
US Labor History
Auto-Lite strike settled
June 2, 1934 (Saturday): two months after it had begun, Auto-Lite and FLU 18384 reached a tentative agreement settling the strike. The union won a 5 percent wage increase, and a minimum wage of 35 cents an hour. The union also won recognition (effectively freezing out the company union), provisions for arbitration of grievances and wage demands, and a system of re-employment which favored (respectively) workers who had crossed the picket line, workers who struck, and replacement workers. Although Muste and Budenz advocated that the union reject the agreement, workers ratified it on June 3. (see Toledo for expanded chronology)
June 2 Peace Love Art Activism
Religion and Public Education
June 2, 1947: the US Supreme Court agreed to review the Illinois Supreme Court's decision that religious education classes may lawfully be held in the public schools of Champaign, Il. (see Nov 16)
June 2 Peace Love Art Activism
McCarthyism
June 2, 1954: Senator Joseph McCarthy charged that communists had infiltrated the Central Intelligence Agency and the atomic weapons industry. Although McCarthy's accusations created a momentary controversy, they were quickly dismissed as mere sensationalism. (see June 9)
June 2 Peace Love Art Activism
June 2 Music et al
Pachuko Hop
June 2, 1956:  some 200 teenagers in the Santa Cruz Civic Auditorium danced to the music of Chuck Higgins and his Orchestra, a Los Angeles group with a regional hit record called "Pachuko Hop."
Santa Cruz police entered the auditorium just past midnight to check on the event, and what they found, according to Lieutenant Richard Overton, was a crowd "engaged in suggestive, stimulating and tantalizing motions induced by the provocative rhythms of an all-negro band." Lt. Overton shut down the dance. (Next R of R, see June 3; see Pachuko for expanded story)
Jimi Hendrix
June 2, 1962: Sgt William R Bowman filed a report against Hendrix for sleeping on duty, masturbating in the latrine, and owning money for a laundry bill. (see Hendrix Military for expanded chronology)
I Can't Stop Lovin' You
June 2 – July 6, 1962: "I Can't Stop Lovin' You" by Ray Charles #1 Billboard Hot 100.
Road to Bethel
June 2, 1969
Lang/Roberts & Rosenman dispute
Just after midnight Michael Lang finally arrived for a meeting with John Roberts and Joel Rosenman. Roberts and Rosenman were upset with Lang's lack of communication and his unfettered methods of organizing the festival. They are also upset with press releases never listing their names as primaries involved. Lang convinced Roberts and Rosenman that it was Artie Kornfeld they should upset with.
Kornfeld/Roberts & Rosenman dispute
That afternoon Joel Rosenman confronted Kornfeld with Lang's complaints. Kornfeld stated that Lang told him that Rosenman and Roberts were the problems. 
Dispute "settled"
Later that afternoon all four of met. Roberts, Rosenman, and Kornfeld tried to confront Lang. Lang convinced the others that all was best if they all worked together toward the goal. (see Chronology for expanded story)
June 2 Peace Love Art Activism
Black History
Segregated Courtrooms Upheld
June 2, 1961: after being forced to sit separately from white community members in the municipal court in Petersburg, Virginia, George Wells, Rev. R. G. Williams, and Rev. Dr. Milton H. Reid sought an injunction to prevent Judge Herbert H. Gilliam, the Chief Judge of Petersburg's municipal court, from continuing to subject Black community members to segregated seating. The lawsuit asserted that there was "no moral or legal justification for courtroom segregation," calling the practice "degrading and shameful."
On this date, Federal Judge Oren R. Lewis dismissed the lawsuit and upheld racial segregation in courtrooms describing as "totally without merit" their allegation hat segregating courtrooms was degrading. [EJI article] (next BH, see June 12)
Oneal Moore and Creed Rogers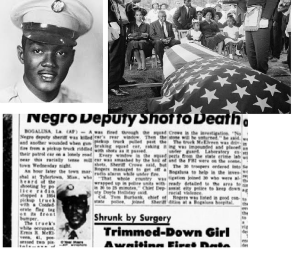 June 2, 1965: Oneal Moore and Creed Rogers made history in 1964 when they became the first black deputy sheriffs in Washington Parish, Louisiana, a notorious KKK stronghold.  On the night of June 2, 1965, the two men were driving in a patrol car to Moore's home seven miles north of Bogalusa. The patrol car crossed the railroad tracks on Main Street, less than a mile from Moore's home, when a pickup truck carrying at least three men drew near. A bullet from a hunting rifle ripped into the back of Moore's head, killing him. Rogers survived wounds from shotgun pellets, but was blinded in his right eye.
Rogers radioed in a description of the pickup — black with a Confederate flag decal on the front bumper. About an hour later and an hour's drive north in Tylertown, Miss., police stopped a truck fitting that description. They arrested the driver, Ernest Ray McElveen, a Bogalusa paper mill worker and part-time insurance salesman. McElveen was well regarded in town. He was also a member of the racist and anti-Semitic Citizens Councils of America and of the even more savagely bigoted National States Rights Party. Police found two pistols in his truck, but no hunting rifle or shotgun.
He said little, and was released on bond after a few days. He was never prosecuted, and no other arrests were made. [DoJ article] (see June 3)
Roxbury, Massachusetts riot
June 2, 1967:  Roxbury section of Boston. Mothers on welfare staged a sit-in. Boston PD officers began beating them after arresting them for trespassing on government property.  The ensuing riot, which lasted for 3 days, caused $500,000 worth of damage. [Boston Globe article] (BH, see June 8; RR, see June 11)
Viola Liuzzo
June 2, 1983: The previous week, Federal Judge Charles Joiner dismissed Viola Liuzzo family's $2 million lawsuit against the Federal Government. The family maintained Gary Rowe, an informer for the FBI, either shot at Mrs. Liuzzo or could have prevented the shooting.
On this date, Viola Liuzzo's children were ordered to pay the Government's court costs. Judge Joiner said the exact amount would not be known until the Justice Department submitted its bill to the court. The Liuzzo family's court costs alone were estimated at $60,000, according to Jeffrey Long, one of their lawyers. (BH, see June 16; see Liuzzo for expanded story)
June 2 Peace Love Art Activism
Space Race
June 2, 1966: Surveyor 1, the U.S. space probe, landed on the moon and started sending photographs back to Earth of the Moon's surface. It was the first soft landing on the Moon. [NASA article] (see November 11 – 15)
June 2 Peace Love Art Activism
DEATH PENALTY
June 2, 1967: after Luis Jose Monge died in the gas chamber at Colorado State Penitentiary, an unofficial moratorium on executions began. (see January 3, 1968)
June 2 Peace Love Art Activism
FREE SPEECH
June 2, 1978: the United States Court of Appeals, 7th Circuit, entered an order denying the Village of Skokie's request for a stay of mandate. Application for Stay of Mandate, Harvey Schwartz & Gilbert Gordon, filed in the United States Supreme Court, No. 77-1736, on behalf of the Village of Skokie. (see June 5)
June 2 Peace Love Art Activism
Oklahoma City Explosion
June 2, 1997: Denver. Timothy McVeigh was convicted on 15 counts of murder and conspiracy for his role in the 1995 Oklahoma City bombing. [NYT article] (see June 13)
June 2 Peace Love Art Activism
CLINTON IMPEACHMENT
June 2, 1998: The outspoken Bill Ginsburg is replaced as Monica Lewinsky's lawyer with a team of experienced Washington litigators, Jacob Stein and Plato Cacheris. The split was said to be by "mutual agreement." (see CI for expanded story)
June 2 Peace Love Art Activism
Immigration History
June 2, 2011: Alabama's Republican-controlled state legislature passed House Bill 56, a controversial anti-immigration bill much tougher than a similar Arizona law passed the year before. One week later, Alabama Governor Robert Bentley signed the bill into law. Like Arizona's Senate Bill 1070, Alabama's immigration law authorizes police officers, relying on racial profiling, to check the immigration status of anyone detained or arrested who they believe may be in the country illegally. HB 56 also bans undocumented immigrants from enrolling in any public college or university, mandates that parents reveal the immigration status of any child attending public school, and requires school districts to report the number of undocumented students to the state board of education.
Civil rights organizations and religious groups mounted legal and political opposition to HB 56. Many complained the law prohibited acts of charity by criminalizing those who rent property or provide transportation to an undocumented immigrant with prior knowledge of that person's immigration status. Opponents also feared the law would discourage school attendance by undocumented children and create a discriminatory school atmosphere. Indeed, in May 2012, the Department of Justice announced that HB 56 had "diminished access to and quality of education for many of Alabama's Hispanic children" and found that more than 13% of Hispanic children had dropped out of school since the previous fall. Subsequent legal challenges succeeded in invalidating portions of the law. (see May 24, 2013)
June 2 Peace Love Art Activism
LGBTQ
Hate Crimes
June 2, 2012: the National Coalition of Anti-Violence Programs, which began collecting data in 1998, reported that in 2011, 30 fatally violent hate crimes were committed against lesbian, gay, bisexual or transgender victims, 3 more than the previous year's total. [NCAVP site] (see June 5)
Tennessee/Drag Shows
June 2, 2023: U.S. District Judge Thomas Parker found Tennessee's first-in-the-nation law designed to place strict limits on drag shows unconstitutional.
Parker said that the law was both "unconstitutionally vague and substantially overbroad" and encouraged "discriminatory enforcement"
"There is no question that obscenity is not protected by the First Amendment. But there is a difference between material that is 'obscene' in the vernacular, and material that is 'obscene' under the law," Parker said. [AP article] (next LGBTQ, see )
Transgender/Arkansas
June 20, 2023: Judge James M. Moody Jr. of Federal District Court in Little Rock, Arkansas on Tuesday struck down the state's law forbidding medical treatments for children and teenagers seeking gender transitions, blocking what had been the first in a wave of such measures championed by conservative lawmakers across the country.
The case had been closely watched as an important test of whether bans or severe restrictions on transition care for minors, which have since been enacted by 19 other states, could withstand legal challenges being brought by activists and civil liberties groups. It is the first ruling to broadly block such a ban for an entire state, though judges have intervened to temporarily delay similar laws from going into effect.
In his 80-page ruling, Moody said the law both discriminated against transgender people and violated the constitutional rights of doctors. He also said that the state of Arkansas had failed to substantially prove a number of its claims, including that the care was experimental or carelessly prescribed to teenagers.
"Rather than protecting children or safeguarding medical ethics, the evidence showed that the prohibited medical care improves the mental health and well-being of patients and that by prohibiting it, the state undermined the interests it claims to be advancing," wrote Moody. [NYT article]
Transgender/College of the Ozarks
June 20, 2023:  the Supreme Court declined to hear an appeal from a Christian college in Missouri that sued the Biden administration over its decision to shield transgender people from housing discrimination.
At issue was a 2021 memo from the Department of Housing and Urban Development that interpreted a federal anti-discrimination law as protecting transgender individuals. The College of the Ozarks claimed that the guidance conflicted with its ability to make housing assignments for students on the basis of sex assigned at birth. [USA Today article] (next LGBTQ+, see )
June 2 Peace Love Art Activism
Environmental Issues
June 2, 2017: the Mayors National Climate Action Agenda, also known as Climate Mayors, announced their intent to uphold the United States' end of the Paris accords within their own jurisdictions, despite Trump's exiting of the agreement. Their statement read in part:
"As 186 US Mayors representing 52 million Americans, we will adopt, honor, and uphold the commitments to the goals enshrined in the Paris Agreement. We will intensify efforts to meet each of our cities' current climate goals, push for new action to meet the 1.5 degrees Celsius target, and work together to create a 21st century clean energy economy.
We will continue to lead. We are increasing investments in renewable energy and energy efficiency. We will buy and create more demand for electric cars. (see June 14)
June 2 Peace Love Art Activism