June 9 Peace Love Art Activism
Cultural Milestone
Automat Restaurant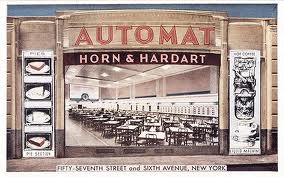 June 9, 1902: the first restaurant with vending machine service was the Automat Restaurant at 818 Chestnut Street in Philadelphia, Pennsylvania. It was Horn & Hardart, a cavernous, waiterless establishment that was a combination of fast-food, vending and a cafeteria. Horn & Hardart Automats expanded into a chain reaching Manhattan in 1912. With their uniform recipes and centralized commissary system of supplying their restaurants, the Automats were America's first major fast-food chain. Customers put nickels into slots in the Automats and turned a knob. In the compartment next to the slot, food revolved into place for the customer to receive through a small glass door. [Smithsonian article] (see February 19, 1906)
June 9 Peace Love Art Activism
McCarthyism
June 9, 1954: Army counsel Joseph N. Welch confronted Sen. Joseph R. McCarthy during the Senate-Army Hearings over McCarthy's attack on a member of Welch's law firm, Frederick G. Fisher. Said Welch: "Have you no sense of decency, sir? At long last, have you left no sense of decency?" [Senate dot gov article]  (see July 28)
June 9 Peace Love Art Activism
BLACK HISTORY
Fannie Lou Hamer
June 9, 1963: while returning from a voter registration workshop in South Carolina, Fannie Lou Hamer and other civil rights activists were arrested in Winona, Mississippi. Hamer and the other activists had been traveling in the "white" section of a Greyhound bus despite threats from the driver that he planned to notify local police at the next stop. When the bus arrived at the Winona bus depot, the activists sat at the "white only" lunch counter inside the terminal. Winona Police Chief Thomas Herrod ordered the group to go to the "colored" side of the depot and arrested them when one of the activists tried to write down his patrol car license number.
At the county jail, white jailers forced two African American prisoners to savagely beat Ms. Hamer and she was nearly killed. As she regained consciousness, she overheard one of the white officers propose, "We could put them SOBs in [the] Big Black [River] and nobody would ever find them."
Lawyers with the Student Non-violent Coordinating Committee filed suit against the Winona police who brutalized the activists but an all-white jury acquitted them. [PBS article] (see June 11)
Officer Eric Casebolt
June 9, 2015:  Eric Casebolt, the police officer seen in a video throwing a 14-year-old girl in a swimsuit to the ground and pointing his gun at other teenagers resigned from the police force in McKinney, Tex. Chief Greg Conley of the McKinney Police Department said during a news conference Casebolt had resigned while under investigation.
The resignation came two days after Officer Casebolt had been put on administrative leave and amid growing cries by religious and civic leaders in the Dallas suburb for him to be fired. [family sued Casebolt and Dallas]
BLACK & SHOT
June 9, 2015: re the Ezell Ford shooting (Washington Post article), the Los Angeles the Board of Police Commissioners ruled  that officer Villegas was justified in the shooting, but officer Wampler violated Ford's civil rights by detaining him. The commission rejected Beck's conclusion that Wampler had adhered to LAPD policy. The investigation found that Villegas did not have a good reason to initially draw his gun, and that Wampler did not have grounds to reasonably suspect that Ford had been in possession of drugs. Nine different determinations were issued: Wampler was found in violation of policy in four areas (tactics, drawing of weapon, use of non-lethal force, use of deadly force), while Villegas was within policy in three areas (tactics, use of non-lethal force, and use of deadly force) and one part of another area (drawing of weapon on the second occasion) but in violation of policy in another part of the same area (drawing of weapon on the first occasion).[48] The Board's decision to consider the "totality of the circumstances, and not just the moment in which force was used" marked a departure from its previous approach to police shootings, which involved assessing only whether officers faced a deadly threat at the moment they opened fire (B & S, see June 11; Ford, see January 24, 2017)
STAND YOUR GROUND LAW
June 9, 2017: Florida Governor Rick Scott signed amended "stand your ground" legislation, making it easier for defendants in the state to successfully claim they were protecting themselves when they commit violence.
Previously, the law required defendants to prove that they were using force in self-defense. The new law shifts the burden of proof in pretrial hearings to prosecutors, rather than defendants, to prove whether force was used lawfully. [Reuters article] (see July 3)
June 9 Peace Love Art Activism
Vietnam
Domino Theory

June 9, 1964: in reply to a formal question submitted by President Lyndon B. Johnson–"Would the rest of Southeast Asia necessarily fall if Laos and South Vietnam came under North Vietnamese control?"–the CIA submitted a memo that effectively challenged the "domino theory.
The CIA concluded that Cambodia was probably the only nation in the area that would immediately fall. "Furthermore," the report said, "a continuation of the spread of communism in the area would not be inexorable, and any spread which did occur would take time–time in which the total situation might change in any number of ways unfavorable to the communist cause." The CIA report concluded that if South Vietnam and Laos also fell, it "would be profoundly damaging to the U.S. position in the Far East," but Pacific bases and allies such as the Philippines and Japan would still wield enough power to deter China and North Vietnam from any further aggression or expansion. (see July 27)
Weather Underground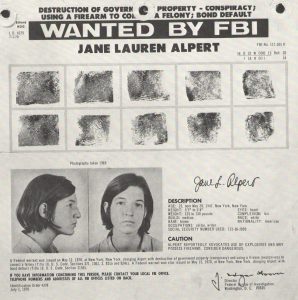 June 9, 1970: Jane Alpert and Weather Underground accomplices bombed the New York City Police headquarters  Weathermen stated that the bombing was in response to "police repression."
They made the bomb with ten sticks of dynamite. The explosion was preceded by a warning about six minutes prior to the detonation and subsequently by a WUO claim of responsibility. [NYT article] (Vietnam & Cambodia, see June 13; WU, see July 28)
June 9 Peace Love Art Activism
June 9 Music et al
Another Side of Bob Dylan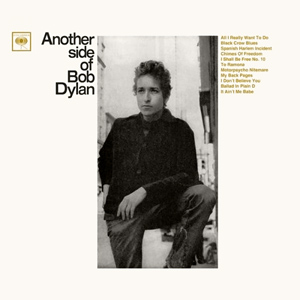 June 9, 1964: during an evening session that Bob Dylan recorded all of the tracks for his Another Side of Bob Dylan album at Columbia Recording Studios in New York City, Dylan also Mr. Tambourine Man. Dylan recorded fourteen original compositions that night. Ultimately, he did not include Mr Tambourine Man album. (Dylan, see "in August 1964"; Tambourine Man, see January 20, 1965)
Brian Jones
June 9, 1969: Brian Jones announced he was leaving the Rolling Stones. He announced his departure at his home in Hartfield, Sussex, stating: "I want to play my kind of music, which is no longer the Stones music." Jones died less than a month later by drowning in the swimming pool at his home. (see Rolling Stone magazine article) (see July 3)
The Road to Bethel
June 9, 1969: an unnamed Wallkill official visited the construction site and said that the group did not have permission for the festival. (see Chronology for expanded story)
Dr Dylan
June 9, 1970: with wife Sara and friend David Crosby, Princeton University gave an honorary Doctorate of Music to Dylan. Some criticized the recognition, but Princeton President Robert Goheen's response was that it might be true that Dylan "is a bad or mediocre musician, and his power with words obscures the fact for the multitudes," but if so, "he seems to me remarkably expressive in this mode." [Rolling Stone magazine article] (see November 12, 1971)
June 9 Peace Love Art Activism
FREE SPEECH
Brandenburg v. Ohio
June 9, 1969: the US Supreme Court held that government cannot punish inflammatory speech unless that speech is directed to inciting, and is likely to incite, imminent lawless action. Specifically, it struck down Ohio's criminal syndicalism statute, because that statute broadly prohibited the mere advocacy of violence. [Oyez article] (see June 18 – 22)
June 9 Peace Love Art Activism
Feminism
Equal Rights Amendment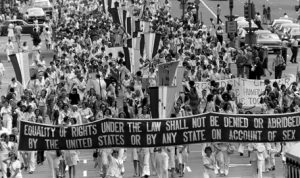 June 9, 1978: nearly 100,000 demonstrators marched on Washington, DC for the ERA. [FMF article] (see Aug 6)
June 9 Peace Love Art Activism
CLINTON IMPEACHMENT
June 9, 1998: Presidential friend Vernon Jordan testifies before Ken Starr's grand jury for the fifth time. Lewinsky's new lawyers say they are upset by her photo layout in Vanity Fair magazine. (see Clinton for expanded story)
June 9 Peace Love Art Activism
Dissolution of Yugoslavia
June 9, 1999: the North Atlantic Treaty Organization (NATO) and the Federal Republic of Yugoslavia, signed the Kumanovo Treaty, ending the Kosovo War. The agreement also opened the way for the establishment of international security forces to maintain order in Kosovo and a UN protectorate over the region. The parliament of Kosovo subsequently declared independence in 2008. (see NYT article) (see DoY for expanded chronology)
June 9 Peace Love Art Activism
Environmental Issues
Exxon Stymied
June 9, 2015: Santa Barbara County rejected Exxon Mobil Corp's emergency permit application to temporarily haul crude using tanker trucks following a recent pipeline rupture. Planning and Development assistant director Dianne Black denied Exxon's request, saying the case did not warrant an emergency approval. [LA Times article] (EI, see June 18; Santa Barbara, see June 22)
Keystone Ends
June 9, 2021: TC Energy, the company behind the controversial Keystone XL oil pipeline, said it was officially terminating the project. TC Energy already had suspended construction in January when President Biden revoked a key cross-border presidential permit. The announcement ended a more than decade-long battle that came to signify the debate over whether fossil fuels should be left in the ground to address climate change.  [NPR story] (next EI, see July 14)
June 9 Peace Love Art Activism
Women's Health
June 9, 2015: the U.S. Court of Appeals for the Fifth Circuit upheld a Texas law that required abortion clinics to qualify as "ambulatory surgical centers," a decision opponents say will shut down most clinics in the state.
The plaintiffs, a group of abortion clinics and doctors, argued that the 2013 law unconstitutionally restricts the right to obtain an abortion, but in a ruling the Court said the plaintiffs failed to prove that and lifted an injunction issued by a lower court to prevent the enforcement of key elements of the law.
The Center for Reproductive Rights, which helped represent the plaintiffs, said it would file an appeal with the U.S. Supreme Court. "If permitted to take effect, the impact will be devastating for women in Texas seeking access to abortion services," said Stephanie Toti,a center lawyer.
Texas Attorney General Ken Paxton, a Republican, praised the decision, saying the Texas law "both protects the unborn and ensures Texas women are not subjected to unsafe and unhealthy conditions."  [NYT article] (WH, see June 15; Texas, see June 27, 2016)
June 9 Peace Love Art Activism