June 8 Peace Love Art Activism
BILL OF RIGHTS
June 8, 1789: James Madison first  proposed the Bill of Rights. [text of Madison's speech] (see December 15, 1791)
June 8 Peace Love Art Activism
US Labor History1904,

Dunnville, Colorado
June 8, 1904: a battle between the Colorado State militia and striking miners at Dunnville, Colo., ended with six union members dead and 15 taken prisoner. Seventy-nine of the strikers were deported to Kansas two days later. [union article] (see October 27,  1904)
Airline machinists strike

June 8, 1966: some 35,000 members of the machinists union began what was to become a 43-day strike—the largest in airline history—against five carriers. The mechanics and other ground service workers wanted to share in the airlines' substantial profits. [UAL article] (see June 11)
Drawbridge tenders strike
June 8, 1971: New York City drawbridge tenders, in a dispute with the state over pension issues, left a dozen bridges open, snarling traffic in what the Daily News described as "the biggest traffic snafu in the city's history"  [NYC history article] (see January 25, 1972)
June 8 Peace Love Art Activism
Environmental Issues
National Conservation Commission
June 8, 1908: President Teddy Roosevelt appointed the U.S. National Conservation Commission which prepared the first inventory of the natural resources of the United States. It was divided into four sections, water, forests, lands, and minerals, each section having a chairman, and with Gifford Pinchot as chairman of the executive committee. Its three-volume report was given at the the Joint Conservation Congress (Dec 1908), attended by 20 governors, representatives of 22 state conservation commissions, and leaders from various national organizations.
In December 1908 the Commission presented the report. It was divided into four sections, water, forests, lands, and minerals, each section having a chairman. Gifford Pinchot, chairman of the executive committee, gave its three-volume report at the the Joint Conservation Congress of 20 governors, representatives of 22 state conservation commissions, and leaders from various national organizations attended. [first NCC report] (see December 1908)
June 8 Peace Love Art Activism
Feminism
Voting Rights
June 8, 1920: Republican National Convention opened in Chicago. The National Women's Party sent delegation to lobby for suffrage in states that had not ratified the 19th Amendment and to encourage insertion of suffrage plank on platform. When plank rejected, NWP members picket convention; no arrests made. Republicans declined to take action to help secure ratification in a 36th state. (see June 28)
June 8 Peace Love Art Activism
FREE SPEECH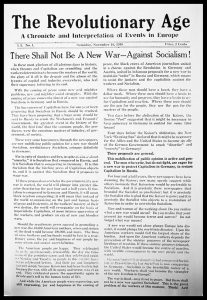 June 8, 1925: Gitlow v. New York. Benjamin Gitlow, a member of the Socialist Party of America who had served in the NY State Assembly, was charged with criminal anarchy under New York's Criminal Anarchy Law of 1902. In July 1919 he had published a document called "Left Wing Manifesto" in The Revolutionary Age, a newspaper for which he served as business manager. His trial lasted from January 22 to February 5, 1920. His defense contended that the Manifesto represented historical analysis rather than advocacy.
The US Supreme Court upheld Gitlow's conviction 7 -2 ruling that Fourteenth Amendment prohibits states from infringing free speech, but the defendant was properly convicted under New York's Criminal Anarchy Law because he disseminated newspapers that advocated the violent overthrow of the government. [Oyez article] (see April 5, 1926)
June 8 Peace Love Art Activism
BLACK HISTORY
Marcus Garvey
June 8, 1927: Malcolm X's father, Earl Little, a follower of Marcus Garvey, appealed to President Coolidge for Garvey's release. (BH, see Sept 26; see MG for expanded story)
District of Columbia v. John R. Thompson
June 8, 1953: the Supreme Court ordered the desegregation of Washington, D.C. restaurants. The decision was based on the validity of District of Columbia laws of 1872 and 1873, which the Court held were still in effect despite changes in the form of the District's government over the years. The decision did not address the issue of the constitutionality of racial segregation. [Justia article] (see June 19)
George Whitmore, Jr
June 8, 1965: the Appellate Division unanimously held that Whitmore may be tried first in the Elba Borrero case. (next BH, see June 14)
Two years later on June 8, 1967, Whitmore again sentenced to five to ten years in prison  (see Whitmore for expanded story)
James Earl Ray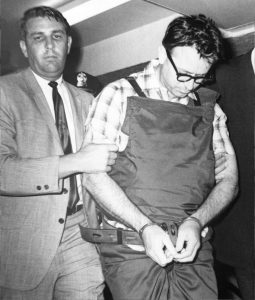 June 8, 1968: a little more than two months after Martin Luther King's assassination, James Earl Ray was captured at London's Heathrow Airport while trying to leave the United Kingdom on the false Canadian passport. At check-in, the ticket agent noticed the name on his passport—Sneyd—was on a Royal Canadian Mounted Police watchlist. At the airport, officials noticed that Ray carried another passport under a second name. [NYT archive article] (BH, see June 19; Ray, see March 10, 1969)
Church of Jesus Christ of Latter-day Saints
June 8, 1978: leaders of the Church of Jesus Christ of Latter-day Saints struck down a 148-year-old policy of excluding black men from the Mormon priesthood. (see June 28)
You can get killed just for livin' in…your American skin
June 8, 2000: though he had not heard Bruce Springsteen's song "American Skin (41 Shots)," NYC Patrolmen's Benevolent Society President Patrick Lynch posted a letter on the PBA's website accusing Springsteen of "trying to fatten his wallet by reopening the wounds of this tragic case" (see Amadou Diallo February 4, 1999).
Lynch also encouraged officers to neither attend nor work as moonlighting security guards at Springsteen's upcoming ten-show stand at Madison Square Garden. Howard Safir, NYC Police commissioner, told the New York Daily News that he personally didn't care for Bruce Springsteen's song or music, while Bob Lucente, president of the New York State Fraternal Order of Police, called Springsteen a "fucking dirtbag" and declared that he goes on the boycott list. (see in March 2004)
BLACK & SHOT
June 8, 2015: a grand jury indicted former officer, Michael T. Slager in North Charleston, S.C., on a murder charge in connection with the April 4 shooting death of Walter L. Scott, which a passer-by recorded. The death became a symbol in the national debate about police behavior.
Slager, had been jailed on a murder charge since April 7, when the video became public. Mr. Slager's lawyers have so far made no request for bail, and his indictment in Charleston County had been widely expected. The North Charleston Police Department fired him after the shooting, which city officials criticized in stark and unsparing terms.
Despite the intensive publicity surrounding the shooting, Scarlett A. Wilson, the local prosecutor, said that she believed a local jury could be impaneled and would be able to arrive at an unbiased verdict. A trial date had not been set. [CNN article] (B & S, see June 9; Scott, see May 2, 2017)
June 8 Peace Love Art Activism
McCarthyism
June 8, 1949: an FBI report named Hollywood figures, including film stars Frederic March, John Garfield, Paul Muni, and Edward G. Robinson, as Communist Party members. The FBI report relied largely on accusations made by "confidential informants," supplemented with some highly dubious analysis. [TCM article] (see Aug 29)
June 8 Peace Love Art Activism
Women's Health
Margaret Sanger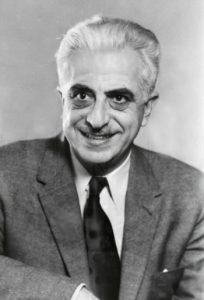 June 8, 1953: Sanger realized that philanthropist Katherine McCormick could fund Gregory Pincus's research and brought her to Shrewsbury to meet the scientist. The visit was a huge success. Katharine McCormick wrote Pincus a check for $40,000  with assurances she would provide him with all the additional funding he would need. The Pill project restarted.
By 1955 the results from the first human trials were conclusive. Not one of the 50 women in the experiment ovulated while on the drug. (WH, see November 1956; see Sanger for expanded story)
June 8 Peace Love Art Activism
Vietnam
US Secretary of State John Foster Dulles
June 8, 1954: Dulles said that the US did not intend to go it alone in Indochina "unless the whole nature" of the Communist aggression in Asia changed. He said that the Eisenhower administration had not plans for seeking Congressional action that would authorize the government to send its forces into the Indochina war alone or with allies. (see July 7)
 Air Force T-Sgt. Richard B. Fitzgibbon Jr
June 8, 1956: Richard B. Fitzgibbon Jr was the first American soldier killed in the Vietnam War. The Air Force T-Sgt  was a Navy veteran and had served during World War II. After leaving the Navy, he joined the Air Force rising through the ranks to become Technical Sergeant.
Fitzgibbon was serving as part of the Military Assistance Advisory Group (MAAG) training South Vietnam military personnel. Another US airman murdered Fitzbibbon. (next Vietnam, see May 9, 1957 ; see Fitzgibbon for expanded story)
US troop withdrawal
June 8, 1969: President Nixon met with South Vietnamese President Nguyen Van Thieu on Midway Island in the Pacific, and announced that the would immediately withdraw 25,000 U.S. troops. [Nixon foundation article] (see June 18 – 22)
Nick Ut
June 8, 1972: AP Photographer Nick Ut captured what would become a Pulitzer Prize winning photo depicting children fleeing from a Napalm bombing during the Vietnam War.
In the center of the frame running towards the camera was a naked 9-year-old girl, Phan Thị Kim Phúc, also known as 'Napalm Girl.'[image and link] (see June 28)
June 8 Peace Love Art Activism
June 8 Music et al
Bob Dylan
June 8, 1962: Suze Rotolo left for Europe and, in effect, left Bob Dylan. Often despondent missing her, he will write "Don't Think Twice, It's All Right." (see July 9)
Roots of Rock
June 8, 1963:   The Crystals' 'Da Doo Ron Ron' peaked at No. 3 on the singles chart. Produced by Phil Spector, who used a multi-track recording system to build the song layer upon layer to achieve a result that become known as a "wall of sound". Backing musicians include Glen Campbell on guitar, Leon Russell on piano, Hal Blain on drums and Nino Tempo on sax. (see in July 1964)
June 8 Peace Love Art Activism
Irish Troubles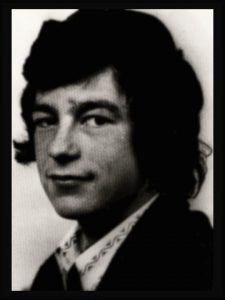 June 8, 1981:  Tom McElwee, then an Irish Republican Army prisoner, joined the hunger strike. [Bobby Sands Trust article]  (see Troubles for expanded story)
June 8 Peace Love Art Activism
Falklands War
June 8, 1982: more than 50 British soldiers killed in attacks on landing craft RFA Sir Galahad and RFA Sir Tristram off Fitzroy. [BBC article]  (see June 11 – 12)
June 8 Peace Love Art Activism
Iran–Contra Affair
June 8, 1987: Fawn Hall, secretary to national security aide Oliver L. North, testified at the Iran-Contra hearings, saying she had helped to shred some documents. (see Aug 3)
June 8 Peace Love Art Activism
Jack Kevorkian
June 8, 1990: an Oakland County Circuit Court Judge enjoined Kevorkian from aiding in any suicides. (see JK for expanded story)
June 8 Peace Love Art Activism
CLINTON IMPEACHMENT
June 8, 1998: the Supreme Court heard oral arguments in Ken Starr's attempts to access notes take by the lawyer of late White House deputy counsel Vince Foster nine days after the meeting in question. Foster's lawyer, James Hamilton argued the notes are covered by attorney-client privilege, but Starr's office said the privilege doesn't always extends past death. (see Clinton for expanded story)
June 8 Peace Love Art Activism
Affordable Care Act
June 8, 2015: the U.S. Supreme Court rejected a bid by Maine to escape one requirement of Obamacare. The justices left intact a federal appeals court decision that said Maine must continue offering Medicaid coverage to young adults until 2019.
The dispute turned on an Obamacare provision that requires states to maintain their existing eligibility standards for children as a condition of receiving federal dollars under the Medicaid health-care program for the poor.
Maine's top health official, Mary Mayhew, sought to drop the state's longstanding Medicaid coverage for 19- and 20-year-olds. The Obama administration refused to allow the change, pointing to the Affordable Care Act provision.
Mayhew sued, arguing that the state was being unconstitutionally coerced into keeping that coverage. A Boston-based federal appeals court rejected that argument. (see June 25)
June 8 Peace Love Art Activism
DEATH PENALTY
June 8, 2015: after a decade on death row in Texas, Alfred Dewayne Brown was freed when prosecutors dismissed the charges against him. Alfred Brown was sentenced to death in 2005 for the murders of a Houston police officer and a store clerk during a three-man robbery of an ACE check-cashing store in 2003.
Late last year, the Texas Court of Criminal Appeals overturned Mr. Brown's conviction and death sentence because the Harris County District Attorney's Office withheld key evidence that supports Mr. Brown's alibi. (see June 18)
June 8 Peace Love Art Activism
Cannabis
June 8, 2016: Republican Gov. John Kasich signed a bill legalizing medical marijuana in Ohio. (Marijuana, see Aug 30, 31, and Sept 1; American Legion, see November 2, 2017)
June 8 Peace Love Art Activism
Voting Rights
June 8, 2023: Chief Justice John Roberts and Justice Brett Kavanaugh aligned with the court's liberals in affirming a lower-court ruling that found a likely violation of the Voting Rights Act in an Alabama congressional map with one majority Black seat out of seven districts in a state where more than one in four residents is Black. The state now will have to draw a new map for next year's elections.
The decision was keenly anticipated for its potential effect on control of the closely divided U.S. House of Representatives. Because of the ruling, new maps are likely in Alabama and Louisiana that could allow Democratic-leaning Black voters to elect their preferred candidates in two more congressional districts. [AP article] (next VR, see June 26)
June 8 Peace Love Art Activism