March Peace Love Art Activism
Native Americans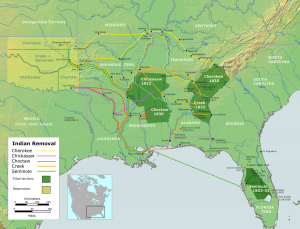 In March 1829, President Andrew Jackson announced that federal protection only existed for the Creeks willing to leave Alabama for the Western Territory. He wrote to them:
"Where you now are, you and my white children are too near to each other to live in harmony and peace…Beyond the great river Mississippi, where a part of your nation has gone, your father has provided a country large enough for all of you, and he advises you to remove to it…In that country, your father, the President, now promises to protect you, to feed you, and to shield you from all encroachment…My white children in Alabama have extended their law over your country. If you remain in it, you must be subject to that law. If you remove across the Mississippi, you will be subject to your own laws, and the care of your father, the President…It is for your nation's good, and your father requests you to hear his counsel."  [Smithsonian article] (see May 28, 1830)
March Peace Love Art Activism
Black History
Emancipation Proclamation
In March 1862, Lincoln proposed a plan of gradual emancipation for the border states, offering to compensate slaveholders who released their slaves. When the congressional delegations for the border states turned down that offer, Lincoln issued a draft Emancipation Proclamation in September 1862 and signed the final version on January 1, 1863. (final text of Proclamation)
Clinton Melton
On December 3, 1955 in Glendora, Mississippi. Otis Kimball, a cotton gin operator, had asked Clinton Melton to fill his car up with gas. Kimball became enraged because of something having to do with this transaction, and he threatened to come back to the gas station and kill Melton. Kimball was driving the automobile of J. W. Milam, one of the men who had been acquitted of killing Emmett Till in August of 1955. Kimball did in fact return to the station with a shotgun. With no provocation, he shot and killed Melton in full view of the gas station owner and other witnesses,
In March 1956 Otis Kimball was charged with the murder of Clinton Melton. The defense theory was self-defense. There were three state witnesses – Lee McGarrh, the filling station owner and Melton's white boss, who testified that Melton did not have a gun and did not provoke the attack; John Henry Wilson, a black man who testified that Kimball said he was going to kill Melton and would kill Wilson too if he got in the way; and another man who was ten feet away from the incident and testified he did not see a gun in Melton's hand.
Witnesses for the defense – none of them eyewitnesses – included the sheriff, deputy sheriff, and chief of police. Kimball, the defendant, claimed Melton cursed at him during the argument. He claimed he had a scar from a bullet wound that came from a gunshot by Melton, and he produced a doctor who claimed it was indeed a gunshot wound. An all white jury acquitted Kimball after deliberating for four hours.
Just before the trial was scheduled to commence, Beulah Melton, Clinton's wife, died in a car accident. She drowned after her car ran off the road into the bayou. (Northeastern University School of Law article on Melton) (BH, see Mar 8; Melton, see Mar 13)
Freedom Riders
In March 1962 the original Freedom Riders arrested in December go on trial. Charles Sherrod was beaten to the floor for sitting in the "white" section at the front of the courtroom and white SNCC activists Bob Zellner, Per Laurson, Sandra, and Tom Hayden were violently dragged from the courtroom when they sit in the "Colored" section at the rear. (BH, see Mar 2; see Albany Movement for more)
Amadou Diallo
In March 2004: Diallo's mother and stepfather accepted a $3,000,000 settlement. (see October 2, 2012)
Laquan McDonald
In March 2016: Jason Van Dyke, who was suspended without pay, was hired as a janitor by the city's police union, the Fraternal Order of Police Chicago. (B & S, see Mar 14; McDonald, see In May)
March Peace Love Art Activism
Feminism
Gage
In March 1886: Matilda Josyln Gage, an organizer of the International Council of Women, chaired one session. Convention attended by Woman Christian Temperance Union President Frances Willard, whom Gage called "the most dangerous woman in America," because of her work with the religious right, trying to destroy the wall of separation between church and state by placing the Christian God as the head of the government. (see Gage for expanded biography)
Emma Goldman
In March, 1906: the first issue of Mother Earth is published. Emma Goldman launched a speaking tour to raise money for the publication. It published articles on a variety of anarchist topics including the labor movement, education, literature and the arts, state and government control, and women's emancipation, sexual freedom, and was an early supporter of birth control. (see Goldman for expanded story)
Josephus Daniels
In March 1917: Secretary of the Navy Josephus Daniels became the first to approve enlistment of women in the armed services with the US Navy. Approximately 11,000 female yeoman joined the Navy before the war's end on November 11, 1918. (see Mar 4)
March Peace Love Art Activism
Technological Milestone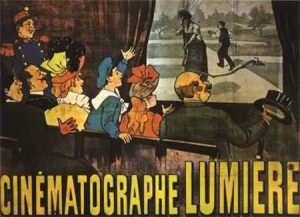 On December 28, 1895 the world's first commercial movie screening  had taken place at the Grand Cafe in Paris. The film was made by Louis and Auguste Lumiere, two French brothers who developed a camera-projector called the Cinematographe. The Lumiere brothers unveiled their invention to the public in March 1895 with a brief film showing workers leaving the Lumiere factory. On December 28, the entrepreneurial siblings screened a series of short scenes from everyday French life and charged admission for the first time. (see December 2, 1901)
March Peace Love Art Activism
Anarchism in the US
In March 1912 : the Industrial Workers of the World held a protest meeting in front of the San Diego city jail. Police called in the fire department to disperse the crowd, spraying them with water. (see May 14, 1912)
In March 1960: Bassist Charles Mingus released "Blues and Roots" album

In March  1961: John Coltrane released "My Favorite Things" album. The cover of  The Sound of Music song became Coltrane's most requested song.
In March 1962: John Coltrane released Coltrane "Live" at the Village Vanguard
Bob Dylan
In March – April 1960: while a student at University of Minnesota, Dylan is introduced to  marijuana at parties held at the home of David Whitaker. (see Mid-December 1960)
Cold War  &  News Music
In March  1961: Pete Seeger stood trial and was found guilty of obstructing House Un-American Activities Committee  work. At his sentencing he asked if he could sing, "Wasn't That a Time?" The judge refused Seeger's request and sentenced him to a year and a day in prison. (CW, see Mar 1)
Our fathers bled at Valley Forge.
The snow was red with blood,Their faith was warm at Valley Forge,
Their faith was brotherhood.
Wasn't that a time, wasn't that a time,
A time to try the soul of man,
Wasn't that a terrible time?Brave men who died at Gettysburg
Now lie in soldier's graves,
But there they stemmed the slavery tide,
And there the faith was saved.The fascists came with chains and war
To prison us in hate.
And many a good man fought and died
To save the stricken faith.
And now again the madmen come,
And should our vic'try fail?
There is no vic'try in a land
Where free men go to jail.Isn't this a time!
Isn't this a time!
A time to try the soul of man,
Isn't this a terrible time?Our faith cries out we have no fear
We dare to reach our hand
To other neighbors far and near
To friends in every land.Isn't this a time!
Isn't this a time!
A time to free the soul of man!
Isn't this a wonderful time!
Teenage Culture
In March 1963: Wolfman Jack began broadcasting on XERF, a half million watt radio station out of Mexico. The powerful "border radio" stations were famous for their wild on-air activities. The powerful broadcast signals allowed them to be heard across the entire North American continent, making Wolfman Jack the most famous rock 'n' roll DJ in the world. (NYT obit) (see February 1, 1964)
Stan Getz and João Gilberto
In March 1964:  Stan Getz and João Gilberto released album Getz/Gilberto album.
Jimi Hendrix
In March 1964:  as a member of the Isley Brothers, Jimi Hendrix recorded the two-part single "Testify". Hendrix then went on tour with the Isley Brothers. "Testify" was released in June 1964. 
In 1965, Hendrix played a session for Rosa Lee Brooks on her single "My Diary"  Around the same time he also backed Little Richard on  "I Don't Know What You've Got, But It's Got Me". (see October 1965)
Beatles LSD
March…July 1965: the precise date of the Beatles first encounter with LSD is unknown, although it's likely to have been between March and July 1965. It is known  that it took place at Flat 1, 2 Strathearn Place, London W2, in the home of 34-year-old cosmetic dentist John Riley. Riley had invited John and Cynthia Lennon, George Harrison and Pattie Boyd to dinner. After the meal he gave them coffee laced with LSD, which at the time was little-known and still legal. (LSD, see Mar 3; Beatles, see Mar 13; Beatles/LSD, see Aug 24)
Berkeley Barb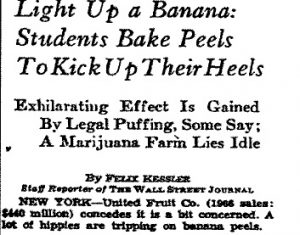 In March 1967: The Berkeley Barb started the smokable banana rumor. Barb editor, Max Scherr, hoping to trick authorities into banning bananas, ran a satirical story which claimed that dried banana skins contained "bananadine", a (fictional) psychoactive substance which, when smoked, supposedly induced a psychedelic high similar to opium and psilocybin. The Barb may have been inspired by Donovan's 1966 song "Mellow Yellow", with its lyric "Electrical banana/Is gonna be a sudden craze." The hoax was believed and spread through the mainstream press. The Food and Drug Administration (FDA) investigated and concluded that banana skins were not psychedelic. (see In April)
March Peace Love Art Activism
Vietnam
My Lai Massacre

In March, 1969:  letters from Vietnam veteran Ronald Ridenhour resulted in a U.S. Army investigation into the My Lai massacre. (text of letter) (see My Lai for expanded chronology;  next Vietnam, see Mar 1)
Student Rights
In March 1971: nine students (including a Dwight Lopez) were suspended for ten days from Marion-Franklin High School in Columbus, Ohio following student unrest. The students charged the school board and administrators with depriving them of their right to education without a timely hearing. (SR, see January 22, 1975; Vietnam, see Mar 1)
Daniel Ellsberg/Pentagon Papers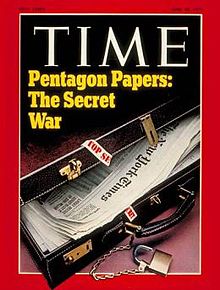 In March 1971: Ellsberg met with reporter Neil Sheehan of The New York Times and showed him the top-secret McNamara study. Sheehan, reporter Hedrick Smith and a handful of other New York Times reporters and editors began working on a massive story based on the Pentagon Papers, while lawyers at The New York Times debated whether they can, and should, publish top-secret government documents. (see Papers for expanded story)
March Peace Love Art Activism
AIDS & Ryan White
In March 1986: White's opponents held an auction in the school gymnasium to raise money to keep White out. (see Ryan White for expanded story)
March Peace Love Art Activism
Nuclear/Chemical News & ICAN
In March 2013: the International Campaign to Abolish Nuclear Weapons [ICAN]  coordinated civil society participation at historic Oslo Conference on the Humanitarian Impact of Nuclear Weapons, an unprecedented gathering of States to evaluate the scientific evidence about the catastrophic consequences of nuclear weapons. (Nuclear &  ICAN, see Aug 30)
March Peace Love Art Activism
Please follow and like us: