August 30 Peace Love Art Activism
BLACK HISTORY
Gabriel Prosser's rebellion
August 30, 1800: in the spring of 1800, Gabriel Prosser, a deeply religious man, began plotting an invasion of Richmond, Virginia and an attack on its armory. By summer he had enlisted more than 1,000 slaves and collected an armory of weapons, organizing the first large-scale slave revolt in the U.S. On the day of the revolt, a flood destroyed the bridges leading to Richmond and Prosser was betrayed.
The state militia attacked. Prosser and 35 of his men were hanged on Oct 7, 1800.  [Black Past article] (next BH, see Oct 2; next SR, see January 1805; Prosser, see October 28, 2002)
White League Massacre
August 30, 1874:  Thomas Abney chose a guard of about twenty-five men, the prisoners and with guards began to walk toward Shreveport. That afternoon, still  twenty miles below Shreveport guards at the rear of the group spied forty or fifty heavily armed riders in hot pursuit.
The pursuers were led by a mysterious "Captain Jack"—his real name Dick Coleman—about whom almost nothing is known except that he liked to kill Republicans. Captain Jack's gang overtook the train, crying out to the guards, "Clear the track," or die with the prisoners. Dewees, Homer Twitchell, and Sheriff Edgerton died in the first hail of bullets. The lynch mob took Howell, Willis, and Holland prisoner, then executed them in cold blood. At no point did the guards make any effort to protect the prisoners.
South of Coushatta, whites seized a black leader named Levin Allen, broke his arms and legs, and burned him alive. [Facing History article]  (next BH, see Aug 31; see expanded chronology of 19th century Lynching)
School Desegregation
August 30, 1956: despite the 1954 "Brown v. Bd Of Education" decision, a white mob in Mansfield, Texas violently barred black students from attending classes. The 12 black students were approved for registering in to Mansfield High School only to be met with racist taunts and burning effigies. Mansfield's school had board honored the high court's decision to allow the 12 students to attend the local high school. A mob of 400 pro-segregationists took to the streets brandishing guns and racist signs. Governor Allan Shivers sent six Texas Rangers not to escort the children in to the school, but to stave off any potential for violence. Effigies were hung, with one featuring a burned figure alongside a sign that read, "This Negro tried to enter the school." [running for re-election in 1954, Shivers had called Ralph Yarborough, his liberal opponent, a "n-gger lover." Shivers won a third term.]
That day, even though Black residents watched over the students using an armed community watch faction, the students were redirected to a secondary school in Fort Worth. The town resisted student integration and defied the constitutional law until 1965.  [Black Past article] (see Sept 1)
William Zantzinger
August 30, 1963: after his charge was reduced to manslaughter and assault, based on the likelihood that it was Hattie Carroll's stress reaction to William Zantzinger's verbal and physical abuse that led to the intracranial bleeding, rather than blunt-force trauma from the blow that left no lasting mark, Zantzinger was convicted of both charges and sentenced to six months in jail and a fine of $500. The judges deferred the start of the jail sentence until September 15, to give Zantzinger time to harvest his tobacco crop. He showed no remorse about Hattie Carroll — "I didn't do anything to her" — and he scoffed at his six-month sentence: "I'll just miss a lot of snow." (Zantzinger, see April 24, 1991)
George Whitmore, Jr
August 30, 1963: Newsweek offered a $10,000 reward for the arrest and conviction of the murderer or murderers. (see GWJ for expanded story; next BH, see Sept 12)
Thurgood Marshall
August 30, 1967: Thurgood Marshall confirmed as the first African American Justice of the United States Supreme Court. [Politico article]  (see October)
Pontiac school buses bombed
August 30, 1971: Robert Miles and four other Klansmen bombed 10 empty school buses shortly before a court-order issued by Judge Damon Keith to use busing to integrate schools in Pontiac, Michigan, was supposed to go into effect. [NYT article on conviction of Klansmen] (see Sept 9)
Lieutenant Colonel Guion S. Bluford
August 30, 1983: U.S. Air Force Lieutenant Colonel Guion S. Bluford became the first African American to travel into space when the space shuttle Challenger lifted off on its third mission. It was the first night launch of a space shuttle, and many people stayed up late to watch the spacecraft roar up from Cape Canaveral, Florida, at 2:32 a.m. [Military dot com article]  (see Nov 2)
August 30 Peace Love Art Activism
Feminism
Angelina Grimké
August 30, 1835: Angelina Grimké wrote a letter to abolitionist leader William Lloyd Garrison endorsing his efforts and calling antislavery a "cause worth dying for." As Grimké was a southern woman and the daughter of a prominent slave-owning judge, her letter made her a celebrity within the antislavery movement. [Women's History article]  (next Feminism, see November 1836)
Margaret Sanger
August 30, 1949: the U.S. military command in Japan informed Women's Health pioneer Margaret Sanger that General Douglas MacArthur had canceled her invitation to visit Japan. At issue was the fact that abortion rates in Japan were extremely high and Sanger had expressed concern that the greater availability of Women's Health information and services would help to reduce the number of abortions.
Gen. MacArthur, however, concluded that Women's Health was too sensitive an issue for the American occupation command, and consequently cancelled her invitation. (Sanger finally had a triumphant visit to Japan in 1953. She addressed the Japanese Diet and was given a motorcade parade, in which sound trucks announced "Sanger is here.") [NYU article]  (see April 25, 1951)
Sex-segregated ads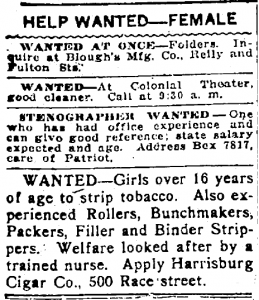 August 30, 1967: until the late 1960s, job-wanted ads were sex-segregated, indicating "Men Wanted" and "Women Wanted." Members of the National Organization for Women (NOW), which had been formed the year before on June 30, 1966, picketed The New York Times on this day to protest its use of sex-segregated ads.
Title VII of the 1964 Civil Rights Act outlawed sex discrimination in employment, but a controversy immediately developed when the new Equal Opportunity Commission initially decided that sex-segregated employment ads were not illegal. After strong feminist protests, the EEOC reversed its position. The Supreme Court upheld a ban on sex-segregated ads, in Pittsburgh Press v. Pittsburgh Human Relations Commission, on June 21, 1973. (see Oct 13)
August 30 Peace Love Art Activism
Labor History
August 30, 1918: ninety-three I.W.W. members in Chicago were sentenced from one to twenty years' imprisonment at Leavenworth, Kansas, for violating the Espionage Act. The defendants are also assessed fines from $20,000 to $30,000. (see Sept 14)
Colin Kaepernick
August 30, 2018: arbitrator Stephen Burbank decided that NFL free agent Colin Kaepernick's grievance alleging the league's owners colluded to keep him out can go to trial. (FS, see Oct 17; LH, see Nov 6; CK, see Sept 3)
August 30 Peace Love Art Activism
LGBTQ
Evelyn Hooker
August 30, 1956: American psychologist Evelyn Hooker shared her paper "The Adjustment of the Male Overt Homosexual" at the American Psychological Association Convention in Chicago. After administering psychological tests, such as the Rorschach, to groups of homosexual and heterosexual males, Hooker's research concluded homosexuality was not a clinical entity and that heterosexuals and homosexuals do not differ significantly. Hooker's experiment became very influential, changing clinical perceptions of homosexuality. (see June 24, 1957)
North American Mission Board
August 30, 2013: the North American Mission Board, the domestic arm of the Southern Baptist Convention's mission outreach programs, issued guidelines ordering the religion's military chaplains not to perform, attend or participate in same sex weddings in any way. In addition to ordering Baptist chaplains to adhere to the church's "marriage is for one man and one woman" line doctrinally and pastorally, the guidelines said, "NAMB-endorsed chaplains will not conduct or attend a wedding ceremony for any same-sex couple, bless such a union or perform counseling in support of such a union, assist or support paid contractors or volunteers leading same-sex relational events, nor offer any kind of relationship training or retreat, on or off of a military installation, that would give the appearance of accepting the homosexual lifestyle or sexual wrongdoing. This biblical prohibition remains in effect irrespective of any civil law authorizing same-sex marriage or benefits to the contrary." (see Sept 4)
Student Rights
August 30, 2021: the Gloucester County school board in Virginia agreed to pay $1.3 million in legal fees to resolve a discrimination lawsuit filed by Gavin Grimm, a former student, whose efforts to use the boys' bathroom put him at the center of a national debate over rights for transgender people.
Grimm's battle with the school board began in 2014, when he was a sophomore and his family informed his school that he was transgender. Administrators were supportive at first. But after an uproar from some parents and students, the school board adopted a policy requiring students to use the bathrooms and locker rooms for their "corresponding biological genders."
Grimm sued the school board. The legal battle pushed him into the national spotlight as Republican-controlled state legislatures introduced a wave of "bathroom bills" requiring transgender people to use public restrooms in government and school buildings that correspond to the gender listed on their birth certificates.
"We are glad that this long litigation is finally over and that Gavin has been fully vindicated by the courts, but it should not have taken over six years of expensive litigation to get to this point," Joshua Block, an American Civil Liberties Union lawyer who represented Mr. Grimm, said in a statement on Thursday. Mr. Block added that he hoped that the outcome would "give other school boards and lawmakers pause before they use discrimination to score political points." [ACLU article] (next SR, see ; next LGBTQ, see Oct 11)
August 30 Peace Love Art Activism
Cold War
August 30, 1963: the "Hot Line" communications link between the White House, Washington D.C. and the Kremlin, Moscow, went into operation to provide a direct two-way communications channel between the American and Soviet governments in the event of an international crisis. This was one year after the Cuban Missile Crisis. It consisted of one full-time duplex wire telegraph circuit, routed Washington- London- Copenhagen- Stockholm- Helsinki- Moscow, used for the transmission of messages and one full-time duplex radiotelegraph circuit, routed Washington- Tangier- Moscow used for service communications and for coordination of operations between the two terminal points. Note, this was not a telephone voice link. (see Oct 7)
August 30 Peace Love Art Activism
Technological Milestones
Cultural Milestone
August 30 – September 3, 1963: Dutch electronics company Philips introduced the compact cassette at the Berlin Radio Show (also known as the German Radio Exhibition or Internationale Funkausstellung). Its initial function was as a recording device; only later did prerecorded music become available. (CM, see Sept 2; TM, see Nov 18)
Space Shuttle
August 30, 1984: NASA's Space Shuttle Discovery took off for the first time, beginning what would become 27 years of reliable service. Astounding video!
Cable TV
By the end of 1987, 50.5% American households had cable television. (see April 25, 1990)
August 30 Peace Love Art Activism
August 30 Music et al
Dylan/Grossman
August 30, 1962: Dylan and Albert Grossman signed a management agreement. It gave Grossman four years as Bob's exclusive manager, with an option to extend the contract for a further three. (see In September)
August 30, 1965: released Highway 61 Revisited album. His sixth studio album. Recorded June 15 – Aug 4, 1965 (see May 16, 1966)
Byrds
August 30, 1968: Byrds released Sweetheart of the Rodeo album.
Festivals
August 30 – 31, 1969: attracted an audience of approximately 150,000. It became a legendary event largely owing to the participation of Bob Dylan who had spent the previous three years in semi-retirement following a motorcycle accident. (see June 9, 1970)
August 30 – September 1, 1969 [Labor Day weekend] – in  Lewisville, TX. Attendance at the festival remains unknown, but is estimated between 120,000 and 150,000
August 30 – September 1, 1969 [Labor Day Weekend]: Sky River Rock Festival, Rainier Hereford Ranch. Tenino, Washington. An estimated 25,000 people attended over three days. No breakdown of who played when seems to exist. (see Aug 31)
John Lennon
August 30, 1972: John Lennon performed two shows at Madison Square Garden in New York City, one in the afternoon and one in the evening, to raise money for children with mental challenges at friend Geraldo Rivera's request.
The benefit concerts, billed as One to One, also featured other performers in addition to Lennon, including Stevie Wonder, Roberta Flack, Melanie Safka and Sha-Na-Na.
Live in New York City captured John Lennon's last full-length concert performance, coming right after the release of Some Time in New York City, which was a commercial failure in the US. Perhaps as a result, Lennon's stage talk, while humorous, is self-deprecating and slightly nervous in tone. Backing Lennon and Ono were Elephant's Memory, who had served as Lennon and Ono's backing band on Some Time in New York City. Although the material Lennon performed was largely drawn from his three most recent albums of the period (John Lennon/Plastic Ono Band, Imagine and Some Time in New York City), he also included in the setlist his Beatles hit "Come Together" and paid tribute to Elvis Presley with "Hound Dog" before leading the audience in a singalong of "Give Peace a Chance". (Beatles, see March 6, 1973; concert, see February 10, 1986)
August 30 Peace Love Art Activism
Vietnam
August 30, 1965: General Westmoreland  outlined a "three-phase sustained campaign" :
The increased number of American troops would reverse the the "losing trend" that South Vietnamese forces had been experiencing.

In early 1966 a series of offensive operations would clear the enemy from the countryside to allow the expansion of pacification.

If Hanoi didn't see the hopelessness of its cause, US forces would obliterate their remaining forces. (see Aug 31)
Ho Chi Minh
August 30, 1969: Ho Chi Minh responded to Nixon's letter of July 15. He wrote that he understood that the United States must emerge from the war with honor, but Minh gave no hint of compromise. He said that the Vietnamese people were "determined to fignt to the end." (see Sept 2)
August 30 Peace Love Art Activism
Dissolution of the USSR
August 30, 1991: Azerbaijan declared independence from Soviet Union.  [Culture Tip article] (see Aug 31)
August 30 Peace Love Art Activism
Nominations
August 30, 2004: George W. Bush and Dick Cheney re-nominated at the Republican National Convention in New York City.
August 30 Peace Love Art Activism
Hurricane Katrina
August 30, 2005: Louisiana Governor Blanco ordered the evacuation of all New Orleans, including the Superdome, due to the flooding of the city. (see Katrina for expanded story)
August 30 Peace Love Art Activism
Native Americans
Veronica Brown
August 30, 2013: the Oklahoma Supreme Court granted an emergency stay to keep Veronica Brown, a 3-year-old Cherokee girl, with her biological father and plans to hear arguments from his lawyers and those of the girl's adoptive parents. (see Veronica for expanded story)
Denali
August 30, 2015: President Obama announced that Mount McKinley was being renamed Denali, restoring an Alaska Native name with deep cultural significance to the tallest mountain in North America. [NYT article] (see September 10, 2016)
August 30 Peace Love Art Activism
Nuclear/Chemical News & ICAN
August 30, 2013: United Nations working group highlighted humanitarian concerns about the catastrophic humanitarian consequences of nuclear detonations and the need for non-nuclear nations to push forward. (Nuclear, see Sept 15; ICAN, see In February 2014)
August 30 Peace Love Art Activism
Cannabis
August 30, 31, and September 1, 2016:  at the 98th National Convention of the American Legion, it was recommended the Legion "urge the Drug Enforcement Agency to license privately-funded medical marijuana production operations in the United States to enable safe and efficient cannabis drug development research; and…that The American Legion urge Congress to amend legislation to remove Marijuana from schedule I and reclassify it in a category that, at a minimum, will recognize cannabis as a drug with potential medical value. (see Oct 19)
August 30 Peace Love Art Activism
Immigration History
Texas immigration crackdown
August 30, 2017: U.S. District Judge Orlando Garcia blocked most of a Texas immigration crackdown two days before it was set to go into effect on Sept. 1, offering a major victory for opponents as a tropical storm ravages the state and local officials struggle to assure immigrants it's safe to seek help.
Garcia issued an injunction that prevents Texas from implementing Senate Bill 4 while a lawsuit challenging the law winds its way through the federal courts. The ruling marked a victory for immigrant rights groups and several local governments ― including those of Austin, Houston, San Antonio and El Cenizo ― that argued the law unconstitutionally requires police to do the work of federal authorities and would lead to racial profiling.
"There is overwhelming evidence by local officials, including local law enforcement, that SB 4 will erode public trust and make many communities and neighborhoods less safe," Garcia wrote in his order. "There is also ample evidence that localities will suffer adverse economic consequences which, in turn, harm the State of Texas."  [HuffPost article] (IH, see Sept 5; Texas, see March 13, 2018)
Separation of families
August 30. 2018: documents filed in a lawsuit seeking to reunite the families said that 497 of the 2,654 migrant children that the Trump administration took from their parents at the border were still in federal custody and not with parents. Parents of 322 of those children were deported.
Judge Dana Sabraw had ordered all children under age 5 to be reunited with parents by July 10, but 22 of them were still separated, according to government documents on this date. The deadline for reuniting 5- to 18-year-old children was July 26. (see Aug 31; next Judge Sabraw, see March 8, 2019)
August 30 Peace Love Art Activism
Pledge of Allegiance
August 30, 2018: according to Boulder County District Attorney's Office spokeswoman Catherine Olguin, Karen Smith, of Lafayette's Angevine Middle School, pleaded guilty to one count of child abuse resulting in injury (see Feb 1). Prosecutors dropped an additional charge of third-degree assault as a condition of the plea agreement.
Smith received an 18-month deferred sentence, which meant the guilty plea will be withdrawn if she fulfilled the terms of the sentence and avoided another criminal case during that time.
Smith, 60, also retired from teaching. (see Pledge for expanded chronology)
August 30 Peace Love Art Activism
Environmental Issues
August 30, 2021: the United Nations announced Algeria's last reserves of leaded gasoline had officially been emptied in July 2021, marking the global end of leaded fuel use in vehicles, according to a statement. Officials said the end of leaded petrol use would prevent more than 1.2 million premature deaths per year, and that it was an important step toward improving air pollution levels around the world, reported Helena Horton for the Guardian. [Smithsonian article] (next EI, see Sept 26)
August 30 Peace Love Art Activism
Sexual Abuse of Children
August 30, 2023: in Massachusetts, a Dedham District Court judge ruled that Theodore McCarrick, the highest-ranking Catholic cleric in the United States to face charges in the church's ongoing sexual abuse crisis, was not competent to stand trial, a judge in Massachusetts.
McCarrick faced three counts of indecent assault and battery in Massachusetts, based on an accusation that he repeatedly sexually assaulted a teenage boy at a family wedding reception in 1974. [NYT article] (next SAC, see Sept 29)
August 30 Peace Love Art Activism