August 5 Peace Love Art Activism
McCarthyism
August 5, 1948: Alger Hiss testified before the House Un-American Activities Committee, denying that he ever was a member of the Communist Party. [US HoR article] (see August 25, 1948)
August 5 Peace Love Art Activism
August 5 Music et al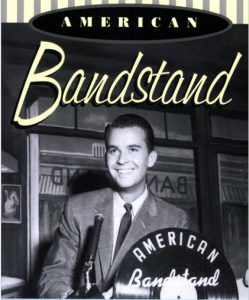 August 5, 1957: ABC television network did the first national broadcast of "American Bandstand". The show was very popular on WFIL-TV in Philadelphia. But the first show was interrupted for half an hour in the middle by The Mickey Mouse Club. Host Dick Clark's first guest was the Chordettes and the first record danced to on the show was Buddy Holly's "That'll Be the Day." (next Teenage Culture, see February 8 – 21, 1960)
August 5, 1966:  Revolver released in UK. According to music critic Richie Unterberger of Allmusic: In many respects, Revolver is one of the very first psychedelic LPs – not only in its numerous shifts in mood and production texture, but in its innovative manipulation of amplification and electronics to produce new sounds on guitars and other instruments. Specific, widely-heralded examples include the backwards riffs of "I'm Only Sleeping", the sound effects of "Yellow Submarine", the sitar of "Love You To", the blurry guitars of "She Said, She Said", and above all the seagull chanting, buzzing drones, megaphone vocals, free-association philosophizing, and varispeed tape effects of "Tomorrow Never Knows"
John Lennon
August 5, 1966: John Lennon  explained/defended/apologized about statement that  Beatles are more popular than Jesus, (Beatles, see Aug 12; see Lennon controversy for more)
August 5 Peace Love Art Activism
Black History
INDEPENDENCE DAY
August 5, 1960: Burkina Faso independent from France. [BBC profile] (see Aug 7)
Nelson Mandela
August 5, 1962: authorities arrested Mandela he after returned to South Africa from a trip abroad. At the time of his arrest, he had been living underground for 17 months. He was convicted of leaving the country illegally and incitement to strike, and sentenced to five years in prison. (SA/A, see Nov 5; NM, see July 11, 1963)
Harlem Riot
August 5, 1964: William Epton, the chairman of the Progressive Labor Movement in Harlem, arrested on charges of advocating criminal anarchy. Part of the evidence was a speech Epton gave on July 18. (see Aug 28 – 30)
MARTIN LUTHER KING, JR
August 5, 1966: King and other marchers from the Southern Christian Leadership Conference were hit with rocks as they marched through white neighborhoods in Chicago, protesting racial discrimination in housing. [Chicago Tribune article] (BH, see Aug 7; MLK, see March 25, 1967)
Eric Clapton
August 5, 1976: Eric Clapton made a drunken declaration of support for former Conservative minister Enoch Powell (known for his anti-immigration Rivers of Blood speech) at a concert in Birmingham. Clapton told the crowd that England had "become overcrowded" and that they should vote for Powell to stop Britain from becoming "a black colony".
He also told the audience that Britain should "get the foreigners out, get the wogs out, get the coons out", and then he repeatedly shouted the National Front slogan "Keep Britain White". [2018 Daily Beast article apology] (see "in September 1976")
John Crawford III
August 5, 2014:  police shot and killed 22-year-old John Crawford III  inside a Beavercreek, Ohio, Walmart. Crawford was carrying an air rifle that he had picked up inside the store. Cops were called to investigate a man waving what could be a firearm. Police said Crawford refused to put down the gun and turned toward them in a threatening way. Lawyers representing Crawford's family say the officers were reckless and negligent.
A grand jury voted not to indict either of the officers involved in the killing. (see Aug 8)
August 5 Peace Love Art Activism
Nuclear/Chemical News
21.1 megatons
August 5, 1962: Soviet Union above ground nuclear test. 21.1 megatons. (CW, see Aug 17; NN, see Aug 25)
Limited Nuclear Test Ban Treaty
August 5, 1963: Britain, America and Russia signed a Limited Nuclear Test Ban Treaty at Moscow to prohibit nuclear weapons tests "or any other nuclear explosion" in the atmosphere, in outer space, and under water. Underground nuclear explosions must not cause "radioactive debris to be present outside the territorial limits" their own country. The nuclear powers thus demonstrated a common goal to "an end to the contamination of man's environment by radioactive substances." The treaty was the result of over eight years of negotiations resolving issues of verification and deep-seated differences in attitudes to arms control and security. A total of 108 countries had signed before the LNTB Treaty entered into force 10 Oct 1963. [2009 Wired article] (see June 23, 1965)
August 5 Peace Love Art Activism
Clarence Earl Gideon
August 5, 1963: Gideon had chosen W. Fred Turner to be his lawyer for his second trial. Turner picked apart the testimony of eyewitness Henry Cook. Turner also got a statement from the cab driver who took Gideon from Bay Harbor, Florida to a bar in Panama City, Florida, stating that Gideon was carrying neither wine, beer nor Coke when he picked him up, even though Cook had testified that he watched Gideon walk from the pool hall to the phone, then wait for a cab. Furthermore, although in the first trial Gideon had not cross-examined the cab driver about his statement that Gideon had told him to keep the taxi ride a secret, Turner's cross-examination revealed that Gideon had said that to the cab driver previously because "he had trouble with his wife." The jury acquitted Gideon after one hour of deliberation. (see Gideon for expanded story)
August 5 Peace Love Art Activism
Vietnam
August 5, 1964: during Operation Pierce Arrow, LTJG Everett Alvarez Jr.'s plane was shot down in the immediate aftermath of the Gulf of Tonkin Incident. Alvarez endured eight years and seven months of brutal captivity by the North Vietnamese at the Hỏa Lò Prison (sarcastically known as the "Hanoi Hilton" by fellow POWs), in which he was repeatedly beaten and tortured. Alvarez was especially esteemed by his fellow prisoners because he was for almost a year the only aviator prisoner of war.  He was held prisoner until February 1973. [PBS interview] (see Aug 7)
Da Nang
August 5, 1965: the Viet Cong attacked a petroleum storage facility near Da Nang, destroying 40 percent of the facility and almost 2 million gallons of fuel. (see Aug 12)
POW release
August 5, 1969: North Vietnam released three American prisoners of war to activist Rennie Davis. The servicemen were: Air Force Capt. Wesley L. Rumble, 26, of Oroville, Calif.; Navy seaman Douglas B. Hegdahl, 22, of Clark, S.D.; and Navy Lt (j.g.) Robert Frishman, 28, of Santee, Calif. (Vietnam, see Aug 19; POWs see Sept 2)
August 5 Peace Love Art Activism
LGBTQ
Lonesome Cowboys raid
August 5, 1969: Atlanta police raided Ansley Mall Mini-Cinema during showing of Andy Warhol's movie, Lonesome Cowboys. The movie was controversial due to its positive portrayal of homosexuality.
Police handcuffed the theater's owner and his projectionist and arrested several other theater patrons—gay men, lesbians and drag queens among them—for  charges ranging from public indecency to illegal drug possession. The police chief later confirmed that the raid was designed to weed out "known homosexuals."
Soon after the raid, the Georgia Gay Liberation Front was formed.  [Smithsonian article] (see May 1970)
Gene Robinson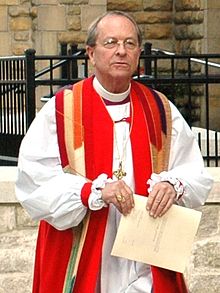 August 5, 2003: Gene Robinson, an openly gay man, was elected bishop-designate of New Hampshire by the Episcopal General Convention during its meeting in Minneapolis. This election sparked outrage by conservative Anglican Churches around the world and initiated moves towards a schism within Episcopal Church and conservative, evangelical churches tried to distances themselves from a leadership they felt had descended into heresy. (see Aug 14)
Texas
August 5, 2015: U.S. District Judge Orlando Garcia ordered Texas officials to recognize on a state death certificate the surviving spouse in a same-sex marriage whose husband died earlier in the year.
The case came as states such as Texas, which had barred same-sex marriage, grappled with changes brought by the landmark U.S. Supreme Court decision in June that made gay marriage legal in the United States.
Texas, where Republican leaders had tried to push back against gay marriage, had balked at recognizing John Stone-Hoskins as the surviving spouse on the death certificate of James Stone-Hoskins, according to court documents. Garcia ordered defendants including Texas Attorney General Ken Paxton, a Republican, and the state's acting health commissioner to appear in his court next week as he considered whether they should be held in contempt.  [Reuters article] (see Aug 10)
August 5 Peace Love Art Activism
Watergate Scandal
August 5, 1974: the "smoking gun" tape of June 23, 1972, was revealed, in which U.S. President Richard M. Nixon and White House Chief of Staff H.R. Haldeman discuss using the CIA to block a Federal Bureau of Investigation inquiry into Watergate. Nixon's support in Congress collapses. (see Watergate for expanded story)
August 5 Peace Love Art Activism
US Labor History
August 5, 1981: President Ronald Reagan fired the striking members of the Professional Air Traffic Controllers Organization (PATCO), calling the work stoppage illegal. Reagan's action and the demise of the union set a new tone for labor-management relations across the country. Employers begin to take tough stands against unions and did not hesitate to replace strikers with replacements. The decline in union membership accelerated. [NPR article] (see Oct 22)
August 5 Peace Love Art Activism
Feminism
August 5, 1993: signed into law by President Clinton on February 5, 1993, the Family and Medical Leave Act (FMLA) became effective. The Act allows eligible employees to take up to 12 weeks of unpaid leave in a 12-month period for medical reasons, for the birth or adoption of a child, or for the care of a child, spouse, or parent who has a serious health issue. [US DoL article] (next Feminism  see December 10, 1993)
August 5 Peace Love Art Activism
Hurricane Katrina
August 5, 2011: Katrina shootings and cover-up: Guilty verdicts were handed down for Bowen, Gisevius, Faulcon, Villavaso and Kaufman (see April 4, 2012)
August 5 Peace Love Art Activism
SEPARATION OF CHURCH AND STATE
August 5, 2014: the American Humanist Association demanded that the Missouri National Guard stop offering Bibles to new recruits at its recruiting station in St. Louis.
The Association, a Washington, D.C.-based advocacy group, also requested the New Testaments volumes displayed in the building be removed.
"Numerous cases have ruled that when the government offers biblical literature, even if done indirectly, it is an unconstitutional endorsement of religion," Monica Miller, an attorney for the association's Appignani Humanist Legal Center, wrote in a letter to the General Services Administration and to the Missouri National Guard. The GSA owns the building housing the Guard recruiting station and other military offices. [Washington Times article] (see Sept 18)
August 5 Peace Love Art Activism
Environmental Issues
Plains All American Pipeline spill
August 5, 2015: more than two months after crude oil from a ruptured pipeline fouled California beaches, Plains All American Pipeline disclosed  that the volume of the spill might be far larger than earlier projected. Plains had estimated that the May 19 spill west of Santa Barbara released up to 101,000 gallons. But in documents made public Wednesday, the Texas-based company said alternate calculations found the spill might have been up to 143,000 gallons, or about 40 percent larger. [NYT article search results]
Colorado mine wastewater spill
August 5, 2015: environmental officials in Colorado worked to clean up one million gallons of wastewater containing heavy metals that spilled from an abandoned mine, turning an adjoining river a murky, mustard shade of yellow.
The Environmental Protection Agency caused the spill while it was investigating a leak at the Gold King Mine. The wastewater flowed into Cement Creek, a tributary of the Animas River in southwestern Colorado, and snaked through the river toward New Mexico. E.P.A. officials confirmed the leak contained heavy metals, including lead and arsenic, but said it was too early to know whether there was a health risk to humans or animals. The river was closed for recreational and other uses, but officials said water sources should be safe.
"The orange color is alarming to people, but that is not an indication in any way of a health risk," said Joan Card, an official with Region 8 of the E.P.A. Testing is ongoing, she said.
Martin Hestmark, an assistant regional administrator with the agency, estimated that the wastewater was flowing at about a few hundred gallons per minute. The E.P.A. diverted the wastewater to treatment ponds it is building. [2016 NPR story] (see Sept 2)
August 5 Peace Love Art Activism
Voting Rights
August 5, 2015: a federal appeals panel ruled that a strict voter identification law in Texas discriminated against blacks and Hispanics and violated the Voting Rights Act of 1965 — a decision that election experts called an important step toward defining the reach of the landmark law.
The case was one of a few across the country that was being closely watched in legal circles after a 2013 Supreme Court decision that blocked the voting act's most potent enforcement tool, federal oversight of election laws in numerous states, including Texas, with histories of racial discrimination.
While the federal act still banned laws that suppress minority voting, it had been uncertain exactly what kinds of measures cross the legal line since that Supreme Court ruling.
The Texas ID law was one of the strictest of its kind in the country. It required voters to bring a government-issued photo ID to the polls. Accepted forms of identification included a driver's license, a United States passport, a concealed-handgun license and an election identification certificate issued by the State Department of Public Safety.  [NYT article] (see Aug 11)
Crime and Punishment
August 5, 2020: Republican Gov. Kim Reynolds signed an executive order restoring voting rights to tens of thousands of Iowans with felony convictions ahead of the November election.
Iowa was the only state that still permanently disenfranchised all felons unless they appealed directly to the governor.
Reynolds' order restored voting rights to felons who have completed their sentence, including probation, parole and special sentences that are associated with sex offenses. Reynolds' order does not require payment of victim restitution or any other fines or fees as a condition of being able to vote, a point of contention in Florida that has been caught up in court.
The order did not automatically restore voting rights to people convicted of murder, manslaughter, and other felony offenses included in Iowa's homicide code. Iowans who don't get their voting rights automatically restored upon completing their sentence can apply to the governor for individual rights restoration. [NPR story] (next C & P, see Sept 11; next VR, see Aug 18)
August 5 Peace Love Art Activism
TERRORISM
Dar Al Farooq mosque
August 5, 2017: an early-morning blast rocked the Dar Al Farooq mosque in Bloomington, MN.
Minnas worshipers had just begun to gather inside for morning prayers.
No injuries were reported. The building sustained damage to its front, and photographs from the scene showed a large shattered window, singed blinds and charring around the outside. [NYT atricle] (T, see Aug 12; Bloomington, see March 13, 2018)
Cesar Sayoc, Jr
August 5, 2019: Cesar A. Sayoc Jr., the fervent supporter of President Trump who rattled the nation when he sent homemade pipe bombs to former President Barack Obama, Hillary Clinton, and other prominent Democrats, was sentenced to 20 years in prison. [NYT article] (next T, see Sept 4)
August 5 Peace Love Art Activism