September 2 Peace Love Art Activism
Native Americans
September 2, 1862: the Battle of Birch Coulee. Dakota fighters attacked a detachment of 150 American soldiers. Thirteen soldiers were killed and 47 were wounded. Two Dakota were killed. [MNOPEDIA article] (see September 23, 1862)
September 2 Peace Love Art Activism
US Labor History
Immigration History
September 2, 1885: 150 white miners in Rock Springs, Wyoming, attacked their Chinese coworkers, killing 28, wounding 15 others, and driving several hundred more out of town.
The miners working in the Union Pacific coal mine had been struggling to unionize and strike for better working conditions for years. But at every juncture the powerful railroad company had bested them. Searching for a scapegoat, the angry miners blamed the Chinese. The Union Pacific had initially brought Chinese coal miners to Roc Springs as strikebreakers. Outraged by a company decision to allow Chinese miners to work the richest coal seams, a mob of white miners impulsively decided to strike back by attacking Rock Spring's small Chinatown. Most of the Chinese abandoned their homes and businesses and fled, but those who failed to escape in time were brutally beaten and murdered. [Politico article] (see Sept 9)
New union
September 2, 1893: the International Brotherhood of Boilermakers, Iron Ship Builders, Blacksmiths, Forgers and Helpers was founded in Chicago. (see February 8, 1894)
Expanded Social Security
September 2,1954: President Eisenhower signed legislation expanding Social Security by providing much wider coverage and including 10 million additional Americans, most of them self-employed farmers, with additional benefits. (see February 8, 1955)
ERISA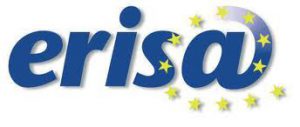 September 2, 1974: The Employee Retirement Income Security Act  set minimum standards for most private-sector pension and health plans. It provided key safeguards for employees.
By 1975 union membership had declined to 19.5% of employed workers. The first time it fell below 20% since 1942.  [US DoL article] (percent see January 21, 2011; Labor, see Feb 19)
September 2 Peace Love Art Activism
Vietnam
Democratic Republic of Vietnam
September 2, 1945: Ho Chi Minh and the Viet Minh  proclaimed the Democratic Republic of Vietnam. He paraphrased the U.S. Declaration of Independence: "All men are born equal: the Creator has given us inviolable rights, life, liberty, and happiness!" and was cheered by an enormous crowd gathered in Hanoi.
Shortly after his proclamation Allied troops landed to disarm Japanese forces: the British into southern Indochina below the 16th parallel and Chinese into the north, (The now liberated) France's Charles de Gaulle, ordered French soldiers to re-establish colonial rule. The British allowed the French to dislodge the Viet Minh from Saigon, triggering war below the 16th parallel. (next Vietnam, see Sept 13; next ID, see April 17, 1946)
Ho Chi Min
September 2, 1969: Ho Chi Min, leader of North Vietnam, died. [NYT article] (see Sept 5)
September 2 Peace Love Art Activism
World War II
September 2, 1945: Japan unconditionally surrendered to the US. (Cold War, see Sept 8; Vietnam, see Sept 13)
September 2 Peace Love Art Activism
BLACK HISTORY
Emmett Till
September 2, 1955:  in Chicago, Mamie Till arrived at the Illinois Central Terminal to receive Emmett's casket. She is surrounded by family and photographers who snap her photo collapsing in grief at the sight of the casket. The body is taken to the A. A. Rayner & Sons Funeral Home. (see Emmett Till)
Edward Judge Aaron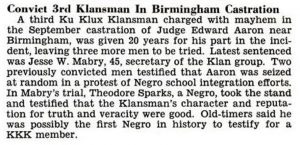 September 2, 1957: the Klu Klux Klan abducted and mutilated Edward Judge Aaron in Birmingham, Ala. Aaron was walking home when six hooded Klansmen abducted him, castrated him, and poured turpentine into his open wound. The Klansmen taunted Aaron, telling him they would do the same thing to anyone black who sought integration. Joe Prichett, one of the Klansmen involved, was convicted and sentenced him to 20 years in prison. [2014 US Prison Culture article] (see Sept 4)
School Desegregation
September 2, 1963: Alabama Governor George Wallace surrounded the Tuskegee high school with Alabama National Guard troops in an effort to prevent its integration pursuant to a federal court order in Lee vs. Macon County. In response, President John F. Kennedy federalized the Guard and sent it back to its barracks. [ABA Journal article] (BH, see Sept 4; School Desegregation, see Sept 9)
September 2 Peace Love Art Activism
Cultural & Technological Milestones
CBS Evening News
September 2, 1963: "The CBS Evening News" expanded from 15 to 30 minutes. (see February 4, 1964)
ATM
September 2, 1969:  America's first automatic teller machine (ATM) makes its public debut, dispensing cash to customers at Chemical Bank in Rockville Center, New York. [Smithsonian article]  (see October 29, 1969)
September 2 Peace Love Art Activism
INDEPENDENCE DAY
September 2, 1983:  Northern Cyprus declared itself independent from the Republic of Cyprus. Not recognized by all nations. (see Sept 19)
September 2 Peace Love Art Activism
Hurricane Katrina
September 2, 2005: President George W. Bush told Michael Brown, head of the Federal Emergency Management Agency, "Brownie, you're doing a heck of a job" during a tour of Hurricane Katrina damage in Alabama. (see Sept 4)
September 2 Peace Love Art Activism
Marijuana
September 2, 2013: in a controversial move said to raise funds for a possible war in Syria, President Obama announced plans to auction off all of the marijuana that had been seized in drug raids since he took office in 2008. The auctions were to be held only in states that had legalized the drug and only to users with a medical marijuana card. (see Nov 5)
September 2 Peace Love Art Activism
Nuclear/Chemical News
September 2, 2015: Senator Barbara Mikulski of Maryland came out in support of President Obama's Iran nuclear accord, the 34th Democrat in favor. Her announcement gave Mr. Obama the votes to assure the deal will survive a Congressional challenge.
"Some have suggested we reject this deal and impose unilateral sanctions to force Iran back to the table. But maintaining or stepping up sanctions will only work if the sanction coalition holds together," wrote Ms. Mikulski, the longest serving female senator in history.
"It's unclear if the European Union, Russia, China, India and others would continue sanctions if Congress rejects this deal. At best, sanctions would be porous, or limited to unilateral sanctions by the U.S."  [CNN article] (next N/C N, see January 6, 2016; next Iran, see September 26, 2017)
September 2 Peace Love Art Activism
Environmental Issues
September 2, 2015: part of the Mississippi River was closed as crews investigated an oil spill caused by the collision of two tow boats, the U.S. Coast Guard said. The collision near Columbus, Kentucky, damaged at least one barge carrying clarified slurry oil. The cargo tank was ruptured, causing thousands of gallons of oil to spill into the river, the Coast Guard said. No injuries were reported.
The barge was carrying approximately 1 million gallons, but the breach was only in one area, affecting just one of its six tanks. That tank holds 250,000 gallons, a little more than 120,000 gallons spilled into the river. The Coast Guard said it was working with the barge owner, Inland Marine Services, and an oil spill response organization. Inland Marine Services referred calls to its public relations person, Patrick Crowley, who did not return repeated calls seeking comment. [Chicago Tribune article] (see Sept 21)
September 2 Peace Love Art Activism
Immigration History
September 2, 2019: the Trump administration announced that it would reconsider its August 7 decision to force immigrants facing life-threatening health crises to return to their home countries, an abrupt move that generated public outrage and was roundly condemned by the medical establishment. (see Sept 9)
September 2 Peace Love Art Activism