September Peace Love Art Activism
LSD
Thomas De Quincey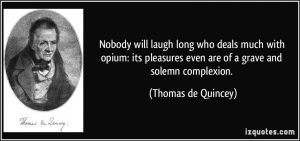 In September – October 1821 :  the London Magazine published Thomas De Quincey's Confessions of an English Opium-Eater. It was an autobiographical account about DeQuincey's laudanum addiction and its effect on his life. [text]
Fitz Hugh Ludlow
In 1857:  Fitz Hugh Ludlow  published The Hasheesh Eater, an autobiographical book in which Ludlow described his altered states of consciousness and philosophical flights of fancy while he was using a cannabis extract. In the United States, the book created popular interest in hashish, leading to hashish candy and private hashish clubs. [text]
Charles Baudelaire
In 1860:  French poet Charles Baudelaire published Les Paradis Artificiels (Artificial Paradises), a book about the state of being under the influence of opium and hashish.
Baudelaire described the effects of the drugs and discussed the way in which they could theoretically aid mankind in reaching an "ideal" world.
Baudelaire analyzed the motivation of the addict, and the individual psychedelic experience of the user. His descriptions have foreshadowed other such work that emerged later in the 1960s regarding LSD. [Parisian Review article]
Louis Lewin
In 1886:  Louis Lewin, a German pharmacologist, published the first systematic study of the the cactus from which the mescal buttons were obtained (his own name was subsequently given to the plant: Anhalonium lewinii.
The plant was new to science, but not to the Indians of Mexico and the American Southwest. It was (according to Aldous Huxley's 1954 essay, The Doors of Perception, "a friend of immemorially long standing. Indeed, it was much more than a friend. In the words of one of the early Spanish visitors to the New World, "they eat a root which they call peyote, and which they venerate as though it were a deity." [Psychedelic Press UK article]  (see April 3, 1896)
Timothy Leary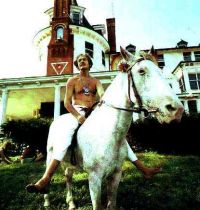 In September, 1962: Timothy Leary founded International Foundation for Internal Freedom (IFIF) to promote LSD research & publishes The Psychedelic Review. [Harvard Crimson article]
Mainstream media
In 1963: LSD first appeared on the streets as liquid on sugar cubes. Articles about LSD first appeared in mainstream media Look, Saturday Evening Post. (see May,  6, 1963)
Millbrook, New York
In September 1963: Timothy Leary, Richard Alpert, and other Harvard alumni LSD researchers moved to the Hitchcock estate in Millbrook, New York. [Shadow Vue article] (see Nov 22)
Owsley Stanley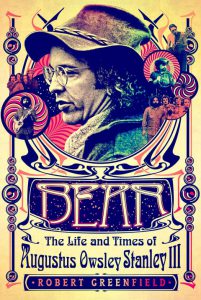 In September 1965: Owsley Stanley became the primary LSD supplier to Ken Kesey and the Merry Pranksters.  [NYT obit] (see Oct 15)
League for Spiritual Discovery
In September 1966: Timothy Leary held a press conference at NY Advertising Club, to announce the formation of a psychedelic religion – League for Spiritual Discovery ("Like every great religion of the past we seek to find the divinity within and to express this revelation in a life of glorification and the worship of God. These ancient goals we define in the metaphor of the present—turn on, tune in, drop out") [LSD site]
September Peace Love Art Activism
Feminism
Matilda Joslyn Gage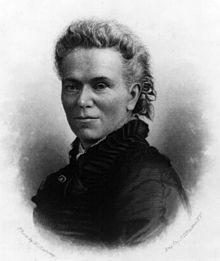 In September 1852: Gage gave her first public address at the third national women's rights convention in Syracuse stating: While so much is said of the inferior intellect of woman, it is by a strange absurdity conceded that very many eminent men owe their station in life to their mothers. (next Feminism, see May 1, 1855)
Gage disputes Lincoln
In 1862 Gage gave Flag Presentation Speech to 122nd regiment as they went off to the Civil War. Opposing President Lincoln, who said the war was being fought to preserve the union, Gage tells soldiers they were fighting for an end to slavery and freedom for all citizens. (next Feminism, see June 25, 1863)
New York State Woman Suffrage Association
In 1869 Gage helped found New York State Woman Suffrage Association; served as president for nine years. (next Feminism, see April 1869)
Gage on Native Americans
In the 1870s, Gage wrote a series of articles speaking out against United States' unjust treatment of American Indians and describing superior position of native women. "The division of power between the sexes in this Indian republic was nearly equal," Gage wrote of the Iroquois. In matters of government, "…its women exercised controlling power in peace and war … no sale of lands was valid without consent" of the women, while "the family relation among the Iroquois demonstrated woman's superiority in power … in the home, the wife was absolute … if the Iroquois husband and wife separated, the wife took with her all the property she had brought … the children also accompanied the mother, whose right to them was recognized as supreme." "Never was justice more perfect, never civilization higher," Gage concluded. (next Feminism, see February 3, 1870; see Gage for expanded story)
September Peace Love Art Activism
Black History
Colored Caulkers' Trade Union Society
In September 1866: the first African-American trade union called the Colored Caulkers' Trade Union Society of Baltimore was founded, with Isaac Myers as the union's first president.
Isaac Myers grew up in Baltimore as the son of poor free parents. By 1841 Myers was apprenticed to James Jackson, a prominent black ship caulker. Within 20 years Myers was working as a skilled caulker and supervising other men in the caulking of clipper ships within the harbor. However, black workers, noticeably in the shipbuilding and maritime industries, were regularly dismissed from their jobs to make room for the growing number of whites looking for work. This unjust, but frequently occurring, situation led Myers and others to organize the black workers. (see Oct 26)
Afro-American Council
In September 1898: the Afro-American Council (AAC) was established in Rochester, New York, by newspaper editor T. Thomas Fortune and Bishop Alexander Walters of the African Methodist Episcopal Zion Church.  They envisioned the organization as a revival of the earlier National Afro-American League (NAAL), which in 1890 became the first national black organization specifically created to challenge racial segregation and discrimination. [Black Past article] (see Nov 8)
Scottsboro Travesty/Charlie Weems
In September 1943 Charlie Weems was paroled.
Scottsboro Travesty/Charlie Norris and Andy Wright
In September 1944 Charlie Norris and Andy Wright left Montgomery in violation of their paroles. (see Scottsboro Travesty for full story)
School Desegregation
In September 1946: Gary, Indiana school district adopted a new policy that dictated, "children may not be discriminated in the school district in which they live, or within the schools in which they attend, because of race, color or religion."
The policy did not take effect until the following 1947 school year to allow the community time to adjust. (BH, see Dec 5; SD, see April 14, 1947)
MARTIN LUTHER KING, JR
In September 1957: King visited Highlander Folk School. Pete Seeger introduced "We Shall Overcome" to him. Vernon Jordan, a Georgia activist at that time, remarked: "The people were cold with fear until music did what prayers and speeches could not do in breaking the ice."  [Stanford U article] (BH, see Sept 2; MLK, see April 6, 1958)
Jimmie Lee Jackson murder
In September 1965: a grand jury declined to indict James Fowler in the shooting death of Jimmie Lee Jackson. (next BH, see Sept 6; see Jackson for expanded story)
Muhammad Ali
In September 1984:  Ali was diagnosed with Parkinson's Disease. (BH, see May 13, 1985; Ali, see July 19, 1996)
Stop and Frisk Policy
In September 2009: Stop-and-Frisk became an issue in the mayoral race, as well as the Manhattan DA's race. (see December 2009)
September Peace Love Art Activism
September Music et al  
Ornette Coleman
In September 1961: Free Jazz by Ornette Coleman released. According to the Internet site, allmusic: As jazz's first extended, continuous free improvisation LP, Free Jazz practically defies superlatives in its historical importance. Ornette Coleman's music had already been tagged "free," but this album took the term to a whole new level. Aside from a predetermined order of featured soloists and several brief transition signals cued by Coleman, the entire piece was created spontaneously, right on the spot.
News Music
Bob Dylan & The Road to Bethel
In September 1962:  Dylan wrote A Hard Rain's A-Gonna Fall in the basement of the Village Gate, in a small apartment occupied by Chip Monck, later to become one of the most sought-after lighting directors in rock music and a voice associated with the Woodstock Festival. (Dylan, see Dec 14; see Woodstock, Chronology for expanded story)
Janis Ian
In September 1966: Society's Child released. Recorded in 1965, 15-year-old Janis Ian's song about teenage interracial romance was daring even in an age of openness. She was criticized by both conservatives because of the song's topic and by folk musicians because of the song's use of drums and harpsichord. (see Sept 10)
2009 interview with Ian
September Peace Love Art Activism
September Music et al
Beatles
In September 1966: George Harrison went to India for 6 weeks to study sitar with Ravi Shankar (see Sept 10)
Arlo Guthrie
In September 1967: Arlo Guthrie (age 20) released first album, Alice's Restaurant. (see "in October")
Rock Against Racism
In September 1976: Rock Against Racism (RAR) founded by Red Saunders, Roger Huddle and others in the United Kingdom as a response to an increase in racial conflict and the growth of white nationalist groups such as the National Front. The campaign involved pop, rock, punk rock and reggae musicians staging concerts with an anti-racist theme, in order to discourage young people from embracing racist views. David Widgery, active with the RAR, wrote, "We want Rebel music, street music, music that breaks down people's fear of one another. Crisis music. Now music. Music that knows who the real enemy is."
September Peace Love Art Activism
Vietnam
Daniel Ellsberg/Pentagon Papers
in September 1969: Ellsberg met draft resister and antiwar activist Randy Kehler, whose willingness to go to prison based on his opposition to the war has a great impact on Ellsberg. Shortly thereafter, Ellsberg finishes reading a copy of the entire McNamara study, which revealed a pattern of escalation of the war, even in the face of evidence that the war is unwinnable. The study also revealed lies told to the public about U.S. military actions. Ellsberg was inspired to take action against what he now sees as "a wrongful war." (see Ellsberg for full story)
September Peace Love Art Activism
AIDS & Ryan White
in September, 1986: White attended Western Middle School for eighth grade for the entire 1986–87 school year, but was deeply unhappy and had few friends. In 1988 White would speak before President Reagan's AIDS Commission. At it he would state:
Even though we knew AIDS was not spread through casual contact. Nevertheless, parents of twenty students started their own school. They were still not convinced. Because of the lack of education on AIDS, discrimination, fear, panic, and lies surrounded me:
I became the target of Ryan White jokes
Lies about me biting people
Spitting on vegetables and cookies
Urinating on bathroom walls
Some restaurants threw away my dishes
My school locker was vandalized inside and folders were marked FAG and other obscenities.
 I was labeled a troublemaker, my mom an unfit mother, and I was not welcome anywhere.
People would get up and  leave so they would not have to sit anywhere near me. Even at church, people would not shake my hand.  [entire text]
Threats continued. When a bullet was fired through the Whites' living room window, the family decided to leave Kokomo. [Elton John loaned $16,500 to put toward a down payment on the Cicero home, and rather than accept repayment placed the repaid money into a college fund for Ryan's sister.] (see Ryan White for full story)
September Peace Love Art Activism
Student Rights
In September 1989: the Veronia, OR school district, in order to prevent student athletes from using drugs, to protect their health and safety, and to provide drug users with assistance programs, instituted a random drug testing regimen. (see June 26, 1995)
September Peace Love Art Activism
Religion and Public Education
In September 1996:  Ohio began the "Pilot Project Scholarship Program" which allowed parents of students in the Cleveland School District to use public monies to pay for tuition at private schools, including religious schools. Aid was give to parents according to financial need, and where the aid was spent depended only upon where parents chose to enroll their children. [Princeton U article] (Religion, see June 23. 1997; Ohio, see June 27, 2002)
September Peace Love Art Activism
Operation Popeye
In September 2010: James Rodger Fleming published Fixing the Sky: The Checkered History of Weather and Climate Control. In it he wrote: Although some claimed that [Operation Popeye] induced from 1 to 7 inches of additional rainfall annually along the Ho Chi Minh Trail, no scientific data were collected to verify the claim. General Westmoreland thought there was "no appreciable increase" in rain from the project. Even if the cloud seeding had produced a tactical victory or two in Vietnam (it did not), the extreme secrecy surrounding the operation and the subsequent denials and stonewalling of Congress by the military resulted in a major strategic defeat for military weather modification.(Vietnam, see May 23, 2016; see Operation Popeye for expanded story)
September Peace Love Art Activism