February 3 Peace Love Art Activism
Feminism, BLACK HISTORY & Voting Rights
February 3, 1870: the Fifteenth Amendment to the United States Constitution ratified. It states that "the right of citizens of the United States to vote shall not be denied or abridged by the United States or by any State on account of race, color, or previous condition of servitude."
Elizabeth Cady Stanton, Susan B. Anthony, and other feminists will develop a constitutional argument stating that the Fifteenth Amendment's gender-neutral language and the transfer of control over suffrage from the states to the federal government, coupled with the privileges and immunities clause of the Fourteenth Amendment, resulted in a constitutional protection for women's right to vote.  (Feminism & Voting Rights, see Nov 5, 1872; BH, see Feb 25)
February 3 Peace Love Art Activism
FEMINISM
Voting Rights
February 3, 1918: Suffragist Lucy Burns notified the NY Board of Education that she declined the teaching position in the Bay Ridge High School. There had been a number of complaints because of her previous arrests and time in jail. (see Mar 4)
Malala Yousafzai
February 3, 2013: Birmingham's Queen Elizabeth Hospital doctors said that they were "very pleased" with Yousufzai's progress after five hours of skull reconstruction and ear surgery. (Feminism, see  Feb 11; MY, see July 11)
February 3 Peace Love Art Activism
BLACK HISTORY
Winfred Lynn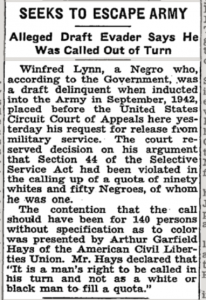 February 3, 1944: the Second Circuit Court of Appeals on this day rejected Winfred Lynn's challenge to the racially segregated draft during World War II. Lynn was an African-American gardener from Long Island, New York, who refused to cooperate with the segregated draft.
Lynn's challenge was based on the 1940 Selective Service Act law that established a military draft in preparation for World War II. It included a clause prohibiting racial discrimination. Nonetheless, the U.S. Armed Forces continued to maintain separate drafts for whites and African-Americans — and segregated military units. Civil rights leader. 
The U.S. District Court rejected Lynn's case on December 4, 1942, and on this day by a vote of 2–1 the Circuit Court of Appeals upheld the lower court's decision.(see Feb 16)
Family Sentenced to Death
February 3, 1948:  Rosa Lee Ingram, a Black woman, and two of her children, Wallace, 17, and Sammie Lee, 14, were convicted by an all-white jury in a one-day trial in Ellaville, Georgia. The three family members were sentenced to death by electric chair for killing an armed white man in self-defense after he violently assaulted and threatened them.
After a post-trial motion and pressure from civil rights activists, the trial judge changed the Ingrams' sentences to life imprisonment—then in July 1948, the Georgia Supreme Court affirmed their convictions and life sentences. Though Ms. Ingram and her sons no longer had death sentences, they were sent to the state penitentiary and were each forced to serve more than a decade in prison for daring to defend themselves against a violent, armed assault by a white man. The Ingrams were not released on parole until 1959. [EJI story]  (next BH, see )
Autherine Lucy
February 3, 1956: despite roadblock after roadblock, Autherine Lucy enrolled as a graduate student in library science, becoming the first African American ever admitted to a white public school or university in the Alabama. (see Autherine Lucy for expanded story; next BH, see Feb 6)
The Greensboro Four
February 3, 1960: more than 60 students, one-third of them female, returned to the Greensboro store and sat down at every available lunch counter seat. Students from Bennett College and Dudley High School increased the number of protesters, and many carpooled to and from the F.W. Woolworth store to sit-in shifts. 
Members of the Ku Klux Klan, including the state's official chaplain George Dorsett, were present. White patrons taunted the students as they studied. A statement issued from F.W. Woolworth's national headquarters read that company policy was "to abide by local custom." (see G4 for expanded chronology)
Terrorism
February 3, 2014: the Justice Department and the U.S. Attorney's Office for the Middle District of Alabama announced that Steven Joshua Dinkle, 28, former Exalted Cyclops of the Ozark, Ala., chapter of the International Keystone Knights of the Ku Klux Klan (KKK), pleaded guilty in federal court to hate crime and obstruction of justice charges for his role in a 2009 cross burning. (see Mar 4)
February 3 Peace Love Art Activism
US Labor History
Loewe v Lawlor
February 3, 1908: in Loewe v Lawlor,  the U.S. Supreme Court ruled that union-sponsored boycotts were illegal and applied the Sherman Antitrust Act to labor as well as capital. It was also decided that individual unionists could be held personally liable for damages incurred by the activities of their union. (see  Mar 10)
United States v. Darby Lumber Co
February 3, 1941:  in United States v. Darby Lumber Co, the United States Supreme Court upheld the Fair Labor Standards Act of 1938, holding that the U.S. Congress had the power under the Commerce Clause to regulate employment conditions thus banning child labor and establishing the 40-hour work week. (see Mar 8)
February 3 Peace Love Art Activism
The Red Scare
February 3, 1950: authorities in Great Britain arrested Klaus Fuchs, a German-born British scientist who helped developed the atomic bomb, for passing top-secret information about the bomb to the Soviet Union. The arrest of Fuchs led authorities to several other individuals involved in a spy ring, culminating with the arrest of Julius and Ethel Rosenberg and their subsequent execution.  (RS, see Feb 9; Nuclear/Chemical News, see Mar 1)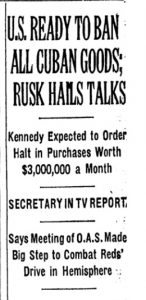 February 3, 1962:  President Kennedy banned all trade with Cuba. (see CMC for expanded chronology)
February 3 Peace Love Art Activism
February 3 Music et al
Winter Dance Party
February 3, 1959: Winter Dance Party tour performers (see Jan 23 music et al) Buddy Holly, Ritchie Valens, and J.P. "The Big Bopper" Richardson died in a plane crash near Clear Lake, Iowa.
"It was already snowing at Minneapolis, and the general forecast for the area along the intended route indicated deteriorating weather conditions," wrote the Civil Aeronautics Board investigators six months after the crash. "The ceiling and visibility were lowering…and winds aloft were so high one could reasonably have expected to encounter adverse weather during the estimated two-hour flight." All of this information was available to 21-year-old pilot Roger Peterson, if only he had asked for it. Instead, he relied on an incomplete weather report and on the self-confidence of youth in making the decision to take off from Clear Lake, Iowa, shortly after midnight on February 3, 1959. Untrained and uncertified in instrument-only flight, Peterson was flying into conditions that made visual navigation impossible. "Considering all of these facts," the investigating authorities concluded, "the decision to go seems most imprudent." (see April 27)
Bob Dylan
February 3, 1964: Dylan, along with friends Victor Maymudes (his first road manager),  Pete Karman (Suze Rotolo's request to keep an eye on Dylan), and Paul "Pablo" Clayton (his tune was appropriated by Dylan for "Don't Think Twice."
Though Dylan would play a few concerts on the trip, it's main purpose was to imitate Jack Kerouac's novel On the Road.
Among the songs he wrote on the trip were: "Chimes of Freedom" and "Mr Tambourine Man" (see Feb 25)
Green Tambourine
February 3 – 9, 1968: "Green Tambourine" by the Lemon Pipers #1 on the Billboard Hot 100.
February 3 Peace Love Art Activism
Space Race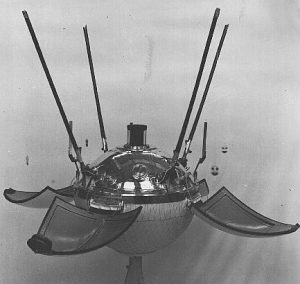 February 3, 1966: the Soviet Union accomplished the first controlled landing on the moon, when the unmanned spacecraft Lunik 9 touched down on the Ocean of Storms. After its soft landing, the circular capsule opened like a flower, deploying its antennas, and began transmitting photographs and television images back to Earth. (History dot com article) (see Mar 4)
February 3 Peace Love Art Activism
SEPARATION OF CHURCH AND STATE
February 3, 1983: speaking at the annual National Prayer Breakfast, President Ronald Reagan issued a Proclamation designating 1983 the "Year of the Bible." He issued the proclamation in response to a Congressional resolution advocating such a proclamation in late 1982. The Proclamation was a blatant violation of the separation of church and state, since it implied official government support for a particular religion — and ignored the views of all people in America who do not worship the Christian Bible or do not adhere to any religious faith. (Proclamation 5018) (see March 5, 1984)
February 3 Peace Love Art Activism
Environmental Issues
February 3, 1984: the Environmental Protection Agency ordered a ban on the pesticide ethylene dibromide (EDB) for grain products. Recent tests by government agencies had shown that the pesticide was often found on grain products in stores and on most imported fruits, especially citrus fruits, papayas and mangoes.  (see Dec 2 – 3)
February 3 Peace Love Art Activism
Vietnam
February 3, 1994: President Bill Clinton announced the lifting of the 19-year-old trade embargo against Vietnam, citing the cooperation of Vietnam's communist government in helping the United States locate the 2,238 Americans still listed as missing in the Vietnam War.  (see July 11, 1995)
February 3 Peace Love Art Activism
DEATH PENALTY
February 3, 1997: the American Bar Association took action that it hoped would focus more attention on systemic problems and lack of fairness in the application of the death penalty in the United States. While taking no position on the death penalty per se, the ABA adopted a resolution initiated by the Section of Individual Rights and Responsibilities that urges a halt to executions until concerns about capital punishment in the U.S. were addressed. Specifically, the resolution called for capital jurisdictions to impose a moratorium on all executions until they can:
(1) ensure that death penalty cases are administered fairly and impartially, in accordance with due process, and
(2) minimize the risk that innocent persons may be executed. 
(see March 3, 1999)
February 3 Peace Love Art Activism
CLINTON IMPEACHMENT
February 3, 1999: House prosecutors questioned White House aide Sidney Blumenthal in a closed-door deposition. (see Clinton for expanded story)
February 3 Peace Love Art Activism
Iraq War II
CIA
February 3, 2004:  the CIA admitted that there was no imminent threat from weapons of mass destruction before the 2003 invasion of Iraq.  (see Apr 28)
Bush requests additional $
February 3, 2006:  Bush requested an additional $70 billion for Iraq and Afghanistan, $120 billion total for 2006. (see Feb 28)
February 3 Peace Love Art Activism
LGBTQ
February 3, 2015:  the United States Court of Appeals for the 11th Circuit denied the Alabama Attorney General's motion for a stay in Searcy v. Strange and Strawser v. Strange. With the ruling, same-sex couples could begin to marry beginning February, 9, unless the US Supreme Court issued a stay. (NYT article) (see Feb 8)
February 3 Peace Love Art Activism
ADA
February 3, 2015: the city of Fallon, Nevada reached an agreement with the Justice Department to settle allegations the city engaged in a pattern of discrimination by requiring job applicants to disclose disabilities and/or medical information before they were offered city jobs.
The Justice Department first notified Fallon in July 2013 it was investigating alleged violations of the Americans with Disabilities Act.
Fallon Mayor Kenneth Tedford signed the agreement pledging to end the practice and take several other steps to make sure it doesn't happen again, including providing ADA training to all supervisors and other employees involved in making hiring or personnel decisions.
The Justice Department said in a statement that it had reached similar agreements with the cities of DeKalb, Illinois, Vero Beach, Florida and Isle of Palms, South Carolina. (see Apr 10)
February 3 Peace Love Art Activism
Immigration History
February 3, 2017: Judge James Robart of Federal District Court for the Western District of Washington (State) temporarily blocked President Trump's week-old immigration order from being enforced nationwide, reopening America's door to visa holders from seven predominantly Muslim countries and dealing the administration a humbling defeat.
The White House vowed to fight what it called an "outrageous" ruling, saying it would seek an emergency halt to the judge's order as soon as possible and restore the president's "lawful and appropriate order."
 "The president's order is intended to protect the homeland and he has the constitutional authority and responsibility to protect the American people," the White House said. A revised statement released later omitted the word "outrageous." (NYT article) (see Feb 4)
February 3 Peace Love Art Activism
Trump Impeachment
February 3,  2020: President Trump's defense team and the House impeachment managers made their closing arguments in the impeachment trial.
Democratic Sen. Joe Manchin proposed censuring the President instead of voting to remove him from office, thinking that such a move would get a bipartisan majority that a conviction vote would not.
Republican Sen. Lisa Murkowski said that while she would not vote to convict Trump, his actions were "shameful and wrong."  [CNN article] (next TI, see Feb 5 or see Trump for expanded chronology)
February 3 Peace Love Art Activism