February 2 Peace Love Art Activism
Immigration History
Chinese arrive
February 2, 1848: the first Chinese emigrants arrived in San Francisco. (see March 3, 1855)
Biden Rollbacks
February 2, 2021: President signed three executive orders aimed at further rolling back former President Trump's assault on  immigration  and at reuniting migrant children who were separated from their families at the Mexican border.
In one order, the president directed the secretary of homeland security to lead a task force that will try to put back together several hundred families that remain separated under Trump's "zero tolerance" policy, which sought to discourage migration across the country's southern border.
With two other orders, Biden authorized a wholesale review of Trump's immigration policies that limited asylum, stopped funding to foreign countries, made it more difficult to get green cards or be naturalized, and slowed down legal immigration into the United States. [NYT article] (next IH, see Feb 24)
February 2 Peace Love Art Activism
BLACK HISTORY
Frederick Douglass
February 2, 1866: an African-American delegation led by Frederick Douglass met with President Andrew Johnson at the White House and advocated that those freed from slavery should be given the right to vote. The President rejected his proposal. (see Mar 27)
Japanese Internment Camps
February 2, 1948: President Harry Truman delivered a special message to Congress on civil rights, with a set of legislative proposals. His proposals were based in large part on the report of his Civil Rights Committee, "To Secure These Rights," [released on October 29, 1947]. The report was the first-ever, comprehensive presidential message on civil rights. Truman recommended the establishment of a permanent Commission on Civil Rights; federal protection against lynching; protection of the right to vote; settling claims of Japanese-Americans who had been relocated after the attack on Pearl Harbor; statehood for Alaska and Hawaii; suffrage and self-government for the District of Columbia; and "prohibiting discrimination in interstate transportation facilities."  (BH, see Mar 2;  see Japanese for expanded chronology)
Montgomery Bus Boycott
February 2, 1956: Jeanetta Reese withdrew from the bus seating suit explaining that she and her husband had been threatened with economic retaliation and violence. (see MBB for expanded chronology)
University of Alabama
February 2, 1956: the University of Alabama Board of Trustees rejected the now-married Polly Myers Hudson on the grounds of her "conduct and marital record" likely thinking that Autherine Lucy would not attend without a friend to be with. (BH & U of A, see Feb 3)
The Greensboro Four
February 2, 1960:  twenty-five men, including the four freshmen, along with four women returned to the F.W. Woolworth store. The students sat from 11 a.m. to 3 p.m. while white patrons heckled them. Undaunted, they sat with books and study materials to keep them busy. They were still refused service.
Reporters from both newspapers, a TV camera man and Greensboro police officers monitored the scene. Once the sit-ins hit the news, momentum picked up and students across the community embraced the movement. That night, students met with college officials and concerned citizens. They organized the Student Executive Committee for Justice to plan the continued demonstrations. This committee sent a letter to the president of F.W. Woolworth in New York requesting that his company "take a firm stand to eliminate discrimination". Meanwhile, at its regular monthly meeting, the NAACP voted in unanimous support of the students' efforts. (see G4 for expanded chronology)
Rock Hill, South Carolina
February 2, 1961: civil rights demonstrators in Rock Hill, South Carolina, who were arrested for organizing and participating in sit-ins, began a "jail-in" by refusing to post bail, with the intention of filling the local jail. The Rock Hill sit-ins had begun a year earlier, in February 1960, as part of the first wave of national sit-ins, and continued off and on into 1961. Demonstrators were arrested in January 1961, convicted, and sentenced to jail. On this day, they began serving their sentences of "hard labor" at the York County Prison Farm. (see Feb 9)
George Whitmore, Jr
February 2, 1965: a U.S. Justice Department spokesperson said the department was "following the [Whitmore] situation closely." (see Whitmore for expanded story)
Congressional Black Caucus
February 2, 1971:  the Congressional Black Caucus was officially founded with 13 members. In the 111th Congress, the caucus had 42 members. (see Mar 8)
SOUTH AFRICA/APARTHEID
February 2, 1990: South Africa President F.W. de Klerk  lifted the ban on the A.N.C. and several other political organizations, and lifted many of the restrictions put in place when the state of emergency was declared four years earlier. He promised that Mandela would be released shortly. (see Feb 11)
Medgar Evers
February 2, 1994: the defense in the third trial of Byron De La Beckwith began its presentation much the same way its counterparts did at the first trial 30 years earlier: calling witnesses who placed the defendant 95 miles away at the time of the shooting. Two witnesses, a businessman and auxiliary police officer from the town of Greenwood by the name of Roy Jones, and a retired Greenwood police lieutenant, Hollis Cresswell, were heard through the reading of the transcript of their testimony at the first trial in 1964. (see Feb 5)
Young, Black, and shot dead
February 2, 2012: a police officer shot and killed Ramarley Graham, 18, after running into his home as officers pursued him. The shooting of Graham was the third time in a week that a member of the Police Department had killed a suspect. ]
On January 26, an off-duty police lieutenant shot a 22-year-old carjacking suspect in Cypress Hills, Brooklyn.
And on Sunday, an off-duty detective shot a 17-year-old in Bushwick, Brooklyn, during a mugging, the authorities said.  (see Feb 9)
February 2 Peace Love Art Activism
Women's Health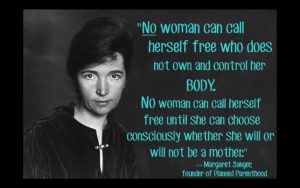 February 2, 1917: arrested on October 25, 1916, for operating the first birth control clinic in the U.S., in Brooklyn, New York it (had opened on October 16, 1916), authorities offered Margaret Sanger a suspended sentence if she would agree to obey New York State laws outlawing birth control clinics. She refused on this day and, as a result, served a month in jail. Her sister, Ethel Byrne, who had also been arrested, had already been convicted and served her jail sentence. Byrne had gone on a hunger strike that seriously imperiled her health. With that in mind, Margaret Sanger chose not to do a hunger strike and instead spent that time educating the other inmates about sex and birth control, over the protests of the jail matron. She also read to the illiterate inmates. (see May 6)
February 2 Peace Love Art Activism
Vietnam
Agent Orange
February 2, 1962: the first U.S. Air Force plane was lost in South Vietnam. The C-123 aircraft crashed while spraying defoliant on a Viet Cong ambush site. The aircraft was part of Operation Ranch Hand, a technological area-denial technique designed to expose the roads and trails used by the Viet Cong. U.S. personnel dumped an estimated 19 million gallons of defoliating herbicides over 10-20 percent of Vietnam and parts of Laos from 1962 to 1971. Agent Orange–so named from the color of its metal containers–was the most frequently used. (see Feb 14)
Tet Offensive "a failure"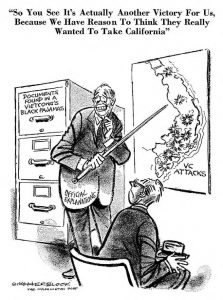 February 2, 1968: President Johnson labeled the North Vietnamese's Tet Offensive "a complete failure." For the North Vietnamese, the Tet Offensive is both a military and political failure in Vietnam. The "general uprising" they had hoped to ignite among South Vietnamese peasants against the Saigon government never materialized. Viet Cong had also come out of hiding to do most of the actual fighting, suffered devastating losses, and never regained their former strength. As a result, most of the fighting will be taken over by North Vietnamese regulars fighting a conventional war. Tet's only success, and an unexpected one, was in eroding grassroots support among Americans and in Congress for continuing the war indefinitely. (see Feb 13)
February 2 Peace Love Art Activism
February 2 Music et al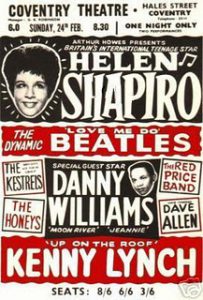 February 2, 1963, The Beatles before their US appearance: The Beatles begin British tour opening for Helen Shapiro. (see Feb 7)
February 2 Peace Love Art Activism
Irish Troubles
February 2, 1972:  Prime Minister Edward Heath commissions the Lord Chief Justice, Lord Widgery to undertake a tribunal into the Jan 30 shootings in Derry. (see IT for expanded chronology)
February 2 Peace Love Art Activism
Fair Housing
February 2, 1973: President Nixon declared  a moratorium on housing and community development assistance. (see August 22, 1974)
February 2 Peace Love Art Activism
Feminism
February 2, 1977: legal secretary Iris Rivera was fired for refusing to make coffee for her employer. A Chicago-based advocacy group, Women Employed, led a series of public actions against her firing and eventually Rivera got her job back. (see June 20)
February 2 Peace Love Art Activism
US Labor History
February 2, 1987: a 170-day lockout (although management called it a strike) of 22,000 steelworkers by USX Corp. ended with a pay cut but greater job security. It was the longest work stoppage in the history of the U.S. steel industry.  (see March 7, 1988)
February 2 Peace Love Art Activism
CLINTON IMPEACHMENT
February 2, 1999: House prosecutors questioned presidential friend Vernon Jordan for three hours in a closed-door deposition. (see Clinton for expanded story)
February 2 Peace Love Art Activism
Iraq War II
Not a long war
February 2, 2006:  when asked, "Is Iraq going to be a long war?" Secretary of Defense Donald Rumsfeld answered, "No, I don't believe it is." (see Feb 3)
Increase spending request
February 2, 2007:  Reuters reported that "President George W. Bush will ask Congress for $99.7 billion for the Iraq and Afghanistan wars for rest of fiscal year 2007 and more than $145 billion for fiscal year 2008. … That money comes on top of $70 billion that Congress approved for the current fiscal year, adding up to a total of $170 billion and making it the most expensive year yet for the war." (see Feb 18)
February 2 Peace Love Art Activism
Environmental Issues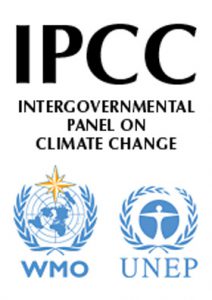 February 2, 2007: at a meeting in Paris, France, the Intergovernmental Panel on Climate Change concluded for the first time that global warming was "unequivocal" and that human activity was the main driver, "very likely" causing most of the rise in temperatures since 1950. The panel said the world was in for centuries of climbing temperatures, rising seas, and shifting weather patterns — unavoidable results of the buildup of heat-trapping gases in the atmosphere. The report also said that warming and its harmful consequences could be substantially blunted by prompt action. (see Apr 2)
February 2 Peace Love Art Activism
LGBTQ
February 2, 2012: Freedom to Marry and the Human Rights Campaign team up and launched the Respect for Marriage Coalition, a group of over 50 civil rights, labor, progressive, faith, student, women's, and LGBTQ organizations dedicated to repealing the Defense of Marriage Act. (see Feb 6  or see or see December 13, 2022 re DoMA)
February 2 Peace Love Art Activism
Malala Yousafzai
February 2, 2013: Yousufzai was nominated for the 2013 Nobel Peace Prize. (Telegraph article) (see Feb 3)
February 2 Peace Love Art Activism
Nuclear/Chemical News
February 2, 2019: after the US announced its intentions of withdrawing, Russian President Vladimir Putin said that it, too, would withdraw from the arms control pact.
The key points:
Russia would start work on new missiles, including hypersonic ones
US and Russia both alleged the other has violated the INF treaty
China urged dialogue amid fears of nuclear arms race
The Intermediate-range Nuclear Forces (INF) Treaty prevented the two superpowers from possessing, producing or test-flying ground-launched nuclear cruise missiles with a range of 500 to 5,500 kilometres. (see Feb 20)
February 2 Peace Love Art Activism