February 22 Peace Love Art Activism
Immigration History
February 22, 1847: the US Congress enacted an Act to regulate the Carriage of Passengers in Merchant Vessels. Ships brought US products to Europe often used "passengers" as ballast for the return trip. In other words, the ship treated the passengers as cargo, not as people. Thousands became sick and died, particularly of typhus. This act was an attempt to curb such mistreatment.
Because of the Act's limitations, ship owners increased their trips from Europe to Canada to bypass the law. The increase did not mean better conditions, but rather mean more crowded conditions and more deaths.
On August 15, 1909 the Ancient Order of Hiberians dedicated a Celtic Cross on the Grosse Island the site of a quarantine station and the site of graves for 5,000 Irish immigrants who had died at the station. [text] (next IH, see January 31, 1848)
February 22 Peace Love Art Activism
BLACK HISTORY
Frazier Baker lynched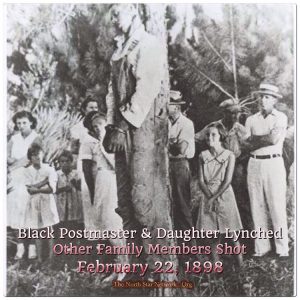 February 22, 1898: Frazier Baker, an African American who had recently been appointed postmaster of Lake City, S.C., and his infant daughter, Julia, were killed and his wife and three other daughters were maimed for life when a lynch mob set after them. Citizens of the small town of 500 residents set fire to the post office, where the Bakers lived, and shot them as they ran out.
The accused were indicted on twenty-four counts including "a conspiracy to injure and oppress Frazier B. Baker in the free exercise" of his civil rights.
Twenty-three of the counts charged conspiracy, but the count for the destruction of the mail did not. The trial started on April 10, 1899 in the Federal District Court of Charleston, South Carolina. Three of the men were found not guilty and the all-white jury remained deadlocked on a verdict for the other eight. The judge declared a mistrial and the federal prosecutors did not reopen the case. (Postal Museum article) (see Apr 25)
Frank George

Pinkston and Charles Melvin Sherrod

February 22, 1960: about 200 students, led by Frank George Pinkston and Charles Melvin Sherrod, marched from the Virginia Union University campus to downtown Richmond, shutting down the shopping district. Police arrested 34 students taking part in sit-ins and pickets at Thalhimer's Department Store. (see Feb 25)
The Greensboro Four
February 22 – 28, 1960: the lunch counters at F.W. Woolworth and Kress stores reopened, but were still segregated. Greensboro Mayor George H. Roach introduced the Greensboro Advisory Committee on Community Relations representing the City Council, the Chamber of Commerce and the Merchants Association. Chairman Ed Zane worked to increase public support for integration of lunch counters, encouraging people to write and express their opinions on the racial situation.
By the end of February, the sit-in movement had spread to more than 30 cities in eight states. (BH, see Mar 1; GF, see Mar 7)
Muhammad Ali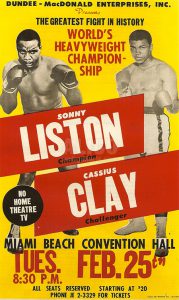 February 22, 1964: three days before the fight, a New York Times article stated that, "At the moment Cassius Marcellus Clay may very well be — to borrow his own florid description of himself — the "prettiest and greatest" of all heavyweight fighters. Before Tuesday midnight, however, the situation could very well undergo a rather violent metamorphosis.
On that evening the loud mouth from Louisville is likely to have a lot of vainglorious boasts jammed down his throat by a ham-like fist belonging to Sonny Liston, the malefic destroyer who is the champion of the world. The irritatingly confident Cassius enters this bout with one trifling handicap. He can't fight as well as he can talk. (see Feb 25)
February 22 Peace Love Art Activism
Crime and Punishment
February 22, 1922: Roger Baldwin, Director of the ACLU, organized the National Bail Fund for Civil Liberties on this day to assist people being prosecuted in civil liberties cases. Baldwin announced a goal of raising $100,000, and said that $60,000 had already been raised. The Fund became one of the principal sources of bail assistance for civil liberties cases in the 1920s. (see March 31, 1958)
February 22 Music et al
Roots of Rock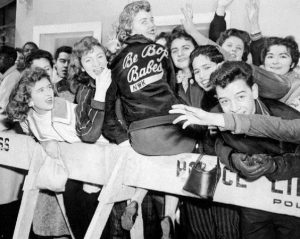 February 22, 1957: according to a NYT report, "Teenage rock 'n' roll enthusiasts stormed into Times Square area before dawn…and all day long they filled sidewalks, tied up traffic, and eventually required the attention of 175 policemen.
"They begin lining up at 4 A.M. to see the show at the Paramount Theatre. It wasn't until 18 and a half hours later—at 10:30 P.M.—that the last of the line entered the theatre….The show featured Alan Freed." (see Feb 25)
Billboard #1
February 22 – April 24, 1960: "Theme from a Summer Place" by Percy Faith #1 Billboard Hot 100.
Beatles
February 22, 1963: "Please Please Me" reached #1 in the UK. (see Mar 3)
February 22, 1964: after a hectic but successful tour to the US, the Beatles returned to England. (see Beatles Back in the UK)
February 22 Peace Love Art Activism
Vietnam
South Vietnam Leadership
---
February 22, 1965: Gen Nguyen Khanh announced that he had accepted the council's decision. Although he was hastily given the title of ambassador at large, General Khanh would never again play a significant role in his country's future.  (Vietnam, see Feb 26; SVL, see June 14)
Native Americans
February 22, 1970: after three months, not more than 100 were still occupying Alcatraz and boredom was the biggest problem. (NYT article) (see May 31)
February 22 Peace Love Art Activism
Symbionese Liberation Army
February 22, 1974: the first day of food distribution for People in Need ended in riots. Randolph Hearst stated that $6 million was beyond his capabilities. "The matter is now out of my hands," he said. His representative made an offer to pay $2 million upon the immediate release of Patty Hearst and an additional $2 million in January 1975. (see Mar 4)
February 22 Peace Love Art Activism
INDEPENDENCE DAY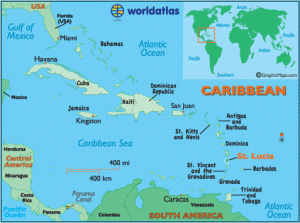 February 22, 1979: Saint Lucia independent of United Kingdom. [St Lucia site]  (next ID, see Oct 27)
February 22 Peace Love Art Activism
Japanese Internment Camps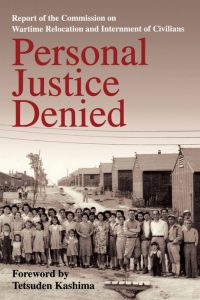 February 22, 1983: The Report of the Commission of Wartime Relocation and Internment of Civilians (CWRIC), entitled Personal Justice Denied, concluded that the exclusion, expulsion, and incarceration of Japanese-Americans were not justified by military necessity, and the decisions to do so were based on race prejudice, war hysteria, and a failure of political leadership. (see Internment for expanded story)
February 22 Peace Love Activism
Euro arrives
February 22, 2002: the ex-currencies of all euro-using nations cease to be legal tender in the European Union.
February 22 Peace Love Art Activism
US Labor History
Foxconn
February 22, 2011: when Apple released its annual review of labor conditions at its global suppliers, one startling revelation stood out: 137 workers at a China factory had been seriously injured by a toxic chemical used in making the signature slick glass screens of the iPhone. (see February 13, 2012)
WV Teacher Strike
February 22, 2018: West Virginia teachers' strike began with a call from the West Virginia branches of the American Federation of Teachers and the National Education Association for teachers across West Virginia to strike. The strike was called in response to the comparatively low pay of West Virginia teachers, a pay raise passed by the legislature and signed by Governor Jim Justice that provided only a 2% raise for next year, and 1% raise for 2020 and a 1% raise for 2021 and a freeze on premiums for 16 months to benefits. Every public school district in the state closed. (USLH & WV, see Feb 27)
February 22 Peace Love Art Activism
LGBTQ
February 22, 2012: U.S. District Court Judge Jeffrey White ruled in Golinski v. Office of Personnel Management, declaring that DOMA's Section 3, which restricts marriage to different-sex couples, was unconstitutional. [Wikipedia article] (see Mar 1)
February 22 Peace Love Art Activism
Feminism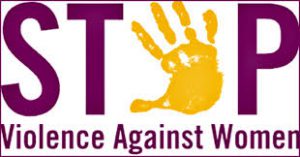 February 22, 2013: The House of Representatives introduced its version of the Violence Against Women Act. It came under sharp criticism from Democrats and women's and human rights groups for failing to include protections in the Senate bill for gay, bisexual or transgender victims of domestic abuse. The House bill eliminated "sexual orientation" and "gender identity" from a list of "populations" that face barriers to receiving victim services — and also stripped certain provisions regarding American Indian women on reservations. (see Feb 28)
February 22 Peace Love Art Activism
LGBTQ
February 22, 2017: overruling his own education secretary, President Trump rescinded protections for transgender students that had allowed them to use bathrooms corresponding with their gender identity.
In a joint letter, the top civil rights officials from the Justice Department and the Education Department rejected the Obama administration's position that nondiscrimination laws required schools to allow transgender students to use the bathrooms of their choice.
That directive, they said, was improperly and arbitrarily devised, "without due regard for the primary role of the states and local school districts in establishing educational policy." (see Mar 6)
February 22 Peace Love Art Activism
ADA
February 22, 2017: the Supreme Court sided with Ehlena Fry, a 13-year-old Michigan girl with cerebral palsy, who spent years battling school officials for the right to bring her service dog — a goldendoodle named Wonder — to class. The justices ruled unanimously that federal disability laws might allow Ehlena Fry to pursue her case in court without first having to wade through a lengthy administrative process.
Fry's family had obtained a goldendoodle to help her open doors and retrieve items. Her school district initially refused to allow Wonder at school. Officials relented a bit in 2010, but they placed many restrictions on Wonder. Ehlena and her dog later transferred to another school.
Her family sued the school district for violations of federal disability laws. The case was dismissed after a judge said the Frys first had to seek an administrative hearing. An appeals court last year upheld that decision 2-1. (see Mar 20)
February 22 Peace Love Art Activism
DEATH PENALTY
February 22, 2017: the Supreme Court ruled in favor of a death row inmate Duane Buck in Texas whose own lawyers introduced evidence at trial that he was more likely to be dangerous in the future because he is black. The court ruled that ane Buck, would be able to go back into a lower court and argue that he should have a new sentencing hearing.
In a 6-2 ruling, Chief Justice John Roberts wrote the majority opinion holding that Buck has "demonstrated both ineffective assistance of counsel" and has an "entitlement to relief." (see Feb 27)
February 22 Peace Love Art Activism
TERRORISM
February 22, 2017: at the Austins Bar and Grill in Olathe, Kan, Adam W. Purinton shot Srinivas Kuchibhotla and Alok Madasani, two immigrants from India, as well as Ian Grillot who had tried to come to their aid.
Purinton had earlier said racial slurs to the two Indians, was escorted out of the bar, but returned with a gun. Kuchibhotla died. Madasani and Grillot  were wounded. [NYT story] (see Mar 3)
February 22 Peace Love Art Activism
Please follow and like us: